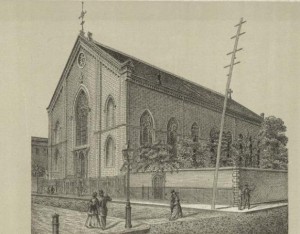 New York's original St. Patrick's Cathedral located in Little Italy — or NoLIta, if you must– just got a serious upgrade yesterday, when the Pope deemed the old, revered Catholic church an officially sanctioned basilica.
A Catholic basilica is a church with 'certain privileges', an elite designation where various religious rituals can take place. This is Manhattan's first basilica, although Brooklyn has two churches that have reached this distinction.
Our Lady of Perpetual Help in Sunset Park, which gathered its first small congregation in 1893, became the first on November 1, 1969. I don't know the specific reason why it became New York's first, but grandeur certainly helps, and Our Lady's got it, a massive, Romanesque stone behemoth set back and towering above the intersection at 5th Avenue and 60th Street.
The Cathedral of St. James, designated the city's second basilica in May 1982, is minuscule and modest in comparison, tucked back from the bustle of Flatbush Avenue. Its austerity lies in its history: it's the first Catholic Church on Long Island, its cornerstone laid in 1822, just as the population of the young city of Brooklyn was exploding.
But the 1820s were not a welcoming era for Catholics in the United States, and a young Catholic Church in Manhattan, dedicated in 1818 for St. Patrick, bore the brunt of New York anti-Irish, anti-Catholic sentiment in its early years. Although its ornate, showier successor opened in 1879, St. Patrick's Old Cathedral has weathered on. Its distinction as a basilica just underscores its value as one of New York's most important historical structures still standing.
For more information, check out one of our early podcasts on the history of St. Patrick's Old Cathedral. [You can download it directly from here.]
The website of Our Lady of Perpetual Help has a further, very heartfelt explanation of the importance of the basilica designation.
And thanks to our Facebook fan Jarrett Brown for inspiring this post!
Pic courtesy the NYPL digital gallery