Photo courtesy LOC

PODCAST You hear the name Mark Twain and think of his classic characters Tom Sawyer and Huckleberry Finn, his locales along the Mississippi River and his folksy wit. But he was equal parts New York as well, and the city helped shape his sharp, flamboyant character. Follow his course, from his first visit as an opinionated young man in 1853, to his later years in 1906 as a Fifth Avenue tenant, decked out with a cigar and signature white suit.
His tale offers a glimpse into the glamorous life of turn-of-the-century New York, from the smoke-filled billiard room at the Players Club to late nights at New York's dining palace Delmonico's. Tune in and find out which parts of Mark Twain's city are still around and which of his old homes you can still visit today.
Co-starring Ulysses S. Grant, Helen Keller, Edwin Booth and other toasts of New York during the Gilded Age.
A slight correction: I mentioned in the show that Mark Twain only worked on one play in his lifetime, called 'Is He Dead?'. That might have been his only solo attempt, but he did try many years earlier to pen one in collaboration with Bret Harte. The play, called "Ah Sin: The Heathen Chinee", opened and closed in 1877. It was an unmitigated flop and a total creative failure. He worked on another collaborative play called "Cap'n Wheeler" the next year.
Dinner at Delmonico's with a few of his closest friends (or at least his fanciest ones) at a celebration for Mark Twain's 70th birthday.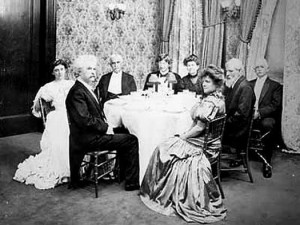 Smoking in bed: Twain's two favorite places to do business in his Fifth Avenue home was at the pool table and in bed. This wasn't laziness; in fact, during his final years in the city, the author was constantly out on the town, oftentimes as a guest of honor or featured speaker. He deserved a little time off his feet. (Pic NYPL)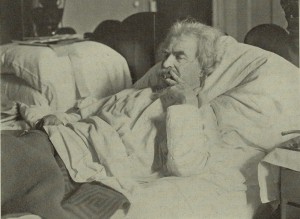 A menacing Mark Twain behind his pool table. (I'm not sure whether this is the Fifth Avenue townhouse or his place in Redding, Connecticut.) Due to his white suit and the photographic process in the 1900s, the writer often looks ghostly and pale.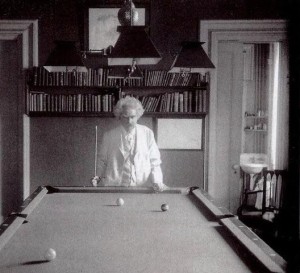 This extraordinary video is pretty much the only moving images we have of Mark Twain, taken by Thomas Edison in 1909 at Clemens new home Stormfield, in Redding, CT. It'll give you some idea of Twain's appearance when he lived in New York the year previous.

If you're a fan of walking tours — and why shouldn't you be? — there's a interesting tour led by author Peter Salwen specializing in Mark Twain's New York. You can check out their website for more infromation.
For more general information on the life of Mark Twain, I recommend some of the books I used as sources for this show, including Ron Power's fantastic 'Mark Twain: A Life', Michael Sheldon's 'Man In White: The Grand Adventure Of His Final Years' and, of course, the massive, labyrinthine first volume of The Autobiography Of Mark Twain.
And finally, here's a map of some locations pivotal to Mark Twain's life in New York — places where he lived and lectured. And you can see, he certainly got around!

View Mark Twain in New York in a larger map