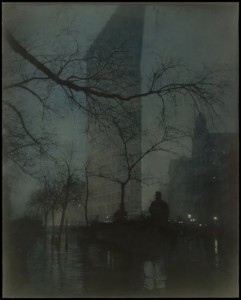 Edward Steichen, The Blue-Green Flatiron (courtesy the Met)
The Metropolitan Museum of Art's new exhibit on three masters of early 20th Century photography "Stieglitz, Steichen, Strand" says as much about New York as it does the three subjects themselves. And many pictures have nothing to do with the city.
Alfred Stieglitz became the maestro of the new medium of photography and encouraged its inclusion into the discussion of modern art when he opened his 291 Gallery (located at 291 Fifth Avenue). The other two photographers here expand on Stieglitz' stark, sometimes abstract style, especially Paul Strand, whose images of the city would fit comfortably among the new century's modern art painters and sculptor.
But I predict you'll be most taken by Edward Steichen and in particular his most famous picture — his mysterious 1904 photograph of the Flatiron Building.
It's the star of the show here because of its presentation, three different versions with slight color differences. Steichen used one negative to make the three images which he then daubed with various "layers of pigment suspended in a light-sensitive solution of gum arabic and potassium bichromate." The manipulation only brings out new details, and each print evokes a different emotion.
Equally as well known is Stieglitz romantic view of The Street, Fifth Avenue, a snowy covered mystery with a cloaked silhouette that's fueled more than one storyteller with dreams of old Gotham.
My favorite New York image from the Strand collection, called Office Buildings from Below, from 1933, seems to squeeze architecture together like a scene from 'Inception'. In presenting the city as a garden of lines and shapes, it's as though Strand manipulated the city itself for his photo, not the other way around.
Of course, New York is only a featured player here and the city is mixed in with an assortment of abstract bodies, rippling pools and fascinating portraits. Stieglitz' simple portrait of an elevator operator is probably the one that stopped every person who walked by it.
As a bonus, the museum has parked a small exhibit on photography from the 1910s next door, called 'Our Future Is In The Air'. It's a total grab bag, but don't leave it until you check out a few lovely shots by a frequent photographer I use here on the blog, Lewis Hine.
Both shows are open at the Met and run through April 10, 2011. A separate show on Stieglitz's New York photography is also exhibiting through the month at the South Street Seaport Museum.