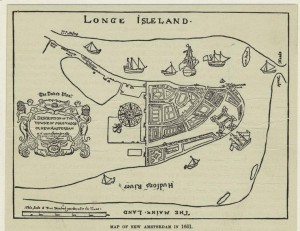 This is not a land of hobbits. Despite looking like an illustration from a J.R.R. Tolkien novel, the map above is actual drawing made of early New Amsterdam as it looked to one cartographer in 1661. It's most likely an alternate image of New Amsterdam by the city's surveyor Jacques Cortelyou who provides us with some of the first bird's-eye drawings ever made of Manhattan. Or else, it's a drawing by another artist derived from Cortelyou's more famous image of the young town.
You can see a full color version of this very map here. Upon its re-discovery in the mid-19th century, the crude map was elaborately repainted and enhanced.
Its full title is "The Duke's plan: a description of the Towne of Mannados: or New Amsterdam as it was in September 1661 … Anno Dominus 1664." That last date holds the secret of the map; it was commissioned not by the Dutch, but by the British, who took over the port city in a near-bloodless invasion in September 1664. Most likely the original map was completed by Cortelyou in 1661, then later revised by an unknown artist (or perhaps by Cortelyou himself) for New Amsterdam's new owners, with a flattering array of British vessels in the water.
I think I'll let New York city leaders from 1859 do the talking here, from a yearly manual of Common Council business, discussing the map when it was newly discovered in the possession of the British Museum archives:
"It is not an unreasonable supposition that the English officers, being desirous of presenting some pictorial illustration of the newly-acquired city to their master, the Duke of York, made inquiry for a plan of the city and were presented with this; and, having added the agreeable accessories of British men-of-war in the harbor, they dressed it up in its present shape, added the date 1664, and forwarded it to England, where it has hitherto been preserved in silent obscurity."
The only building labelled in the little 'Governor's House' right above Fort Amsterdam, the purported home of Peter Stuyvesant and a building later named White Hall. Not a surprise to discover that the building that sits near that spot today is Whitehall Ferry Terminal. You can probably figure out where a couple other modern features of the city sit as well.
The 1859 manual gives makes a detailed, if rather quaint, stroll through the streets of the map above, an interesting look at both early New Amsterdam and mid-19th century New York's version of New Amsterdam — two very different things. Some of sites that may sound familiar to you will be, for instance, Kolck pond (Collect Pond), the Heere Graft (a water canal that once ran down the length of today's Broad Street) and the good ole City Wall.