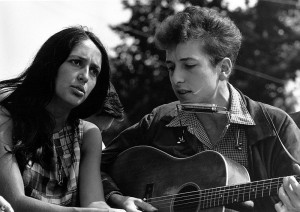 They were all young once: Joan Baez and Bob Dylan, in 1963
I swung onto my old guitar
Grabbed hold of a subway car
And after a rocking, reeling, rolling ride
I landed up on the downtown side
Greenwich Village
— Talkin' New York, 1962
Bob Dylan was born 70 years ago today in Duluth, Minnesota. Twenty years later, he would migrate to his adopted home of New York City and start his career in a series of Greenwich Village dive bars and coffee shops. His is certainly one of the greatest musical stories to come out of the city, and it helped redefine the well-grooved bohemian qualities of the neighborhood in time for the tumultuous decade of the 1960s.
Below, please enjoy the very first appearance of Bob Dylan on television, recorded in March 1963, for a rather strange series of syndicated programs "for young people" called "Folk Songs And More Folk Songs!", a rather square presentation of up-and-coming new folk performers. [Read the original writeup in this 1963 issue of Billboard Magazine.]
The special was recorded at New York's Westinghouse Studios. Bob briefly sweeps into frame rather amusingly at around the 1:20 mark:
And upon the show's cheesy stage, he made his television singing debut with this song:
If you're in Dylan mood today, check out a couple articles I wrote a while back on two of the former Mr. Zimmerman's most famous haunts — Gerde's Folk City and Cafe Wha?