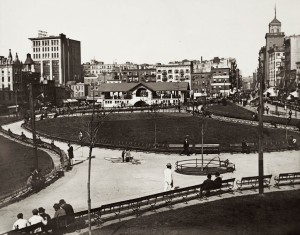 Next week begins 'ghost stories' week on the blog, but I need to make one more trip to Chinatown, the topic of the last podcast. As I just wrote about Columbus Day last week, I would be remiss if I skipped this very coincidental date in history. It was exactly one hundred years ago yesterday that the name of Mulberry Bend Park was officially changed to Columbus Park.
The park, of course, originally replaced the most decrepit of Five Points' slums, allowing a sliver of greenery and sunlight to slip into the overly dense neighborhood. It took the city years to wrestle the original rundown tenements from their owners. "In its place will come trees and grass and flowers," proclaimed its chief proponent Jacob Riis. The placid, English design by Calvert Vaux, typical for its day, insured a park so formal that people weren't even allowed on the grass. (Today, located at the cusp of Chinatown and the Civic Center, the park is so busy and cluttered that it appears to almost have no grass at all.)
Mulberry Bend Park, named for the infamous hook in Mulberry Street to the park's east side, opened in 1897. By this time, the area was populated by a mixture of immigrants, the largest group from Italy. Italian Americans soon defined the culture of the park's surrounding streets, with obvious exception of those streets to the east dominated by Chinese businesses.
In 1911, the city explicitly declared the neighborhood's changing character, at the behest of the Italian community, by renaming the park for America's most famous Italian connection, the explorer Christopher Columbus. A crowd of 8,000 people gathered on Columbus Day that year to reopen the park under its new name.
The park now took on a more athletic character, with new track and field facilities, and on that first day with its new name, Columbus Park hosted competitions between boys from local playgrounds. "There were dashes, relay, half mile and potato races, shot puts and high jumps," reported the Sun. "Five thousand more or less enthusiastic mamas and babies and papas and little mosquitolike boys insinuated their way to the very bars of the park enclosure…and looked on at the games."
Above: Mulberry Bend Park in 1900