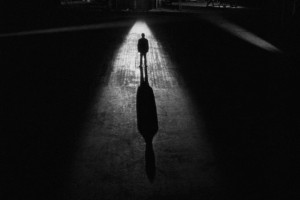 A still from 'The Wrong Man', a crime drama shot in New York in 1956. (Courtesy Empire Magainze.)
Alfred Hitchcock's innovative anthology series 'Alfred Hitchcock Presents' debuted on CBS in the fall on 1955. As a filmed dramatic series (vs. the live camera TV hits like 'I Love Lucy' and 'The Honeymooners'), the weekly mystery program brought serious cache to the medium and set the bar high for genre anthology television, to be raised four years later by 'The Twilight Zone'.
Many episodes were filmed in New York, using Broadway's rich pool of stars. The city would itself be a star of several Hitchcock films, including one released the next year in 1956. The Henry Fonda crime drama 'The Wrong Man', based on real events, concerned a jazz musician from the Stork Club falsely accused of a robbery. Most notable were its scenes shot on location at Queens City Prison in Kew Gardens.
Before beginning production on 'The Wrong Man', Hitchcock wanted to wow Warner's studio executives and reporters with a fabulous New York soiree in March, done up Hitchcock-style. That meant conjuring up many of the mystery and horror themes the director was most famous for. So, on that note, Hitch requested his publicist look for an actual New York haunted house.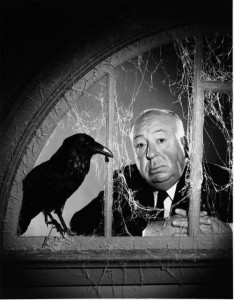 Now I can tell you from doing our annual Halloween podcasts that there are no shortage of 'haunted' New York locations. But it seems the publicists had a bit of a problem locating a suitable venue — one that could host both ambassadors from the afterworld and a haughty contingent from the film world.
According to reports, Hitchcock loved some 'abandoned wine cellars' beneath the Manhattan end of the Brooklyn Bridge. (The article doesn't clarify where these are. Perhaps they were part of George Washington's old home?) But costs to install plumbing were prohibitive. Hitchcock "wanted women among his guests in the haunted quarters and women would want washrooms," according to reports.
He next turned to a very familiar haunted home — the Merchant's House, allegedly possessed by its former owner Gertrude Tredwell. It was ideal, but the home owners were less than thrilled at hosting a saucy industry party and rebuffed the offer.
Frustrated, Hitchcock's publicists even put an ad in the paper, looking for ghost-filled venues. After a few disappointing offers — including one in Jackson Heights, Queens, but the master of suspense feared his party guests would never venture that far — he settled on a rustic old townhouse at 7 East 80th Street, right off the park. Not haunted, but plenty 'cobwebby', according to the press.
The party went off, with Hitch, without a hitch. The 'haunted-house' party included tombstone-shaped 'Carte de Mort' menus with a variety of macabre selections, including Corpse Croquette, Vicious-Soisse, Suicide Suzettes, Gibbeted Giblets, Ghoulish Goulash and "Fresh-cut Lady Fingers (in season)". (Revel in the rest of the menu here.)
Hitchcock received a true fright at the end of the year when 'The Wrong Man' was finally released and promptly flopped at the box office. It would be his final film for Warner Bros., whose executives at least got a kooky party out of the deal.