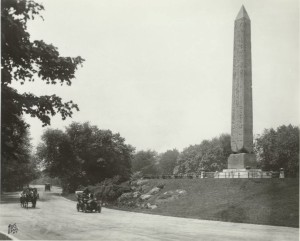 Fit for a queen: Cleopatra's Needle, Central Park's Egyptian obelisk, is one of the nominees in the PIP initiative (Picture by the Wurts Brothers, courtesy NYPL)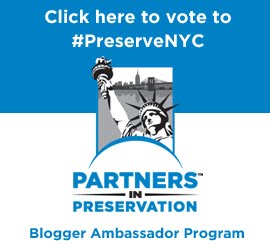 You've got just seven more days to vote in the Partners In Preservation initiative, sponsored by American Express in partnership with the National Trust for Historic Preservation. That's seven more votes that could change the fate of a New York City landmark.
Partners In Preservation is providing $3 million to be given away to historic sites who have submitted grants. Each place has a different need in mind — basic maintenance, renovation, site expansion, you name it.
You can vote once a day for a particular site you want to support. Just click the button at left to go to the Partners In Preservation voting page. The four sites that get the most votes will have their grant requests fully funded, and the remainder of the pot will be split between other sites chosen by an advisory committee made up of civic and preservation figures here in New York.
We don't have a particular favorite in this contest. There are big places and very small places. Spread the love! The choice is yours.
Some of these sites have been covered on the blog here already (The Astoria Pool, the Alice Austen House) and I'll have another profile this Friday. In addition, this month's podcast was on another nominee, St. Mark's Church In-The-Bowery.
Several of the nominees are represented in our back-catalog of podcasts. And most of the remainder would probably make for good future shows. Here's are the sites we've already covered. You can listen to the shows directly from the links below, or please go and download them from iTunes!
— The Apollo Theater (Episode #15)
— The Guggenheim Museum (Episode #67)
— Ellis Island (The South Side Hospitals are up for the grant) (Episode #88)
— The High Line (Episode #135)
ALSO: The Tug Pegasus & Waterfront Museum Barge is mentioned in the history of Red Hook (Episode #133 Red Hook: Brooklyn On The Waterfront) George Washington at Federal Hall is discussed in our show on New York City Hall (Episode #93: City Hall and City Hall Park)