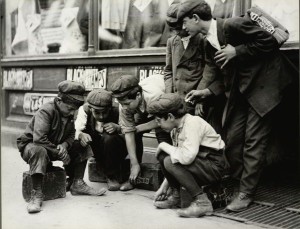 Above: Newsboys and bootblacks playing craps, photographed by Lewis Hines in 1912. Some of these were most likely recipients of free dental care, provided at the Second Avenue newsie's lodging house in that year by the Society of Good Cheer.
Newsboys with poor teeth one hundred years ago — I'm guessing this would be most of them — had something to smile about in 1912 in the form of Miss Theora Carter and the Society of Good Cheer.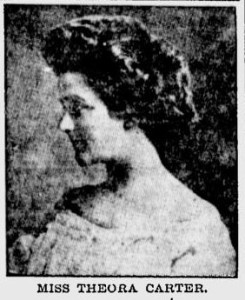 Miss Carter, a native of Seattle, was an inventive social activist and lecturer, focusing on generating an overall sense of good will among the poorest in New York, uplift and cleanliness as a way of promoting health. An "advocate of good cheer" and a woman of "ample income", Carter moved to New York and formed the Society of Good Cheer as a method of spreading healthful calm and tranquility. Joining her at the Society's headquarters at 258 West 74th Street on the Upper West Side were two dozen like-minded young women, many of whom lived at that address. (Carter may also have lived here, although one news clipping claimed she lived in Park Slope.)
At right: A photo of Miss Carter from a Toledo newspaper [source]
The ladies of the Society of Good Cheer canvassed New York's many hospitals, "seek[ing] out those patients with few or no friends and cheer[ing] them up by reading or talking to them." During the holidays, the Society provided homes and hospital rooms in New York and Boston with Christmas trees; in many ways, Miss Carter's holiday work might have inspired another society lady, Emilie Herreshoff, when she provided Madison Square with the very first public Christmas tree in 1912.


In 1911, Carter expanded their crusade to noise prevention. After all, the streets were now rapidly filling with automobiles, adding to the noise of streetcars and elevated trains. She focused her wrath at noisemakers outside of children's hospitals, handing out "cards of human appeal" to "truck drivers, the drivers of automobiles and other noise-making vehicles." [source]


The following year, inspired by her noise-squelching hospital visits, Miss Carter turned her attentions to the orthodontic needs of poor children, in particular, the many thousands of newsies. 'The upbuilding of character and the overcoming of physical imperfections through remedying irregularities of children's teeth' was Miss Carter's stated goal. Another article further described her intentions as "good teeth, clean teeth and straight teeth."


The Childrens Aid Society was already providing free dental inspections to hundreds of children by this time, so Miss Carter decided to focus one some of the most neglected, most independently minded children, the inhabitants of the Newsboys Home at 170 Second Avenue (at 11th Street). A New York Times editorial from July10, 1912, proclaimed that 'the teeth, jaws and mouths of some 2,000 newsboys' would benefit from the new clinic.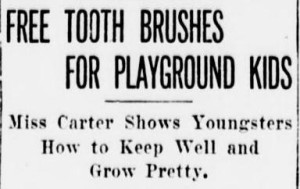 Above: A headline from the New York Sun, September 28, 1912
Carter, now fully invested in children's dental practices, lectured to children on the Carnegie Playground at 91st Street and Fifth Avenue (near the palatial mansion of Andrew Carnegie), providing them with free toothbrushes while underscoring the social advantages of a healthy mouth. "[Y]ou see if you want to be good looking you must clean your teeth." [source]
Miss Carter, known as the Tooth Brush Lady or 'the Apostle of the Toothbrush', spent the next decade treating New York's youngest unfortunates to her trademark 'good cheer'. In 1916, the Society brought Christmas presents to the infirm young patients at the Hospital For Ruptured And Crippled Children — yes, that was its actual name — at 321 East 42nd Street (where the Ford Foundation stands today).
The New York Sun gives an interesting description of the ravishing Miss Carter: "She is slim and svelte, with dusky hair, big hazel eyes and a perfectly straight nose."
Apparently the Society was so successful that Miss Carter formed a junior off-shoot in Brooklyn called the Little Cheerfuls, which allowed young children from wealthier households to help in the spreading of 'good cheer' in local hospitals.
By the way, I have officially fallen in love with Miss Theora Carter.
Below: Children at the Carnegie Playground at 91st and Fifth Avenue. It's likely that these photographs were taken during Miss Carter's visit to the playground, as news reports all state that photographers were present during her visit.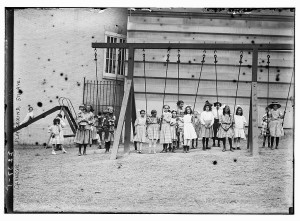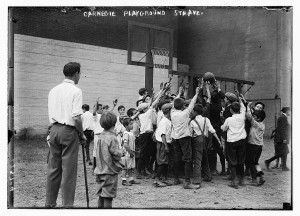 Photos courtesy the Library of Congress