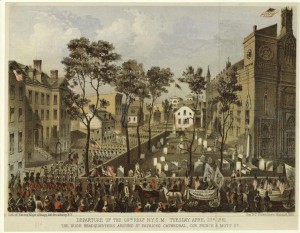 The 69th Regiment — aka the Fighting Irish — have always led New York's St. Patrick's Day parade and have been the heart and soul of New York's Irish community since the early 19th century. During the Civil War, they were the first to be called, fighting at the battle of Bull Run.
The image above depicts the regiment departing from the St. Patrick's Old Cathedral in Little Italy. The church was a final stop in early St. Patrick's Day parades. Today of course, the parade marches by the uptown St. Patrick's on Fifth Avenue.
For a little history on Irish New York and the two stories of St. Patrick's, try out these two podcasts:
— St. Patrick's Old Cathedral (download Episode #9 here)
with a blog post on its upgrade to a basilica in 2010.
— St. Patrick's (New) Cathedral (download Episode #134 here)
with the accompanying blog post with some amazing pictures of St. Pat's