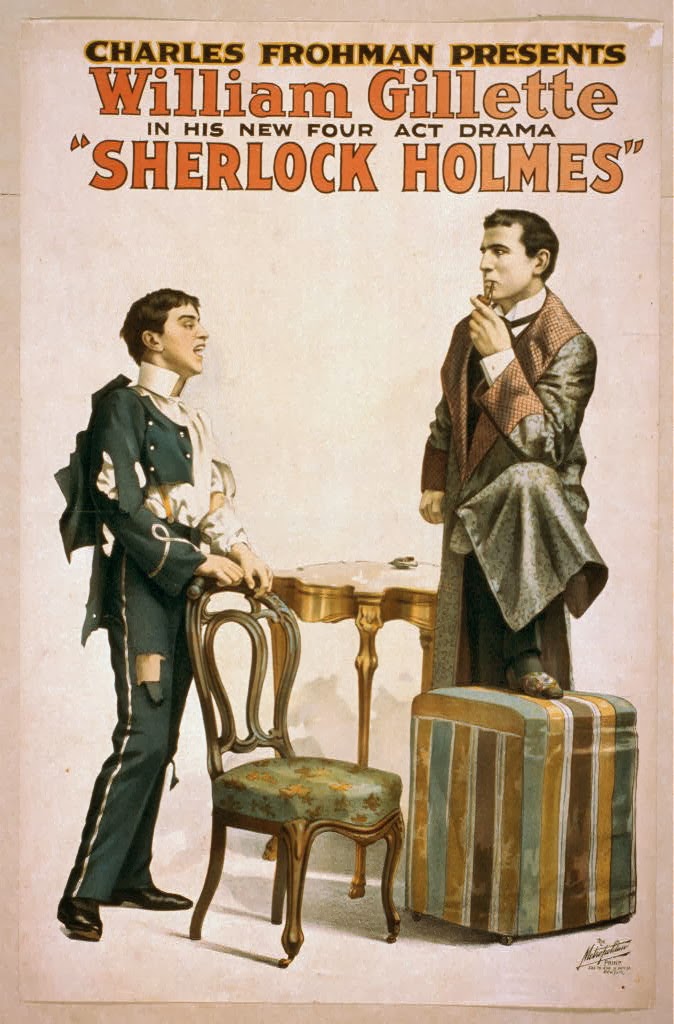 Above: While Sherlock Holmes made his film debut in 1900, he hit the stage a bit earlier. William Gillette was the most acclaimed Sherlock of the day, touring the United States in a play he co-wrote with the detective's creator Sir Arthur Conan Doyle. After a tryout in Buffalo, the play made its debut at the Garrick Theatre (67 West 35th Street) in New York on November 6, 1899.
There are two varieties of Sherlock Holmes these days — the British alternative kind (Sherlock, with Benedict Cumberbatch) and the New York variant (Elementary, with Jonny Lee Miller). You might naturally assume that Cumberbatch's Sherlock Holmes is closer in spirit to the original stories by Sir Arthur Conan Doyle. But the modern-day CBS variation, which is filmed in New York City, actually brings the classic detective stories back to its original roots in the cinema.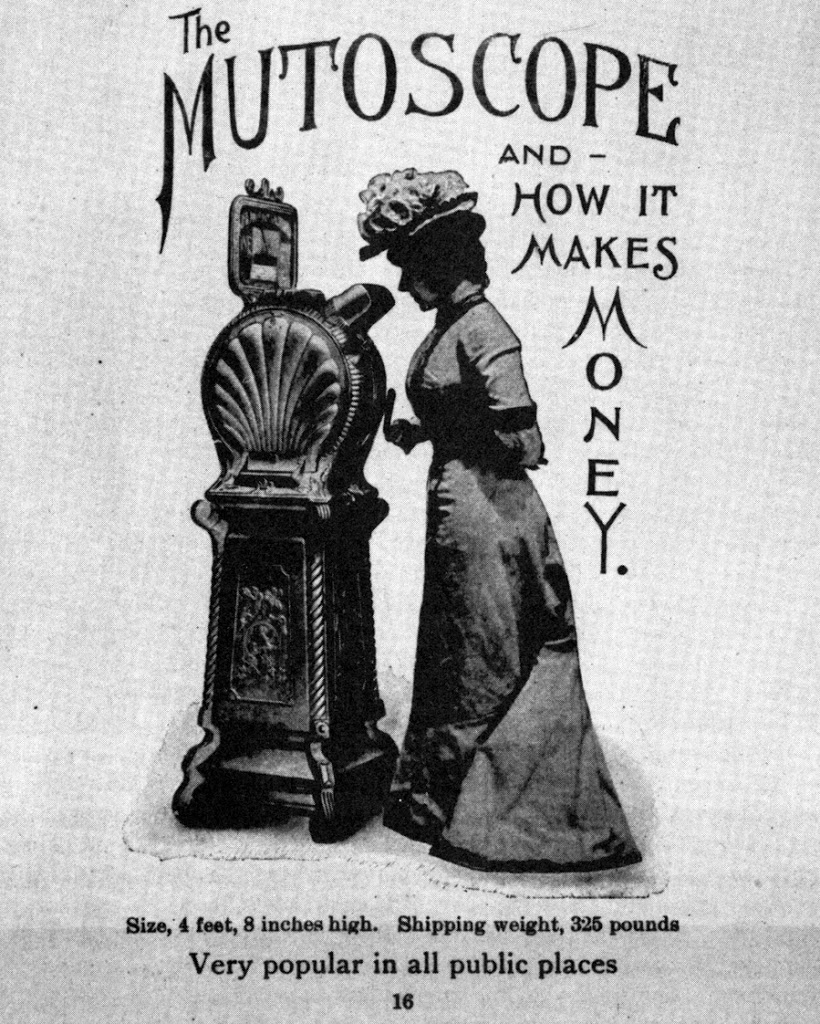 The first attempt to bring Sherlock Holmes to the film medium was in the year 1900 with Biograph-Mutoscope's Sherlock Holmes Baffled. Mutoscope films were not projected, but rather, displayed in a stand-alone box for a single person to view, the images moving with the help of a hand crank. (At right: An 1899 trade advertisement for the Mutoscope).
Most early Mutoscope films were documentary in nature (often boxers or acrobats), similar to those for Thomas Edison's Kinetoscope. The very first movie made in the city of New York was a boxing match featuring Young Griffo, made for another competing film device, the Eidoscope, and filmed atop old Madison Square Garden.
Due to the short running time of films made for these private viewing consoles, the first narrative films were crude, silly and often confusing, throwing viewers into an action scene that abruptly stops. That is the case with Sherlock Holmes Baffled, seen here in its entirety:
Outside of the title card, the move bares no traits of Sherlock Holmes whatsoever. It seems to merely borrow the name to present a wacky narrative involving the detective discovering a thief who then disappears and re-appears at a whim.
The movie was made at Biograph's revolving rooftop studio at 841 Broadway in Union Square. That original building was demolished at some point to make way for the Roosevelt Building. In an accidental tie to its movie heritage, across from the Roosevelt is the Regal Union Square Stadium multiplex, which has undoubtedly seen more sophisticated Sherlock Holmes movies (such as the Robert Downey Jr. version) since it was constructed in 1998.
The identity of the actor who played the first Sherlock Holmes is apparently unknown.
Biograph would continue using Union Square as a site for film production. They moved to another studio in 1906 — just up the street, at 11 14th Street — where they produced ever more extravagent movies, including a reinactment of the San Francisco earthquake, rushed into theater just months after the disaster struck the West Coast city on April 18, 1906.
From my original article: "What seems especially brazen about this fabrication is that it was being created in New York's Union Square, even as San Francisco's public square of the same name sat in ruins."
Five years later, a slightly more recognizable Sherlock Holmes can be seen in The Adventures of Sherlock Holmes, or Held For A Ransom. In this version, Sherlock is played by vaudeville star Gilbert Anderson, best known for his appearance in The Great Train Robbery. (He was later renamed 'Bronco' Billy Anderson due to his later fame as an early cowboy film star.)
This, too, was filmed in New York — at Vitagraph Studios in Flatbush, Brooklyn! Pictured below: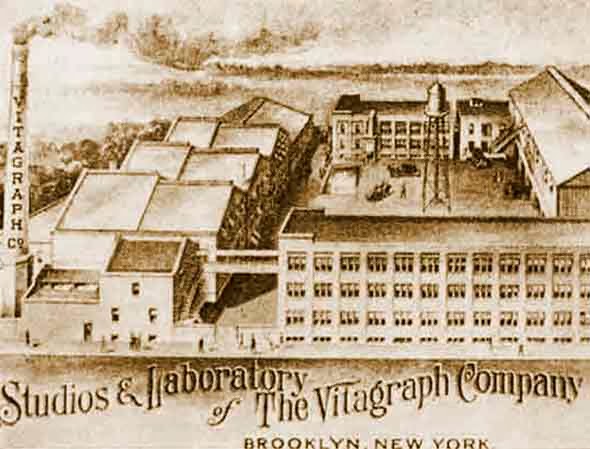 Top picture courtesy the Library of Congress