"PEACE DOES NOT APPEAR TO BE SO DISTANT": One hundred and fifty years ago today, Â Robert E Lee surrendered the Virginia army to Ulysses S. Grant. This ended the American Civil War, more or less. It took several days for the news to get around of course. The last recognized battle of the Civil War — the battle of Palmito Ranch — was actually fought over a month after the surrender, on May 12-13.
Here's how the New York Times celebrated the victory on April 10, 1865. "HANG OUT YOUR BANNERS!!"
And the New York Sun. "OUR NATION REDEEMED!"Â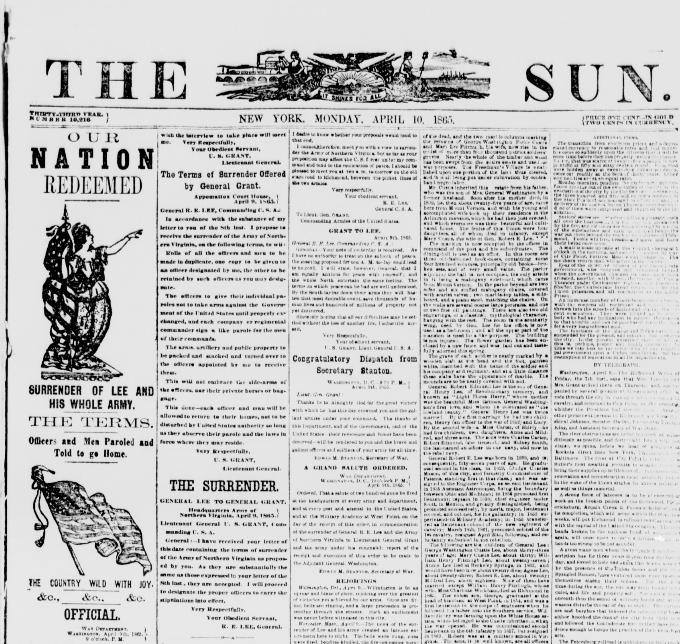 And the New York Tribune. "THE REBELLION ENDED!"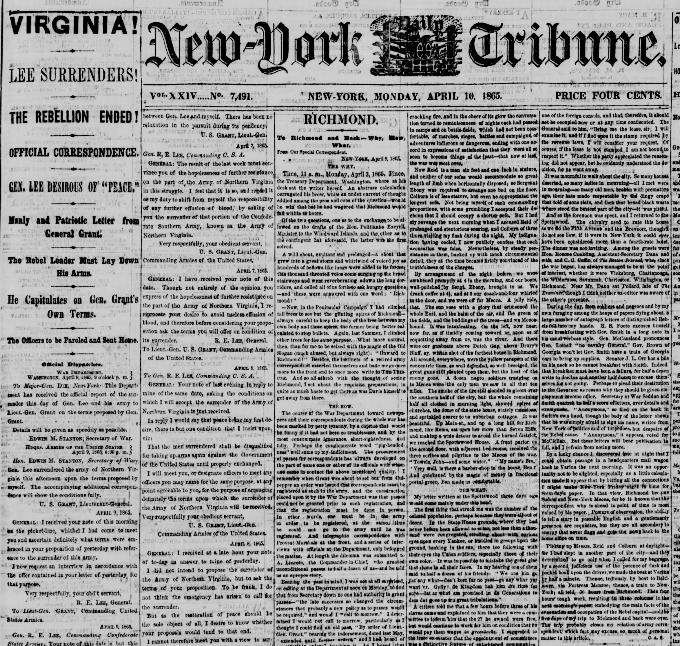 Celebrations would be cut short. What would be the most tragic refrain of the closing war lay just a few days away.
Check our the Bowery Boys 'New York City In The Civil War' series be did back in 2011, including shows on scoundrel mayor Fernando Wood, The Civil War Draft Riots, and the Hoaxes and Conspiracies of 1864.
________________________________________
THE BOWERY BOYS NEWSLETTER IS BACK! Our newsletter is better than ever, giving you updates on Bowery Boys related events right to your email. We send it out biweekly featuring some of the highlights from the blog and social media. PLUS we'll give hints as to some of the other exciting stuff we're working on in 2015.  To sign up, just fill in the short form in the left-hand sidebar here on the blog.
________________________________________
YOU ARE THE BEST! Thanks to all of you who have donated through PayPal or signed up as a patron of the Bowery Boys through the Patreon service.   This is a critical year of growth for us as we look to double the number of podcasts we do in a year PLUS debut a whole new set of New York City history-related projects. Including a book, arriving in 2016!  We couldn't do it without you. [Patreon]
________________________________________
VOTE IN THE WEBBY AWARDS:  Some of you may remember a series of articles I wrote about the history of New  York City in 1981, for a website called NYC.1981 which was a tie-in to the film A Most Violent Year starring Oscar Isaac and Jessica Chastain.
The blog was just nominated for a Webby Award for Best General Blog – Cultural! Â Voting for the Webby Awards is free. Just go over to the official Webby Awards site and vote for your favorites. Â If you'd like to check out my work of the site before you vote, you can find it all here. Â [Webby Awards]
________________________________________
#SAVENYC EVENT: The fire that devastated the East Village two weeks ago affected the livelihood of many businesses in the vicinity of this tragedy.  On Saturday #SAVENYC is organizing a 'cash mob' to bring customers back to this area of the East Village. Head on down to Second Avenue this Saturday and support some of these great mom-and-pop business. In particular pop into B&H Dairy, one of the oldest operating diners in all of Manhattan. [Jeremiah's Vanishing New  York]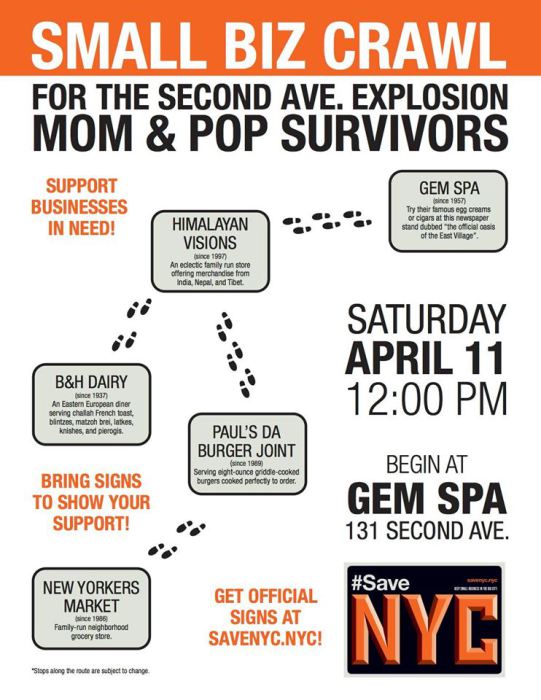 ________________________________________
RETURN TO 1777 and 1970: And finally….it's the return of two New York City history-related television shows on AMC — the final season of Mad Men (Sundays, 10pm EST) and the second season of Turn: Washington's Spies (Monday, 9pm EST).  I will be Tweeting live during both shows so follow me on Twitter at @boweryboys for trivia and entertaining tidbits about the historical events being depicted. (No plot spoilers, I promise!)