The new Disney film Tomorrowland which opens tomorrow will feature scenes set at the 1964-65 World's Fair, one of the most popular historical destinations for blockbuster films in recent years. 
But this is only the latest show called Tomorrowland to present a flashy, futuristic vision of America. The first actually arrived in New York City in 1905, courtesy one of the greatest humorists — and strangest writers — of the day.
John Kendrick Bangs (pictured below, 1910) is not very well known today, but over one hundred years ago, he was one of America's great literary satirists. The Yonkers native and Columbia graduate worked his way through a series of magazines which still endure today, including Life Magazine in 1884 and Harper's Magazine and Harper's Bazaar in 1888.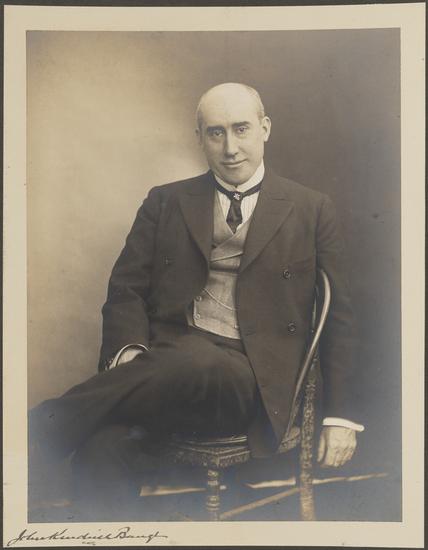 In 1904 he became editor of Puck Magazine, the colorful German satire magazine with its headquarters on Houston Street. Â By then, Bangs had become a successful writer of fantasy and humor novels, very much in the spirit of his contemporary L Frank Baum, author of the Oz books.
He has undoubtedly one of the most unique collection of book titles in Gilded Age literary history — The House Boat on the Styx, Ghosts I Have Met And Some Others, Bikey the Skicycle and Other Tales of Jimmieboy, his Lewis Carroll-inspired tale Rollo in Emblemland.
Below: Another of his bizarre tales — Mr. Bonaparte of Corsica — written in 1895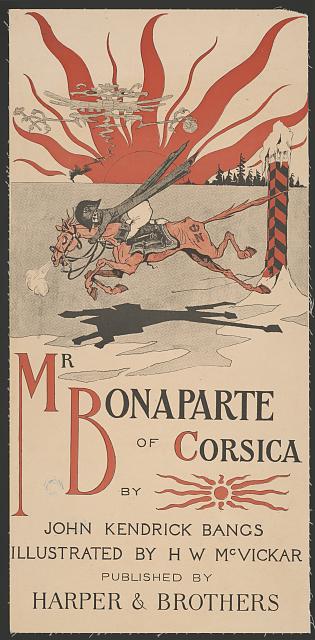 In fact, Bangs is responsible for an entire sub-genre of writing called 'Bangsian fantasy', a very Dante-esque conceit involving famous literary or historical figures having adventures in the afterlife.  He played upon the Gilded Age interest in spiritualism in a playful and absurd manner. His stories were often no more than silly novelties, an assemblage of witty remarks and sight gags placed within fantastic worlds.
Mr. Bangs also created works for the stage. And so it was in April of 1905 that his 'musical fantasy' 2905 or Tomorrow-land (later shortened to simply Tomorrow-land) debuted in New York City, featuring music by Manuel Kind, the music director at the famed Hippodrome theater.

According to a vague description by the New York Times, the comic opera "solves for the thirtieth century the servant question and other vexed problems of to-day with automatic lackeys, liquid air police and other wonderful creations. Â Money has lost its value and the billionaire is anxious to turn back time."
From another production of the show in Chicago: "A large crowd enjoyed a glimpse of the fantastic and humorous side of the future as cleverly presented by John Kendrick Bangs and Manuel Klein In time musical comedy Tomorrow-land …. Strides In electricity are exhibited In various ways notably In the electric ballet in which the dresses are electric bulbs."
By the fall, Bangs shed part of his play's title and called it only Tomorrow-land, scheduled for Madison Square Garden according to the advertisement below: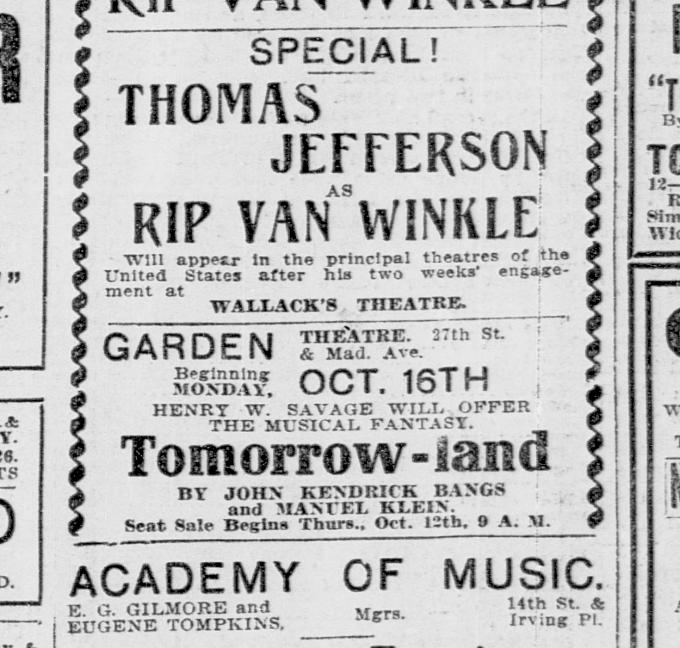 Still not happy with the reception, Bangs changed the name again in 1906 to The Man From Now, bringing in new songs written by Vincent Bryan.  I wasn't exaggerating about that L Frank Baum influence; Bryan has actually written songs for the Wizard of Oz musical which had debuted in 1903.  Bryan would later work closely with Charlie Chaplin in the burgeoning medium of moving pictures.
Below: Bangs took a break from play writing to attend the 70th birthday party of Mark Twain, held at Delmonico's Restaurant on December 5, 1905.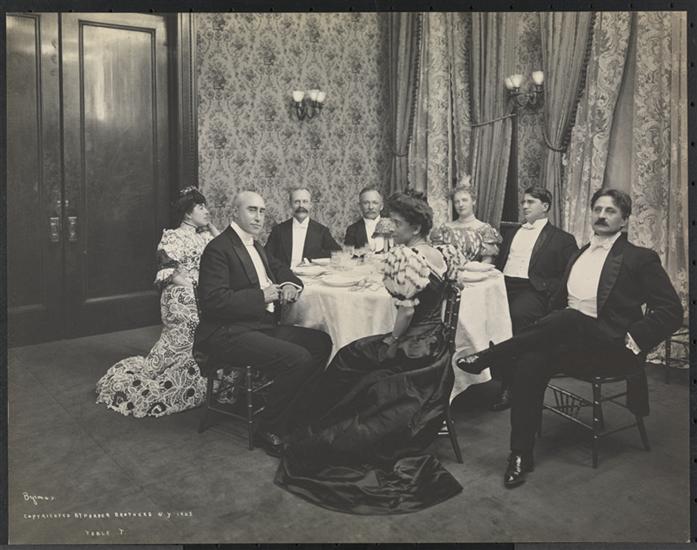 This new version of the futuristic farce made its debut at the New Amsterdam Theater in September 3, 1906.
The settings for the play include "Usona College in 1906, Gassar College in 2906, and the National Amusement Park in 2906." Â It's from a review of this revised show that we get a fuller sense of the wacky plot. From the New York Tribune:
"The prologue is set in 1906, when Professor Forecasta discovers a tonic, a drink of which will project one into 2906.  The professor tries the tonic, as does Jack Raleigh, a student at the college; old Pennypacker, the rich banker of the university; Eli Beasly, the constable in the college, and Steve Waffles, a tramp impersonated by Harry Bulger.  These five are whisked into 2906 and the fun begins.
They find that only beautiful chorus girls live a thousand years from now, and it can be truthfully said of them that they are younger than those usually seen in our day.  These girls give themselves over entirely to athletics and the study of astronomy and love."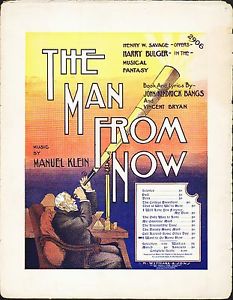 This recipe of sex and the future was not apparently interesting enough for New Amsterdam audiences, and the show closed a week later.
Critics would later wonder why Bangs, a hugely successful novelist, could never find his footing on Broadway.  "'Tis a strange thing that his contributions to stage literature should have fallen by the wayside, principally owing to their lack of that commodity upon which his fame rests.  Possibly the knowledge that a comic opera libretto must contain laughs above all else was what led Mr. Bangs astray." [source]
Bangs, of course would continue his delightful romp through the trippy fantasias of children's literature, penning the parody Alice In Blunderland: An Iridescent Dream in 1907.
Pictured at top: The Hippodrome in 1920 (picture courtesy the Museum of the City of New York)