A couple weeks ago I was fortunate to be given a tour of the set of The Knick, the Cinemax's historical drama set within the fictional Knickerbocker Hospital (which shares some traits with the actual Knickerbocker Hospital). Now, touring a TV or film set is pretty great in a normal situation. But touring a historical set is a bit like drifting through an old photograph.
Below: Production designer Howard Cummings introduces us to the room where all the lovely, gory magic happens — the operating theater.
The first season of The Knick filmed a few scenes on Broome Street. (Tom took some pictures of that experience which we posted here.) And now I got my turn to wander through a bit of dreamlike historical recreation, passing through ornate hospital and laboratory sets.
A few impressions:
1) My pictures aren't that good because, well, I'm not really a great photographer. But also because everything is lit with those Edison-style lightbulbs, creating a warm and sometimes ominous glow. The show films using only these light sources. I'm pretty sure I ate at a restaurant on the Bowery last week that had a similar lighting scheme.
2) As there are no huge pieces of equipment following Steven Soderbergh with his camera around the sets, they're designed with more realistic dimensions. The production designer Howard Cummings walked us through the labyrinth of darkened set pieces that at times felt like the cleanest haunted house in the world. Â The various hospital rooms actually look like they could admit patients. Â The notorious operating theater really felt like a small classroom.
3) I'm certain that Cinemax could turn the sets into a popular nightclub during the off-season. Since it films in Brooklyn, this might not be a bad investment idea.
4) The show's medical adviser is Dr. Stanley Burns who has an almost frightful depth of knowledge and an amazing trove of materials from  which to draw inspiration.  Check out the Burns Archives (which has some digital assets available) to peer into the plot possibilities.
5) When the show returns, be sure to pay extra-special attention to the wardrobe. We met the costume designer Ellen Mirojnick who walked us through a literal warehouse of historical pieces. My first thought was that I want her to design all the outfits for my wedding one day. Her domain was like the world's best thrift store, occupied only by garments from the Gilded Age. Corsets, boiler hats, ball gowns, medical robes. The show's unsettling feel (transmitted through music, tone and set color schemes) is subtly interpreted through each character's dress. Probably an obvious point to make, but again, startling to see in period costumes.
Below: Racks and racks of coats, suits and hats that could literally clothe thousands of hipsters.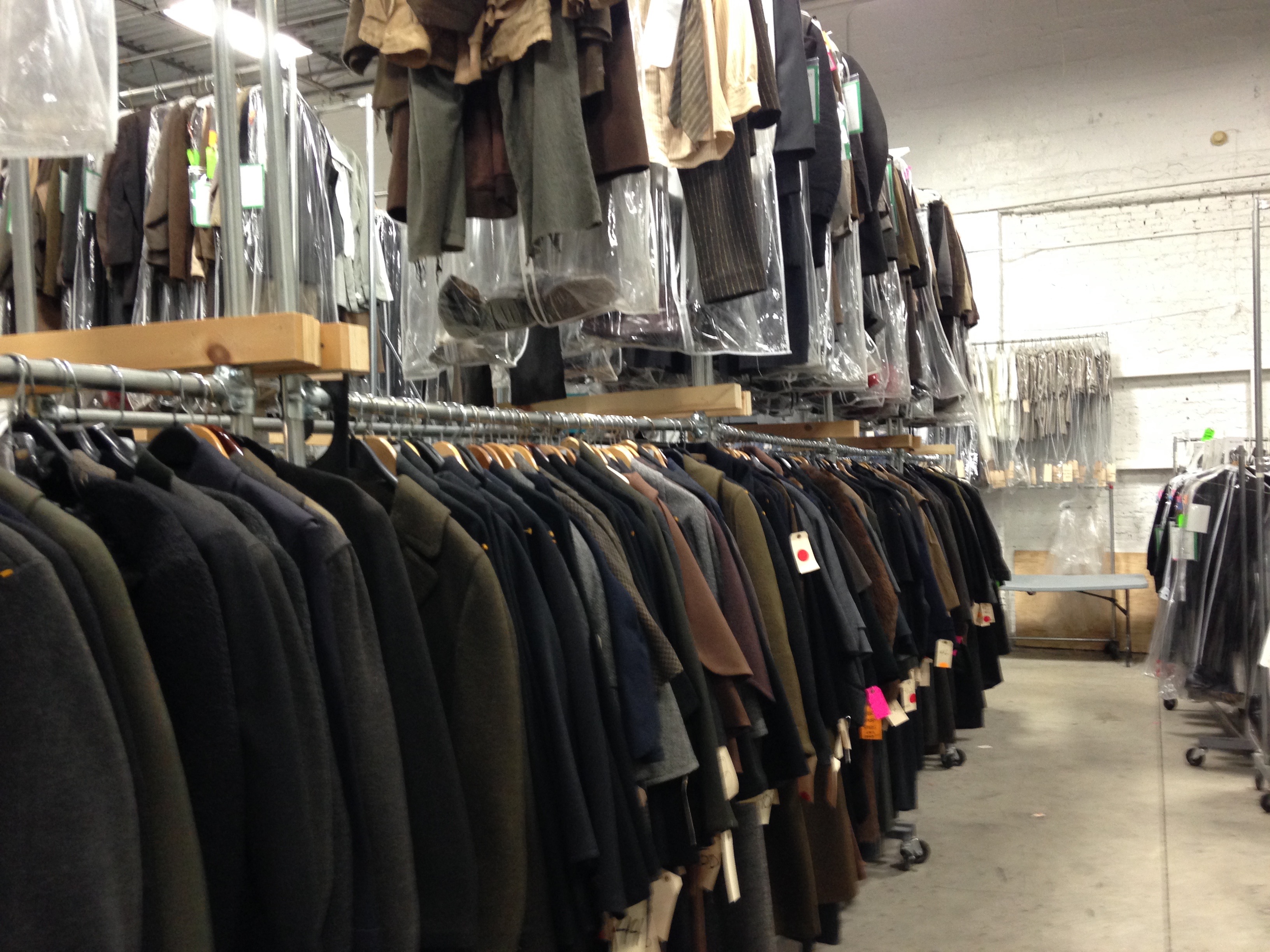 6) Finally I could have talked for hours to the writers who we met at the end of our tour – Jack Amiel, Michael Begler and Steven Katz. The show has a pretty high degree of difficulty (set in the past and in a hospital) so it was interesting to explore how they craft a plot around historical events and unusual medical practices.
And, no, I didn't get to see Clive Owen, but I did get to see all of his hats!
The show returns to Cinemax later this fall. As usual I'll be Tweeting along with the show during its initial broadcast, even through those portions of blood-soaked medical surgeries that make me feel like I'm going to vomit.