In this blog roundup, a Bowery Boys appearance in Vice, a threat to preservation, a classic restaurant closes, the story of two hotels with very different histories and more!
In the photo above and below — From the Museum of the City of New York collection, some images of the so-called Prize Fighters Saloon (at Sixth Avenue and 33rd Street) owned by boxer James J. Corbett.
LINKS OF INTEREST
— Vice Magazine's John Surico wrote a great piece called 'Why New Yorkers Love New York" and interviewed the Bowery Boys for it! Also — if you want to see us dressed in ridiculous Mermaid Parade costumes, you should definitely check this out. [Vice Magazine]
— An inconceivable and dangerous threat to New York landmark preservation is being debated at City Hall today.  "Intro. 775 would for the first time impose 'do-or-die' timeframes for buildings and neighborhoods being considered for landmark designation. If the deadlines are not met, buildings and neighborhoods, no matter how worthy or endangered, would automatically be disqualified for designation." [Greenwich Village Society for Historic Preservation]
—  Destruction update! The beloved original location of The Palm restaurant — with its quirky wall of murals — has been closed for good. "The beloved hand painted caricatures were housed on walls made of plaster, which made it impossible to remove the caricatures for preservation purposes." [Vanishing New York]
Below: The exterior of Corbett's Prize Fighters Saloon: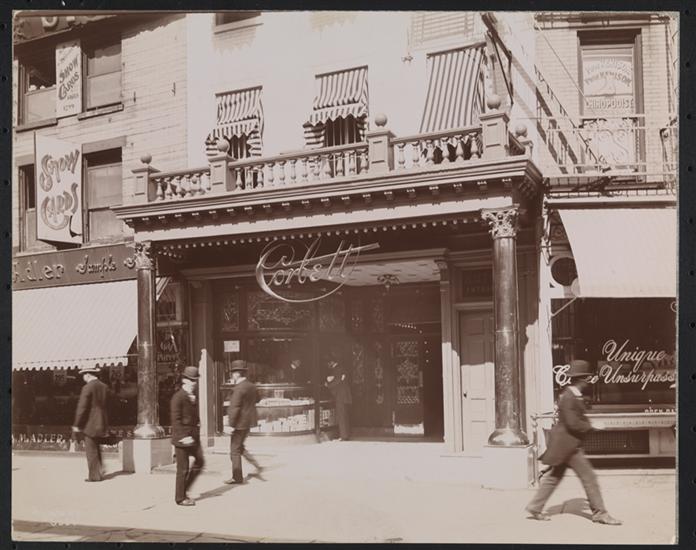 — The spectacular tale of the Pierrepont Hotel in Herald Square, built in 1898 as a rare residential hotel for unmarried men.   "It is not so very long ago that the bachelor was not considered to be entitled much consideration; any old thing was good enough for him…." [Daytonian In Manhattan]
— That rather strange, kinda seedy, little-Flatiron hotel in Chelsea called the Liberty Hotel? Â That building has actually been standing there for well over one hundred years. Oh if only those walls could speak! [Ephemeral New York]
— Some rather sweet and amusing images pop up in this New York Times photo essay on the first day of school through the years. [New York Times]
— "The coolest place to eat is outside a smallpox hospital." [New York Post]
TICKETS ARE GOING FAST for our live event with The Ensemblist this Sunday, September 13th, at 54 Below. Â Click here for more information or go directly to 54 Below's website to get your tickets!
Below: Another look at the interior of Corbett's fancy saloon.