History has always been a critical component of theater, especially in musicals, where period sets and costumes assist in creating other worlds on stage quite unlike our normal one. But last year, with Hamilton: The Musical, the stage phenomenon which won the Tony Award for Best Musical (and a million other awards), history became a rock star.
Or rather, historical figures, even those with seemingly little contemporary vigor, had the ability to inspire a new generation, if reinterpreted by the right talents.
The musical categories for the 71st Annual Tony Awards, announced on Tuesday, are a bit more competitive this year than last, when Hamilton took home eleven awards.  The Best Musical category is an especially diverse cross-section of subjects in terms of time and place — one contemporary tale (Dear Evan Hansen), one from recent history (Come From Away, set right after September 11, 2001), a European historical fable (Natasha, Pierre and the Great Comet of 1812, based on Tolstoy) and, of course, a musical that is literally about not having any history (Groundhog Day, based on the movie).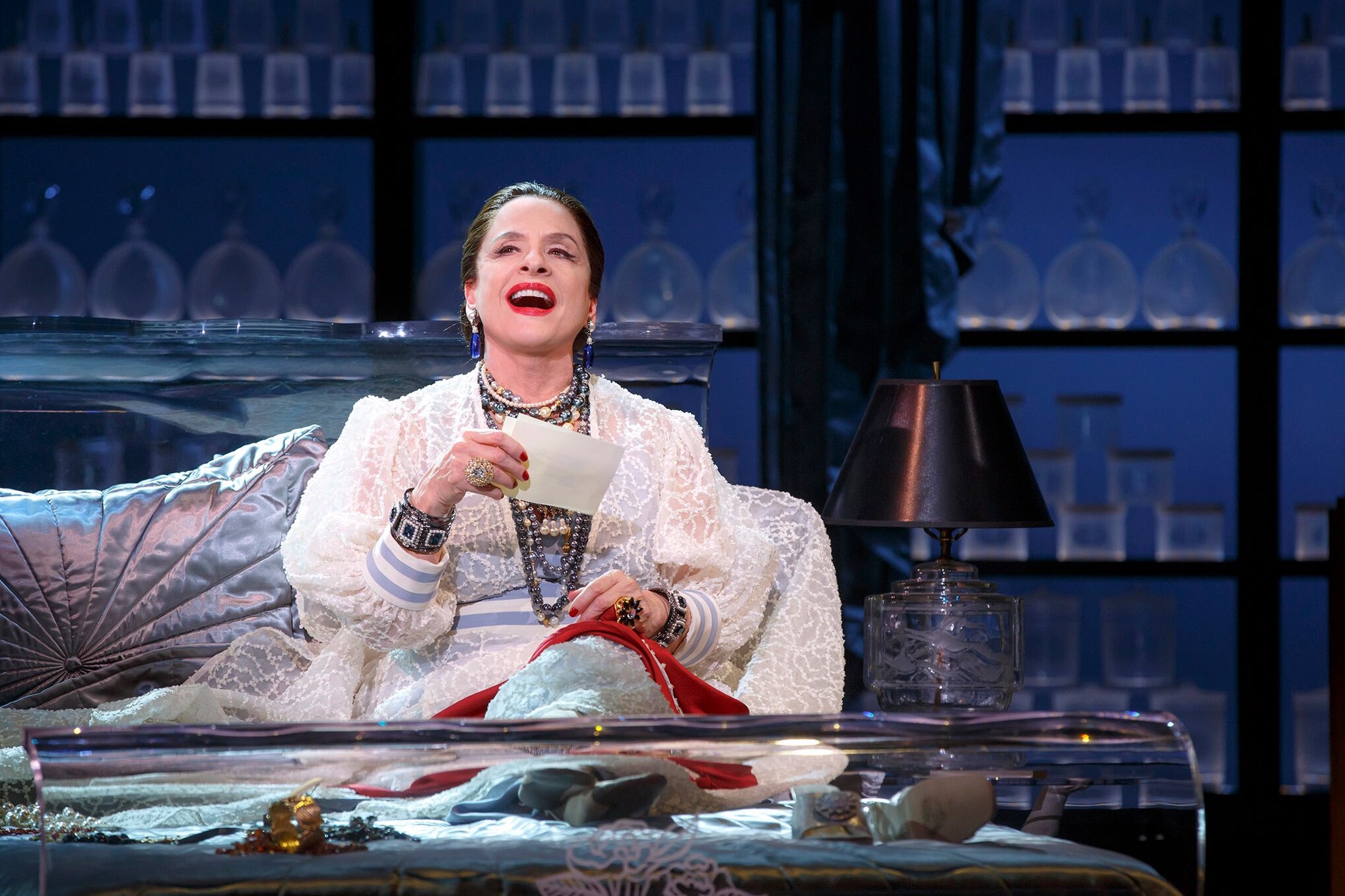 The new musical War Paint is this year's musical representative of New York City history, replaying the story of Fifth Avenue's most famous retail rivalry between cosmetics icons Elizabeth Arden and Helena Rubinstein. While War Paint didn't make the Best Musical cut, its two main stars (Christine Ebersole as Arden, Patti Lupone as Rubinstein) are competing for Best Performance By An Actress In A Musical. Just as Arden and Rubinstein themselves would have wanted!
Arden, arriving from Canada, and Rubinstein, from Poland by way of Australia, set up their companies in New York in the 1910s. But the musical, with book by Doug Wright, music by Scott Frankel and lyrics by Michael Korie, actually starts in the 1930s with their careers firmly established on Fifth Avenue, their competing salons bustling with society women.
Why skip past their origin stories? War Paint is more of a showcase than a show, designed to do something very rare, providing an opportunity for two great female musical stars to take the stage at the same time.  (Quick: Name another musical with two female leads where they are not playing witches.)  Because, practically speaking, you want established stars in your musical, the story must start with Arden and Rubinstein already at the top of their game.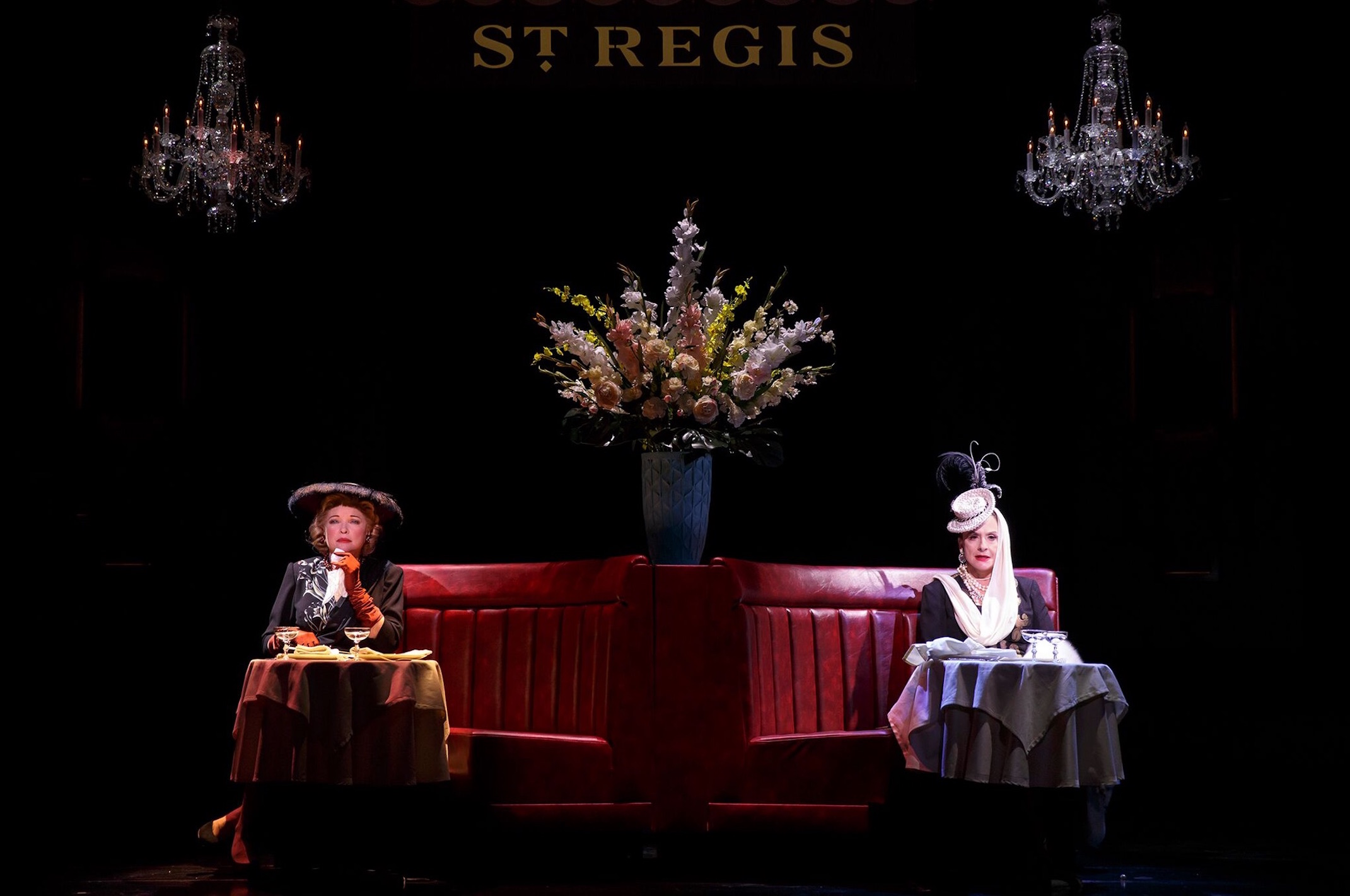 The musical escorts the pair through the mid-century — past the changing roles of women in World War II, past the television revolution — as their once-chic brand names struggle to change with the times. On occasion the story pauses to infuse the grand, sweeping narrative with small biographical details.
If you heard our recent podcast on the subject, you'll know that Arden and Rubinstein never actually met (at least, as the legend goes). This too works to the musical's benefit, giving each star separate storylines that veer into each other just enough, never letting one upstage the other.
Lupone and Ebersole are tremendous. How could they not be? Lupone playfully transitions Rubinstein from a slinking figure of sophisticated grace to an irascible curmudgeon whose body language aches with history (and several dozen pounds of jewelry). Ebersole, with superbly fading cheer, slowly transformed Arden's legendary confidence to wistfulness and then — in a fantasy coda where the two women actually do meet — into a graceful humility.
If you want to hear more about the story of Elizabeth Arden and Helena Rubinstein, listen to our podcast The Beauty Bosses of Fifth Avenue. Most of our show takes place before the events of the musical, so consider it a prequel of sorts.
There's also a bit of New York City history in contention for the Tony Award for Best Play. Joining Oslo, Sweat and A Doll's House, Part 2 in the category is an intriguing and unconventional transfer from the Off-Broadway stage — Indecent written by Paula Vogel.
This very musical play recounts the drama surrounding the 1923 Broadway production of God of Vengeance, a controversial Yiddish play that had been well received in downtown New York theaters, but scandalized audiences when it moved uptown. Its cast and crew were charged with obscenity — the show features lesbian protagonists — and its playwright Sholem Asch ostracized. (He spends his time cloistered in Staten Island.)
This artful production feels like a graphic novel brought to life, with projected text hovering over a barren stage and its players sometimes disintegrating into dust. (It's a weird and spooky stage trick.) Despite feeling very abstract and removed from circumstances at times, Indecent makes a point to root God of Vengeance within Broadway history, vibrantly repeating a couple offending scenes from the play.
Below: A letter from the playwright which ran in the Brooklyn Daily Eagle on March 11, 1923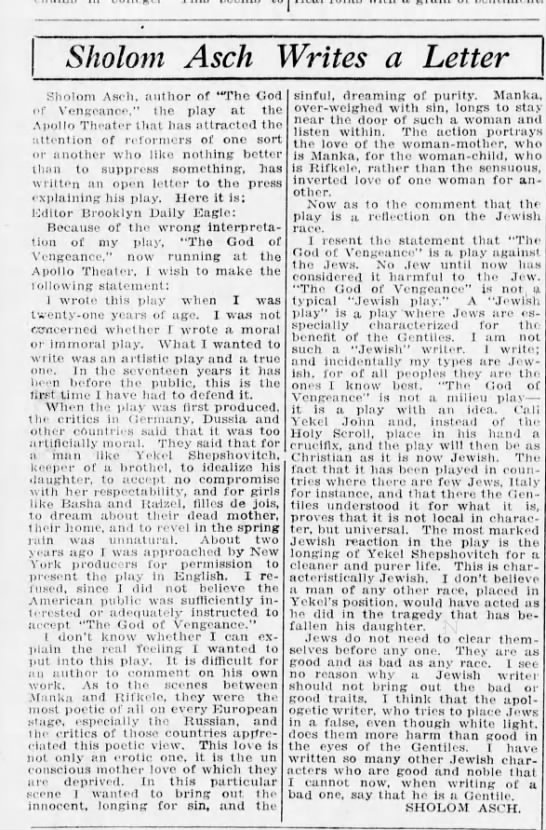 Hopefully the point isn't lost on its audience; the original production was shut down on a similar stage at the old Apollo Theater (at 223 West 42nd Street), just a few blocks south of the Cort Theatre, Indecent's present home. Â The cast, brilliantly directed by Rebecca Taichman (who scored a Tony nomination for Best Director), flaunts those very moments from Vengeance that proper society once thought offensive.
If you're in the mood to hear more about scandalous Broadway shows from the 1920s, listen to our podcast Diamond Girl: Mae West — Sex on Broadway. West and the cast of Sex was arrested just a few years after God of Vengeance on similar charges.