When news circulated this week that East Village nightclub Webster Hall would be closing for renovation in August, people understandably freaked out. It seems we're losing historically significantly places at an alarming rate, places that seem to take a little bit of New York City's personality with them when they disappear forever.
It was announced earlier this year that the venue was switching to new corporate owner Barclays/AEG/Bowery Presents in an effort to "bring them up to contemporary standards and add a few more customer features." For many people, that's code for stripping a place of its charm.
But don't panic! This change is but the latest for this storied party venue. The hall has had many facelifts over the past 130 years, evolving to mirror the tastes of Greenwich Village residents. Indeed this corporate upgrade is a belated reflection of the neighborhood's various sleek changes. (The projected renovations seem positively mild in comparison to the blistering reinvention of Astor Place.)
In 2008 Webster Hall was designated a New York City landmark for its impressive terra-cotta architecture and its status as a beacon of ethnic and social counter-culture during the late 19th and early 20th centuries.
As we wrote in our book Adventures In Old New York: "Opened in 1886, the hall hosted the annual Greenwich Village Ball from the 1910s to the 1930s, a bacchanalia where artists, bohemians, drag queens, and general reprobates of the best kind came to drink, dance, and seriously make merry until early morning. It worked hard to earn its nickname "the devil's playhouse."
Author Allan Church wrote, "So many dances-till-dawn and fancy dress balls were held there that one Villager said of himself and his wife: 'We've sold our bed. Why sleep when there's a dance every night at Webster Hall?' "
—————
In celebration of its new landmark status, we recorded an entire episode on the history of Webster Hall back in January 2009. In 2015, some additional material was added to the show. Â Listen to it here or look for it in our Bowery Boys Archive feed (episode #73):
We look forward to visiting the new Webster Hall but of course we'll be swinging by before August 5 to bid adieu to present incarnation. Â Here's a few clippings from old newspapers, giving you a few additional insights into Webster Hall's spectacular history:
Webster Hall was rebellious before it even opened. St. Ann's, the church which most vigorously decried its existence, has all been erased except for its entrance: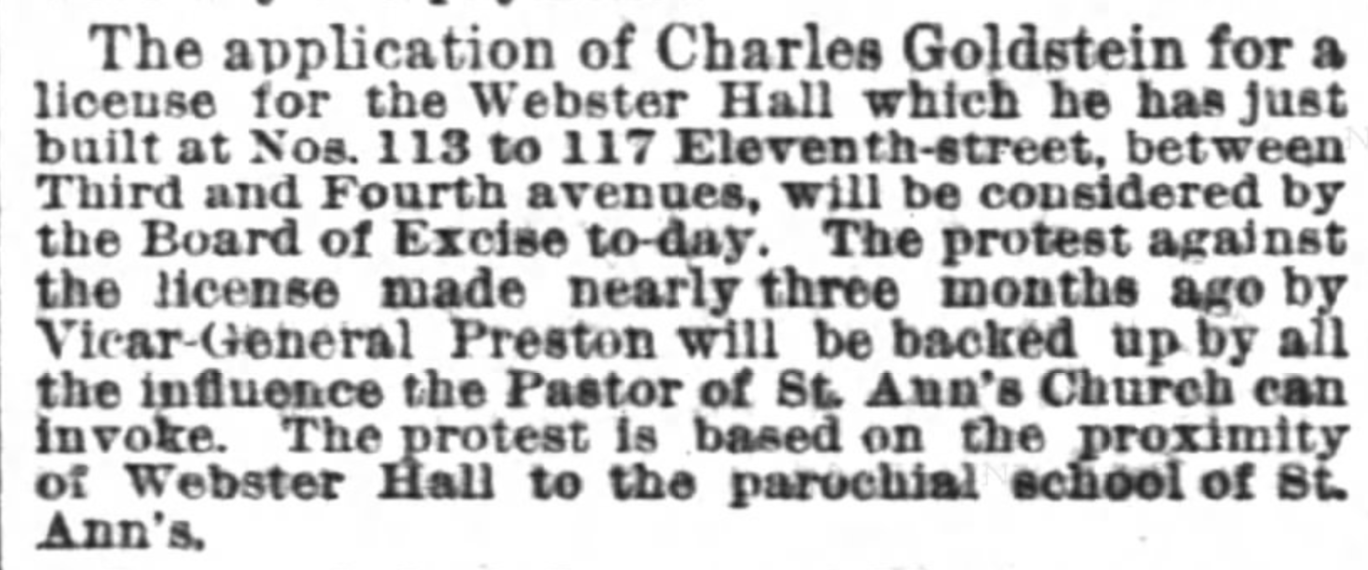 In 1887 Webster Hall played host to a private dance for wealthy black New Yorkers, members of the Doctors' Drivers' Association, "a band of athletic young gentlemen who are always on the alert to bear physicians on errands of mercy."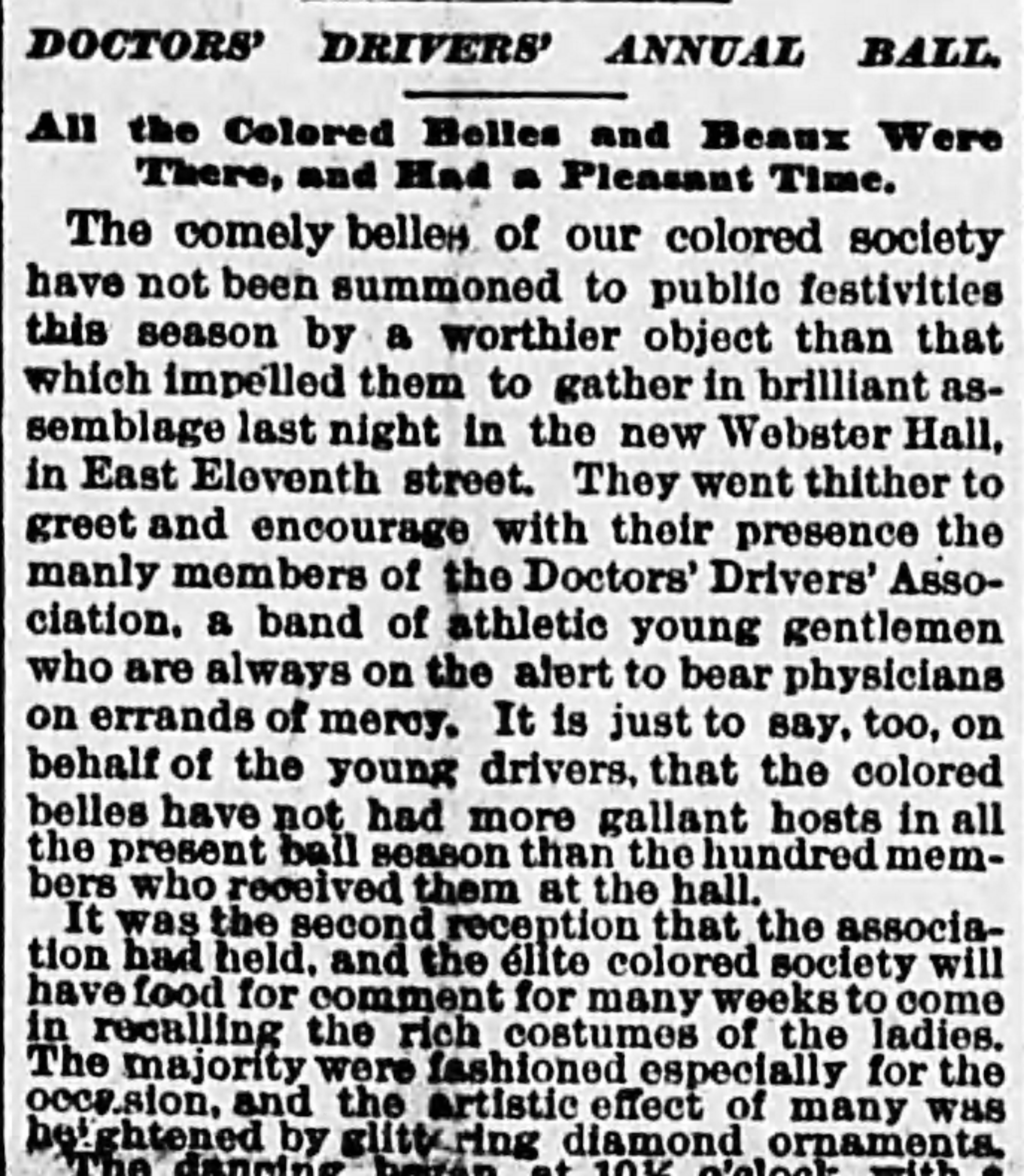 A depiction of the baseball scoreboard that was installed by the New  York Evening World to 'instantaneously' update baseball scores from Boston in 1890. [The complete article is here.]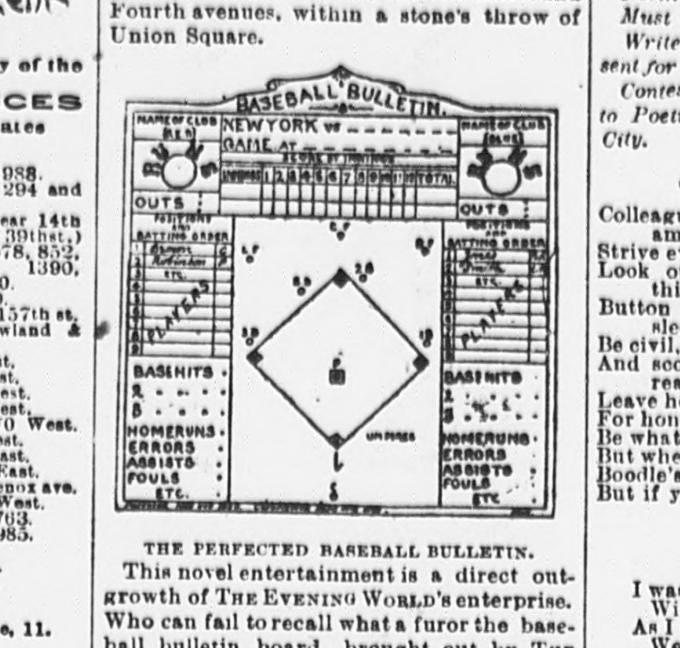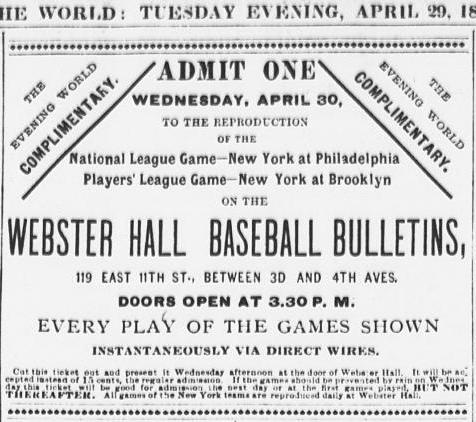 The party rages at a Webster Hall costume ball, in a photo by the great Jessie Tarbox Beals. Just click into this photo for a closer view and observe the bizarre costumes.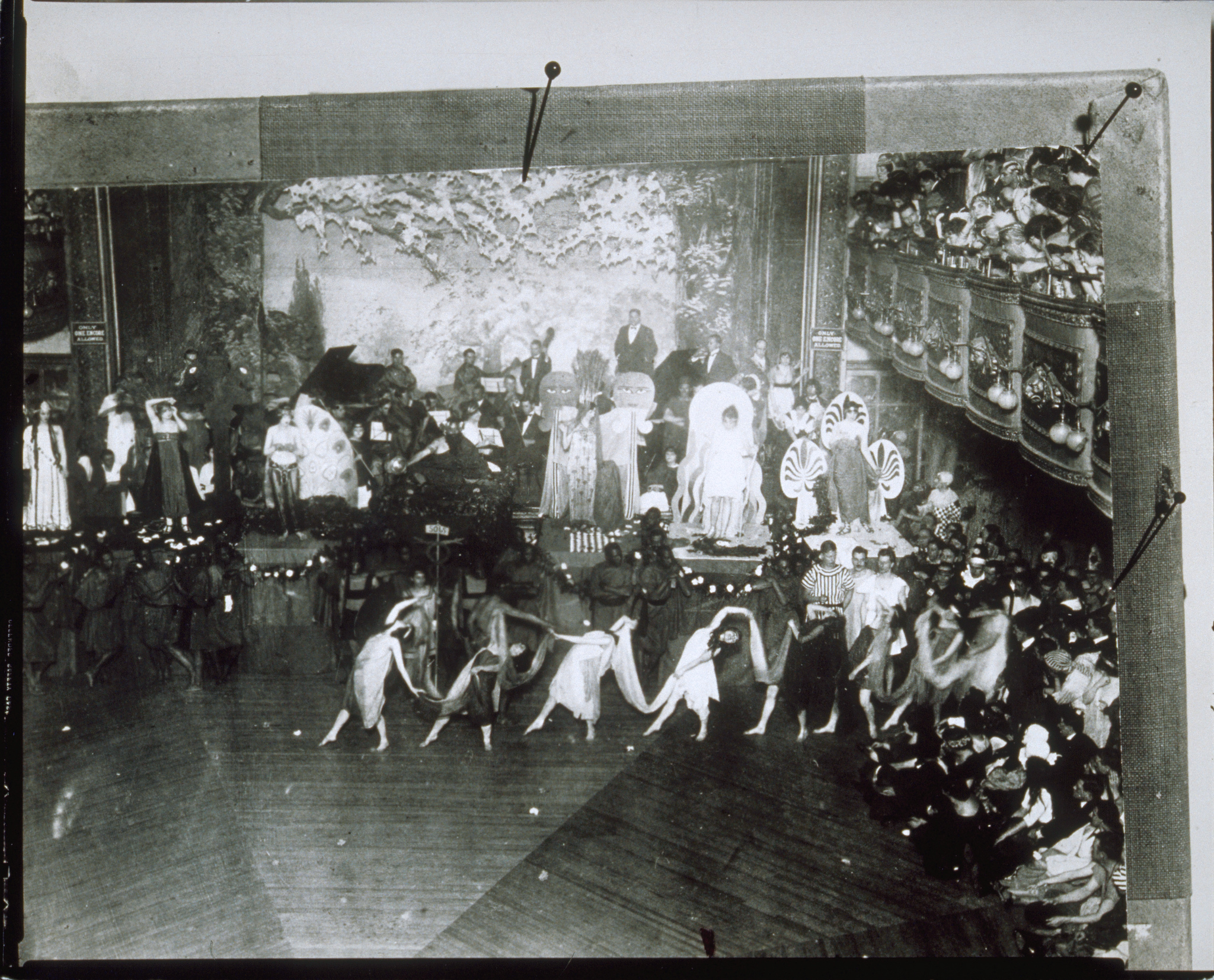 Garment workers meet out in front of Webster Hall, between 1910-1915. Â The venue was a pivotal meeting spot for union groups, political activists and anarchist leaders like Emma Goldman.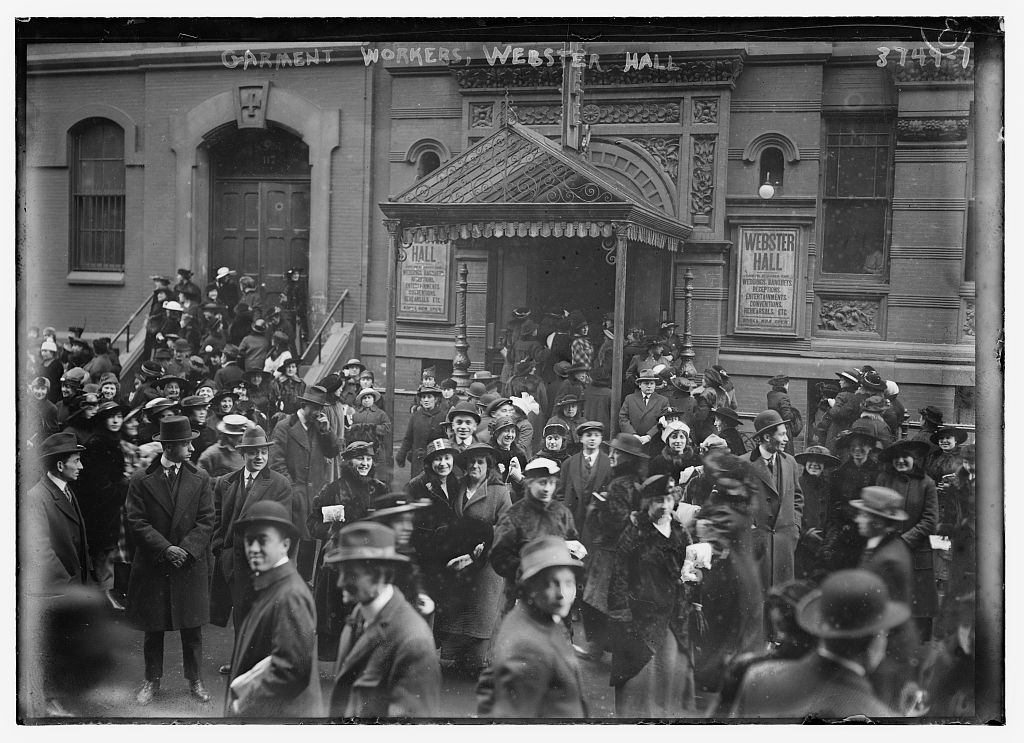 Greek immigrants gather in front of Webster Hall as they prepare to return to their country to engage in the first Balkan war (October 1912).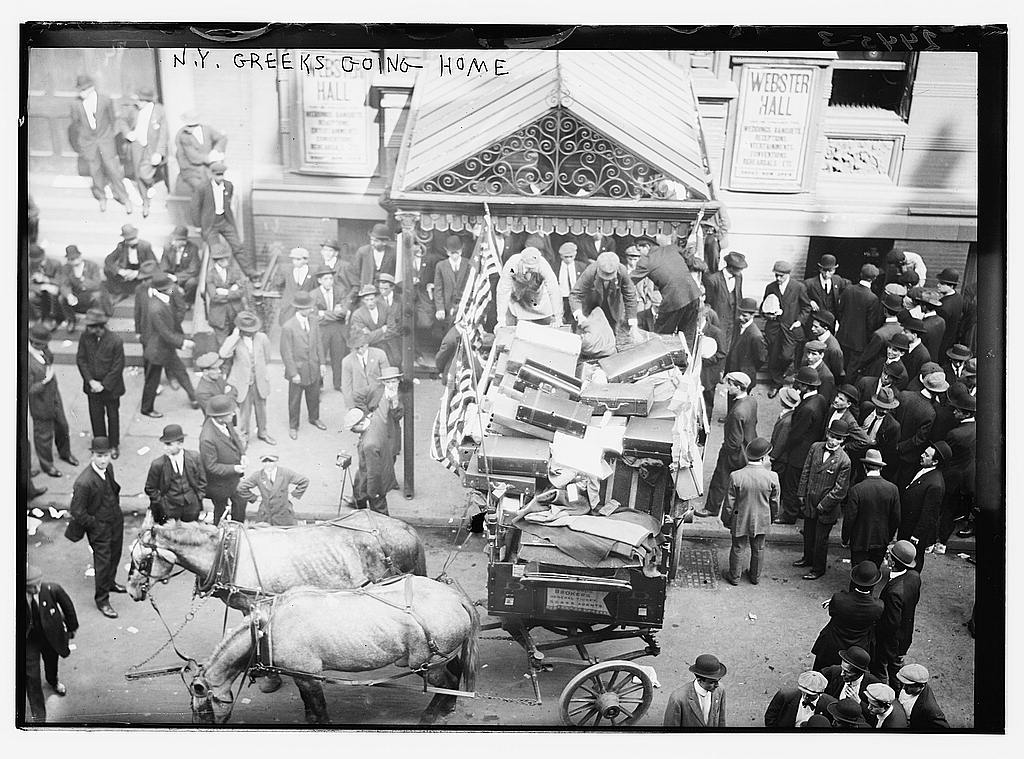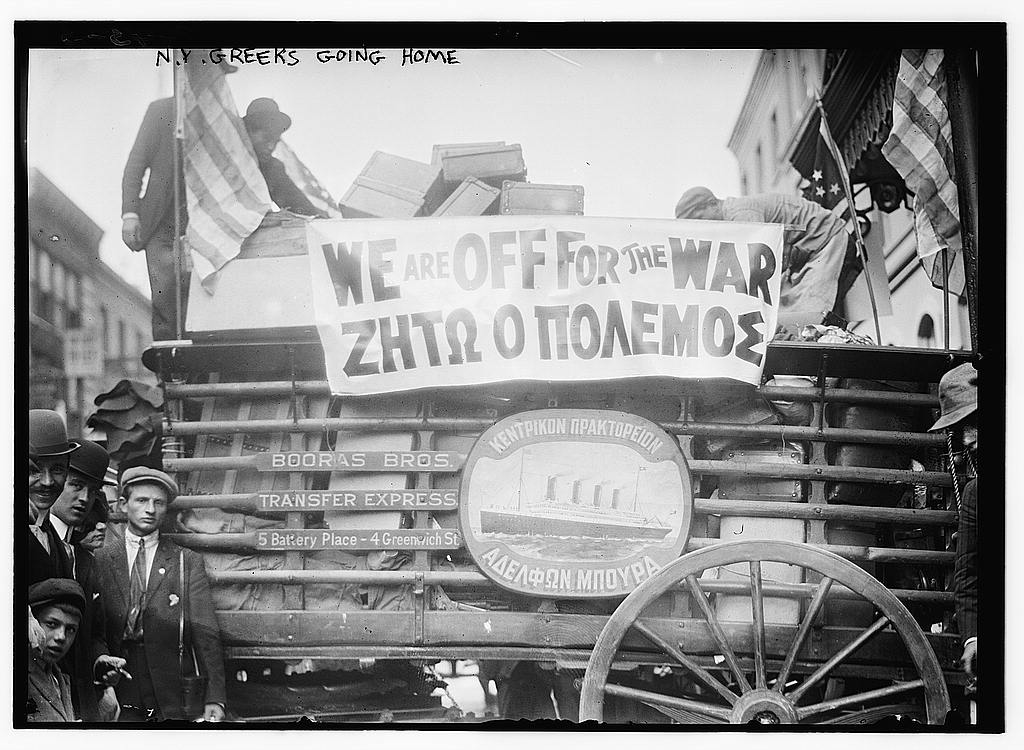 From a 1930 article: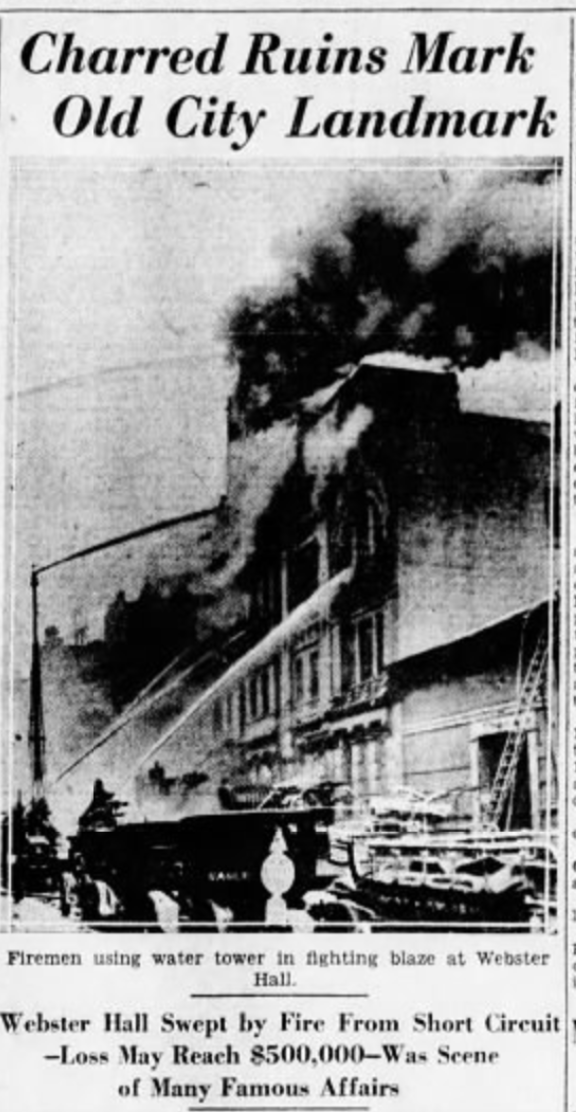 A 1933 poster advertising the annual Greenwich Village costume ball, designed by John Sloan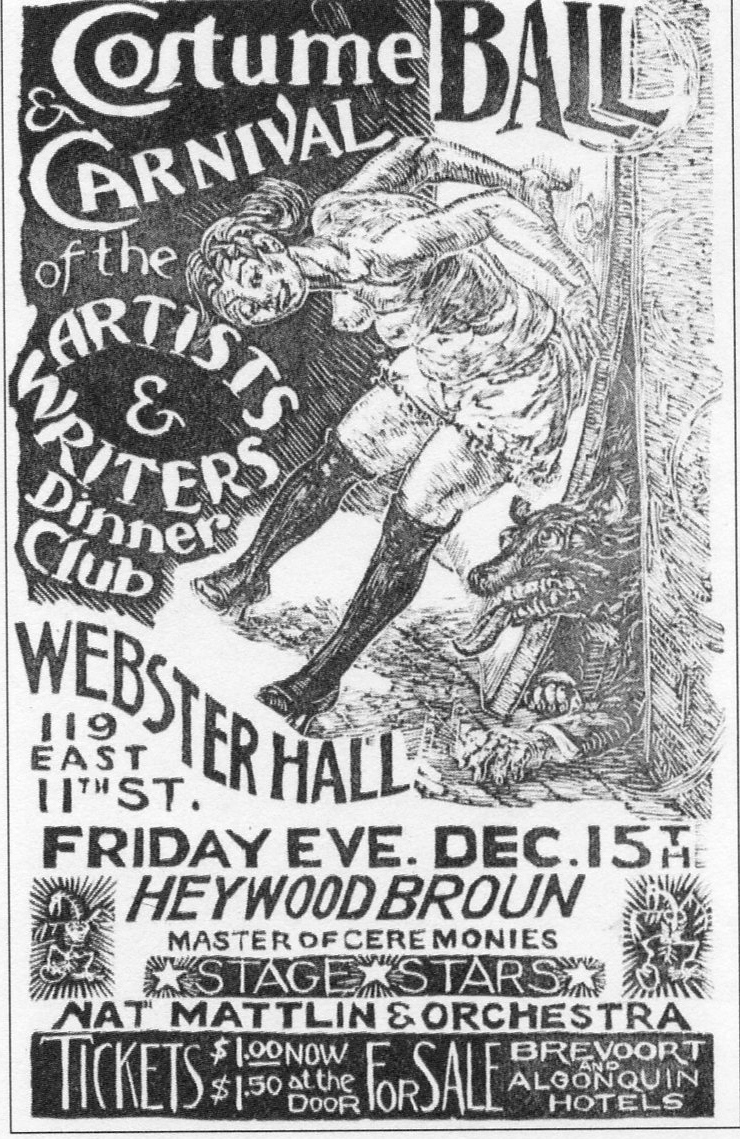 The cast of 'How To Succeed In Business Without Really Trying' recording the cast album at Webster Hall, 1961.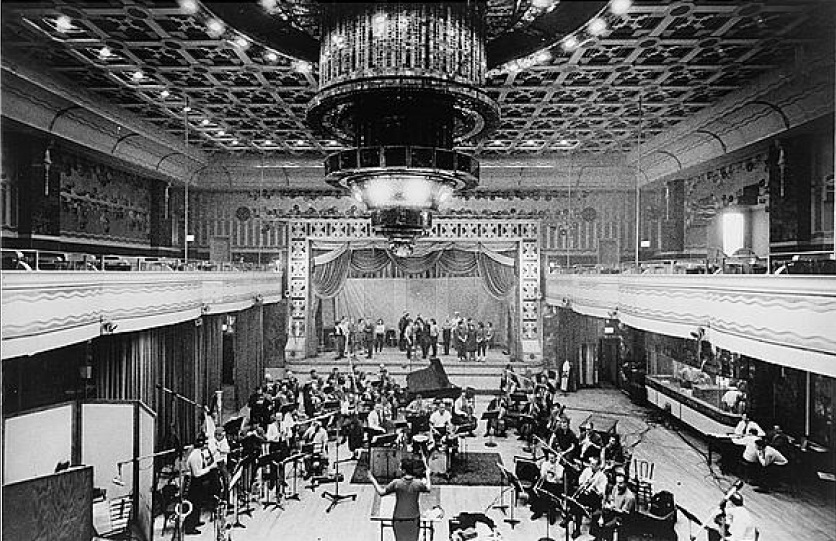 Jefferson Airplane's first New York concert, January 8, 1967, at Webster Hall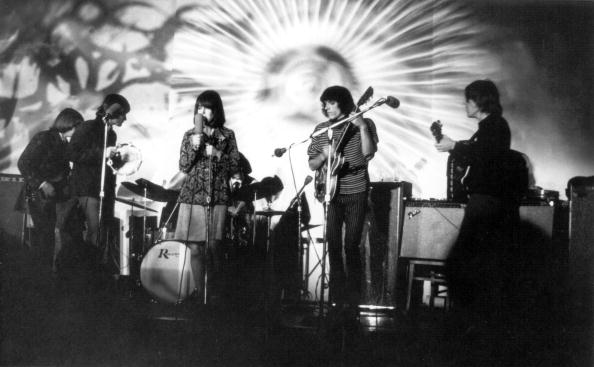 Run DMC performing at The Ritz, May 15, 1984