PODCAST The story of how Fifth Avenue, once the ritziest residential address in America, became an upscale retail strip and the home of some of New York's finest cultural institutions.
LISTEN HERE:

In this episode, the symbols of the Gilded Age are dismantled.
During the late 19th century, New York's most esteemed families built extravagant mansions along Fifth Avenue, turning it into one of the most desired residential streets in the United States. The 'well-connected' families, along with the nouveau riche, planted their homes here, even as the realities of the city encroached around them.
By 1925 most of the mansions below 59th Street were gone, victims of changing tastes and alterations to the city landscape. Clothing manufacturing plants swept through Greenwich Village, and such 'common' purposes threatened the identity of Fifth Avenue. To the west, the dazzling delights of Times Square seemed certain to wring any respectability out of Midtown Manhattan's reputation.
But near Central Park, families of newer wealth filled Fifth Avenue with their own opulent homes — Carnegies, Dukes, Fricks — as though oblivious to the changes occurring down south.
Most of these habitats of old wealth are gone today. There's no place for a 100-room mansion on one of New York City's busiest streets. Yet a few of these mansions managed to survive by taking on very different identities — from clothing boutiques to museums.
PLUS: The building that was bought for a necklace!
To download this episode and subscribe to our show for free, visit iTunes or other podcasting services or get it straight from our satellite site.
You can also listen to the show on Google Music, Stitcher streaming radio and TuneIn streaming radio from your mobile devices.
___________________________________________________________________________
The Bowery Boys: New York City History podcast is brought to you …. by you!
We are now producing a new Bowery Boys podcast every week. We're also looking to improve the show in other ways and expand in other ways as well — through publishing, social media, live events and other forms of media. But we can only do this with your help!
We are now a member of Patreon, a patronage platform where you can support your favorite content creators for as little as a $1 a month.
Please visit our page on Patreon and watch a short video of us recording the show and talking about our expansion plans. If you'd like to help out, there are five different pledge levels (and with clever names too — Mannahatta, New Amsterdam, Five Points, Gilded Age, Jazz Age and Empire State). Check them out and consider being a sponsor.
We greatly appreciate our listeners and readers and thank you for joining us on this journey so far.
________________________________________________________________________
Artistic representations of a changing Fifth Avenue —
A 1908 illustration by Joseph Pennell titled Rebuilding Fifth Avenue.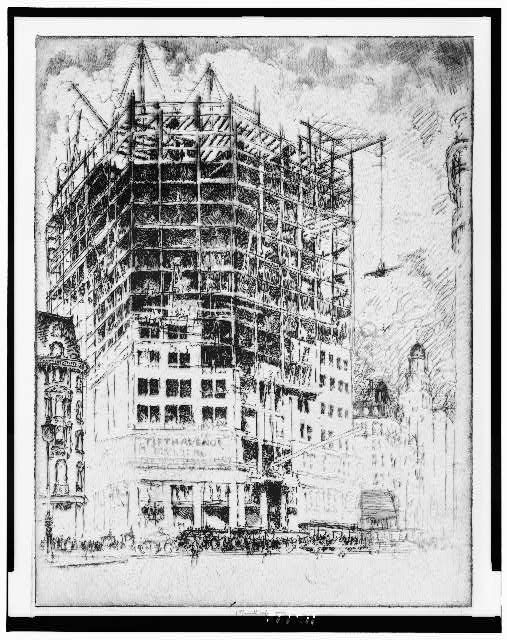 Fifth Avenue at Twilight, an illustration (c. 1910) by artist Birge Harrison, depicting Grand Army Plaza and Vanderbilt's mansion, with Fifth Avenue Presbyterian and the Gotham Hotel behind it.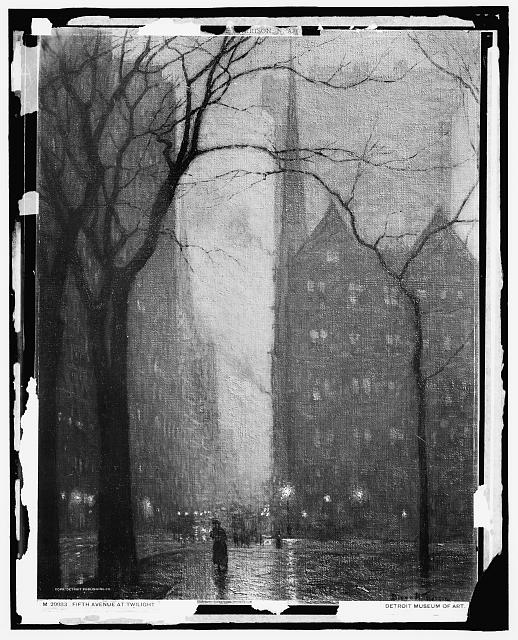 By 1932, the transition to a retail district was virtually complete. Almost no single-family houses remained on Fifth Avenue below 59th Street.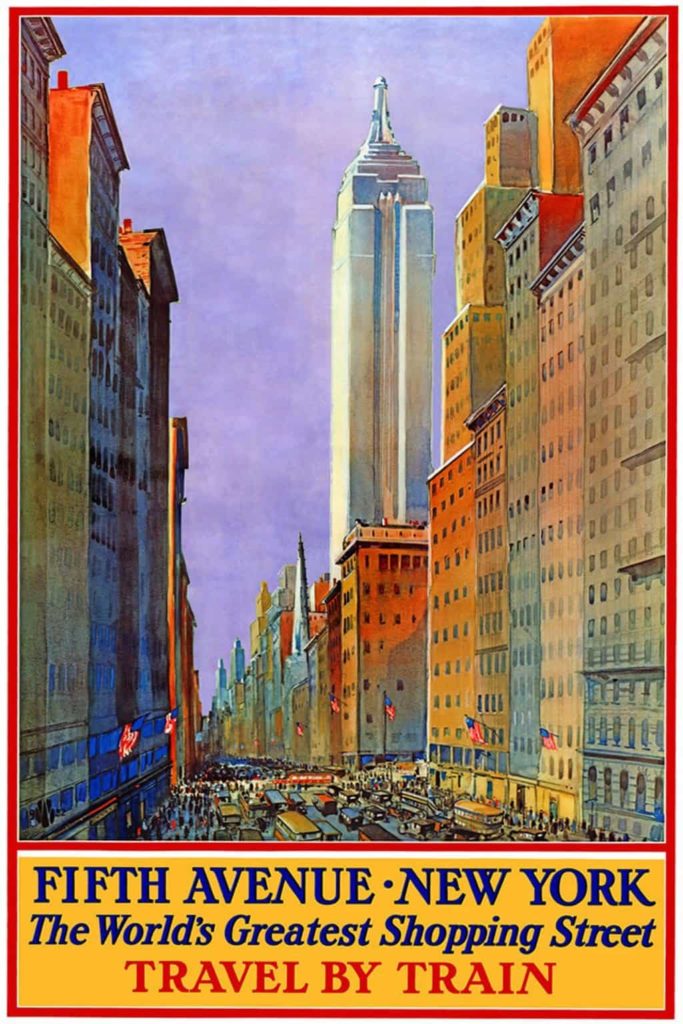 Postcard caption (from 1935): "A view of Fifth Avenue, the parade ground of the nation, looking south from 48th St., famous for its smart shops and double-decked buses."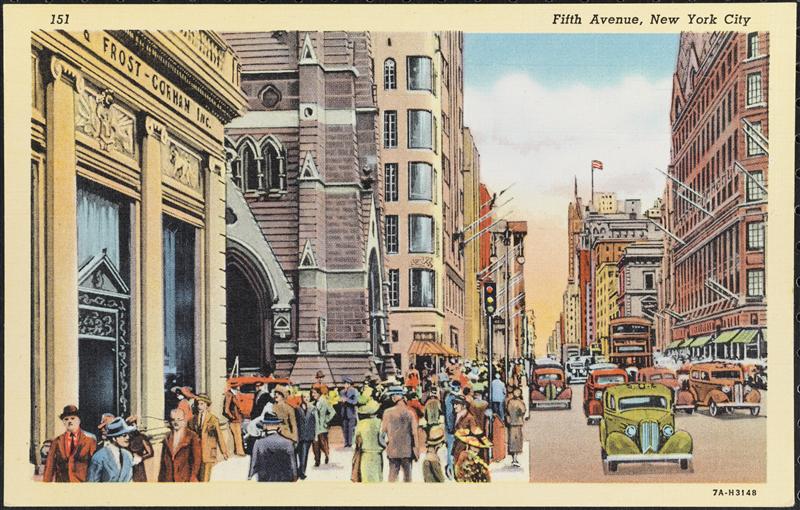 The New Century —
The corner of 59th Street and Fifth Avenue. Within 30 years this view would be completely transformed.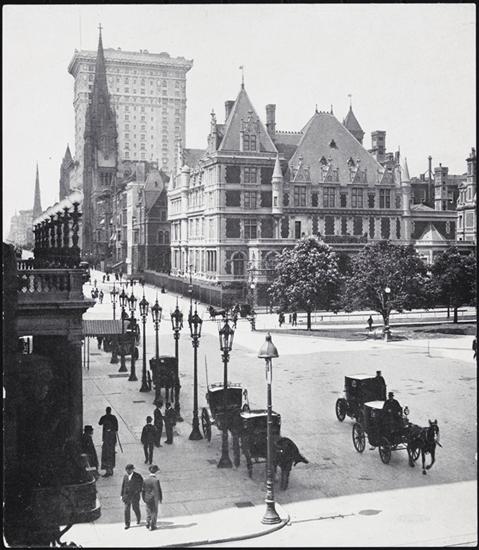 The new mansion 'bonanza' sprouted above 59th Street, a row of fine single-family palaces that would help create the ritzy reputation of the Upper East Side.
The home of W.C. Whitney (68th Street), 1900: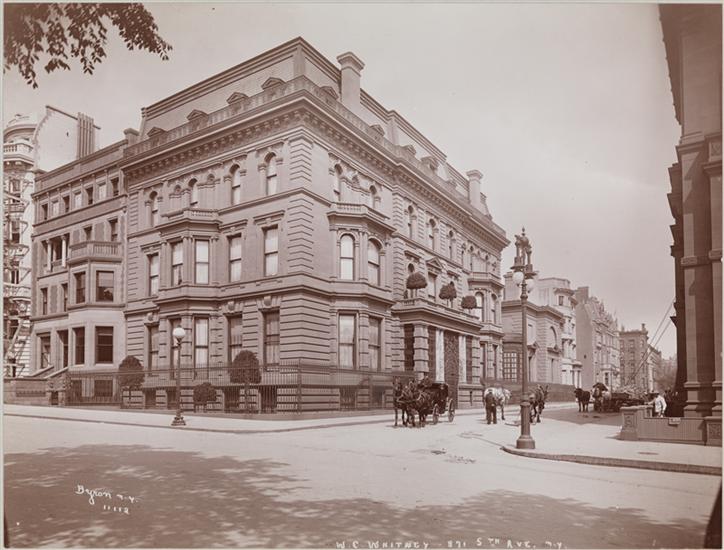 The home of George Gould (son of Jay), at Fifth Avenue and 89th Street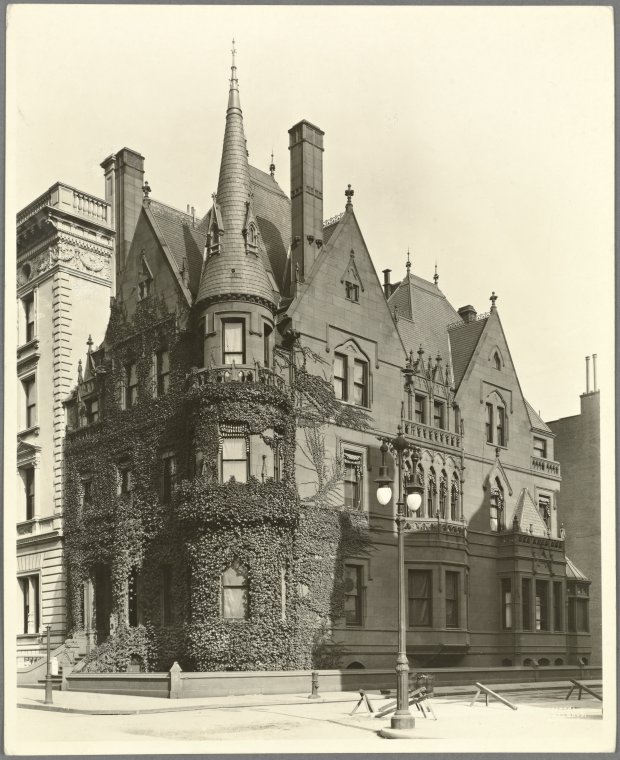 The mansion of William Clark at E. 77th Street — in 1918 and 1927 (note the boarded up windows).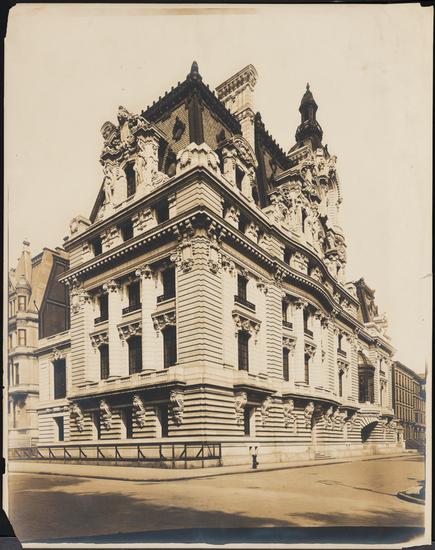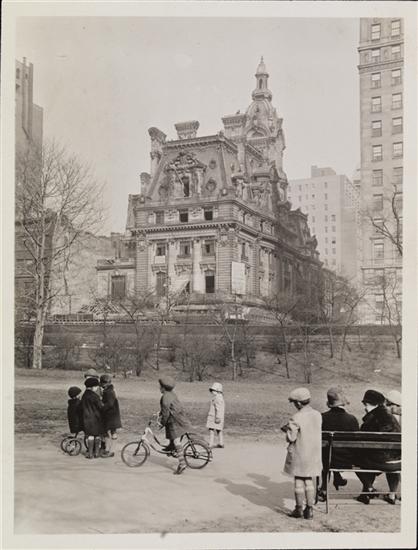 Demolition on Fifth Avenue was an extraordinarily common site in the first quarter of the 20th century. This is the northeast corner of Fifth Avenue and 54th Street in 1925.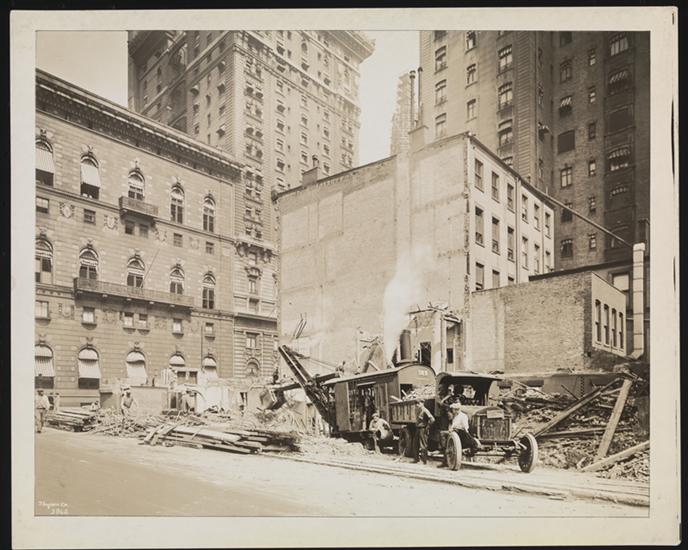 The mansion of James B Duke, 1938. The house still exists, as does the apartment complex (and its awning) across the street.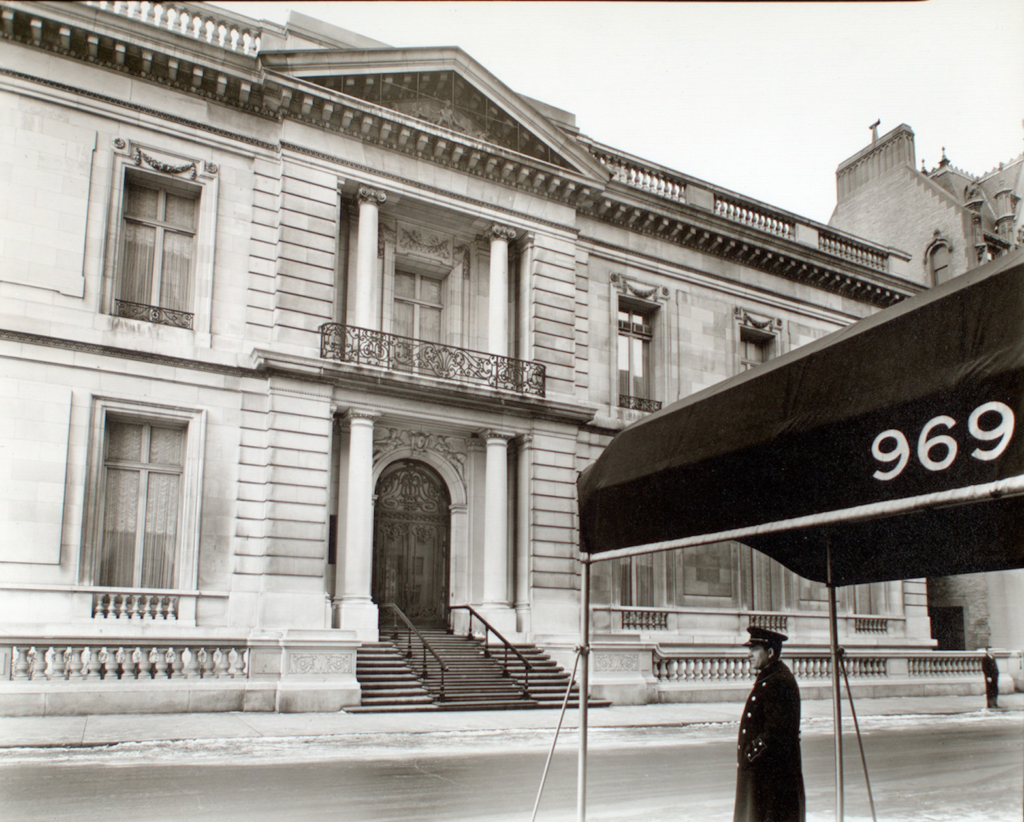 A confusion of automobile traffic along Grand Army Plaza, 1930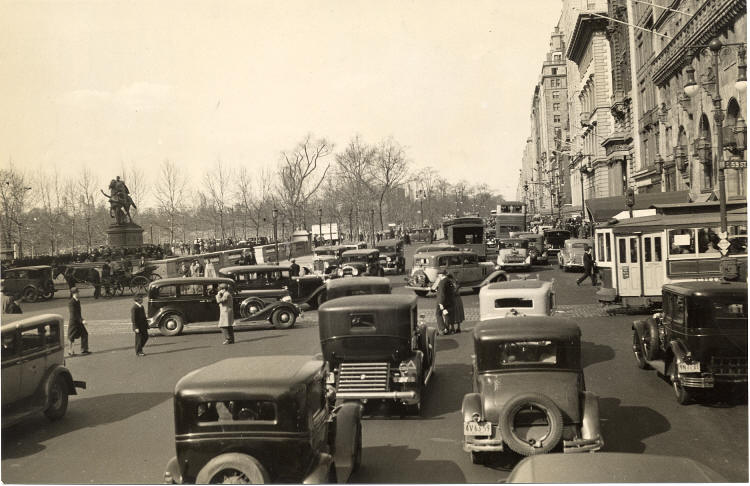 The new Bergdorf Goodman in 1930, replacing the old Vanderbilt mansion.