HISTORY BEHIND THE SCENE What's the real story behind that historical scene from your favorite TV show or feature film? A semi-regular feature on the Bowery Boys blog, we will be reviving this series as we follow along with TNT's limited series The Alienist. Look for other articles here about other historically themed television shows (Mad Men, The Knick, The Deuce, Boardwalk Empire and Copper). And follow along with the Bowery Boys on Twitter at @boweryboys for more historical context of your favorite shows.
Public bathhouses were an integral component of tenement districts in late 19th and early 20th century New York City. Running water was uncommon in the poorest areas of the city, and when it was available, rusty, filthy pipes ensured that its consumption would be an unpleasant and often unhealthy experience.
And of course there was often very little available for bathing. As a result, life was so very fragrant back then.
Temporary outdoor baths sprang up around the city during the summer such as this one off Fifth Street on the East River in 1870.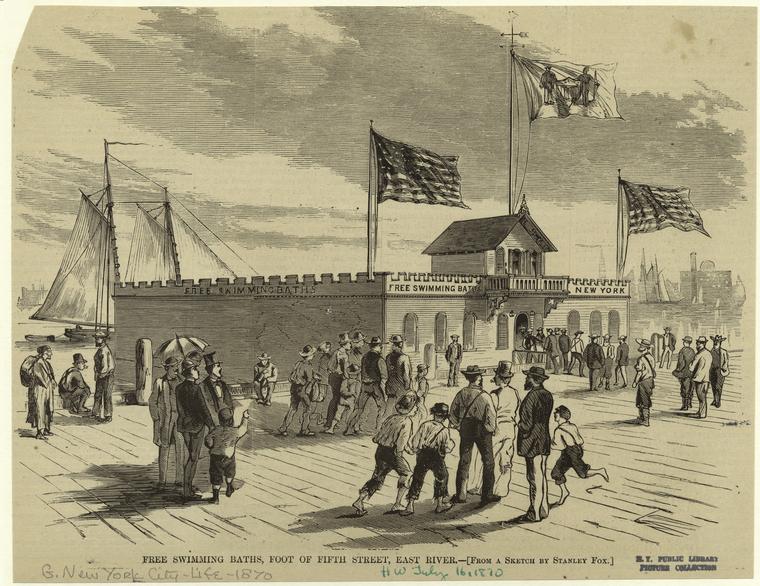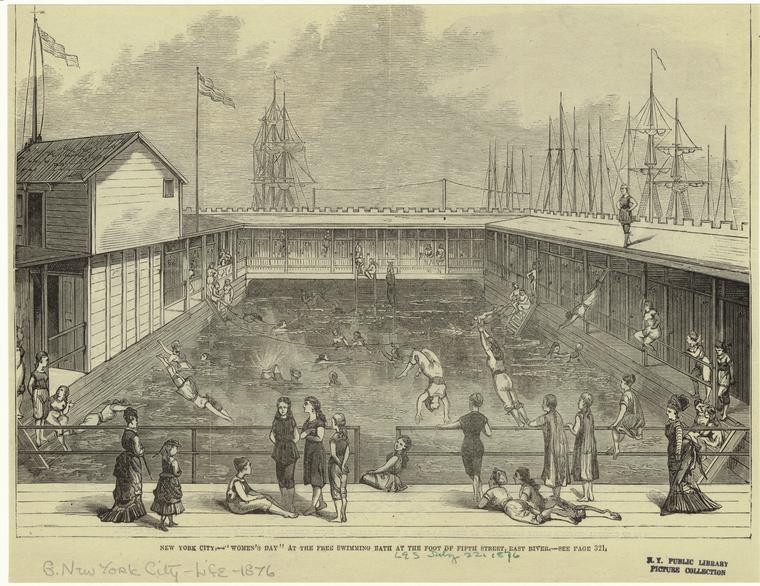 From Harper's Weekly, August 20, 1870. "We give on this page an illustration of the swimming bath at the foot of Charles Street. It contains 68 rooms, the water is four and a half deep and 200 bathers can be accommodated at one time. The success of these experiments should lead to the establishment of other baths in sufficient numbers to accommodate all who desire to avail themselves of these healthful privileges."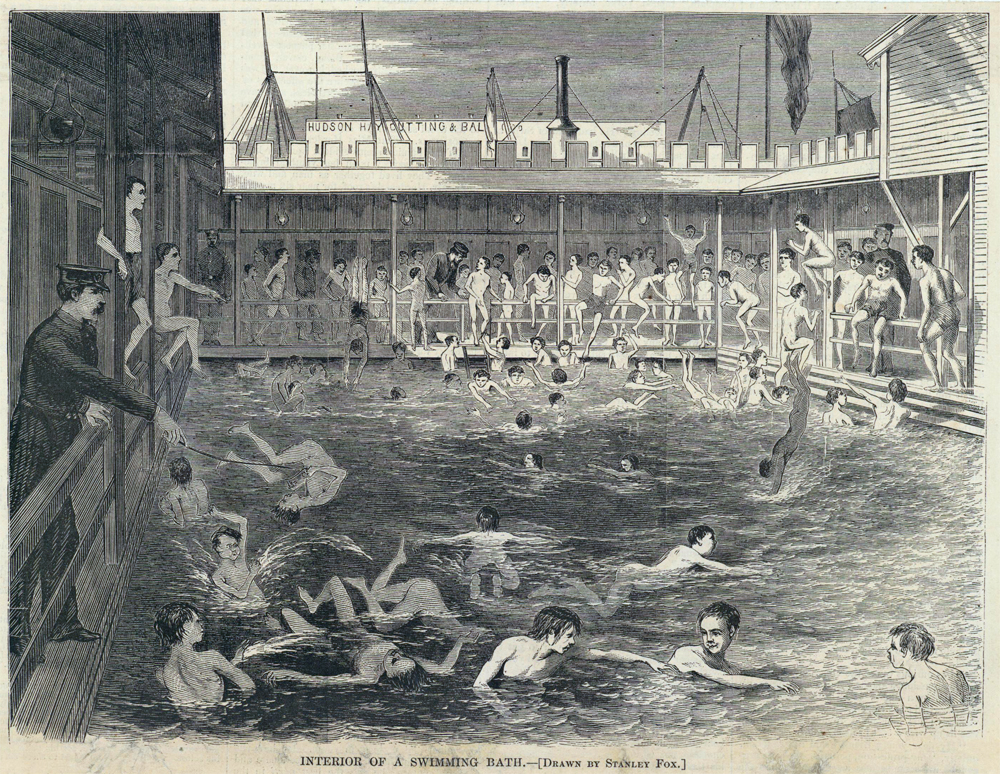 But the city's objectives in opening public bath houses (starting in the 1880s) weren't merely related to cleanliness. Most believed access to clean water promoted health and kept epidemics from spreading. This wasn't strictly for the benefit of the poor, but for the wealthier classes who interacted with them in daily life.
From Gotham by Edwin G. Burrows & Mike Wallace: "[I]n the late 1880s, [German professor Simon] Baruch began a campaign stressing that baths, in addition to benefiting the poor and helping create "civic civilization" out of "urban barbarism," were in the interest of "the better situated classes": no longer unwashed, the employees, servants, laborers, and tradespeople next to whom they sat on crowded cars would not carry so many deadly germs. "
Public baths also provided relief in hot summer months — air conditioning and affordable electric fans were decades away — and encouraged physical activity. The public bath, in effect, gave rise to the urban swimming pool movement, drawing children from dangerous piers and swimming holes and into carefully monitored (if incredibly crowded) water environments.
In 1888, New York installed several outdoor baths within the city, imposing 20 minute time limits on swimmers to keep the water clean. (No matter; adventurous children hopped from pool to pool to skirt the rules).
Public Bath #10 on the Hudson River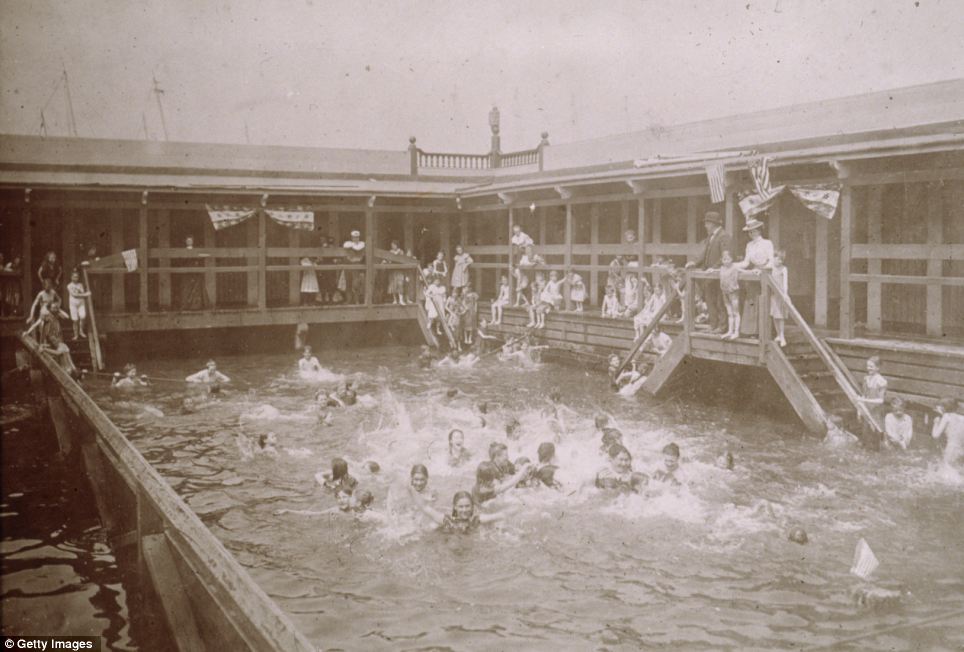 Three years later, a grand People's Bath (at Grand Street and Centre Street) provided people with soap and towels for the modest admission of five cents.
In 1895, public bathing became a priority for Mayor William Strong who authorized a Sub-Committee on Baths and Lavatories which reported that "New York City was lagging far behind European and other American cities in the building of baths and urged that the city begin immediately to remedy the situation." State government soon concurred, passing a mandatory bath law that year, "making the establishment of public baths mandatory for all first- and second-class cities in the state." [source]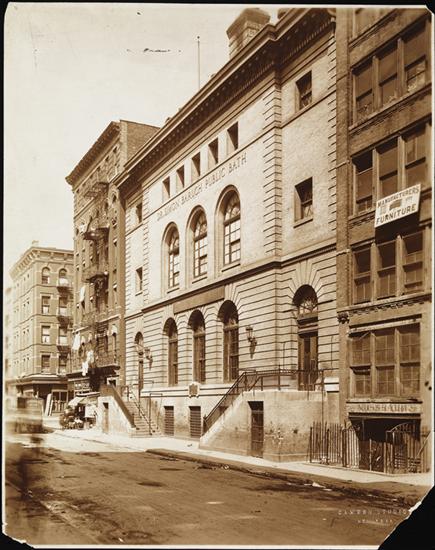 New public baths began opening by the new century, many in the Lower East Side; the first, Rivington Street Bath (pictured above), even had 91 showers and 10 bathtubs.
An advertisement for baths in 1935: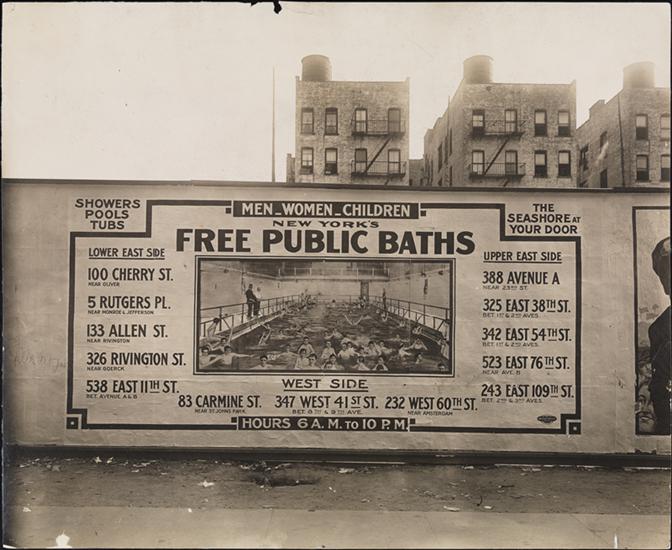 They're mostly forgotten about today but a few remaining historical structures bear evidence of these important structures.
One such relic sits at Madison Street in the Lower East Side, within the La Guardia Houses development. (It's listed in the above advertisement at 5 Rutgers Place.)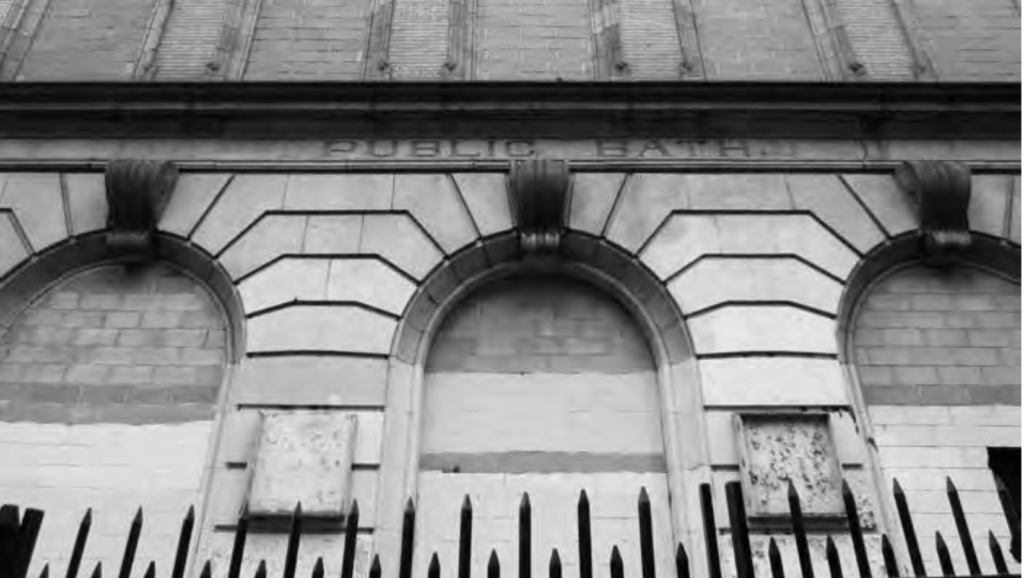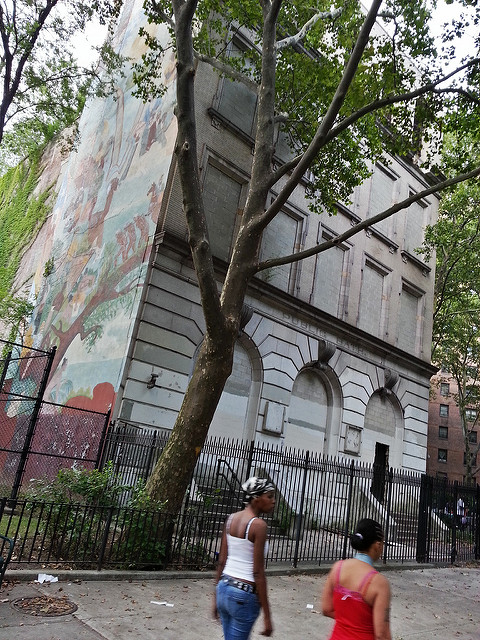 Nicknamed the Whitehouse, the bathhouse opened on December 23, 1909, and was one of thirteen public bath facilities in New York at that time. By the 1940s indoor plumbing had rendered the public bath obsolete, and so it was converted into a public swimming pool and gymnasium. Today it sits unused, like many others throughout the city, a ruin from another time.
Others have been rescued and serve new purposes such as the Milbank Memorial Bath at 325-327 East 38th Street (pictured below). Today the structure is the Indonesian Mission to the United Nations, but when it opened, it was one of the biggest bathhouses in the city, serving up to 3,000 people.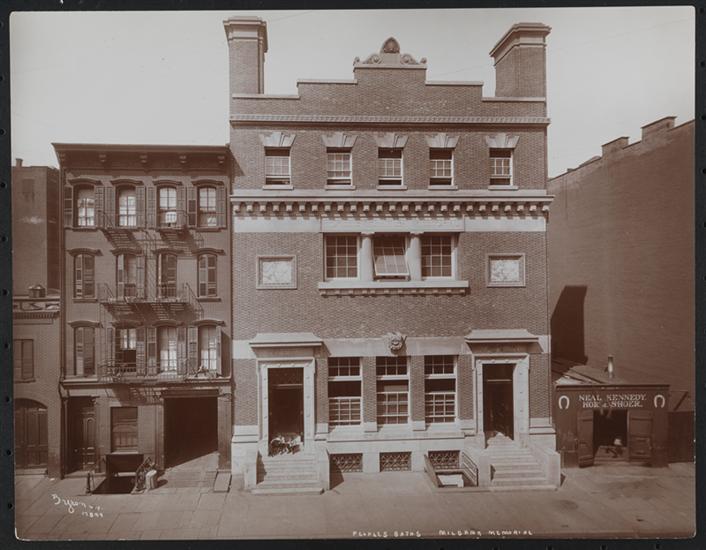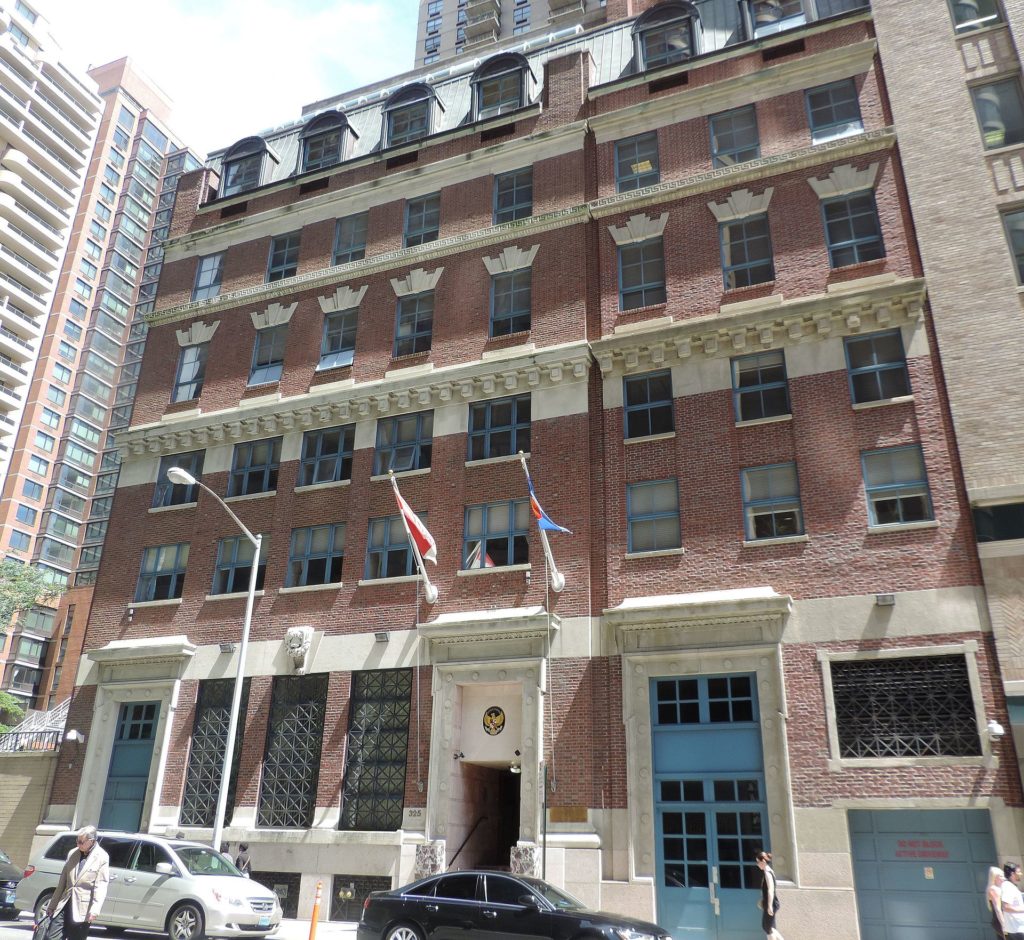 The grateful visitors of Milbank's bath house: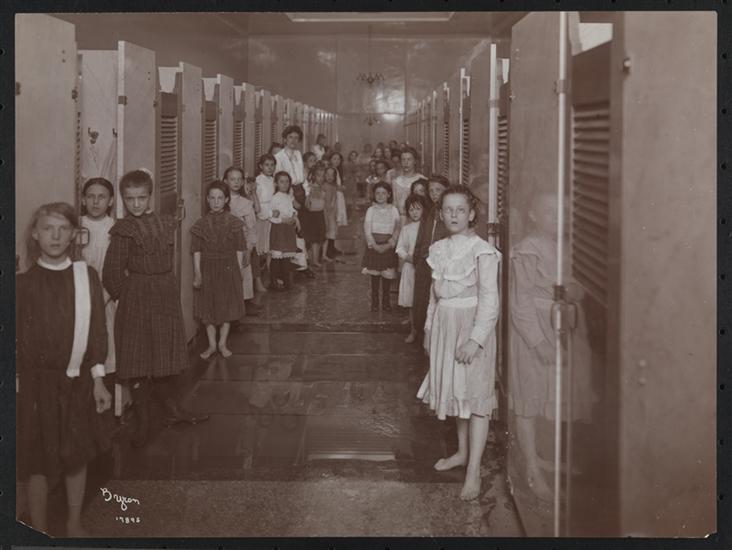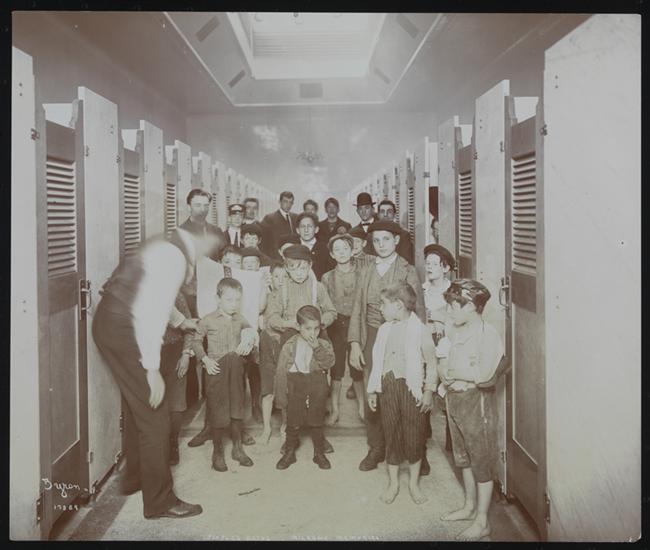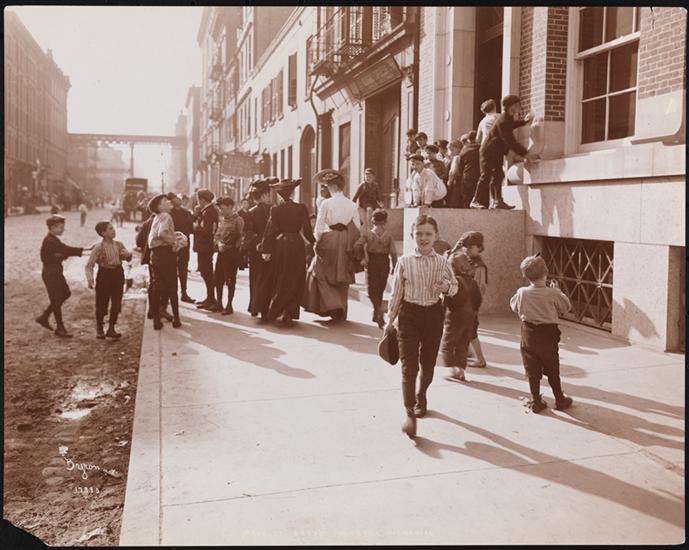 Perhaps the best known — and most beautiful — example of a public bath house standing in New York City today is the Asser Levy Public Bath in Kips Bay. (It's also listed in the billboard image as 388 Avenue A.) Its unusual beauty is perhaps what saved it from demolition, and today it's part of Asser Levy Recreation Center, serving in its original function — as a swimming pool for neighborhood children.