PODCAST The ultimate history of New Year's celebrations in New York City.
This is the story of the many ways in which New Yorkers have ushered in the coming year, a moment of rebirth, reconciliation, reverence and jubilation.
In a mix of the old and new, we present a history of early New Year's festivities, before heading to the city's most famous party — New Year's Eve in Times Square.
Why did Times Square become the focal point for the world's reflection on a new calendar year? And how did Times Square's many changes in the 20th century influence those celebrations? Featuring Dick Clark, Guy Lombardo, Three Dog Night — and Daisy Duke.
THEN Greg brings you the story of the Chinese New Year which has been celebrated in Manhattan's Chinatown since before there was even a Times Square! The celebration has been at the bedrock of the Chinese experience in New York. But in the 19th century, the customs of the season were met with curiosity, bewilderment and sometimes harsh disapproval. And what's up with the fireworks?
Listen Now: Chinese New Year New York Podcast
To download this episode and subscribe to our show for free, visit iTunes or other podcasting services or get it straight from our satellite site.
You can also listen to the show on Overcast, Google Music and Stitcher streaming radio.
Or listen to it straight from here:
________________________________________________________
The Bowery Boys: New York City History podcast is brought to you …. by you!
We are now producing a new Bowery Boys podcast every other week. We're also looking to improve the show in other ways and expand in other ways as well — through publishing, social media, live events and other forms of media. But we can only do this with your help!
We are now a member of Patreon, a patronage platform where you can support your favorite content creators for as little as a $1 a month.
Please visit our page on Patreon and watch a short video of us recording the show and talking about our expansion plans. If you'd like to help out, there are five different pledge levels (and with clever names too — Mannahatta, New Amsterdam, Five Points, Gilded Age, Jazz Age and Empire State). Check them out and consider being a sponsor.
And join us for the next episode of the Bowery Boys Movie Club, an exclusive podcast provided to our supporters on Patreon.
We greatly appreciate our listeners and readers and thank you for joining us on this journey so far.
_______________________________________________________
Visit Times Square NYE for details about this Tuesday's party in Times Square. For general information about this year's Chinese New Year, check out this handy web guide. And visit Better Chinatown for a map of this year's parade route.
New Years Day celebrations have evolved since the days of New Amsterdam when visitations symbolized a 'fresh start' to the year.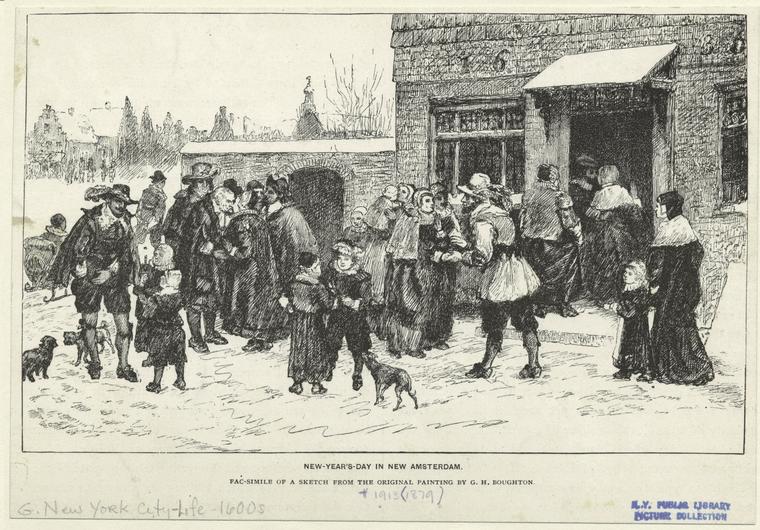 A decorative cigar box from the 1890s, ringing in the new year with a winsome damsel and wholesome scenes of winter beckoning you to smoke a cigar.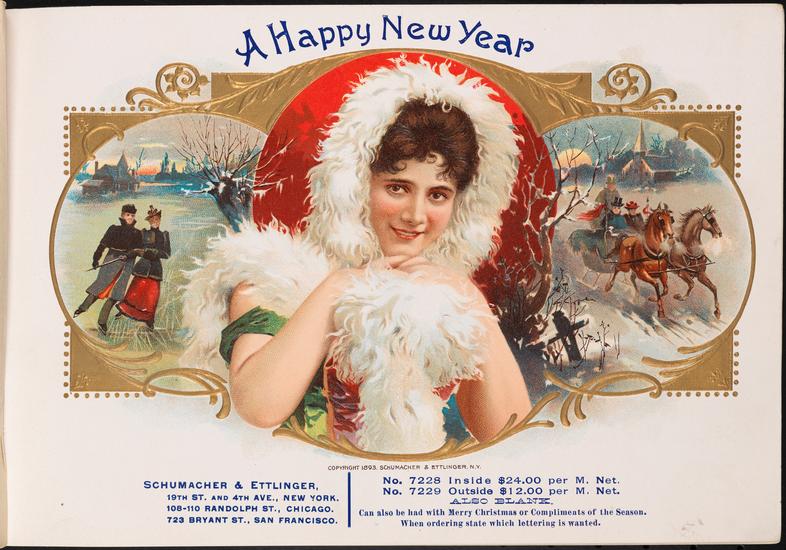 The crowds outside Trinity Church on 1906 gathered to usher in the new year. The church was traditionally the place people gathered before the Times Square celebration took off.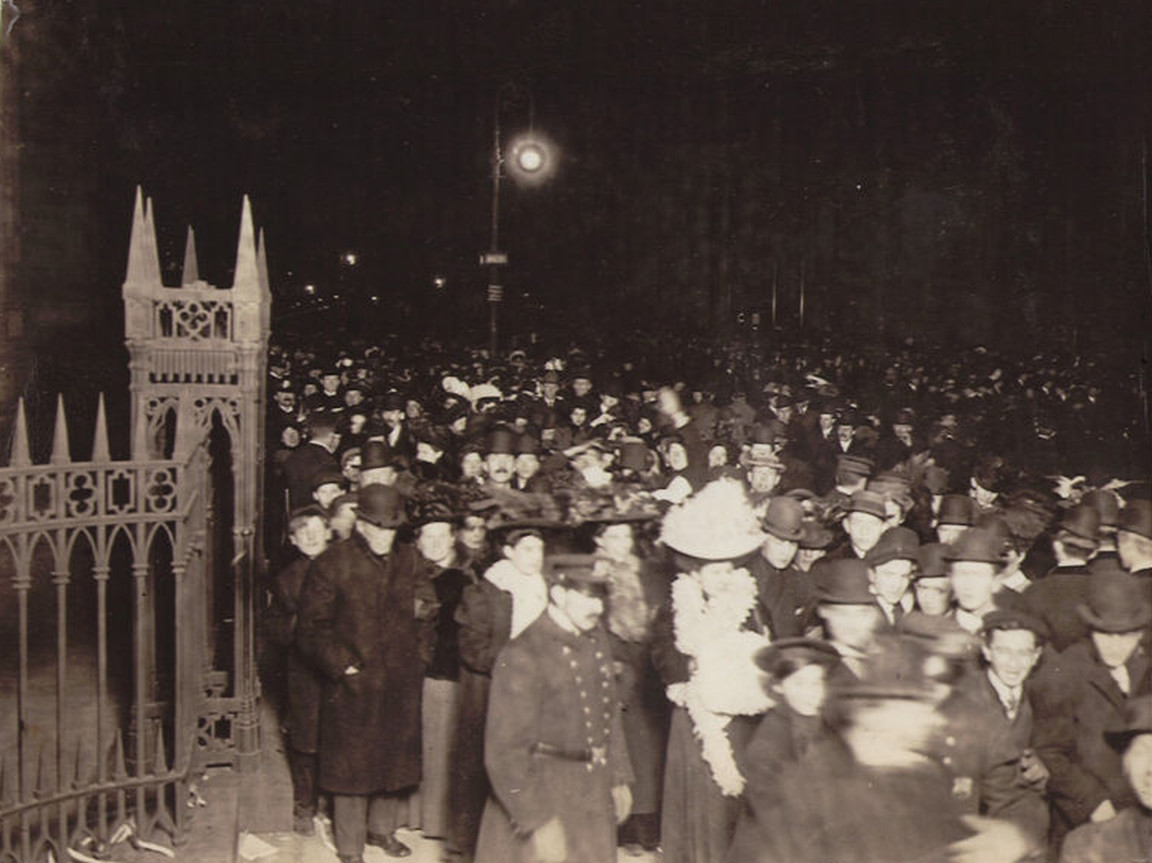 Fated to be the centerpiece of New Years Eve, One Times Square once wore some beautiful architecture until much of it was ripped off to accommodate a frenzy of electronic signs.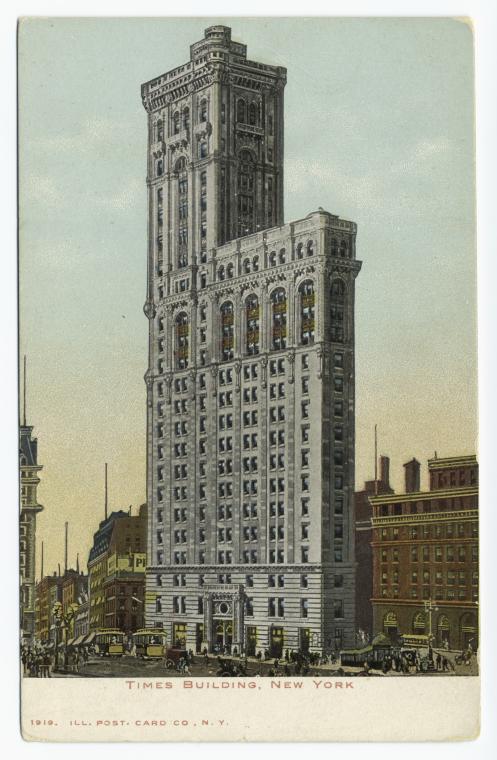 Times Square in 1905 for the very first New Years Eve celebration albeit one with fireworks, not a ball drop.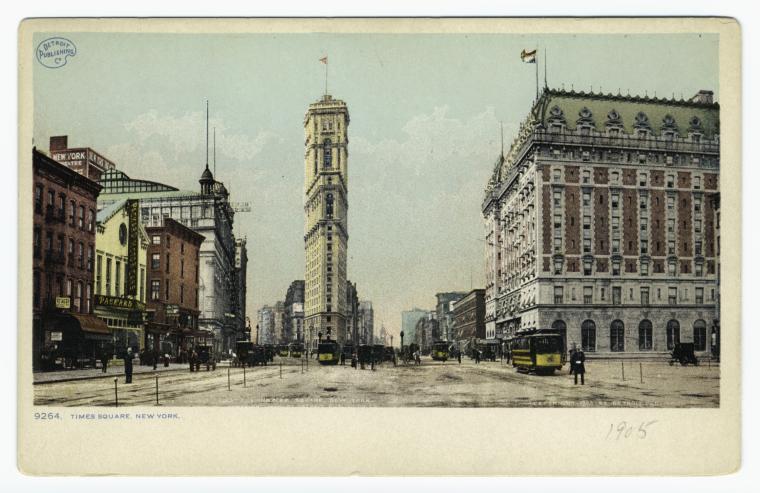 The party offerings at the Hotel Astor in Times Square in 1926.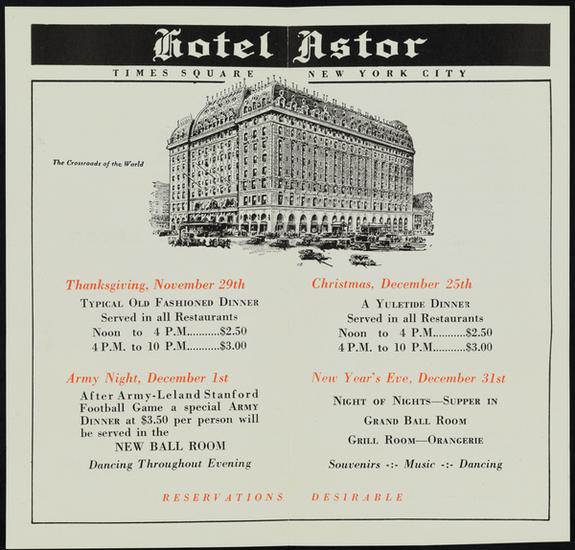 The view of Times Square from the Empire State Building.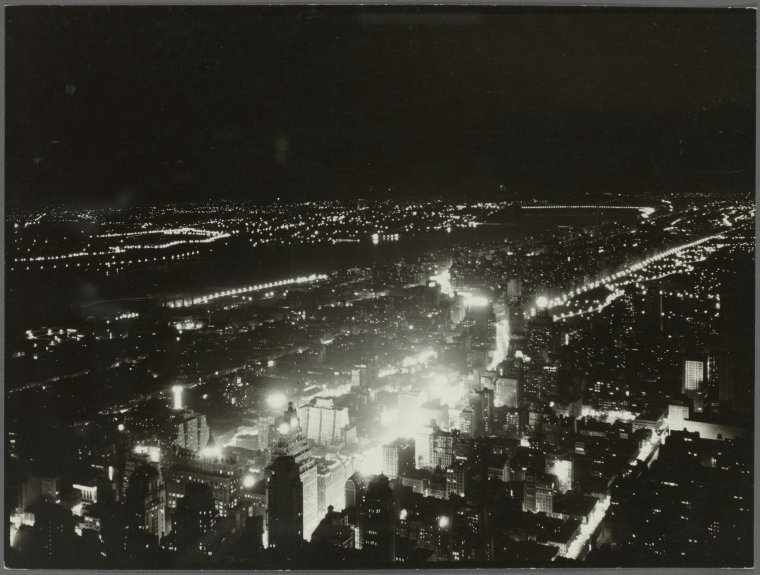 New Years Eve 1938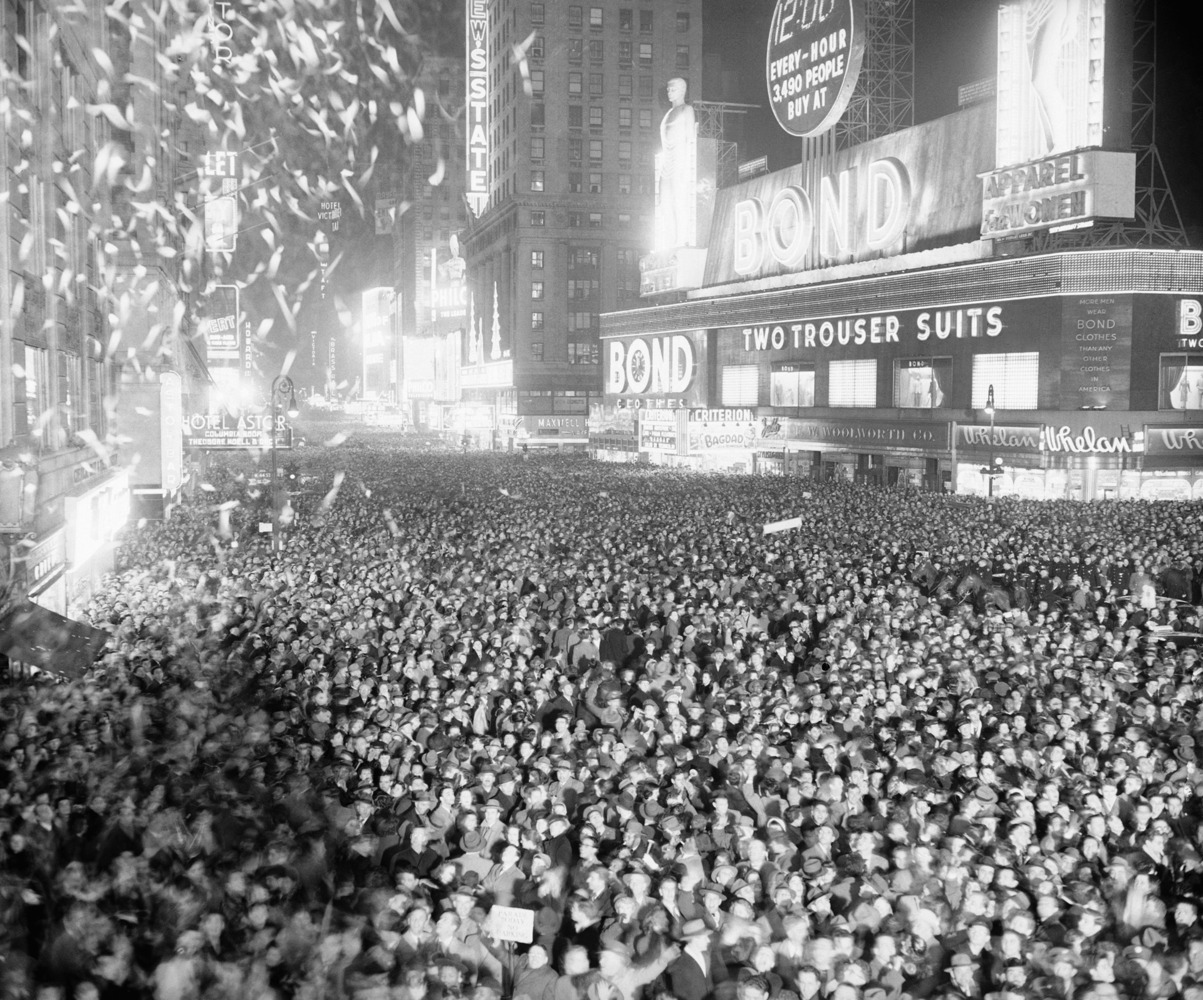 The throngs in 1940 with the Gone With The Wind marquee in the background (not to mention Tallulah Bankhead in the play The Little Foxes!)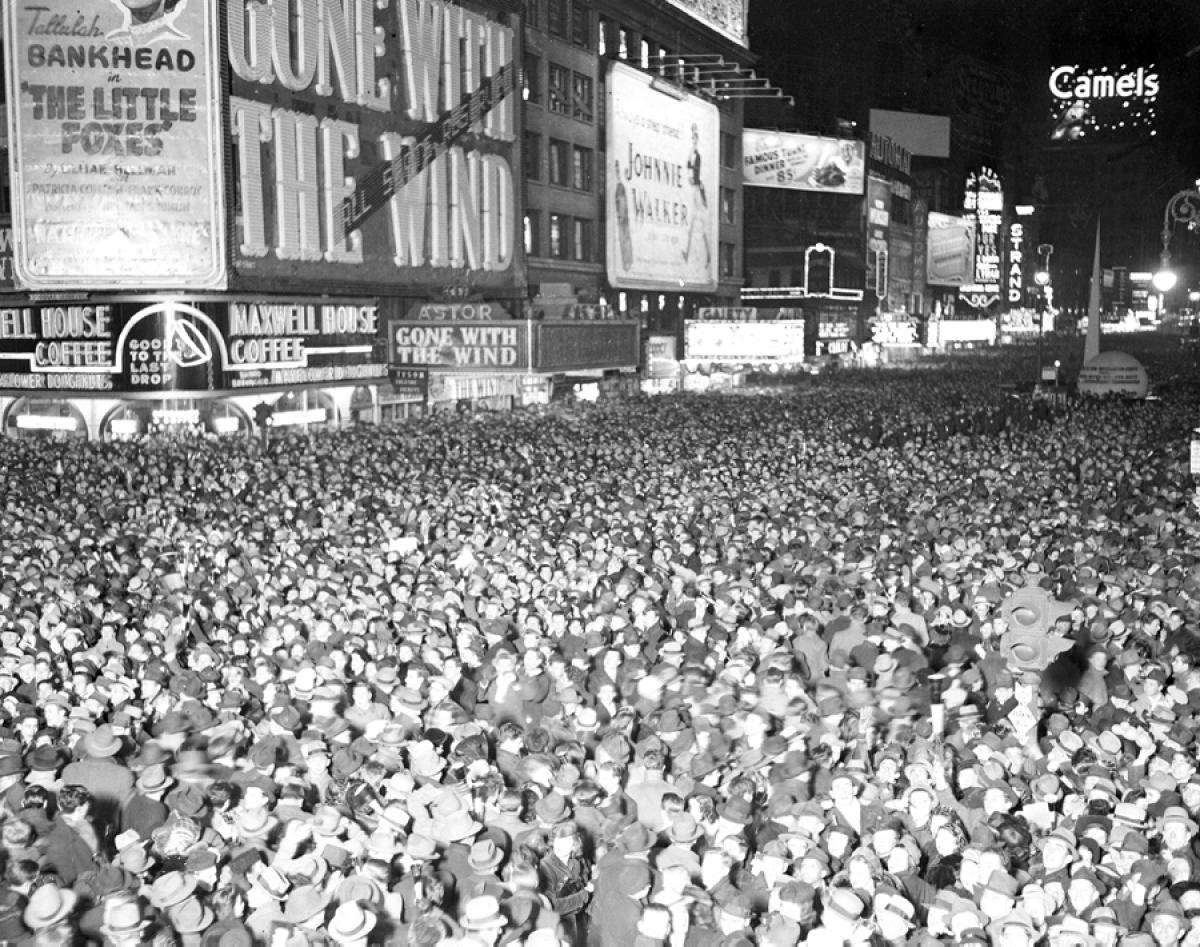 Ushering in 1953: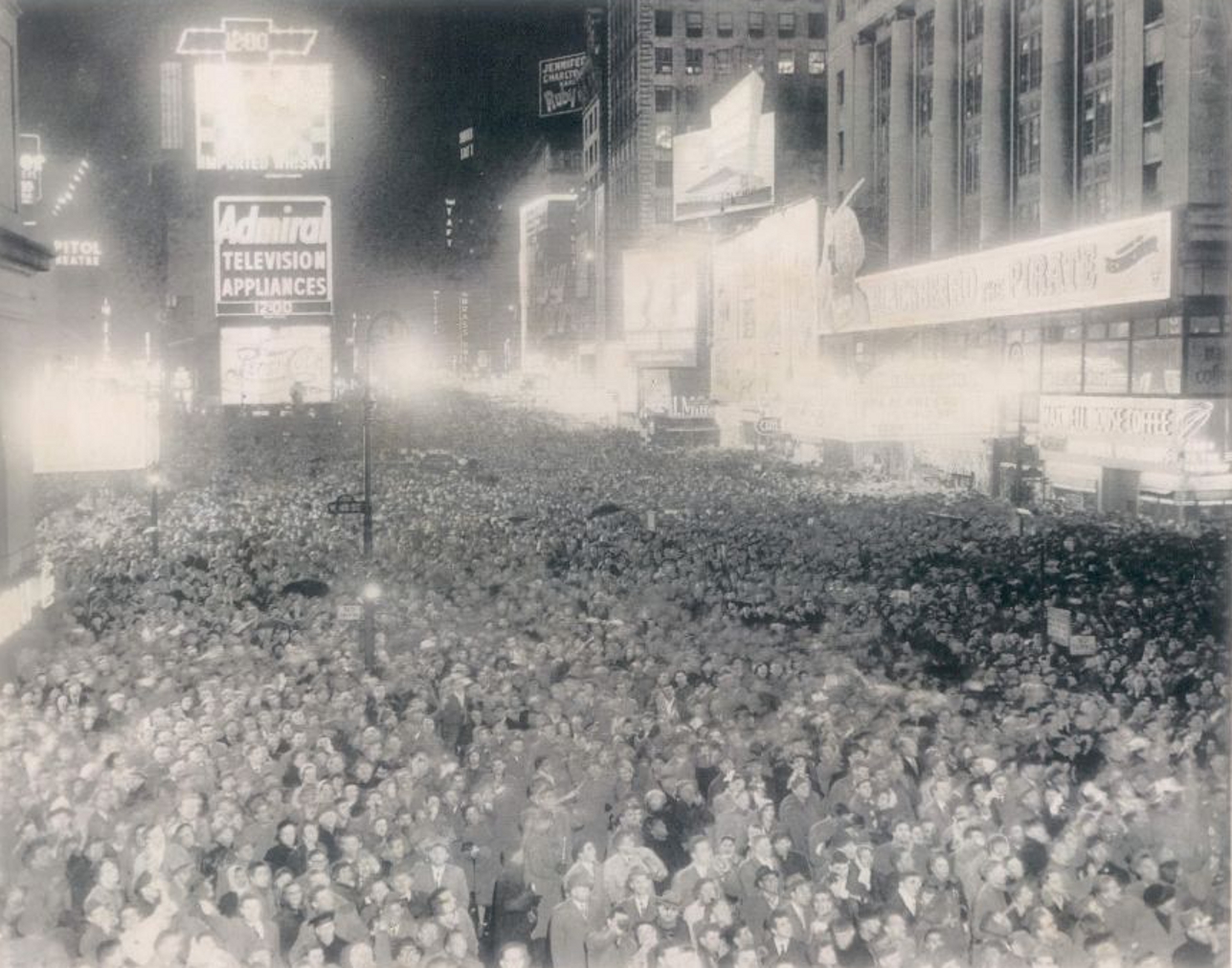 Celebrations were also held for a time in Central Park, like this festive group from 1969: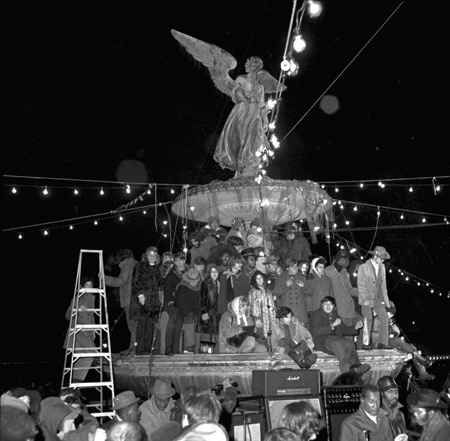 An electrician from the Artkraft Strauss Sign Corporation tests out the lighting effects that will greet the new year in 1992.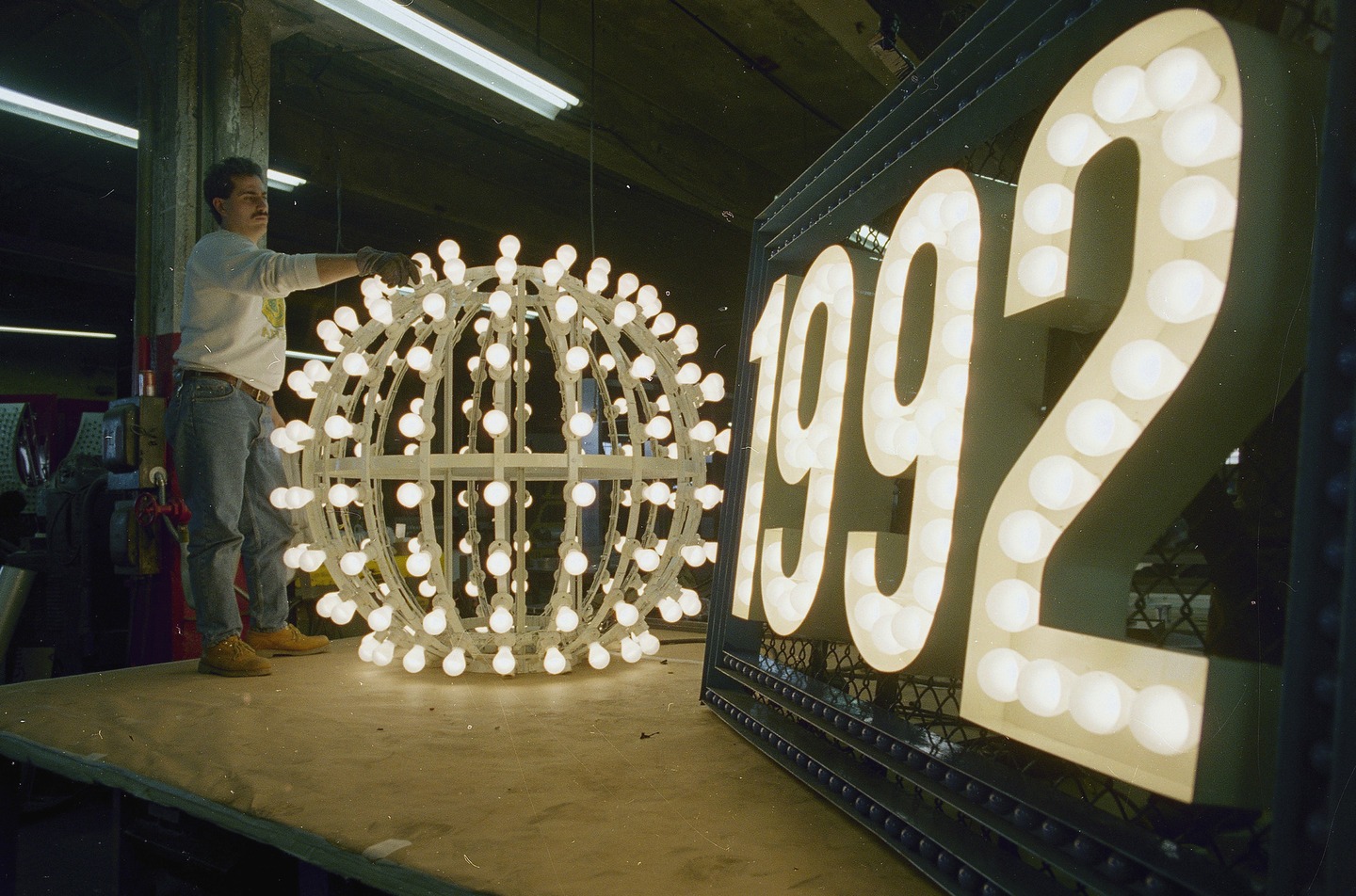 Images of Chinese New Year celebrations in Chinatown from the early 20th century, courtesy the Library of Congress.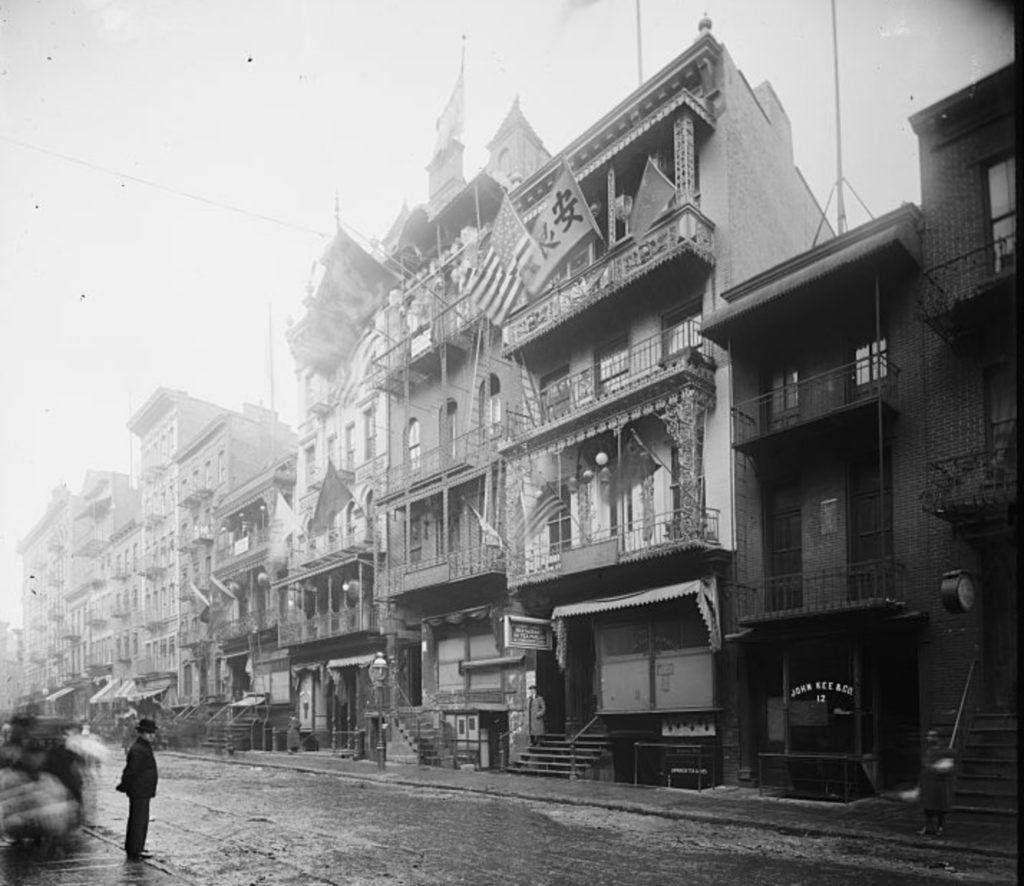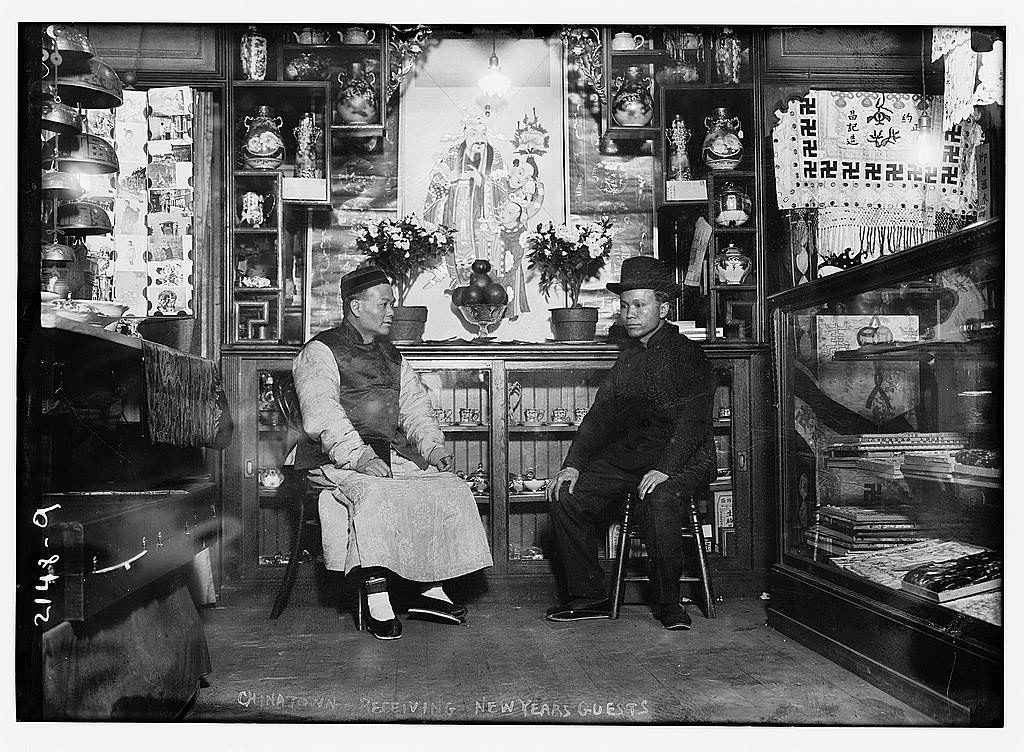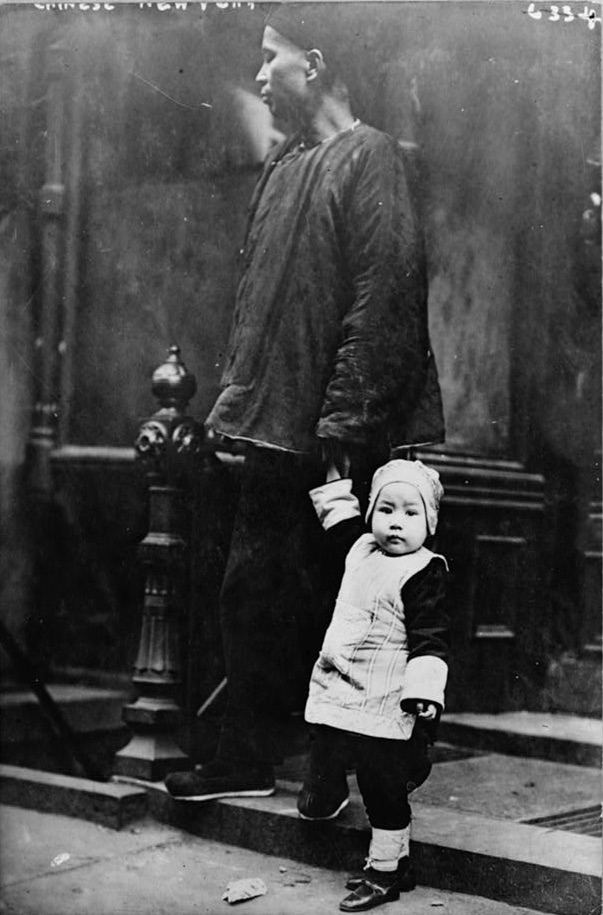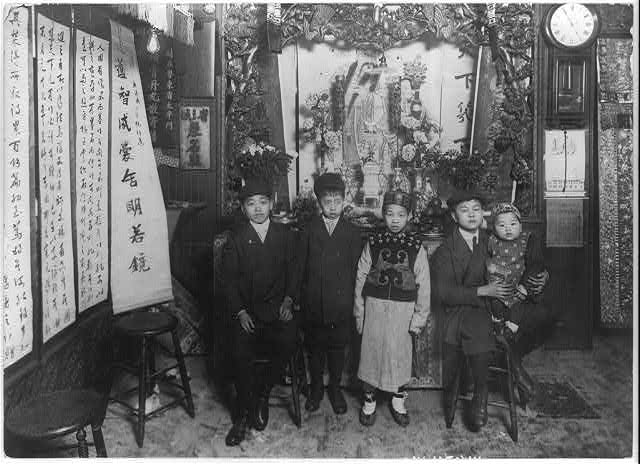 The parade in 1936.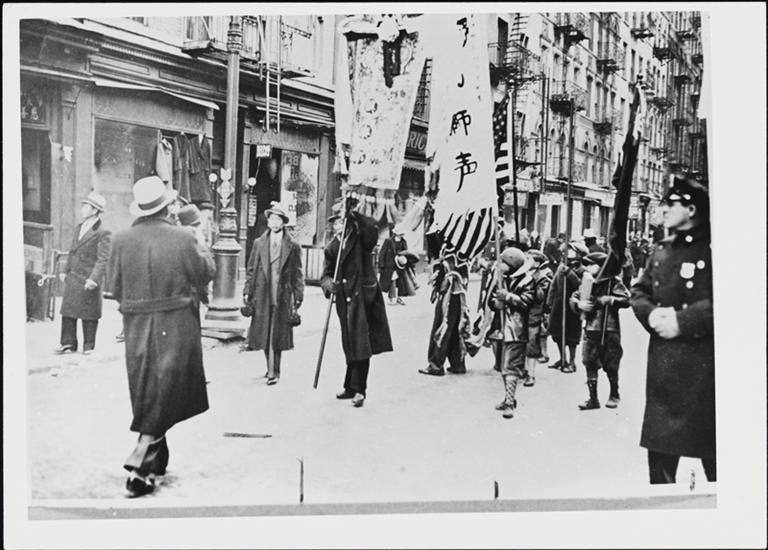 The Chinese New Year Parade of 1943 was decidedly more patriotic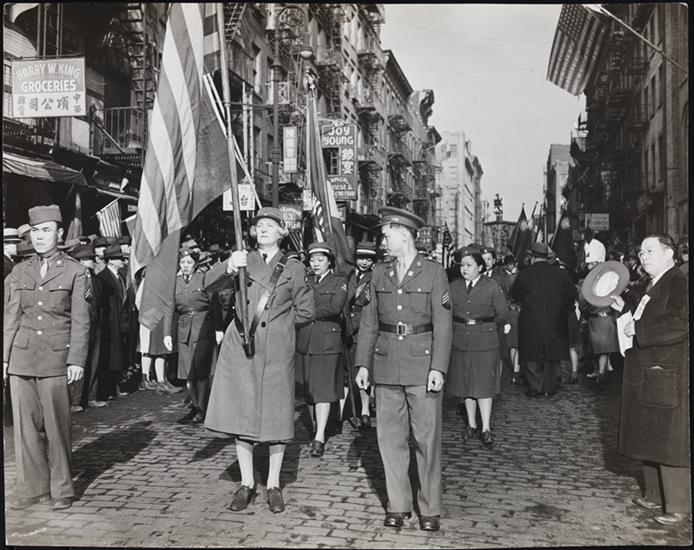 FURTHER LISTENING