PODCAST Newark Liberty International Airport or LaGuardia Airport? Which do you prefer? (Or is the answer — none of the above. Give me JFK!)
In this episode, we present the origin stories of New York City's airports and airfields. The skies over New York have been graced with aircraft for almost 110 years. In fact the first 'flying machine' was flown by no less than Wilbur Wright, the man who (with his brother Orville) invented the airplane.
Yet by the time the U.S. government began regulating the skies — making way for commercial aviation — the city had failed to develop an adequate airport of its own. Meanwhile the thriving city of Newark, New Jersey, had just opened a glistening new airport, and in 1929 it was awarded the government's coveted airmail contract.
This did not sit well with Mayor Fiorello La Guardia who engineered a spectacular tarmac stunt in 1934, drawing attention to this deficiency. And then he began dreaming of a new airport in northern Queens, one poised to draw customers away from New Jersey.
And thus began a decades-long tug-of-war for supremacy over New York City skies.
LISTEN HERE:
_________________________________________________________
The Bowery Boys: New York City History podcast is brought to you …. by you!
We are now producing a new Bowery Boys podcast every other week. We're also looking to improve the show in other ways and expand in other ways as well — through publishing, social media, live events and other forms of media. But we can only do this with your help!
We are now a member of Patreon, a patronage platform where you can support your favorite content creators for as little as a $1 a month.
Please visit our page on Patreon and watch a short video of us recording the show and talking about our expansion plans. If you'd like to help out, there are five different pledge levels (and with clever names too — Mannahatta, New Amsterdam, Five Points, Gilded Age, Jazz Age and Empire State). Check them out and consider being a sponsor.
And join us for the next episode of the Bowery Boys Movie Club, an exclusive podcast provided to our supporters on Patreon.
We greatly appreciate our listeners and readers and thank you for joining us on this journey so far.
________________________________________________________
CLARIFICATION: We forgot to mention that the original name of JFK Airport was actually New York International Airport, Anderson Field, almost everybody ended up calling it Idlewild Airport.
CORRECTION: Near the end of this show, Greg says that 18 new gates have opened this month at LaGuardia Airport. It's actually 11 gates in a concourse that will eventually have 18.
You must check out this extraordinary promotional video for American Airlines from 1933:
Roosevelt Field 1927 — Charles Lindbergh takes off on his historic flight to France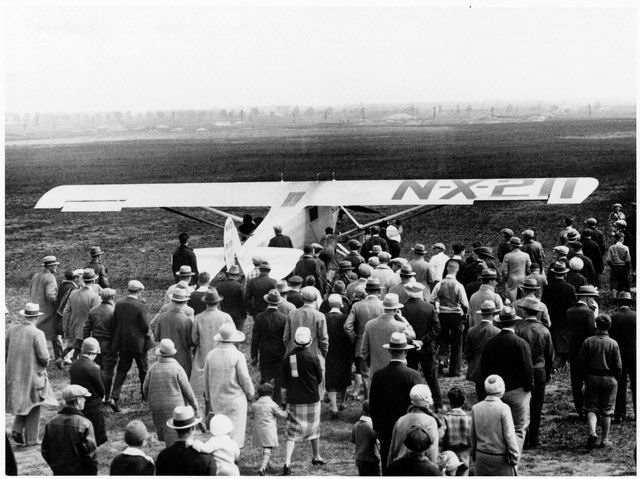 Floyd Bennett Field, September 1, 1934. The plan belongs to pilot Roscoe Turner, who landed at the field after flying from Burbank, CA to New York in 10 hours.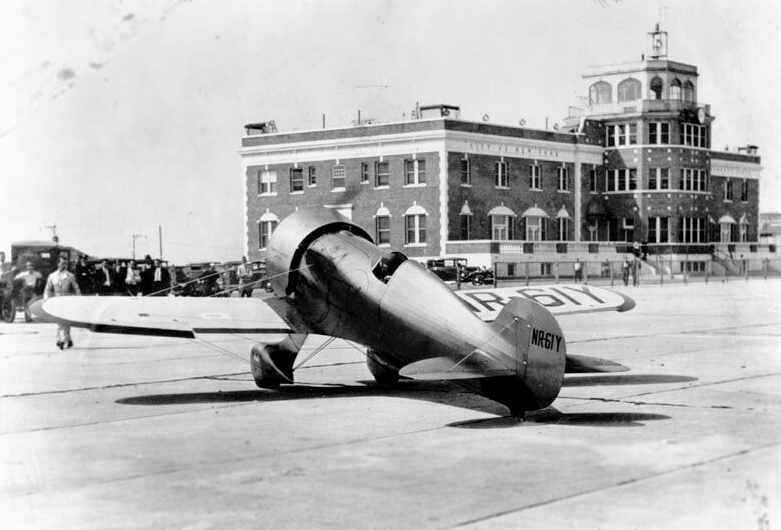 Newark Airport, in a dramatic postcard. American Airlines would eventually move its base of operations to LaGuardia.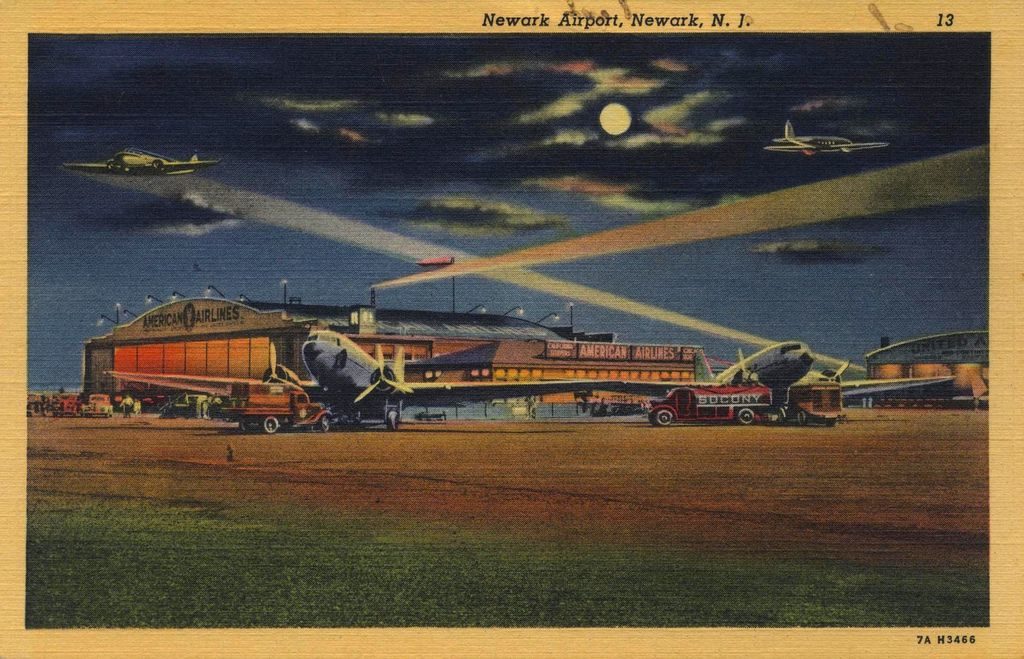 LaGuardia Airport in 1940, a few months after its opening.
LaGuardia, April 1, 1944: Visitors could stroll a wide promenade, watching airplane activity on the tarmac.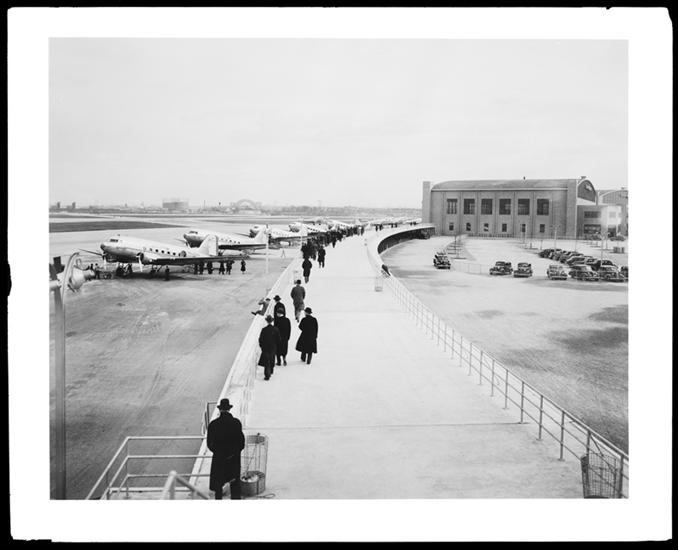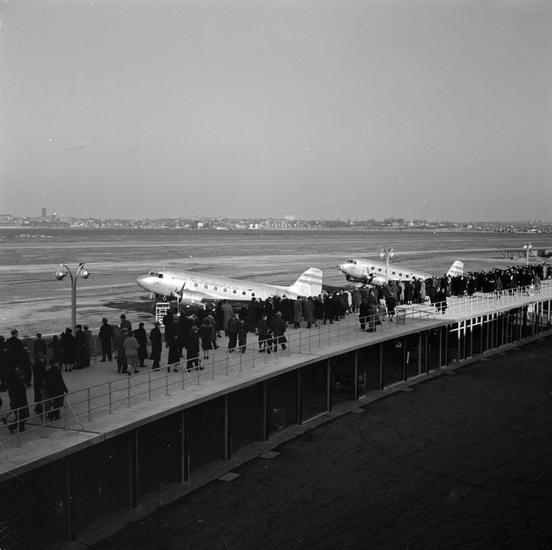 Mayor Fiorello La Guardia gets a kiss from 'radio actress' Arlene Blackburn, the first person to disembark from the first plane at LaGuardia Airport. Photo originally published by the Daily News, Dec. 2, 1939.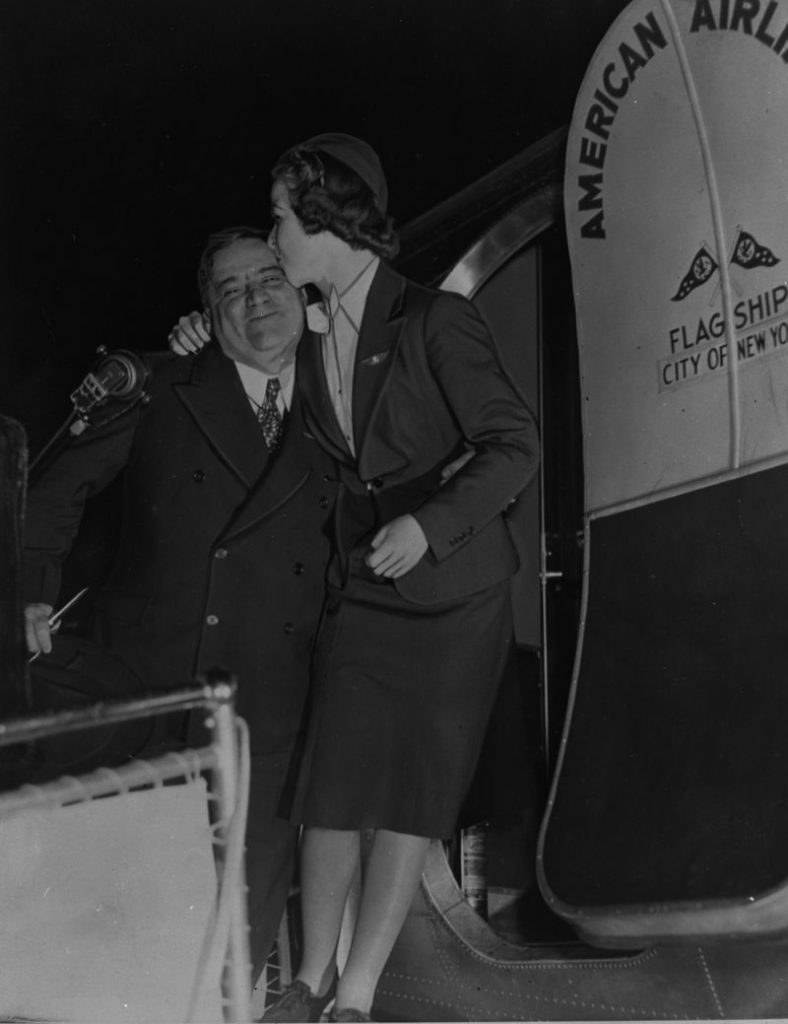 The infamous incident at Newark Airport, as reported in November 25, 1934, issue of the New York Times: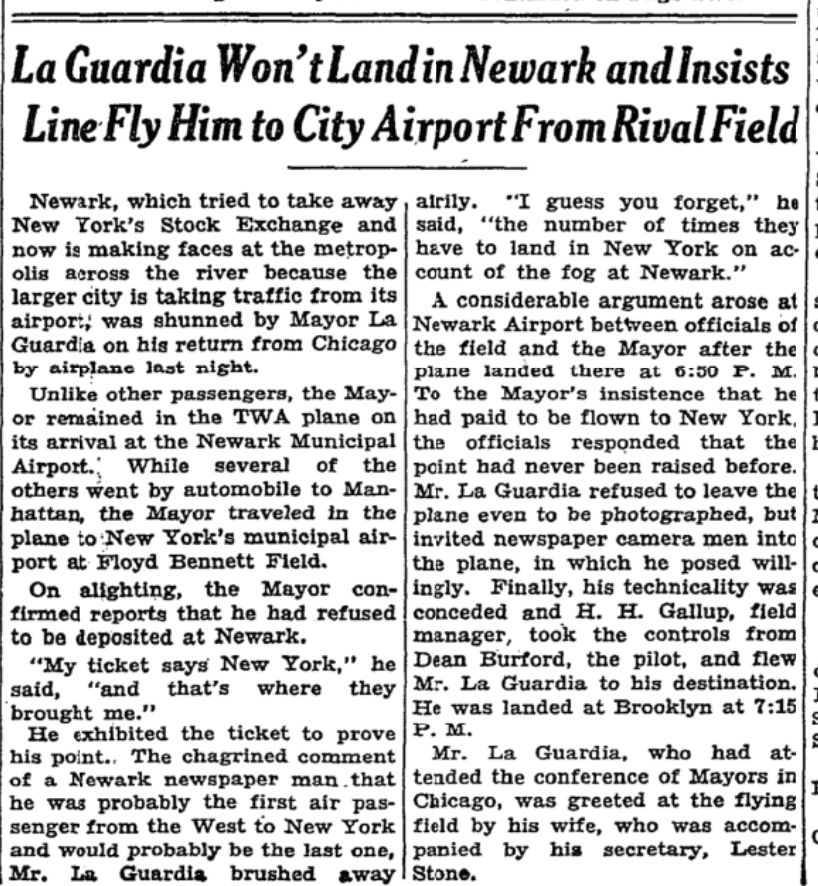 The beautiful, former Marine Air Terminal at LaGuardia Airport. The terminal is still in use (JetBlue Airlines calls it home), making it the oldest active terminal building for commercial use in America.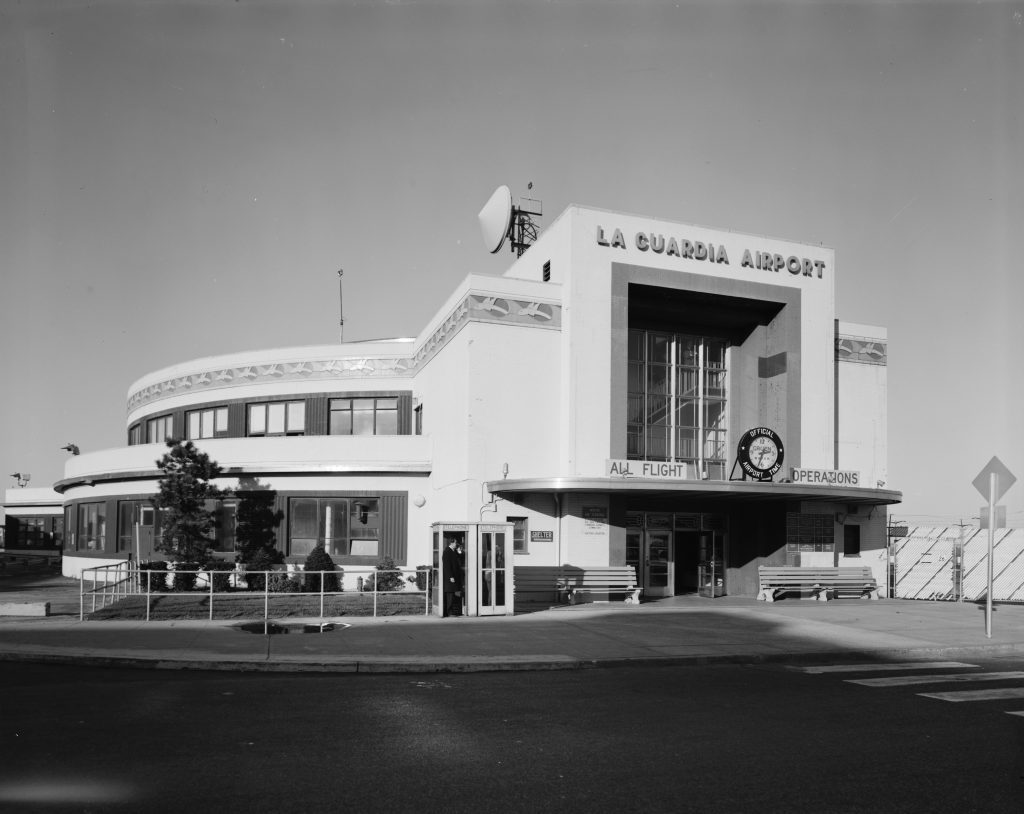 FURTHER READING FROM THE BOWERY BOYS WEBSITE
More information about
— The Hudson Fulton Celebration and the famous first flight of Wilbur Wright
— Glenn Curtiss and the first long-distance flight
— One of the more lucrative air contests, held by Gimbels Department Store
— The story of how Idlewild Airport became JFK International Airport
— Did they really think they could build landing strips in the middle of the city? YES THEY DID.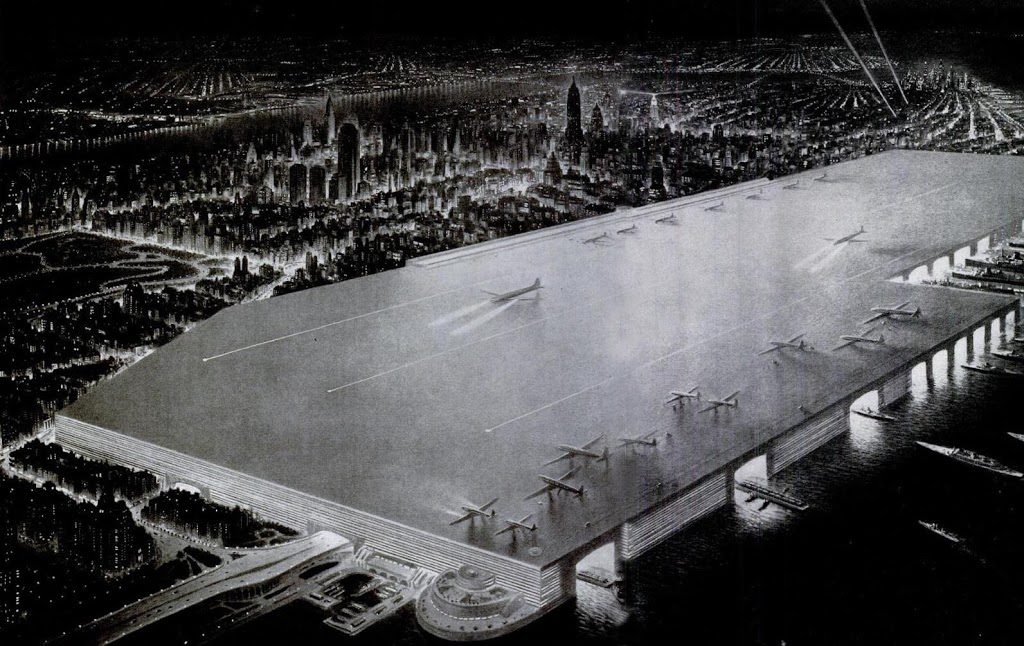 FURTHER LISTENING
This week's show is basically a prequel for this one, the tale of one of the most impressive airports of the Jet Age:
For a little history on Governors Island's early years in flight:
We mention the site of Freedomland as being a possible location for an early airport.