The New York World's Fair of 1939-40, held in Flushing Meadows Corona Park, was an extravagant wonderland of ideas, filled with technological wonder and futuristic imagination. It was fun for all ages — if you could afford it. Children were a key audience, of course, and the fair was advertised to them in a variety of ways, including through a rather new form of publication called a comic book.
Action Comics #1, featuring the first exploits of Superman, was published in June 1938. Less than a year later, the Man from Krypton appeared in an official World's Fair tie-in comic book.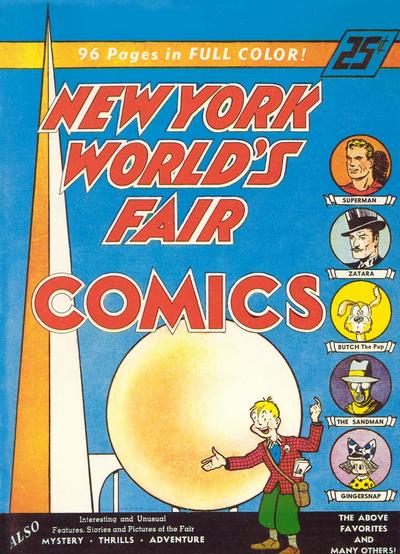 Flash forward many decades in the future. Comic books have gone from cheap kiddie magazines to the basis of modern Hollywood blockbusters. And it's there that the New York World's Fairs have again come alive — thanks to Marvel Comics.
The movies spawned by Marvel characters have always given a superheroic nod to New York City, whether it be through epic battles in Greenwich Village or intergalactic encounters in Midtown Manhattan. Marvel Comics publisher Stan Lee, who died last year, and creators like Jack Kirby purposefully brought the city into the pages of their extraordinary stories as a way to root their characters in the real world.
Below: Jack Kirby at the 1939 New York World's Fair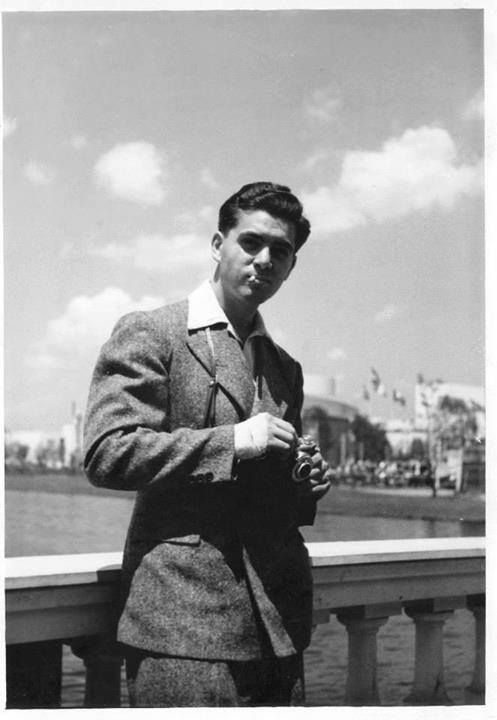 But there's obviously something special about Flushing Meadows Corona Park — and the two New York World's Fairs which were held there in 1939-40 and 1964-5 — for the site has been carefully built into the movies of the Marvel Cinematic Universe, a collection of massive superhero blockbusters culminating this weekend with Avengers: Endgame**.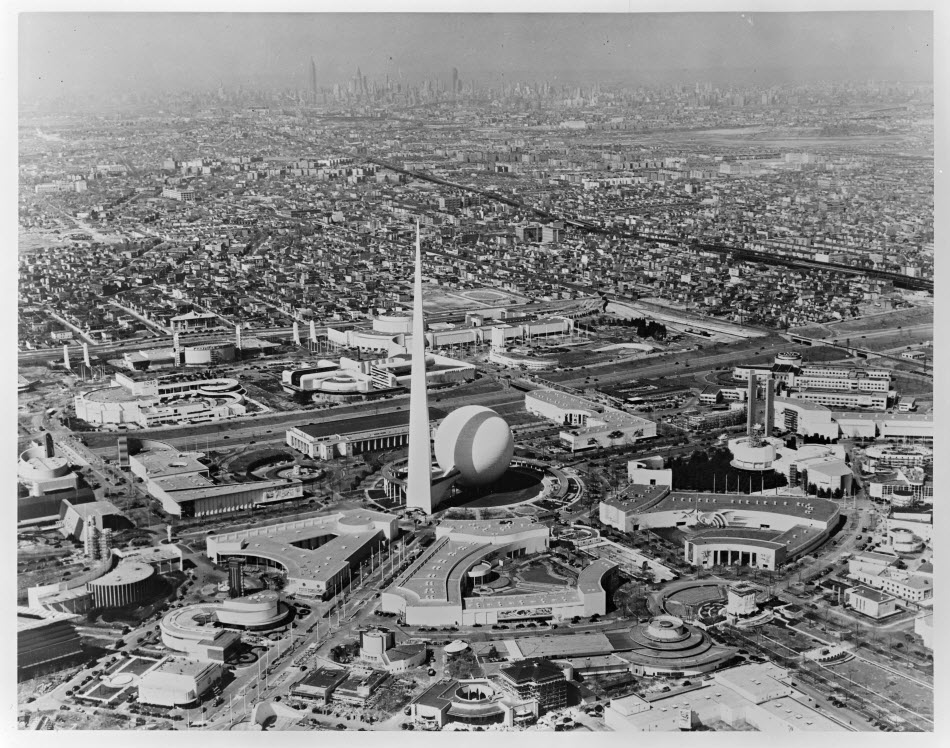 World's Fair of 1939
As we mentioned in our latest podcast, the New York World's Fair of 1939-40 celebrated corporate innovation and technological progress, a glittering future through automobiles and robotics.
Had the fair been deemed a financial success when it closed in 1940, you could imagine how it might have become a permanent theme park to American middle-class ideals. After all, it was the ambitions of city parks commissioner Robert Moses to transform Flushing Meadows Corona Park — a former ash dump — into a place that could be enjoyed by New Yorkers year-round.
Well, good news, Mr. Moses! In the alternate history presented by Marvel, the World's Fair of 1939-40 was apparently NOT a financial disappointment, because its doors remained open for future expositions, possibly even yearly ones.
Imagine how Queens would have developed with perpetual events at Flushing Meadows. There would have been more highways and a greater expansion of the park grounds. The tolls gathered by Moses' Triborough Authority would have been double the bounty they were in real life. He might have arguably had even more power within the city.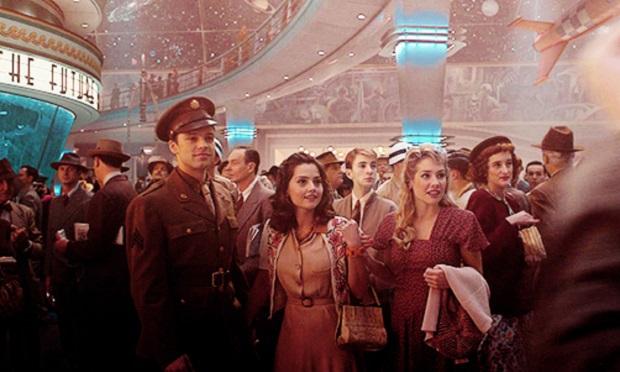 World's Fair of 1943
The first fictional fair in Flushing Meadows debuted in the film Captain America: The First Avenger, an exposition called Modern Marvels of Tomorrow.
Longtime friends Bucky Barnes and Steve Rogers bring dates to the fair and attempt to have a good time before Bucky ships out to war. Rogers, a puny CGI-ed man with great enthusiasm, pines to join his best friend on the front lines.
It seems unusual that New York would host a seemingly frivolous fair during wartime. Even in 1939, the crisis in Europe was influencing the direction of the actual fair; by the 1940 edition, the Poland Pavilion had closed and the Soviet Pavilion and its massive Big Joe sculpture were entirely removed.
The fictional Modern Marvels of Tomorrow seems to mix patriotic pride with technological advancement. It's here that Rogers, deemed too physically inadequate to serve, attempts to re-enlist for the military.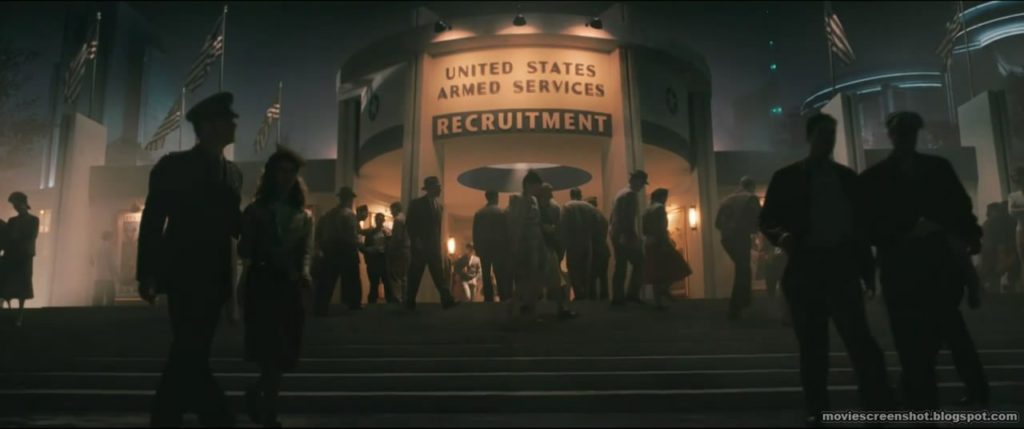 It's not all bandstands and flag-waving. The future Captain America and Winter Soldier (and their dates) drop by the pavilion of a young start-up company Stark Industries where its handsome young CEO Howard Stark attempts to demonstrate a flying car.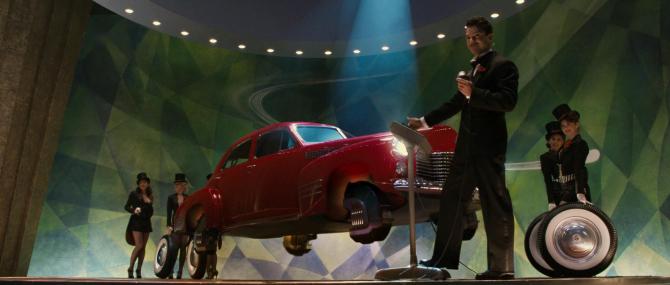 You can watch the entire sequence featuring the 1943 World's Fair here. Note that the Unisphere, created for the 1964 World's Fair, is already a feature of the Marvel Cinematic Universe by this time. In fact, a model of the Unisphere plays a crucial role in the film Iron Man 2.
The Trylon and Perisphere are nowhere to be seen but the Helicline — the spiral ramp which encircled the Perisphere — now wraps around the Unisphere.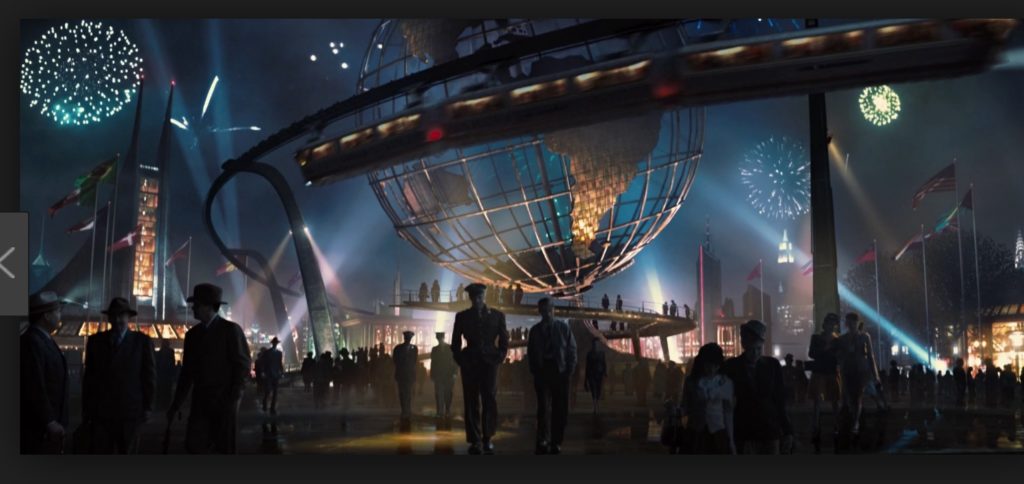 World's Fair of 1954
In the Marvel Cinematic Universe, we must assume that Howard Stark became good friends with Robert Moses and mayor Vincent Impellitteri, for in 1954, it appears they simply give management of the fair over to Stark Industries.
In a memo later sent by Howard's son Tony Stark: "In '54 my Father returned to Flushing Meadows, Queens, to show off the new tech he used to defeat global tyranny. This was the first ever Stark Expo."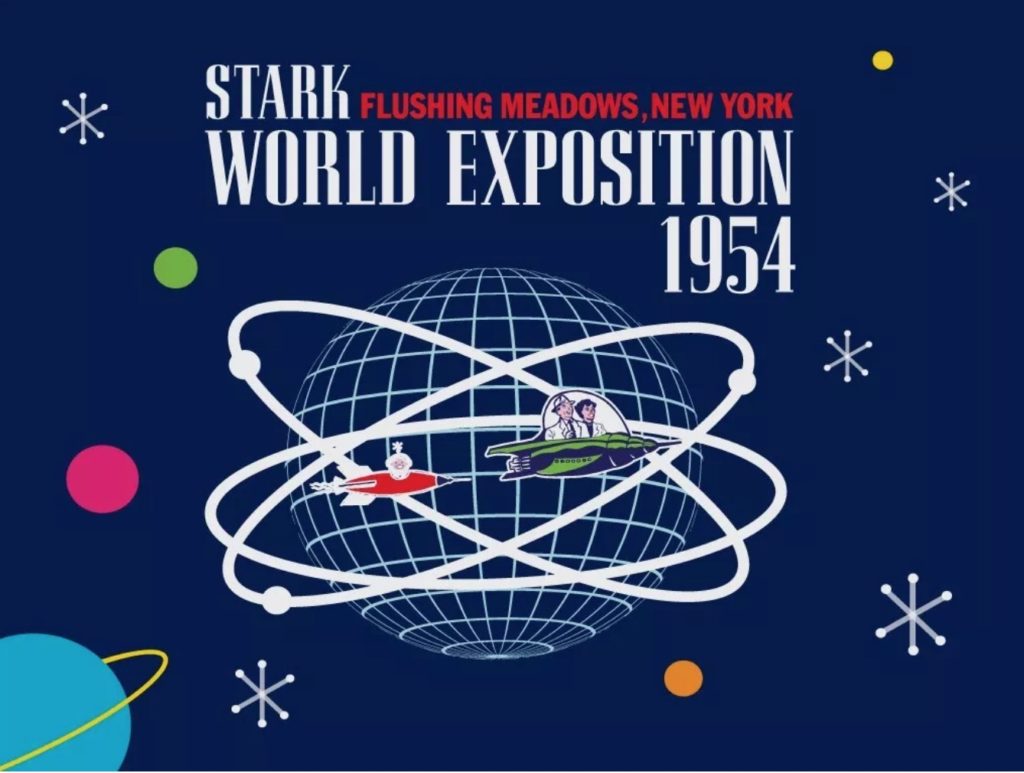 Certainly Moses would have been thrilled to have private sponsorship of public fair pavilions. In this alternate New York past, perhaps Moses even worked with Stark in producing the highways and airports that would service this grand Queens attraction. By the 1950s, Queens would have been recognized as the most important tech center in the United States.
World's Fair of 1964
The New York World's Fair of 1964-65 occurred both in the real world and in Marvel Cinematic Universe history. The themes, however, were quite different.
The theme of real fair, officially unsanctioned by the Bureau of International Expositions, was "Peace Through Understanding." Howard Stark's fair put a cheeky spin on that title — "Better Living Through Technology."
In the Marvel world, we can only assume that the Mets did debut in Shea Stadium in 1964, except that it was most likely called Stark Stadium. We do know that the Mets exist in the same universe as the Avengers as canonically the cinematic Amazing Spider-Man is a big fan.
As with the actual 1964 fair, it appears that that the New York State Pavilion structure may have been built for the Stark Expo, although it is unclear if the Marvel version of the Philip Johnson-designed pavilion would have included a life-sized Texaco highway map.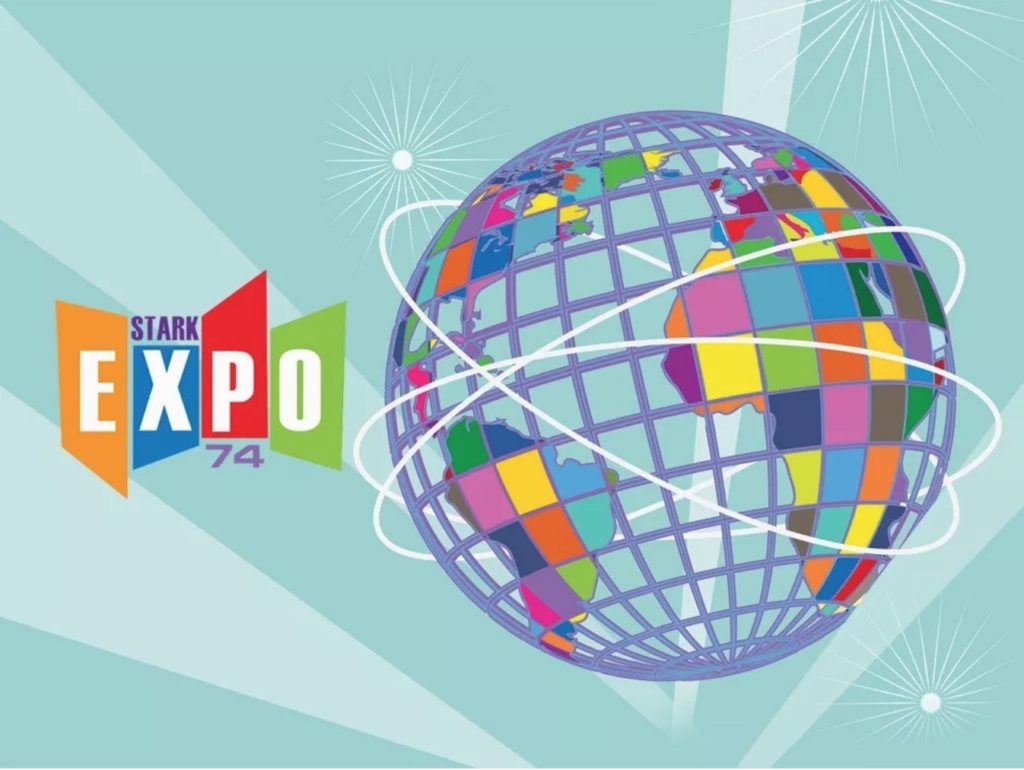 Stark Expo 1974
The 'Stark Expos' ran for many years until 1974. I can only imagine that New York City's dire financial fortunes still played out in this fictional comic-book world, closing the annual display of progress for good.
From Tony Stark's memo: "In the decades that followed, my Father invited the world's greatest minds to contribute to the Expo and put to task corporations to create better living for all. When the 1974 Expo closed, we lost that glimpse into humankind's amazing future."
Below: It appears that the Lagoon of Nations has been a feature of the fair from the very beginning — in both the real and fictionalized worlds.
After its closure, the borough would have been decimated, no longer the heart of American technology. Perhaps we can assume Moses was involved until the bitter end, for 1974 happens to be the year his own reputation takes a beating with the publication of Robert Caro's The Power Broker.
The promotional video for the 1974 Stark Expo offers no new insights outside of an introduction by Howard Stark (who looks an awful lot like another New York city power player, Madison Avenue advertising king Roger Sterling, mixed with a bit of Walt Disney).
The great downturn of New York City's fortunes in this alternate timeline must have contributed to a massive crime wave and serious urban blight. It is fortunate then that the city might have benefited from a completely coincidental spike in costumed crime fighters.
(By the way, the film Iron Man 2 does provide confirmation that the 1974 fair did include a "Belgian waffle stand," as mentioned by Jarvis, the computer intelligence that would later become incorporated into robot superhero Vision. Belgian waffles were the fair snack of choice for visitors of the 1964 New York World's Fair.)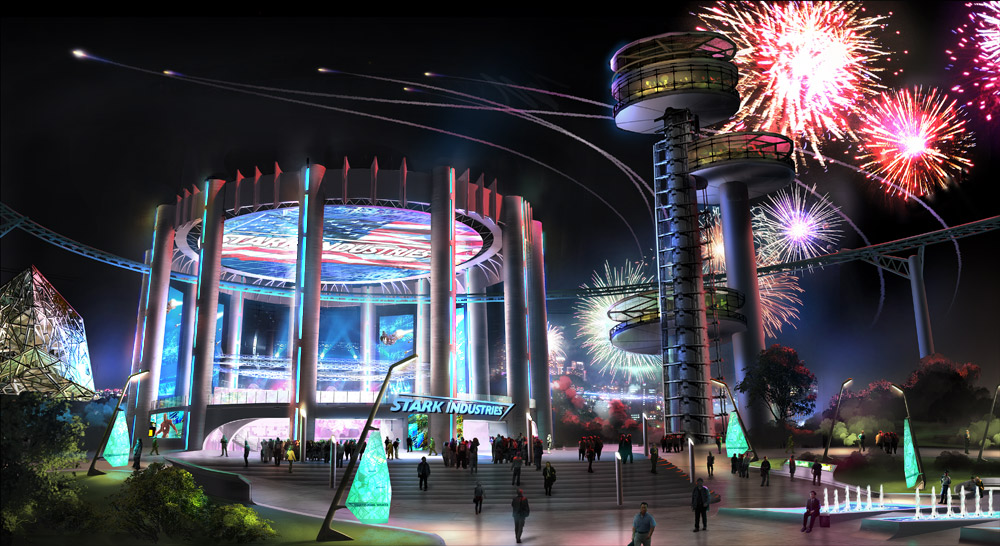 Stark Expo 2010
As highlighted in the film Iron Man 2, Howard's son Tony Stark — aka Iron Man — would bring the Stark Expo back to Flushing Meadows in 2010, making the New York State Pavilion the centerpiece of the excitement.
Unfortunately the festivities are interrupted by dozens of flying armored super robots. I'm sure Iron Man 2 features several deleted scenes of an enraged Mayor Michael Bloomberg demanding retribution from Stark Industries, dozens of lawsuits against the private firm and reverberations of corruption through Stark's association with the federal government. (Hopefully, the Mets weren't having a home game that night!)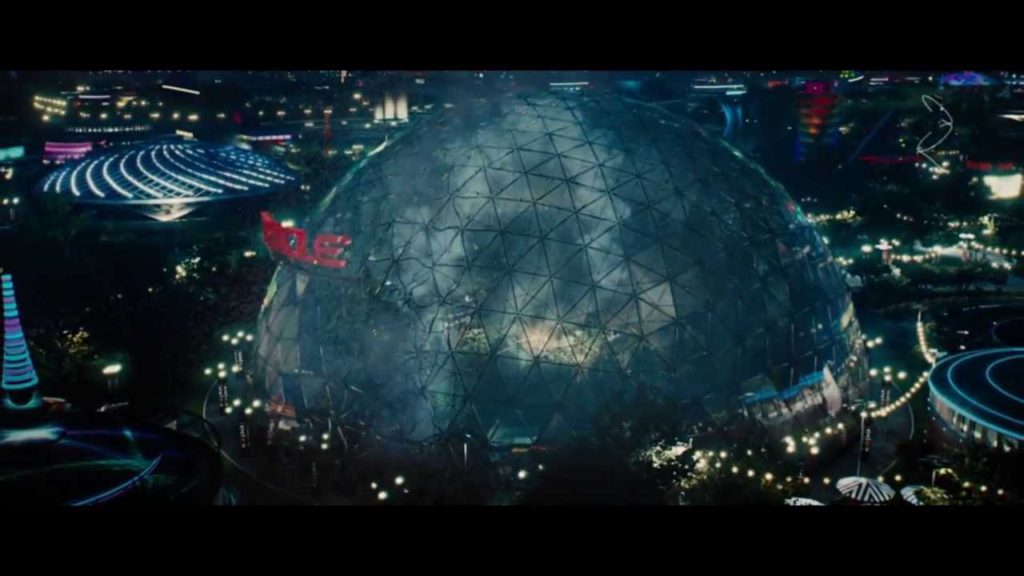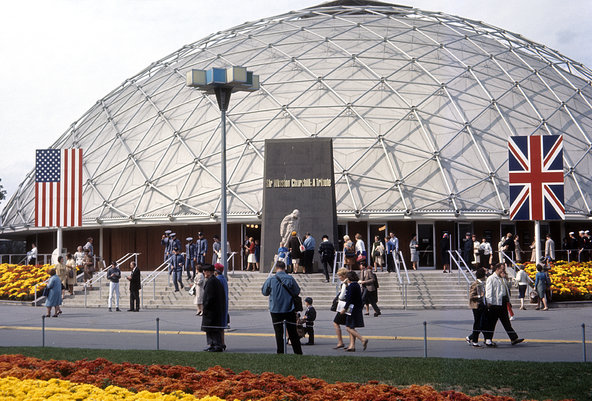 Among the architecture seriously damaged during the battle was a pavilion sponsored by Oracle within a geodesic dome that looks very similar to the Queens Zoo aviary which was originally created for the 1964 World's Fair.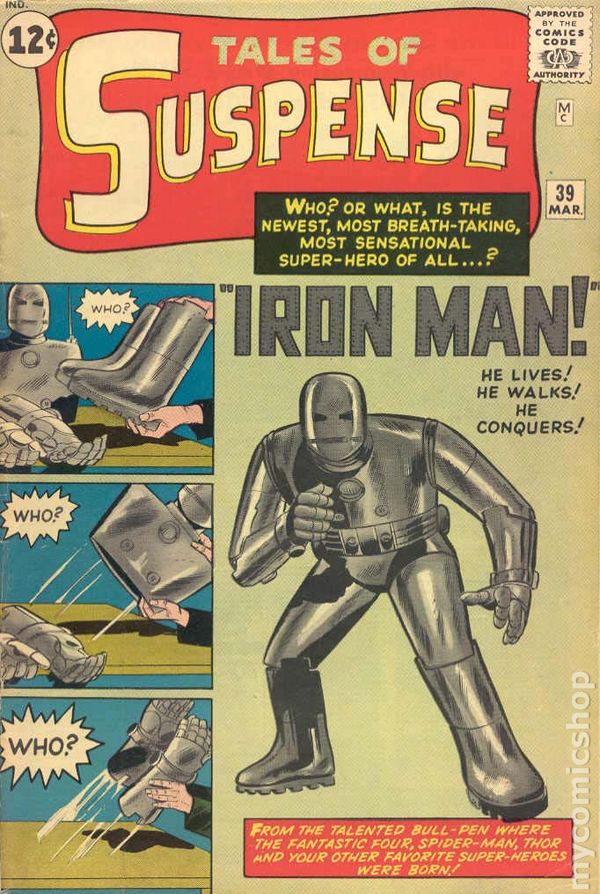 The character of Iron Man debuted on March 1963 in the comic book Tales of Suspense #39. Had this suit of powered armor been an actual creation, it would most likely have been displayed at the real 1964 World's Fair — with its focus on 'A Millennium of Progress' — alongside other wonders of the day like the computer, atomic power and new space technology.
There is no evidence that Iron Man creators Lee, Kirby, Don Heck and Larry Lieber were directly inspired by the 1939 World's Fair super-being Elektro, but visually the pair could been mechanical cousins.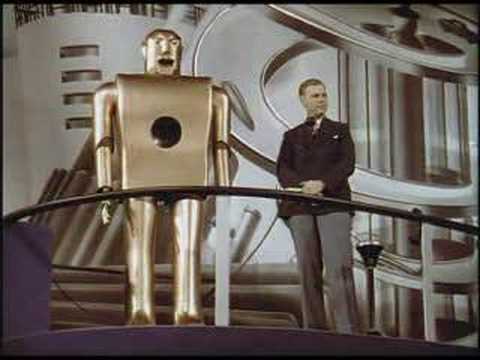 And just nearby….
Peter Parker lives with his Aunt May in the neighborhood of Forest Hills, Queens, a short walk from Flushing Meadows Corona Park.
In the comic books, Parker would attend a demonstration of the "safe handling of nuclear laboratory waste materials" at the New York Hall of Science within the park, and it was there that he was bitten by a radioactive spider, becoming Spider-Man. It too was designed for the 1964 New York World's Fair.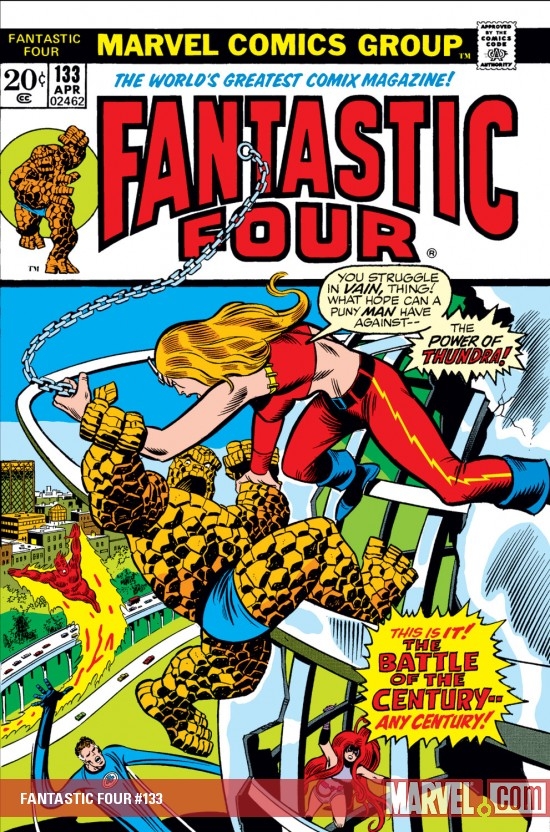 Check out these past podcast episodes for more information on World's Fairs, Flushing Meadows Corona Park and comic books!
**In the new Avengers: Endgame there is a quick panning show of Flushing Meadows centers on Citi Field, proving you can't make a Marvel movie without a little Queens in it.
All movie art and promotional photos above courtesy Marvel Entertainment — from the films Captain America: The First Avenger and Iron Man 2. All comic book art (except where otherwise noted) is courtesy Marvel Comics