The very first musical version of The Wizard of Oz opened at the Majestic Theatre (at 5 Columbus Circle) on January 20, 1903, after playing to enthusiastic audiences in Chicago.
L. Frank Baum wrote the book to the musical, based on his novel 'The Wonderful Wizard of Oz' which was published in 1900.
The temperatures were chilly that day, but New Yorkers were undeterred.
Or, as the New York Times observed: "With a dash of brilliant discovery 'The Wizard of Oz' last night discovered the north pole of the Broadway theatrical world in the Columbus Monument, at Fifty-ninth Street.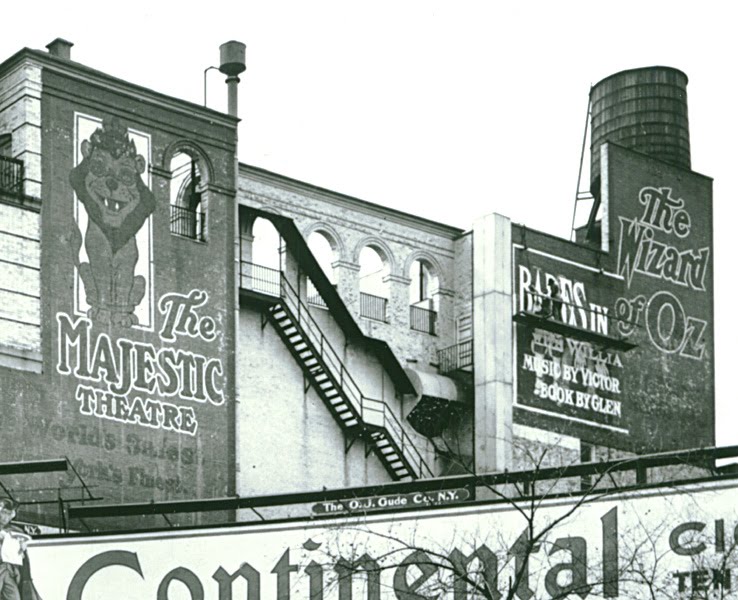 In a proximity as close as that of the Majestic Theatre frosts undoubtedly threaten, just as there is said to be a gathering chill in the theatres situated near the south pole in the Flatiron Building."
The vaudeville act Montgomery and Stone played the Scarecrow and the Tinman.
Anna Laughlin, who played Dorothy, headed quickly to New York's budding film business, starring in eighteen films between 1913-1915, many for the Brooklyn-based Vitagraph Company.
As for the Cowardly Lion, he was played by the handsome pantomimist Arthur Hill. He became so beloved in the role that he returned to the Broadway stage in other roles, always playing animals (including the wolf in a rendition of 'Little Red Riding Hood').
Among its admirers later that summer was the renown yachtsman Sir Thomas Lipton (pictured below), such a popular figure in 1903 that mobs arrived in Columbus Circle just to see his car pull up to the theater.
An ode to Lipton was performed by one of the chorus girls — Tommy! Oh! Oh Sir Tommy! You're a dandy from your feet up — to his quite noticeable embarrassment.
Still, he came back to see the show a second time. Standing to give a speech, "[h]e may have intended to say more, but a misunderstanding about the calcium lights threw him suddenly into darkness, and he sat down."
And yes, Sir Lipton founded the Lipton Tea Company.
The show was a blockbuster, running in New York for two whole years, eventually closing on the final day of 1904.
I believe 'Wizard' was the inaugural performance at the Majestic Theatre, which survived several decades — as the International Theatre, it even co-hosted the Academy Awards — until it was demolished in the 1950s.
The play was such a success that Baum was convinced to write a sequel called 'The Marvelous Land of Oz'. From there, he went on to expand his Oz franchise for several more books, including beloved installments featuring Tik-Tok, the Patchwork Girl and Ozma.
On the occasion of its 225th performance, the management of the Majestic gave out souvenir, telescopic silver drinking cups, "in which the friends and well-wishers of 'The Wizard of Oz' may drink to that potentate's long long life and prosperous reign."
Clippings courtesy the New York Tribune/Library of Congress.