We're just a couple months away from a new mayor in New York City so we think it is time that you Know Your Mayors! Become familiar with other men who've held the job, from the ultra-powerful to the political puppets, the most effective to the most useless leaders in New York City history.
This longtime feature of this website is being rebooted with new articles and newly researched and refreshed earlier entries in this series. Check back every other week for a new installment. Read past articles here.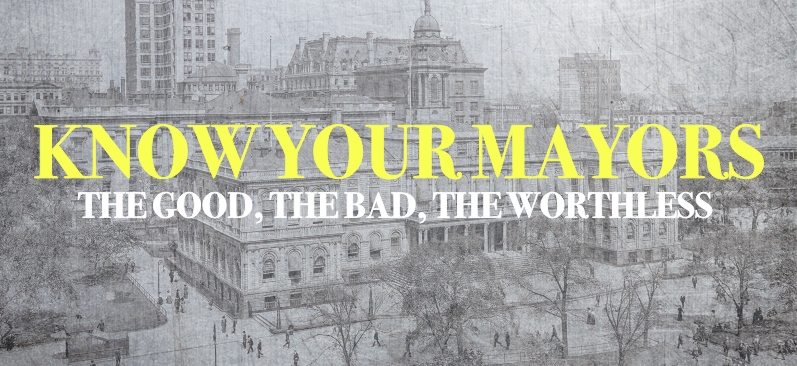 Stephen Allen
Terms: 1821-1824
There once was a time when New Yorkers were told who their mayor was going to be. The power was all at the state level.
Imagine Governor Kathy Hochul with the power to install who she chose, or worse, a handful of Albany insiders entirely beholden to special political interests.
Governor In Charge
For most years until 1821 — and through all previous entries in the rebooted Know Your Mayor series — this was precisely the manner in which New York City adopted its mayors every year.
The Council of Appointments, four specially selected state senators, were in charge of hundreds of yearly state and local appointments, approving and (just as often) altering the wishes of the governor.
Those appointed to the job were either prominent citizens, figureheads, or politicians with strong connections to the governor. (And in the case of DeWitt Clinton, the actual nephew of a governor.)
From 1783 to 1821, the governors of New York were George Clinton, John Jay, George Clinton (again), Morgan Lewis, Daniel D. Tompkins and John Tayler (who served briefly after Tompkins became Vice President of the United States under James Monroe).
And at the time of our story in the summer of 1821, DeWitt Clinton had assumed the position of New York governor.
Power to the People('s Council)
After a groundswell of dissent over this and many other eccentricities of the New York constitution, the rules were finally amended in 1821.
"The mayor of all cities in this state shall be appointed annually by the common councils of their appointed cities."
Among its changes were a new method of choosing a mayor — still appointed, but by the city's Common Council (or city council).
Citizens voted for the aldermen who then, among their membership, voted on who would become mayor — indirect, imperfect, but seen at the time as a great step forward. It would not be until 1834 that New Yorkers could directly vote for a candidate.
But one peculiar trait of the mayor's job was carried over — "annually." In fact mayors would continue to serve one-year terms — sometimes serving consecutive one-year terms — until the year 1849.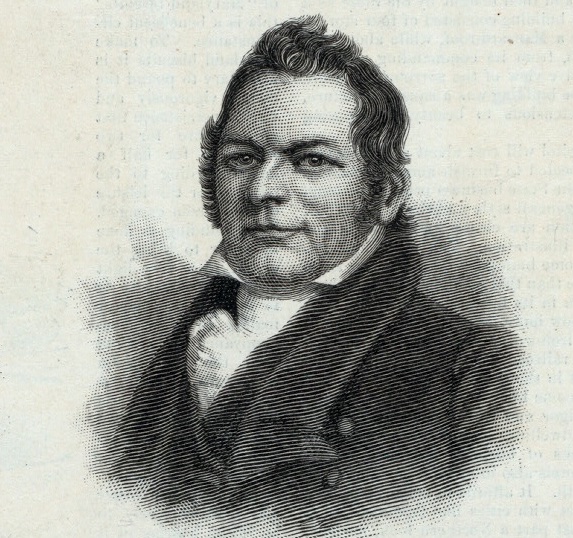 Allen Sets Sail
For their first appointment, city leaders did not stray from the successful formula of choosing one of the wealthiest, well-connected businessman among them.
In 1821, Stephen Allen became the first mayor appointed by the Common Council, 'chosen' by the people because he had first been elected to the council in the first place.
Allen was an inspired candidate, a self-made success story with roots in the American Revolution.
According to an 1848 biographical 'sketch book', Allen "affords another instance of what may be accomplished without money, without family connexions or friends. Mr. Allen commenced life, it is said, as a poor sailor boy."
He was born in New York in 1767 and remained here with his family through the British occupation during the Revolutionary War.
During that time he became an apprentice to a British Tory sail maker when he was only 12 years old. Times were rough for young Stephen in the stressed, over-crowded city; he lived with several other apprentices in a tiny 'sail loft', eating only bread and butter for supper.
The Continental Army couldn't have won the war fast enough to young Allen's liking.
A teenage Allen was witness to Washington's return to the city in November 1783: "This was a happy day for the real friends of America and it was celebrated accordingly by young and old, particularly by those who had left the city at the commencement of the troubles and had now returned for the first time from an exile of eight long years."
Allen worked his way into the sailmaking partnership of Hillson and Allen by age 22. Disgruntled with his partner's lack of business acumen which, in his own words, tended to "irritate and promote altercation," Allen launched his own sail-making business by the age of 30.
With the war ended, the British gone and New York becoming the dominant American port, Allen soon became one of the city's wealthiest artisans by the 1810s.
As a member of the Tammany Society — he would eventually become grand sachem — he transitioned seamlessly into local politics, first as a member of the Common Council in April 1817 then finally as their first appointee for mayor in 1821.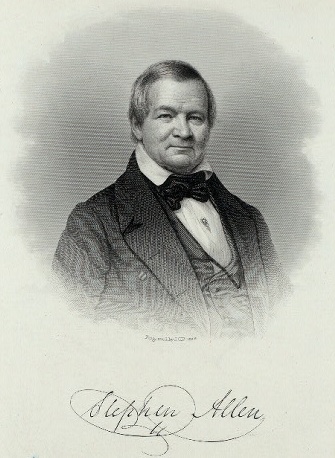 Water Troubles
For a man who made his fortunes from sails, it's not surprising that his primary concern as mayor was water.
Clean drinking water was a scarcity; the city's previous source for fresh water, Collect Pond, had been levelled just years due to pollution from local industry. What would replace it?
Allen's focus on water was no paltry obsession. The city again faced smallpox and cholera epidemics and the mayor knew the problem would only get worse as foreign vessels came to dock at the city ports.
According to author David E. Gerber MD:
"Allen immediately turned his attention to the communicable qualities of the disease, focusing on sani- tation and quarantine laws. He questioned whether it made sense to quarantine foreign ships before they docked, while at the same time bringing the ships' goods to the city's wharves without inspection."
He headed a committee that sought additional sources of drinking water, eventually focusing on Rye Pond in the future borough of the Bronx, and a potential canal to be built in Westchester.
Allen and the council were raring to move forward, but state bureaucracy, yellow fever outbreaks and focus on the Erie Canal would delay the development of a viable aqueduct for many years. It would take many more years for the city to get the Croton Aqueduct water system.
Allen also made a significant impact on New York's prison system as a member of a state committee that inspected conditions at the first state prison in Auburn, New York. Their evaluations eventually led to the construction of Sing Sing prison.
He left office after three years as mayor, but he didn't leave politics or Tammany behind, eventually becoming a state senator and helping raise money to build the first Tammany Hall.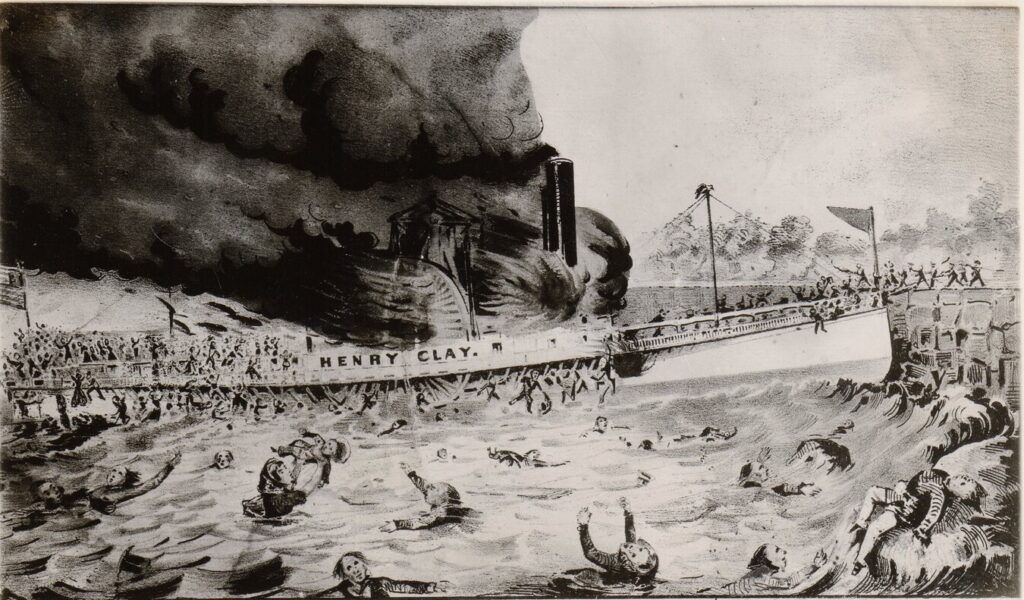 Tragedy
He spent his latter days at home on Washington Square, but tragically, he did not end up dying peacefully in bed here as other future mayors would do.
He was aboard the steamship Henry Clay in July 28 1852 when, after an ill-advised race with another vessel, it caught fire and crashed on the Hudson River, killing dozens of passengers.
The terrible tragedy has drawn comparisons to the Titanic disaster as many who perished were well connected New Yorkers including Nathaniel Hawthorne's sister Maria Hawthorne, famed landscapist Andrew Jackson Downing — and, sadly, our former mayor Allen.
From the Daily Eagle, July 31: "One of the peculiarities of the late steamboat disaster is the havoc which it made among persons widely known and greatly esteemed. We do not recollect any other catastrophe so remarkable in this respect."
A slip of paper was allegedly found in his pocket, a list of thoughtful and hearty maxims which Allen read over "at least once a week." Among his list:
— "Keep good company or none. Never be idle. If your hands cannot be usefully employed attend to the cultivation of your mind. Always speak the truth. Make few promises."
from the Brooklyn Daily Eagle the following day: