What wonderful surprises await the Bowery Boys in Little Caribbean? The Brooklyn enclave in Flatbush is one of the central destinations for Caribbean-American life and culture in New York City.
Since the 1960s, thousands of immigrants from Jamaica, Trinidad, Haiti, the Dominican Republic and other Caribbean nations have made this historic area of Flatbush (mostly east of Flatbush Avenue) their home. The streets are lined with restaurants and markets that bring the flavors of the islands to Brooklyn.
But the story of Caribbean immigration to New York City begins many decades before.
Tom and Greg are joined on the show today by Dr. Tyesha Maddox, assistant professor of African and African-American Studies at Fordham University, to discuss the history of Caribbean immigration into the United States (and into New York City specifically).
Then they head out into the streets of Flatbush to join Shelley Worrell, the founder of caribBEING who led the effort to designate an official Little Caribbean as a vibrant cultural hub. Listen in on this mini food tour of Flatbush and Nostrand Avenues and discover the secrets of this bustling neighborhood.
LISTEN NOW: A Walk Through Little Caribbean
---
This episode is brought to you by the Historic Districts Council. Funding for this episode is provided by public funds from the New York City Department of Cultural Affairs in partnership with the City Council and Council Member Benjamin Kallos.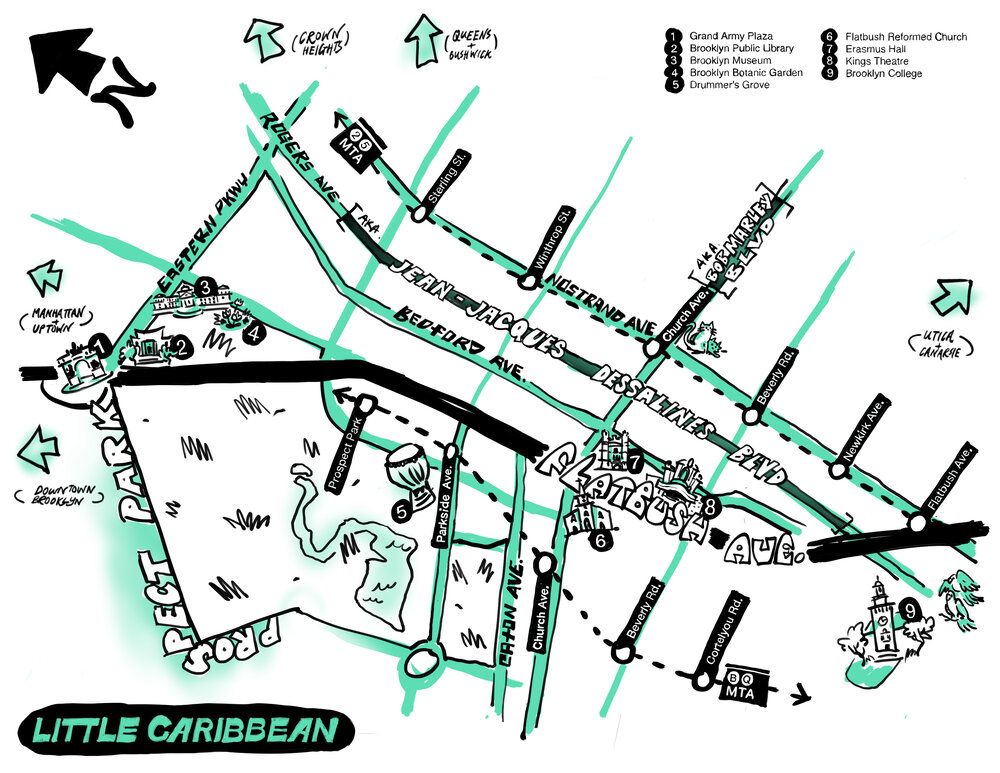 ---
---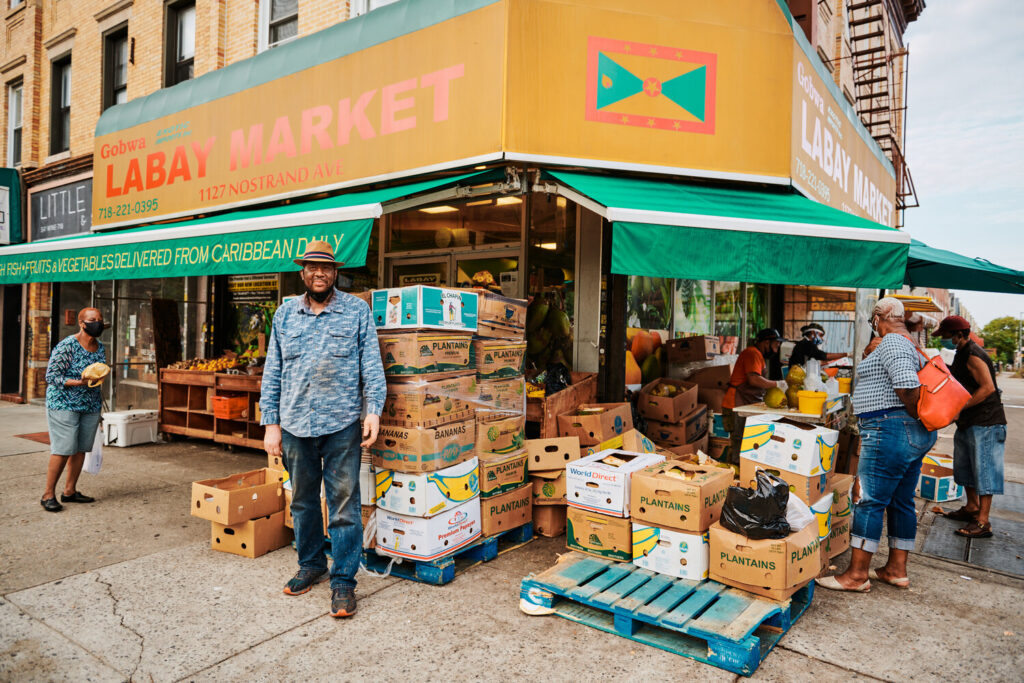 Plants of Little Caribbean
at Brooklyn Botanic Garden
Discovery Garden Exhibit
June 30 through late September
This summer, the Brooklyn Botanic Garden's Discovery Garden is highlighting plants that grow in the Caribbean. The fruits and vegetables in this exhibit—including sorrel, okra, callaloo, and turmeric—are just a few of the many plants important to these countries and territories, each of which has its own unique ways of preparing meals.
Exhibit signage connects plants to the restaurants and markets of Brooklyn's Little Caribbean — including a few of the places we visited in this week's show. The exhibition was created in partnership with I AM caribBEING. 
Visit BBG's website for more information. And visit the Garden on Thursday, June 30 for these two special Caribbean-themed events: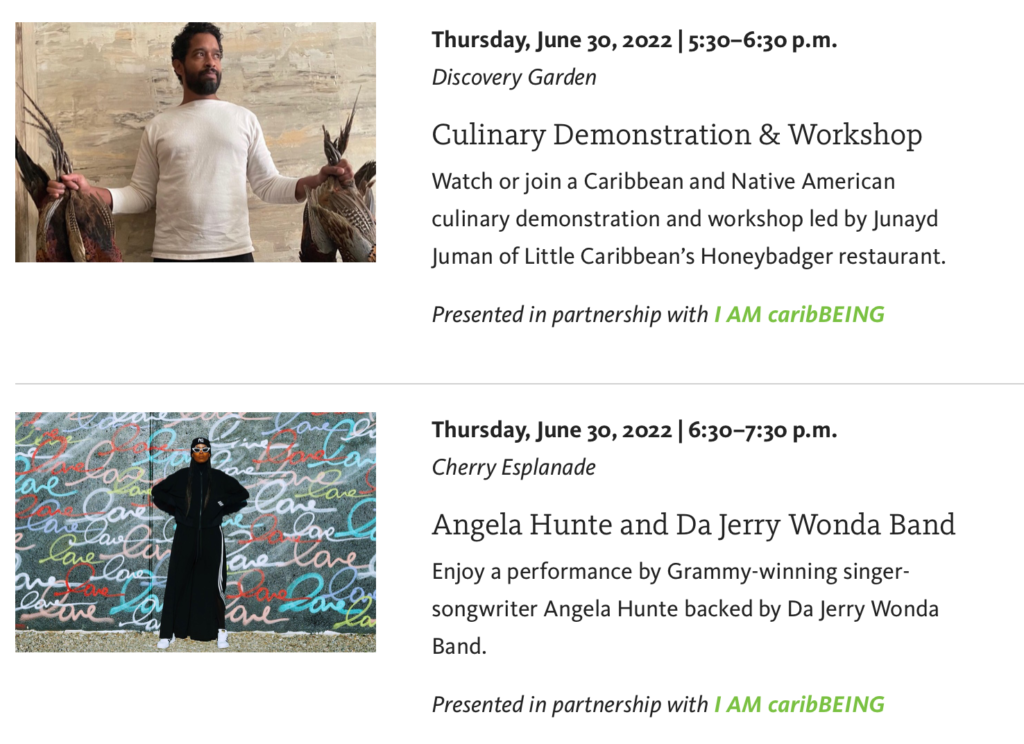 ---
A big thanks to Dr. Tyesha Maddox from Fordham University's Department of African and African-American Studies. Visit her website for more of her writing and research. And look for her book coming out next year!
And thanks of course to Shelley Worrell of I AM CaribBEING for joining us on these past two shows. And Janluk StaniSLAS for documenting our walk through Little Caribbean.
---
A group of immigrant women from Guadeloupe who have arrived at Ellis Island, 1911. Listen to our interview with Dr. Maddox for more information the early patterns of Caribbean immigration into America. And look here for more captivating photos of Ellis Island immigrants from all nations.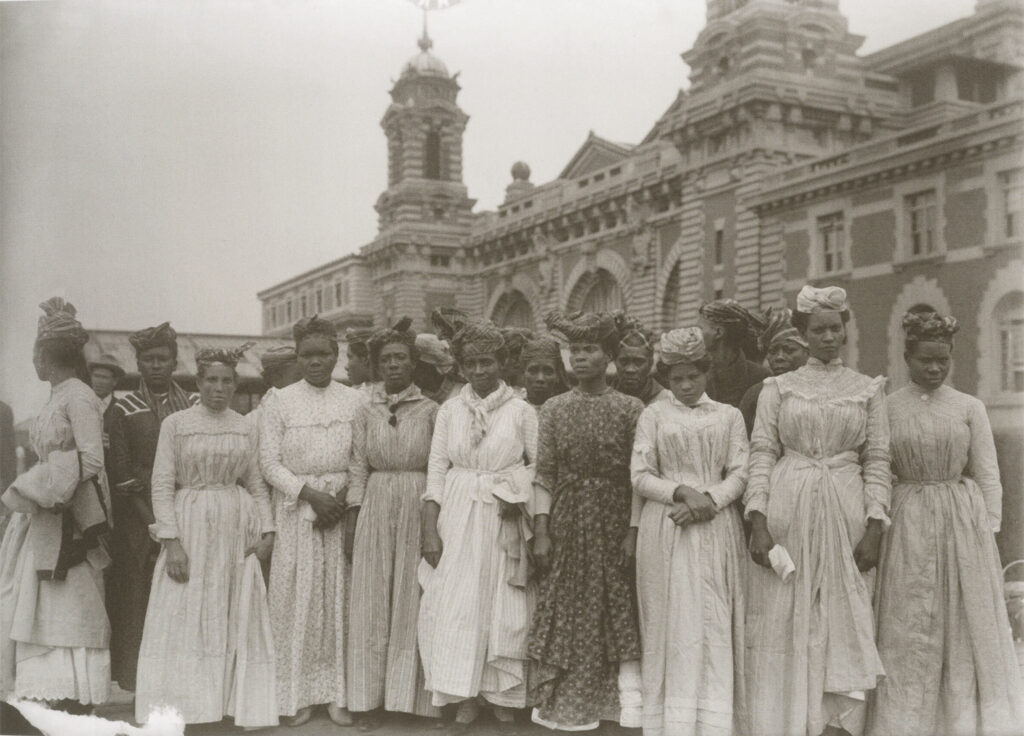 ---