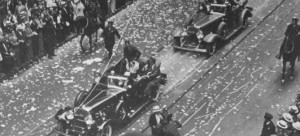 Above: Golfer Bobby Jones assailed with wild strings of paper
Whenever New Yorkers get really, really excited about something — as we are this week with the thrilling victory of the New York Giants over the New England Patriots — we like to take serpentine strips of paper and throw them out a window, primarily as the object of our excitement slowly moves through the street below.
The messy and frenetic tradition of the New York ticker-tape parade started as an accident, and you can blame Lady Liberty. The day after her dedication, on October 29, 1886, New Yorkers were still so excited that ticker tape, the strands of paper spewing from a stock ticker, was bailed out of upper-story buildings in the emulation of confetti.
More formalized 'ticker tape' celebrations debuted soon thereafter, with paper spilling down upon honorees driving slowly down the 'Canyon of Heroes', i.e. the avenue of Broadway, from Bowling Green Park to City Hall — essentially the length of the Financial District.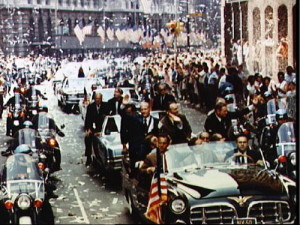 Although sports victories are the most commonly celebrated with ticker-tape, a host of luminaries have been honored in this New York City tree-destroying fashion. Beneficiaries of this event include:
— Foreign leaders: the Prince of Wales (1919), Charles de Gaulle (1945 and 1960), Winston Churchill 1946), David Ben-Gurion (1951), Queen Elizabeth II (1957), King Hassan II (1963), Nelson Mandela (1990)
— Generals and Politicians: Theodore Roosevelt (1910, after returning from an African safari), General Dwight D. Eisenhower (1945), Harry S. Truman (1945), General Douglas MacArthur (1951), John F. Kennedy (1960)
— Pilots and Astronauts: Charles Lindburgh (1927), Hugo Eckener and crew of the Graf Zeppelin (1929), Amelia Earhart (1932), Wiley Post (1933), John Glenn (1961), Apollo 8 and Apollo 11 moon missions (1969)
— Individual Athletes: Bobby Jones (1926, 1930), first woman to swim the English Channel Gertrude Ederle (1926), Connie Mack (1949), Ben Hogan (1953), Carol Heiss (1960), Sammy Sosa (1998)
— Athletic teams: the U.S. Olympic team (1924, 1928, 1936, 1952, 1984), Baseball's New York Giants (1954), New York Yankees (1961, 1978, 1996, 1998, 1999, 2000), New York Mets (1962, 1969, 1986), New York Rangers (1994), Football's New York Giants (2008)
— Random others: Howard Hughes (1938), Van Cliburn (1958), Pope John Paul II (1979), the released American hostages from Iran (1981)
This will be the New York Giants' first ever ticker-tape celebration — and the first for anybody since 2000 — capping a surely unbelievable, historic season, and probably a massive headache for New York's sanitation crew.
UPDATE: The Giants were pummeled with confetti, toilet paper, and what appeared to be lots of documents. Check out the dramatic pics.