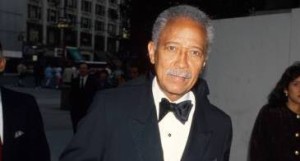 Our modest little series about some of the greatest, notorious, most important, even most useless, mayors of New York City. Other entrants in our mayoral survey can be found here.
As we cap a historical week for our nation, it seems appropriate to take a brief look at New York City's own first African-American leader, David Dinkins, mayor of the city from 1990 to 1993, and the last Democrat to hold the office. My only hesitation in bringing this up is that I hope Obama has far better luck than Dinkins, whose tenure was most notable for at least appearing to make almost everything worse. (Appearances, however, can be deceiving.)
Dinkins is one of the most successful products of a Harlem political machine that has been slowly churning since the 1920s, when a huge population influx into the neighborhood bestowed political influence to community leaders and business owners.
Not surprisingly, many of today's political organizations are spinoffs of Tammany Hall from its last waning days of power, and so came J. Raymond Jones, Tammany Hall's first black leader in the 1960s. Jones developed his own political coterie here — known as the 'Harlem Clubhouse' — and proceeded to foster some of New York's saaviest political talents, including New York congressman Charlie Rangel and former deputy New York mayor Basil Patterson, father of our current governor.
Dinkins became a core member of this influential political group. (Rangel actually calls himself, Dinkins, Patterson and Percy Sutton the "Gang of Four.") Although born in Trenton, New Jersey, David's family moved to Harlem during the 1930s, just as the neighborhood, once flourishing under a cultural renaissance, begin feeling the pinch of economic depression. After a stint in the Marines, Dinkins returned to New York, became a lawyer and slowly began his ascent into Harlem's growing political scene.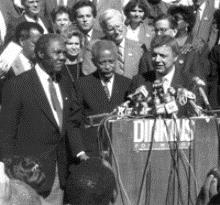 His close political connections with the Clubhouse granted him access to real opportunity — first in the state assembly in 1966, then City Clerk in 1975 — but it was his work with the city's lower class that endeared him to constituents. In 1985 he was elected Manhattan Borough President, often a springboard to the mayoralty.
From our vantage today, Dinkins is sandwiched between two great forces in New York City politics — Ed Koch and Rudy Guiliani. Koch however, bore the brunt of New York's pitiful economic downturn during the 1980s and Dinkins handily defeated him in the Democratic primary. Guiliani, on the Republican side, was a far more formidable foe; fresh from defeating the wealthy Ronald Lauder (son of Estee Lauder), Rudy put up a good fight against Dinkins, although a New York Times opinion piece laments: "voters have heard almost as much about Jackie Mason and Jesse Jackson as about David Dinkins and Rudolph Giuliani. So far, the two candidates haven't even managed to debate each other."
Ultimately, in November 1989, Dinkins defeated Guiliani, in the smallest margin of victory in modern times — 47,080 votes.
Dinkins seems almost immediately carried off by events of the city. Although he was initially seen as a potential salve to the city's uneasy ethnic tensions, he was soon caught up in rocky political scandals, most involving racial violence.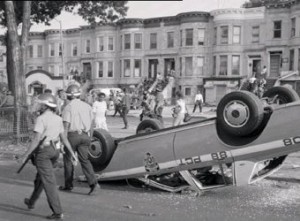 None were as damaging as the Crown Heights riots of 1991. A deadly three days of racially fueled mayhem between West Indian and Jewish residents which left dozens injured, Dinkins was remarkably ineffective in quelling the violence and later was even accused of restraining police and refusing to get involved. It was a political disaster for Dinkins, one he was never able to recover from for the duration of his term.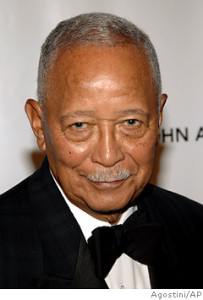 In fact, the event disguises a surprising fact: Dinkins did successfully lower the city's crime rate and grow the city's police force. It's widely argued that many of Dinkin's policies laid the ground work for Guiliani's many successes in the late 90s.
However, Rudy successfully lobbed Crown Heights back at Dinkins during an electoral rematch in 1993. Although Dinkins still had great support in Manhattan, Rudy swept past him to officially end the Democratic hold on the mayor's office.
Dinkins is currently a professor at Columbia University. His term as mayor is still one of the most hotly debated even today.
And because he's a Bowery Boys fave, I thought you might like to know his thoughts on another controversial New York figure, Robert Moses (quote courtesy PBS.org):
"Robert Moses left a legacy. To be sure, we would not have had the kinds of development that we had, had he not behaved as he did. Which incidentally doesn't mean that it was necessarily a good thing to so behave. There was a lot of pain in the wake of some of the things that got accomplished and he fought with mayors and governors along the way, but he did achieve a lot of development that would not have occurred otherwise, and that no way could occur today."