Laura is disturbed "I'm completely out of control!"
BOWERY BOYS RECOMMEND is an occasional feature where we find an unusual movie or TV show that — whether by accident or design — uniquely captures an era of New York City better than any reference or history book. Other entrants in this particular film festival can be found HERE.
The New York Times had an intriguing piece last Sunday on modern "fetishizing" of New York in the 1970s, as popularly depicted in the TV show "Life on Mars." This blog is probably as guilty as any at looking at this crime-riddled, bankrupt period of New York's history and seeing only a glossier rendition. The article suggests people may fear this view as the economic crisis begins to transform the city; I personally suggest it appeals to people as a flipside to New York's current crawl towards homogeny and total gentrification.
Two vastly different 1970s movies I recently re-watched suggest that the city's combination of grit and glamour were already being analyzed and parodied before the decade was even finished.
In the silly thriller The Eyes of Laura Mars, Faye Dunaway stars as a downtown fashion photographer who can somehow see through the eyes of a serial killer who wrecks havoc among New York's stylistas. The plot is preposterous, aching for some legitimacy, either a setting at the Mudd Club or a cameo from Halston or Bianca Jagger maybe. Or Andy Warhol: the idea of framing death for pop photography was nothing new to him.
As such, it seems a thin but playful satire of downtown New York decadence. Manhattan looks unusually great for such a commonplace horror flick. The best set is easily Mars' studio, in one of the Chelsea warehouses piers overlooking the Hudson River, just steps from the West Side elevated highway. The most notable — and campy scene — erupts at Columbus Circle, at a ridiculous fashion shoot involving burning cars and models in lingerie and fur coats. Oh Columbus Circle! Were you ever so fun?
You get a taste of Hell's Kitchen in a brisk chase scene involving Tommy Lee Jones' cop character, his feathered hair flapping in the wind. But seeing Soho was more striking to me, devoid of shopfronts, mysterious flat warehouses during the day that open to become large, disco-thumping galleries at night. There are still galleries in Soho, of course, but the one in 'Laura Mars' is a big, hokey circus. (The director even condescendingly throws in a dwarf, to get the point across.)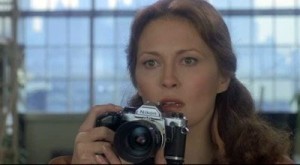 The secrets of late 70s Soho art and fashion worlds are expanded and distorted in Martin Scorsese's masterpiece After Hours, one of my absolute favorite New York movies ever. The director doesn't intend reality, but his movie shaped the perspective of Soho culture for those of us who weren't in it.
Like 'Laura Mars', but far more intentional, the plot conceit involves absurd artwork — in this case a "Plaster of Paris bagel and cream cheese" sought out by hapless computer geek Paul (Griffin Dunne). He is an uptown exaggeration, even though he works at the not-too-uptown Metropolitan Life Tower. No matter; he descends into Soho and its late-night collection of kooks almost get him killed.
Did New Yorkers really see Soho as otherworldly like this? Despite the surreal plot and vast, empty streets, 'After Hours' is filled with identifiable places, including the Emerald Pub (subbing as the 'Terminal Bar') and the Spring Street subway station. But the Moondance Diner (seen below) is long gone. From Scorsese to Wyoming.
Both are on DVD, both are must-sees for New York lovers. I wouldn't exactly call 'Laura Mars' a conventional 'classic' unless you love thrillers you can also laugh unintentionally at.