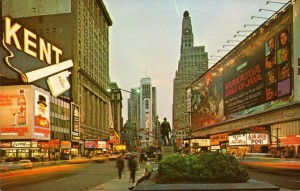 (Postcard picture courtesy the marvelous Vintage Chromes blog)

Sixty-five years after the birth of Times Square, it was apparent that things were taking a rather bizarre left turn. The old Times Building, a building so critical to the neighborhood that its address was now One Times Square, had been stripped of its architectural finery and encased in a banal concrete uniform, the property of Allied Chemical.
The outdated Hotel Astor was completely gone. In its place within a year or so would rise One Astor Plaza. From the angle of this postcard, there is simply nothing there.
The building that once housed the Packard Motor Cars showroom had also disappeared. In 1969, that address 1540 Broadway belonged to the Loew's State Theatre. For a time, it was one of Times Square's great destination theaters, a 3,327-seat behemoth that opened in 1921 and hosted the premieres of 'Ben-Hur', 'Some Like It Hot', 'The Godfather' and many others. It was essentially demolished (along with those structures below the Kent Cigarette sign) with the construction of the Bertelsmann Building in 1989; but for many years afterwards, the business on the ground floor, Virgin Megastore, hosted smaller movie theaters in its basement.
The flamboyant movie theater to the right has a more glamorous background. It was once the Gaiety Theater, a grand original from the early days of old Broadway, opened in 1906 by theater impresarios Klaw and Erlinger. The Gaiety was truly a variety house, presenting legit theater, burlesque and vaudeville (Gypsy Rose Lee and Abbott and Costello performed here), and then straight into legitimate films under its new name, the Victoria. Today the Marriott Marquis rises here, after the controversial demolition of it and several other theaters on the block in 1982.
Just out of frame to the right, movie patrons could leave their film and discuss it at the Howard Johnson's across the street.
Back under that Kent Cigarette ad is one for Beefeater gin — booze and smokes, good times. And underneath that is the refreshment stand Elpine Drinks, best known for its fruit juices. (Lost City has a nice write up about this forgotten establishment.)
The Paramount Building, its clock tower rising in the background, is one of the few structures virtually intact and looking close to how it did when it was built in 1926. In recent years, this building has been invaded by the Hard Rock Cafe.
Another survivor from this era — that tried, dependable statue of George M Cohan, standing in silhouette in the foreground. The statue was placed here at the tip of Duffy Square ten years before this postcard was made. Even then, in 1959, very little of Cohan's Broadway remained to greet him.