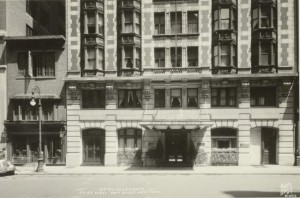 Above: the Algonquin Hotel, home to those bawdy rakes of the Round Table during the 1920s. You may find yourself meeting one of them even today.

A special illustrated version of our ghost-story podcast, Spooky Stories of New York (Episode #65). is now available on our NYC History Archive feed. Just hit play and images of our topic will appear on any compatible media player
By popular demand, we return to the creepier tales of New York City history, ghost tales and stories of murder and mayhem, all of them at some point involving great American icons — Alexander Hamilton, P.T. Barnum, Dorothy Parker and Mark Twain. Featuring a murder at a Manhattan well, a bloody slaying in rural Staten Island, the lingerings of New York's most fabulous undead, and the most haunted home in Greenwich Village!
Download it for FREE from iTunes or other podcasting services, or you can listen to the cleaned up audio version (without visuals) right here: Spooky Stories of New York
Original version released Oct. 10, 2008. Picture above courtesy the New York Public Library/Wurts Brothers.
____
AND ARRIVING THIS FRIDAY: Our fifth annual 'haunted' podcast, retelling famous folklore and stories of the supernatural, all with a basis in actual New York City history. Our prior shows include the one listed above, as well as the original Ghost Stories of New York, Haunted Tales of New York, and last year's Supernatural Stories of New York.