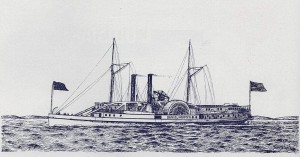 New York was hundreds of miles from the Union battle lines during the Civil War, but not a single citizen could walk the streets in 1862 without a constant reminder, from banners and fund-raisers to the sight of a man with missing limbs. And a most dramatic example docked at the Canal Street pier 150 years ago today — the steamer Daniel Webster, a craft operated by the U.S. Sanitary Commission which carried over 200 wounded Union soldiers.
The New York Tribute posted the names of all onboard and even gave their destinations: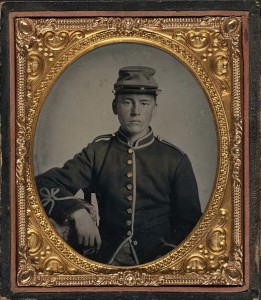 — 134 men to the Park Hospital — North area of Central Park — Formerly known as the Academy of Mount Saint Vincent convent, the sisters left in the 1860s (due to the formation of Central Park around it) and became a military hospital during the war. Today the site holds a bulk of Central Park's composting operation.
— 67 men to the New England Relief Rooms — 194 Broadway — a sort of hospital, hostel and even church for soldiers in transit to and from the war. On the site of this soldier's haven today stands the glossy, nearly-completed Fulton Street Transit Center, a $1.8 billion transportation project.
— 53 men to Bedloe's Island — A fort and army barracks had been situated on Bedloe's for several decades. Today, of course, Bedloe's is Liberty Island, and the Statue of Liberty stands on the spot where many of these soldiers likely convalesced.
At right: a Union soldier from New York
While I believe this was the first time that the Daniel Webster arrived into New York harbor carrying wounded Union soldiers, it would not, unfortunately, be the last.
Here's the original article, courtesy the Library of Congress. It lists hundreds of other names, wounded men who arrived at Fortress Monroe in Hampton, Virginia. and in Washington D.C. A few days later, the New York Times ran another article on the medical crew of the Daniel Webster. Of note: the three 'lady assistants' Mrs. Trotter, Mrs Starr and Miss Gill.
Top illustration courtesy Daily Observations of the Civil War, a fascinating blog for history junkies