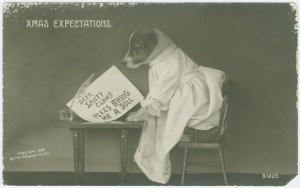 LOL Dogz: a photographic postcard from the Rotograph Co., from between 1904-1911. Rotograph was located at 684 Broadway, mass producing snappy photos, often heavily manipulated and painted. Their office building is still around; there's an Au Bon Pain on the ground floor. [source]
Here's a collection of articles about the New York holiday season that I've written for this blog over the past few years. Some of them are for my 'How New York Saved Christmas' series, which I'll add a few more articles to this year.
A Christmas Tree for the ages in Madison Square Park
It's been one hundred years since the very first community Christmas tree in America debuted in Madison Square Park.
"This 'Tree of Light', mounted in cement, was such a novelty that almost 25,000 people showed up that night to witness it and enjoy an evening-long slate of choral entertainment."
Pre-Scrooged: The Ghost of New York Christmas specials past
The very first television adaptation of 'A Christmas Carol' has a very local flavor.
"[F]ar from constructing a dour Victorian London set upon their midtown Manhattan soundstage, Leonard (who wrote the teleplay) decided to change the setting of the story, to modern day New York City. According to author Fred Guida, "this clever conversion preserved the spirit of the original but in the milieu of lower Park Avenue and big industry.""
A Very Special New Amsterdam Christmas
The Dutch played a greater role in early Christmas customs than most people realize.
"So where did the ingredients of modern Christmas first wash up onto the shores of North America? All signs point to New Amsterdam."
Holidays on Ice 1861: Skaters flock to Brooklyn's icy ponds
Ice skating was all the rage in Brooklyn during the years of the Civil War, as countryside ponds became ideal spots for some makeshift skate play.
"So famous was the city of Brooklyn's famed ponds — which reliably froze each winter — that New Yorkers by the boatloads crammed into ferries across the East River to join in the icy merriment."
'Christmas or Chanukah?': NYC discovers the Jewish holiday
In the years following a great influx of Jewish immigrants into New York, spiritual leaders became concerned that people were choosing Christmas over their own religious celebration.
"[M]any Jewish leaders at this time were concerned that many traditions were being abandoned, the better to acclimate in a city that was decidedly more Christian-seeming.
The First Televised Yule Log!
"Believe it or not, the original burning fire was filmed at Gracie Mansion, with the blessing of Mayor John Lindsay. (See, he really was the cool mayor!)"