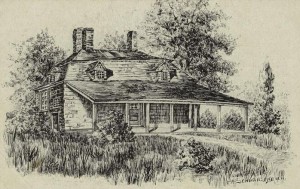 Above: While this is the old Brooklyn Schermerhorn house, it's of a similar type to one that Ms. Melmoth may have owned, quickly becoming a tavern after her death.
Less than two hundred years ago, in the area approximate to the neighborhood of Carroll Gardens today, there was a very, very rowdy tavern.
It was located east of Red Hook Lane, "in a retired and beautiful spot, near the line of the present Carroll, between Clinton and Henry street," a place of intense merriment and gluttony, partaking of beer and hunted game, devouring buckets of oysters taken from the shore. (Many years later, perhaps in penance, St. Paul's Episcopal Church would be built near this spot.)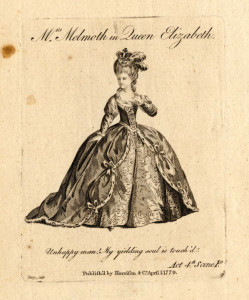 The tavern had once been the home of the famous British stage actress Charlotte Melmoth (depicted at right, in one of her finest roles as Queen Elizabeth). She retired in 1812 to this grand home off Red Hook lane and spent her last days instructing the children of wealthy Brooklyn families. Although an actress (hardly the most respected field of work in the early 19th century), her skills of etiquette and elocution brought up the next generation of Pierreponts and Cornells and Luquers.
However, when she died in 1826, her once-proper home took a detour into the debauched, becoming a popular location for young revelers. Melmoth, buried at St. Patrick's Old Cathedral on Mott Street, certainly rolled in her grave.
The secluded, wooded tavern attracted young men, farmers and sailors, "their orgies being carried on with a freedom to which the retired character of the spot was particular conducive." [source]
The gridded streets had not yet been cut through the wooded areas. Slightly north, in the distance, sat the ruins of old Cobbleshill Fort, the hill itself leveled decades ago by the British. The fort was briefly refurbished for possible conflict due to the War of 1812 — old Fort Swift, they called it — by the late 1820s, much of the stone would have been covered with dense overgrowth.
According to legend, one evening at around 11 p.m., the men at the converted tavern discovered they had run out of brandy. Unacceptable, of course, to a bunch of rowdy drunks! To replenish their supply, somebody needed only to run down Red Hook Lane to the Brooklyn ferry and retrieve more.
Less than a half-mile walk, of course, but one that passed by the old ruined fort, approximately near the intersection of today's Court and Pacific streets. Sitting near to the fort was "a ghost-haunted spot," a frightening, decrepit place well-known to locals, "about which dreadful stories are whispered, which lent wings to the feet of such unwary village urchins as chanced to pass it after dark."
Below: Brooklyn and the East River in the early 1800s, from Gowanus Heights (today's Green-Wood Cemetery), from an original painting by W. Bartlett. This is a bit south of the events described but gives you a good (if romanticized) idea of the still-verdant countryside that defined the area.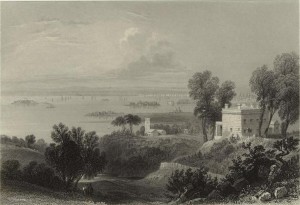 Nobody wanted to admit they were frightened to venture out alone, and yet despite their incredible thirst, nobody volunteered for the task. Finally, a man named Boerum, thirsty and bold, declared he would head to the ferry and retrieve the brandy. And if he happened to run into a ghost, all the better, he proclaimed!
It's safe to assume this Boerum (whose first name is not given) is of the same Dutch Boerum clan which gives the neighborhood Boerum Hill its name. Sadly for this fellow, he would not live long to carry on his family's good name.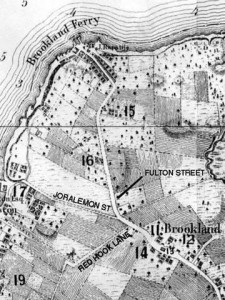 According to Henry Reed Stile's 1869 history of Brooklyn, Boerum jumped on his horse and headed down the lane , toward the ferry and that sweet, sweet brandy. Two hours later, when Boerum had not yet returned, his anxious (and sobered-up) friends became concerned and decided to venture out looking for him. Safety in numbers, after all.
At right: where Red Hook lane would have been located, cutting through the modern neighborhood of Cobble Hill.
"Mounting, not in hot haste, they turned their horses' heads towards the village and on approaching the haunted ground, they found Boerum's horse standing against the fence not far from the house, and when they reach the spot itself, their companion was discovered lying senseless on the road, with features horribly distorted."
We can only guess what "horribly distorted" might mean. The friends quickly took Boerum back to the tavern, but the man was too far gone. "[H]e lingered for two or three more days, in a speechless condition, then died."
What had happened to young Boerum? He had never made it to the ferry to fetch the brandy, and no evidence was ever found among the ruins.
Within a few years, the ruins themselves were leveled, and even most of Red Hook Lane was eliminated, as a street plan turned the region into orderly neighborhoods. Still, as you pass through Cobble Hill at night, on your way perhaps for a little brandy of your own, remember the cautionary tale of young Boerum.
The ghost story is featured alongside more standard history in Stile's 1869 two-volume history of Brooklyn.

Pictures courtesy New York Public Library, except for labeled map, showing Red Hook Lane, which is from Forgotten New York