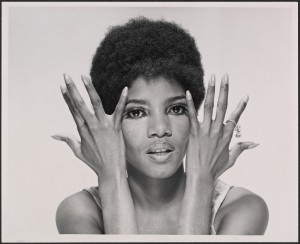 A press photo from Hair, the hottest show in town in early 1968, photographer Kenn Duncan

WARNING The article contains a couple light spoilers about last night's 'Mad Men' on AMC. If you're a fan of the show, come back once you're watched the episode. But these posts are about a specific element of New York history from the 1960s and can be read even by those who don't watch the show at all. You can find other articles in this series here.
Don Draper and the gang were too busy with their mistresses and their 'self-immolating' pitch meetings to properly react to the headlines of the day on January 31, 1968. Word of the U.S. military's devastating setback — today called the Tet Offensive — only briefly interrupted dinner conversation; by the time Draper's dinner companion ordered steak diavolo, the subject had floated to another table.
In the year 1968, it will be become increasingly difficult to tune out the world. Pete Campbell, with blank eyes, tunes into Johnny Carson, who has devoted his entire show that evening debating New Orleans district attourney Jim Garrison regarding the assassination of JFK. Garrison was readying a case against Clay Shaw for conspiracy to kill the president (he was acquitted):
The most vibrant movements in the city involved protest and aggravation. The hottest show off-Broadway, Hair, was prepping for its official Broadway opening that April. Hair was the very first musical to ever transfer from off-Broadway to Broadway.
What else is going on in January 31, 1968?
— The finishing touches are placed on the new Madison Square Garden which will open a couple weeks later, on February 11. A few seasons ago, the admen of Sterling Cooper took to wooing the organizers of MSG who were prepping the destruction of Penn Station. All traces were gone by 1968, replaced with the drab concrete cylinder which presently sits at 34th Street.
— And things were brewing below it as well. The following day, New York's two largest train companies — Pennsylvania Railroad and New York Central Railroad — announced their merger to form the eventually-named Penn Central. This would eventually incorporate other services, including Pete Campbell's favorite train. And it would all go bankrupt by 1970!
— The number one song that week? The parody number 'Judy In Disguise (With Glasses)" by John Fred and the Playboys.
— The number one film that week was the throwback Western Firecreek. This was a rare lapse into the traditional, as most filmgoers were talking about two other big releases — Planet of the Apes and The Graduate.
— In a sign of protest (and grim foreboding), the head of the city's anti-poverty programs George Nicolau resigned out of frustration with lack of support from the federal government. [source]
— Has somebody shown this to Betty? The cover of Life Magazine that week presented an expose on 'dangerous diet pills'. The picture below grandly illustrates the problem. (This issue from the week before is actually seen on a coffee table in this episode.)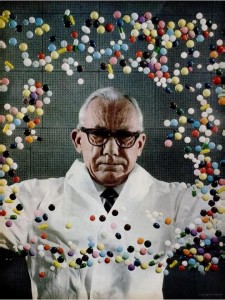 — But never fear. The New York Times fashion section announces a fabulous trend — dress the entire family as cosmonauts, courtesy Pierre Cardin! "The era of the fully fashion-coordinated family is at hands," they declare. You could buy this extraordinary set of garments at Bonwit Teller at the corner of Fifth Avenue and 56th Street
(Edit: A prior version of this story listed the address at Fifth Avenue and 38th Street, next to the still-surviving Lord & Taylor. It was indeed there for two decades, but by 1930, it had moved to the tonier uptown address.) [source]