The comely ladies of 'The Black Crook'. The show originally debuted at Niblo's Garden, although I believe the photo above is from a later revival. (NYPL)

The Broadway Musical is one of New York City's greatest inventions, 150 years in the making! It's one of the truly American art forms, fueling one of the city's most vibrant entertainment businesses and defining its most popular tourist attraction — Times Square.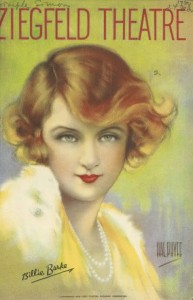 But why Broadway, exactly? Why not the Bowery or Fifth Avenue? And how did our fair city go from simple vaudeville and minstrel shows to Shuffle Along, Irene and Show Boat, surely the most influential musical of the Jazz Age?
This podcast is an epic, a wild musical adventure in itself, full of musical interludes, zipping through the evolution of musical entertainment in New York City, as it races up the 'main seam' of Manhattan — the avenue of Broadway.
We are proud to present a tour up New York City's most famous street, past some of the greatest theaters and shows that have ever won acclaim here, from the wacky (and highly copied) imports of Gilbert & Sullivan to the dancing girls and singing sensations of the Ziegfeld revue tradition.
CO-STARRING: Well, some of the biggest names in songwriting, composing and singing. And even a dog who talks in German!  At right: Billie Burke from a latter-year Follies. (NYPL)
---
And we would like to welcome our new sponsor Squarespace!
Squarespace, the all-in-one platform that makes it fast and easy to create your own professional website or online portfolio. For a free trial and 10% off (your first purchase), go to squarespace.com and use offer code BOWERY.
---
The original grid plan from 1811. As you can see, Broadway was not meant to extend further than the Parade Ground, the largest planned plaza from the Commissioner's Plan. Years later, the Parade Ground was reduced (becoming Madison Square) and Broadway was allowed to break the grid, creating plazas conducive for transportation and public gathering. (NYPL)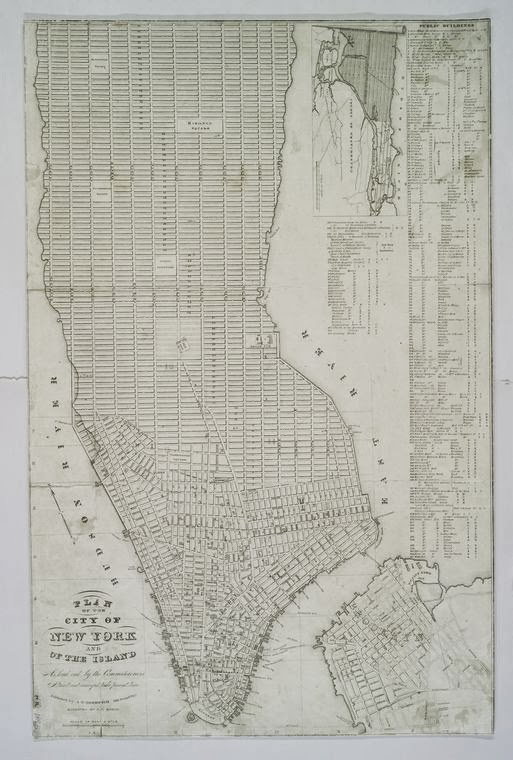 One of dozens of knock-off productions of HMS Pinafore, this one featuring children:
The facade of the Fifth Avenue Theater, once located at 1185 Broadway. Why was it called the Fifth Avenue Theater then? Possibly to just make the society ladies feel at home here!  This was home to three Gilbert & Sullivan original productions, including the premiere of The Pirates of Penzance.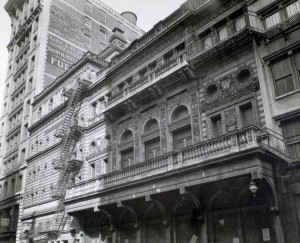 The Florodora girls, from the hugely successful 1900 musical comedy which debuted at the Casino Theater. (NYPL)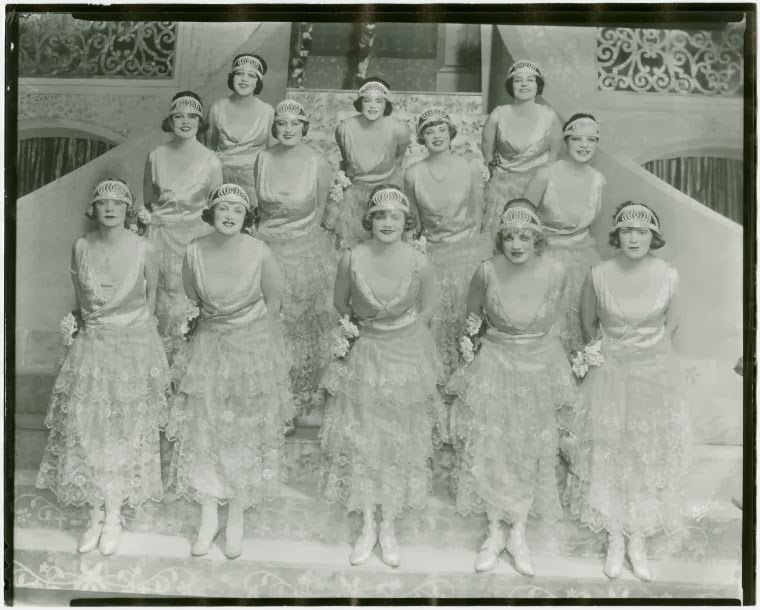 One of the more fantastic creatures from Victor Herbert's Babes In Toyland, which made its debut in Columbus Circle's Majectic Theater. You can read my article here on the musical which inspired Herbert's show, the musical version of The Wizard of Oz. (NYPL)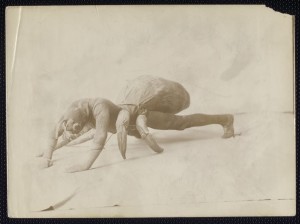 George M Cohan in a rare film appearance from 1932.
>
Video of a Ziegfeld Follies from 1929, a bit past their heyday, actually. They would only last until 1931:
Sheet music from 1921 of one of the most famous songs from Shuffle Along (NYPL):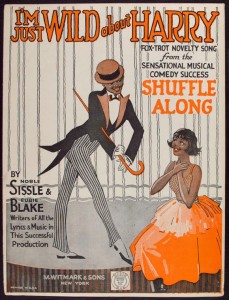 Dancing girls during the Actors Strike of 1919, which galvanized the industry and gave regular New Yorkers a window into the tough conditions faced by many background performers. (NYPL)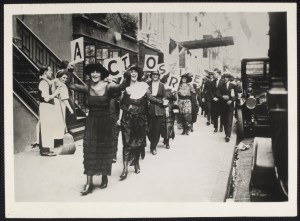 So the number 'After The Ball' — a huge hit song that made its stage debut in A Trip To Chinatown — made a return appearance to Broadway in 1927's Show Boat!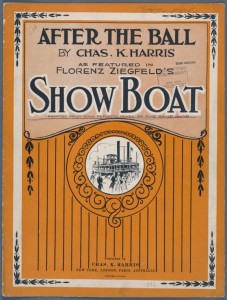 Musical cues from this week's show:
Give My Regards To Broadway and After the Ball performed by Billy Murray
Can't Help Lovin' Dat Man and Ol Man River, performed by Helen Morgan and Paul Robeson, respectively, from a 1932 cast recording, featuring Victor Young and His Orchestra
Love Will Find A Way, from a 1921 recording by Eubie Blake
Selection from HMS Pinafore, from a 1914 recording by the Victory Light Opera Chorus
 Here's an interesting version of "After the Ball" by the song's composer, Charles K Harris!
 And finally, a clip from the film version of 'Show Boat', featuring an iconic performance by Paul Robeson.
 
 From the original 1927 production of Show Boat at the Ziegfeld Theatre: