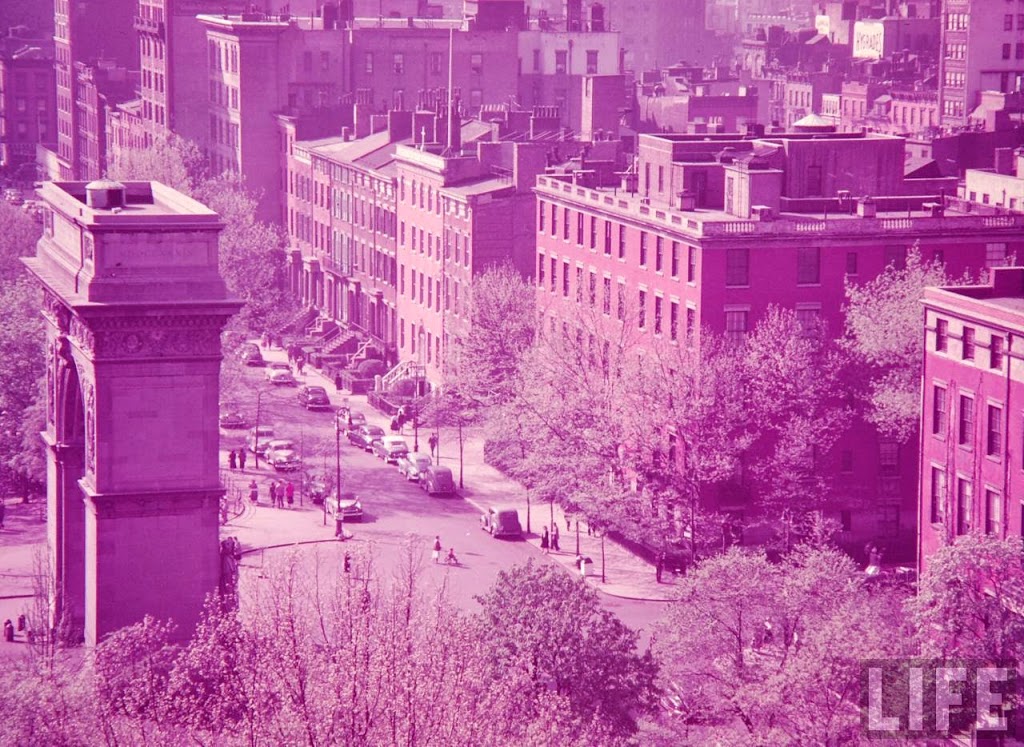 Washington Square North, looking west, 1950, photo by Walter Sanders, Life Magazine
The entire back catalog of the Village Voice, New York's original alternative weekly, is available online through Google News. The early issues are especially full of character, a scrappy counter-culture organ which provides an interesting window into downtown Manhattan. Here are some highlights from an issue which came out fifty years ago this week:
1) Washington Square Park, both the physical epicenter of Greenwich Village and the gathering place for the Village's various cultural factions, faced a possible makeover by the city in 1964. "This plan has two objectives. The first is to clean up the park, which is now physically run-down and neglected. The second, in response to complaints by adjacent property-owners, is to discourage beatniks and other 'undesirable elements' from congregating there." [source]
The park had been a magnet for the beatnik scene since the early 1950s. The folk singers who would gather on Sunday afternoons had won a major victory in 1961 after a so-called "beatnik riot" convinced the city to allow musical crowds to congregate there
The park was eventually altered that year, but one major change would have been applauded by all — the traffic lane that cut under the Washington Square Arch and through the park was officially closed.
2) Sara D. Roosevelt Park in the Lower East Side, meanwhile, remained a disheveled dump, and the Voice clearly saw it as a symbol of the city's neglect of the poor. "While the Parks Department is champing at the bit to pour $750,000 into Washington Square …. Sara Delano Roosevelt playground resembles a post-war Berlin. The latter, at Forsyth and Chrystie Streets, has been the scene of unrelieved wreckage for almost six years. It was torn up to make way for a subway and no one one thought to put it back together again.
The Delacourte Theater, June 1964, a performance of Hamlet (courtesy NYC Parks)
3) The New York Shakespeare Festival has a new home at the Delacourte Theater in Central Park, but writer John Wilcock, author of the Village Square column, pines for the festival's shaggier, less respectable days. Respectability has rendered it commonplace, according to Wilcock. Now you have to line up to grab a seat! "This is an improvement?"
4) The Black Revolution and The White Backlash, a lecture at Town Hall, featured an interesting group of guests, including LeRio Jones (aka Amiri Baraka):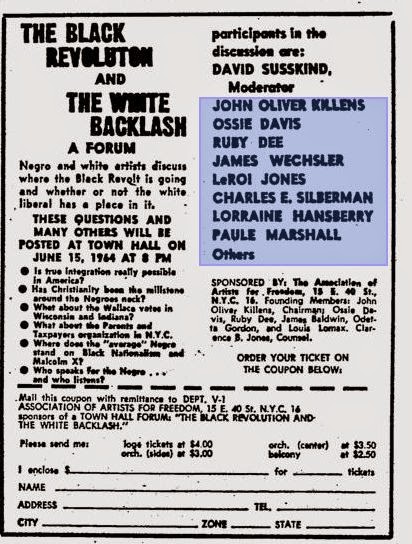 5) The jazz and folk clubs: A glorious sampling of musical icons that week — Ella Fitzgerald, Stan Getz, George Carlin, the Highwaymen, Woody Allen, Jose Feliciano, Cannonball Adderley