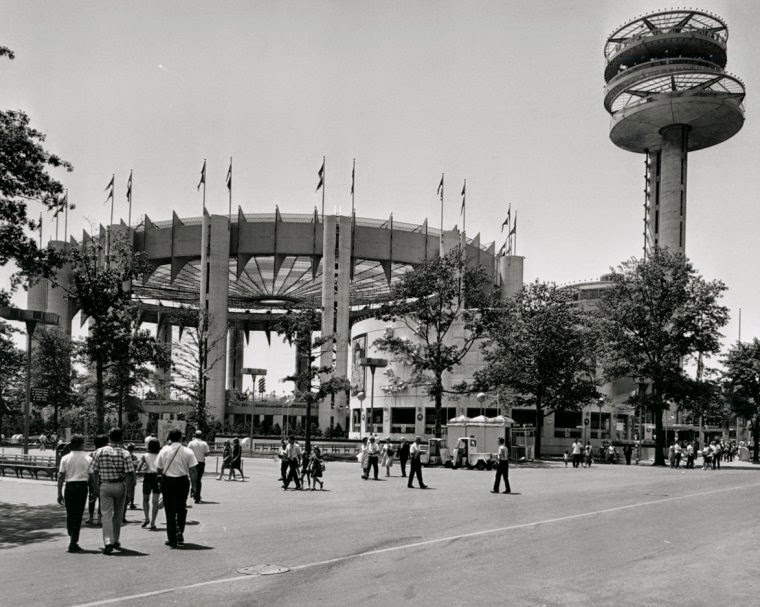 The New York State Pavilion in its prime. (NYPL)
The New York Mets owe much to Robert Moses and the World's Fair of 1964-65. The fledgling baseball team was still playing at the decrepit old Polo Grounds when plans were hatched for their new home out in Flushing Meadows-Corona Park, named for their primary benefactor William Shea. The Mets opened Shea Stadium just a few days before Moses opened the gates at the World's Fair.
The origins of the two are linked in the imagination, and now the Mets are helping to bring a little attention to the one of last remaining vestiges of the World's Fair — the New York State Pavilion.
On Friday, August 1, the Mets game at Citi Field against the San Francisco Giants (who trace their lineage to the New York Giants) will benefit an initiative by the People for the Pavilion to preserve and the Pavilion and seek possible reuse for this unusual structure.
If you purchase a ticket to the game here, portion of the proceeds go to the preservation group. Plus you get a free Mets Pavilion tee-shirt!
For more information on the unique connection between the team and the park, go back into the Bowery Boys Archives and listen to our shows on Shea Stadium (Episode #62) and the World's Fair of 1964-65 (Episode #33). [Archives]