Lauren Bacall, the cinema and stage legend who died yesterday at age 89, was once the less enigmatic Betty Joan Perske, a New York girl with a lot of moxie. As a sixteen year old, she ventured downtown from her home on the Upper West Side (84th Street, under the elevated train) to look for work as a model and actress.
In her great autobiography By Myself, she recounts her experiences as a teen model. Go back in time and take her valuable advice on how to make it in the cutthroat world of the Garment District in 1941!
Know the finer places: "I asked a couple other girls how to find work modeling clothes on Seventh Avenue. They said I should … go down to certain Seventh Avenue buildings — nothing really below 500 Seventh Avenue. The best houses were in 550 or 530 and you could squeeze in 495, but that was it — anything below that was tacky."
Lie a little: At 498 Seventh Avenue, "[a] woman came out, looked at me, asked me about my experience — I told her I had been a photographic model for several years (a white lie), that I was an actress, that I knew how to move and would certainly be a very good model."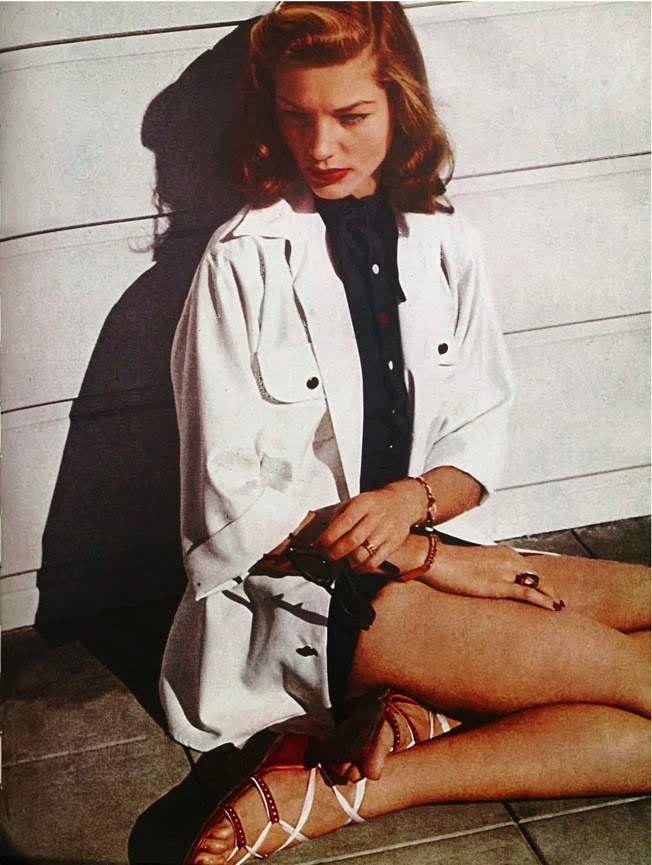 Play act: "I kept telling myself, 'It's a part — play it….' Finally the woman asked me if I would try on one of the model dresses….I walked through the curtains. Mr. Crystal asked me to turn — I did, without falling down or getting dizzy…"
Dress the part: "I spent the next week going through my scant wardrobe to make certain I had enough to wear to work. Then a trip to Loehmann's in Brooklyn. Loehmann's was a large store that stocked clothes from all the Seventh Avenue houses — lower-priced clothes of unknown designers as well as the most expensive…. There were no dressing rooms in the store. Women ran around in their slips, girdles and bras — all shapes and sizes — grabbing things from saleswomen as they brought them down. A madhouse."
Watch and learn: At Crystal's, her first modeling house, "you undressed and either sat in a slip or put on a cotton smock. There was a long make-up table with a chair for each of us….I watched [the older models] as they applied their make-up — a base, then full eye make-up. It didn't look heavy, but it was there. I did the best I could do with the face confronting me in the mirror."
Composure: "When I showed a dress and a buyer would ask to see it close to, I'd be motioned forward. The buyer, male or female, would then feel the fabric, discuss it — I'd stand there until I was dismissed. An occasional male buyer would feel the goods a bit more than necessary and I never knew what to do. I was petrified, though no one ever was really fresh, just suggestive — just enough to make me aware that I'd better keep on my toes, protect myself."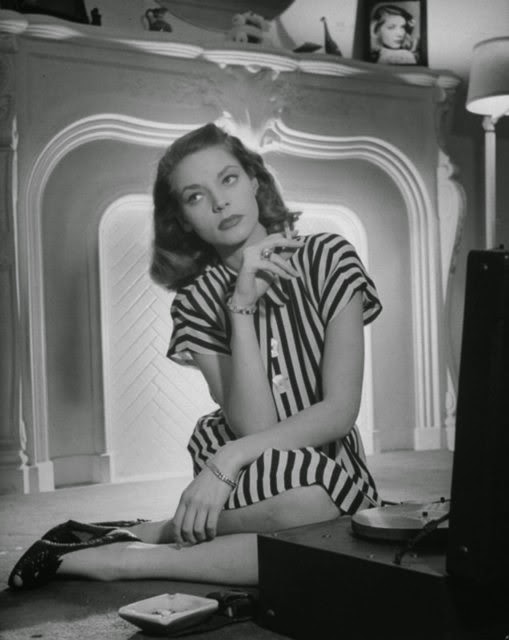 Build from rejection: She was laid off at Crystal's for being too thin (can you imagine?) but promptly got a job modeling evening gowns. "I was much happier at Friedlander's than at Crystal's. He laughed at all my little jokes, the other models were good girls (there were only two of them), the feeling was much cozier."
Plan your escape route: "The other girls seemed fairly uncomplicated to me — they would keep on modeling until Mr. Right came along and then they'd get married and be all set." But Betty wanted to be an actress. On her lunch breaks, she would go up to Walgreen's at 44th and Broadway. Then this happened.
After six months she quit — "I was not getting any closer to the stage in the Garment District" — and eventually moved with her mother to 77 Bank Street in the West Village. This allowed her a full time foray into theater work, first as an usher, then as a extra and bit part player.
But she still modeled for extra money, including a stint as a Montgomery Ward catalog model. Although would soon move on to full-time acting, her experience as a model was invaluable once she was put in front of a movie camera. Her cover work for Harper's Bazaar even got her noticed by director Howard Hawks.
Her debut in To Have And Have Not with future husband Humphrey Bogart electrified audiences. Now as Lauren Bacall, she seemed to instantly generate magnetism. "Slumberous of eye and softly reedy along the lines of Veronica Lake," wrote Bosley Crowther for the New York Times, in her first film review," she acts in the quiet way of catnip and sings a song from deep down in her throat."
Or, Bacall might have said, she did the best she could do with the face confronting her in the mirror.