PODCAST The mysterious disappearance of a young woman becomes one of the most talked-about events over one hundred years ago.
The young socialite Dorothy Arnold seemingly led a charmed and privileged life. The niece of a Supreme Court justice, Dorothy was the belle of 1900s New York, an attractive and vibrant young woman living on the Upper East Side with her family. She hoped to become a published magazine writer and perhaps someday live by herself in Greenwich Village.
But on December 12, 1910, while running errands in the neighborhood of Madison Square Park, Dorothy Arnold — simply vanished.
In this investigative new podcast, we look at the circumstances surrounding her disappearance, from the mysterious clues left in her fireplace to the suspicious behavior exhibited by her family.
This mystery captivated New Yorkers for decades as revelations and twists to the story continued to emerge. As one newspaper described it: "There is general agreement among police officials that the case is in a class by itself."
ALSO: What secrets lurk in the infamous Pennsylvania 'House of Mystery'? And could a sacred object found in Texas hold the key to solving the crime?
---
The Bowery Boys: New York City History podcast is brought to you …. by you!
We are now producing a new Bowery Boys podcast every two weeks. We're also looking to improve the show in other ways and expand in other ways as well — through publishing, social media, live events and other forms of media. But we can only do this with your help!
We are now a member of Patreon, a patronage platform where you can support your favorite content creators for as little as a $1 a month.
Please visit our page on Patreon and watch a short video of us recording the show and talking about our expansion plans. If you'd like to help out, there are five different pledge levels (and with clever names too — Mannahatta, New Amsterdam, Five Points, Gilded Age, Jazz Age and Empire State). Check them out and consider being a sponsor.
We greatly appreciate our listeners and readers and thank you for joining us on this journey so far. And the best is yet to come!
---
The photograph of Dorothy Arnold that was much reproduced in the press after her disappearance on December 12, 1910.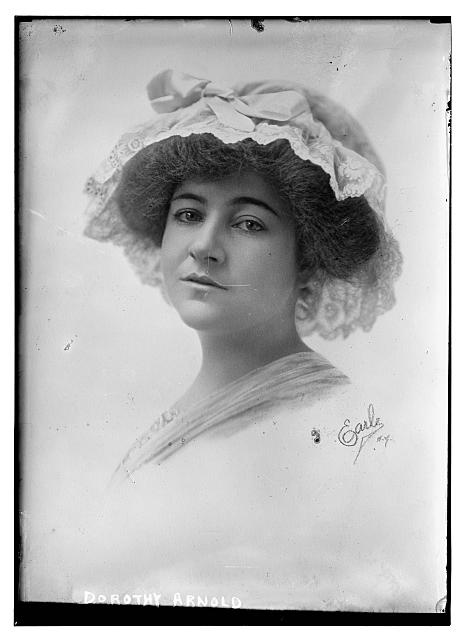 An example of a missing persons notice that was (eventually) distributed to police departments around the city.
On the day of her disappearance, Arnold bought chocolates at the Park & Tilford candy shop.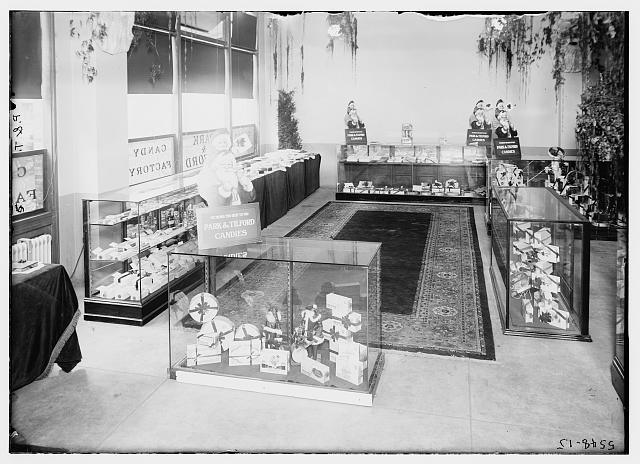 She was last spotted at a Brentano's Book Store on 27th Street and Fifth Avenue. Here's the interior of a New York Brentano's store in 1925: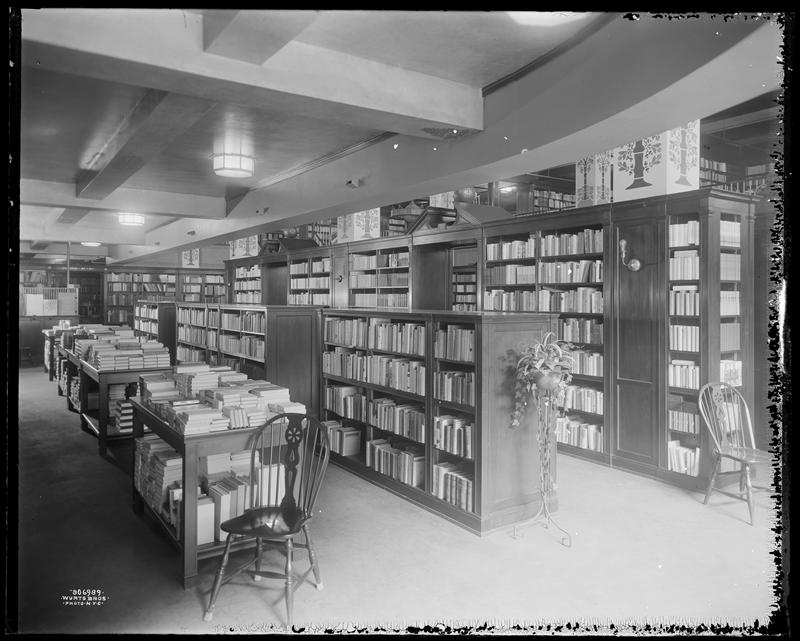 An extraordinary front page from the January 26, 1911, edition of the New York Evening World. Please note the other unusual headlines on the page: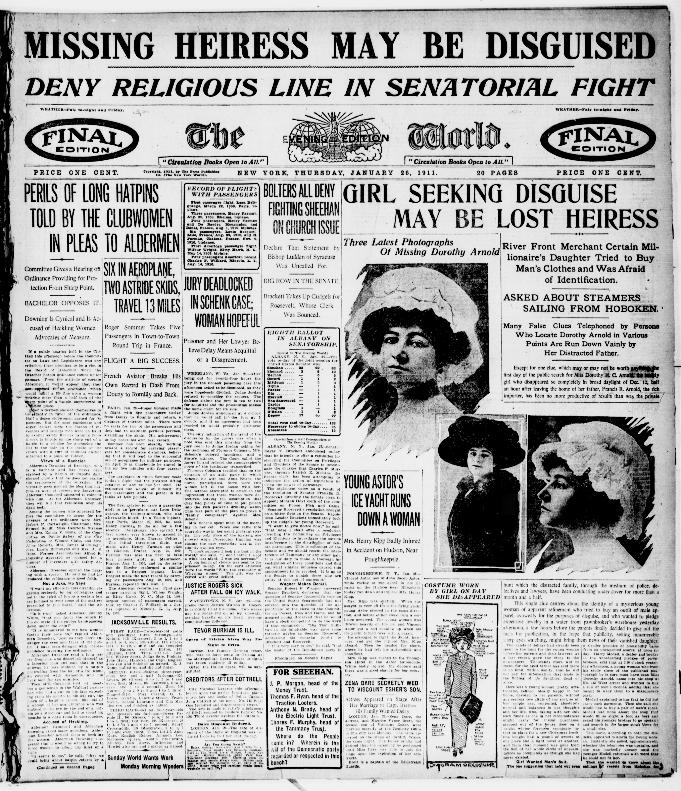 A close-up of the insanely detailed illustration of her wardrobe: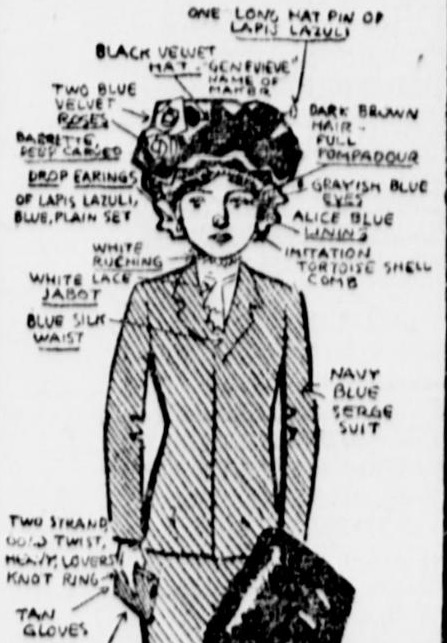 From the Jan. 26, 1911, New York Tribune: "Miss Dorothy Arnold who has been missing from her home in this city since December 12."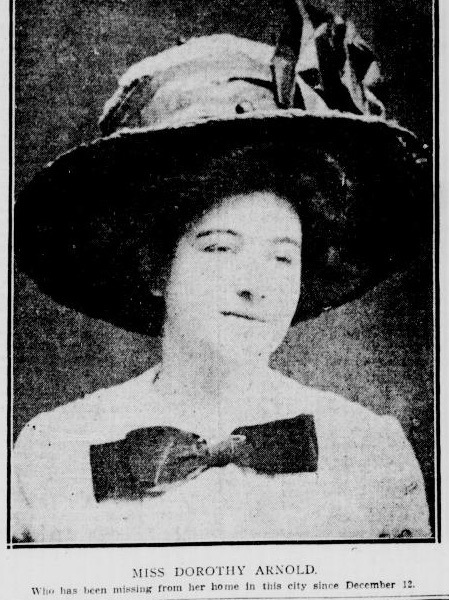 The New York Tribune, Jan 30, 1911: "Miss Dorothy H.C. Arnold who, it is now known, was seen near the 59th Street entrance of Central Park the evening of the day she disappeared."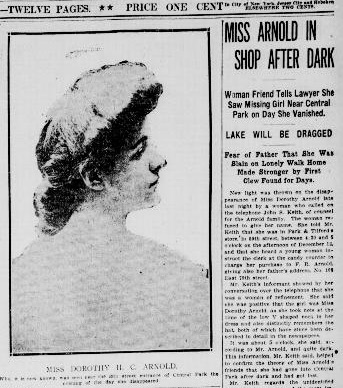 A Dorothy Arnold related headline, sitting next to a headline involving the captain of the ill-fated General Slocum steamship, which sank in 1904.
The event soon made newspapers across the country. This is from the front page of the Washington (D.C.) Times, January 29, 1911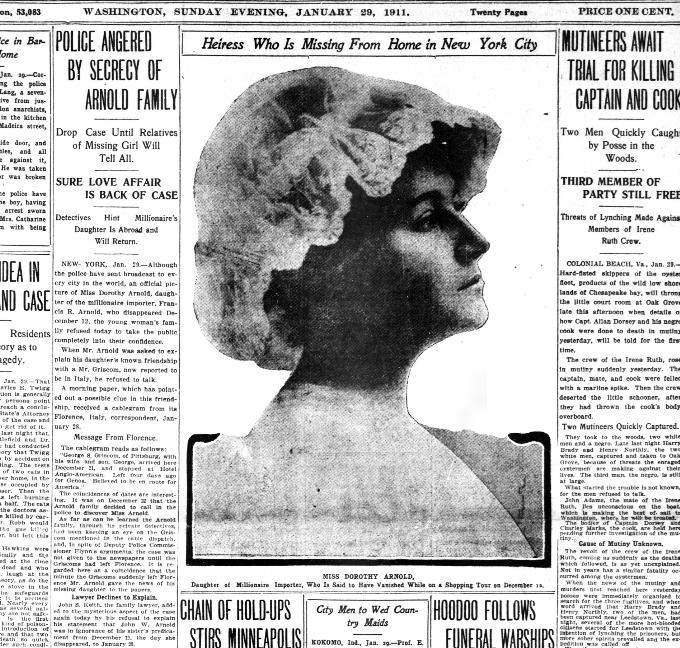 From the Mt. Vernon Ohio newspaper, January 31, 1911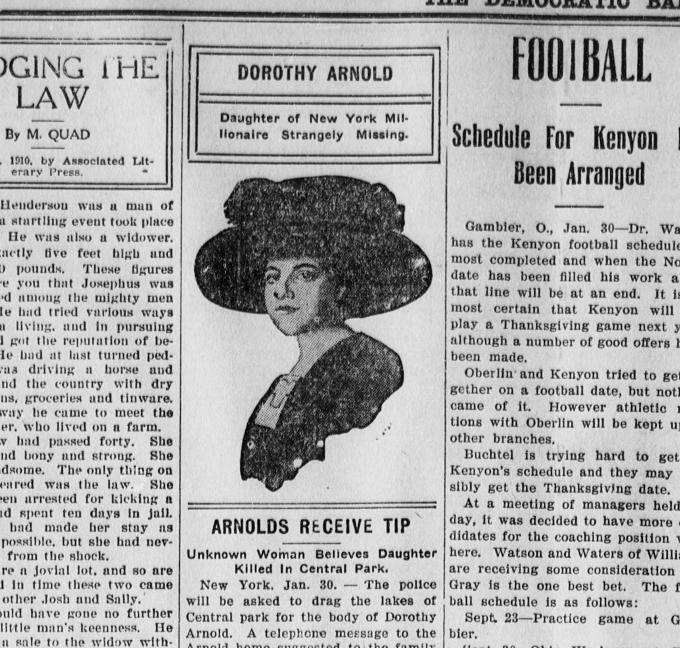 It even made the February 3, 1911, front page of the Missoula, Montana, newspaper!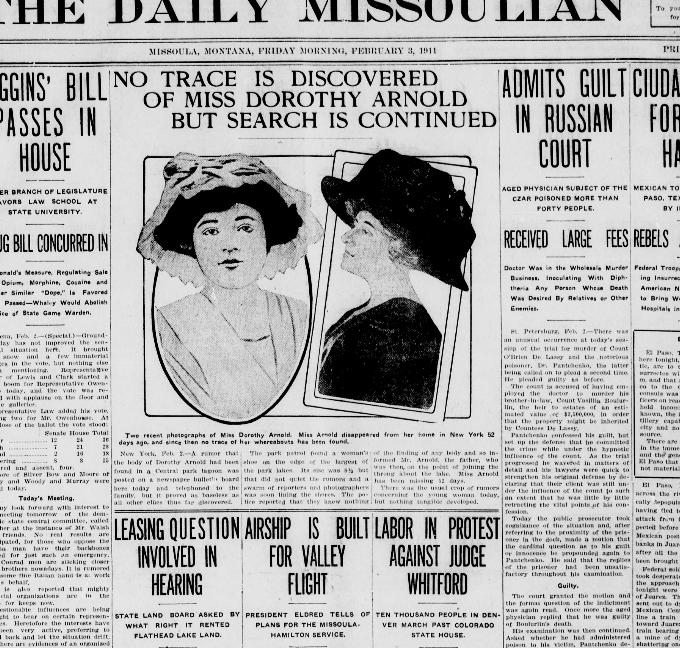 A clue that went nowhere, in the February 4, 1911, edition of the Evening World: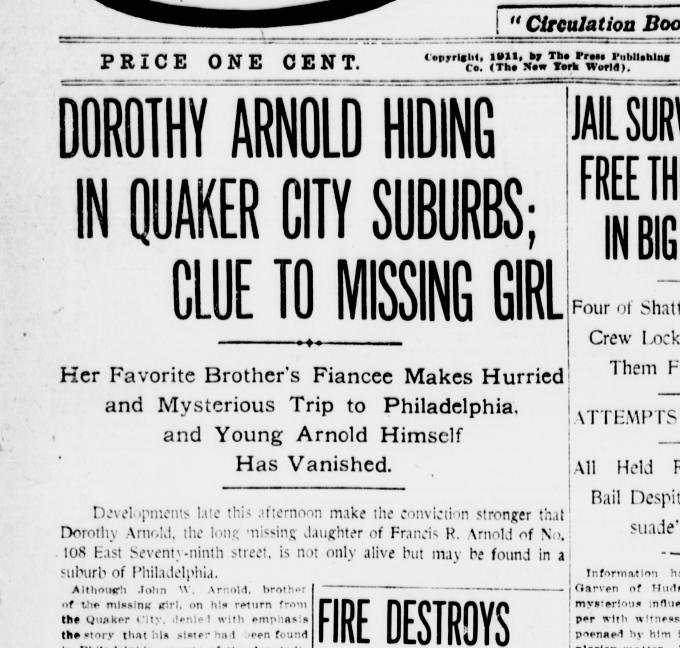 A photo illustration of Dorothy Arnold and George Griscom — accompanied by yet another speculative headline — in the February 11, 1911, edition of the New York Evening World: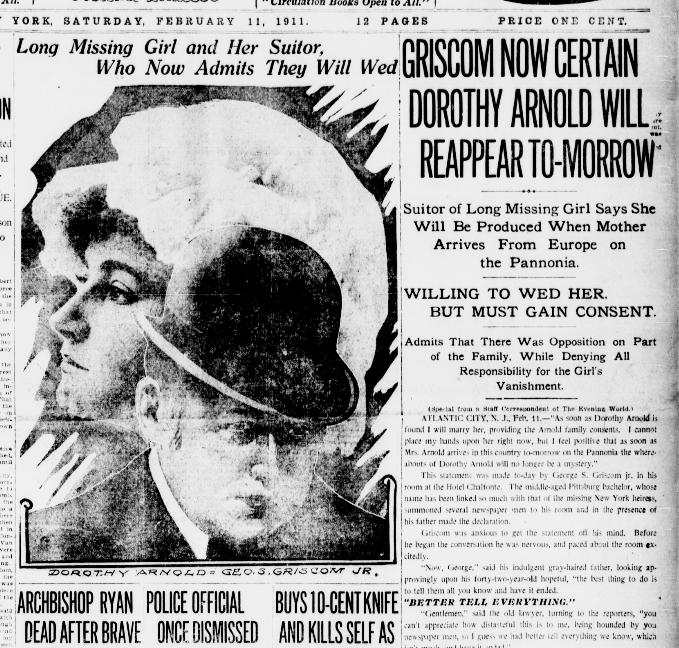 Even Griscom's family was harassed by eager reporters. Here are his parents, captured on the Atlantic City boardwalk (February 13, 1911)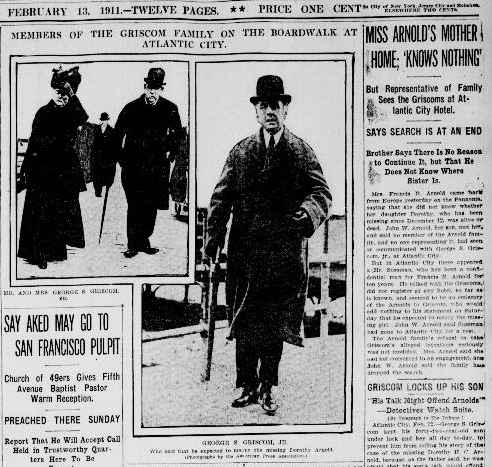 A headline from July 31, 1911, seems to question the motivation of Dorothy's parents: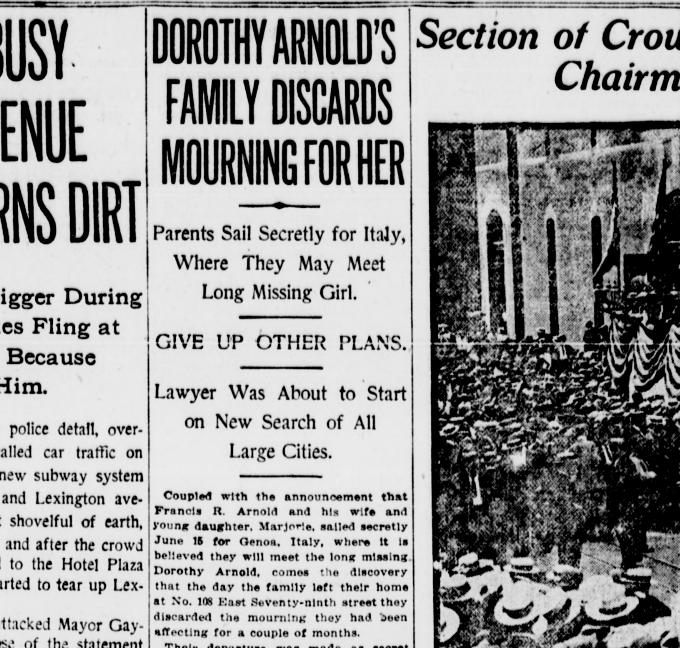 At other times, they went all in with unsubstantiated facts to sell newspaper such as this whopper from October 10, 1911.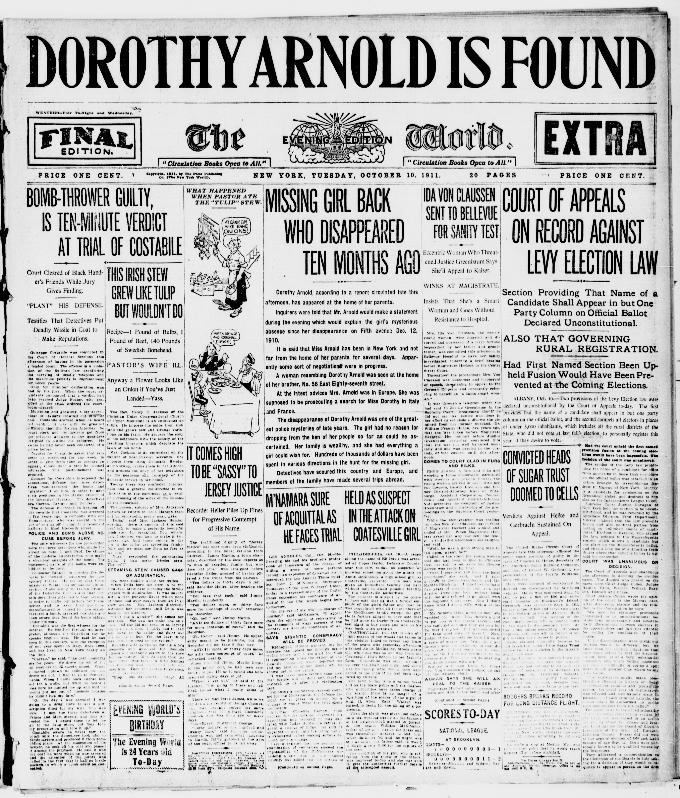 Another false report of Dorothy found in a sanitarium, from February 7, 1912: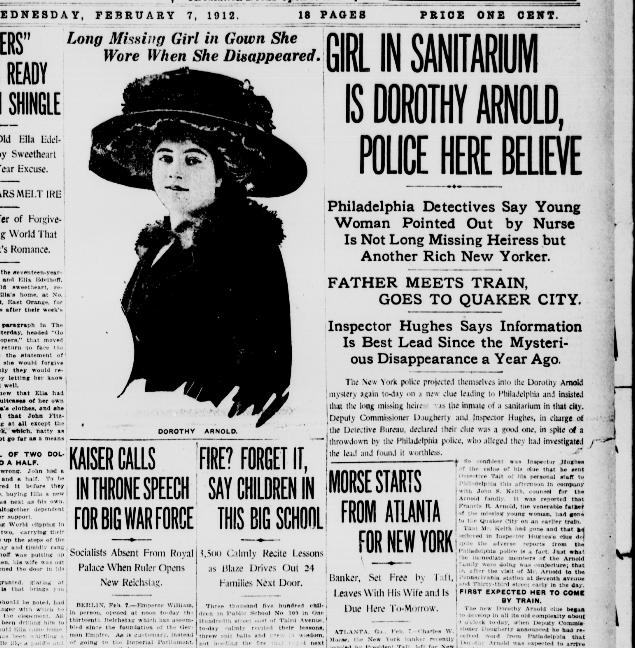 News of a blackmail from February 21, 1912, but in this case, the woman, Bessie Green, was later acquitted.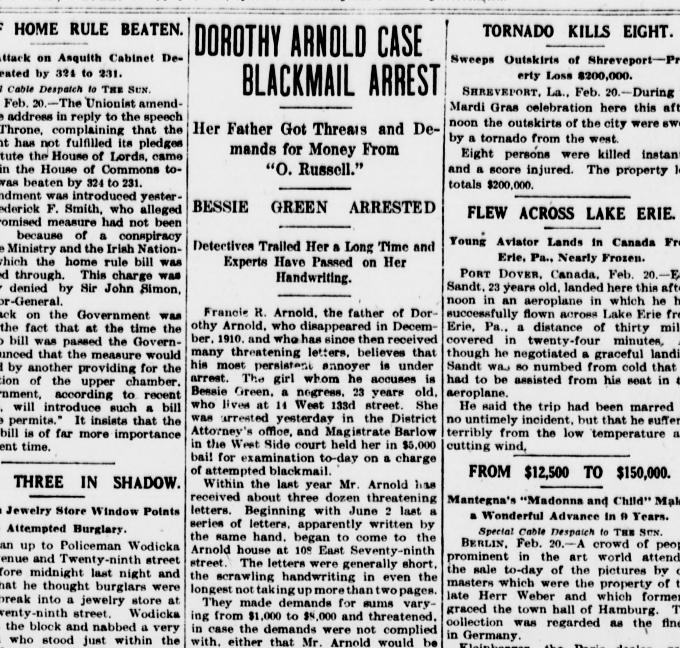 Dorothy Arnold was frequently brought up anytime a person went missing, as in this case in July 22, 1912 and another from December 8, 1913.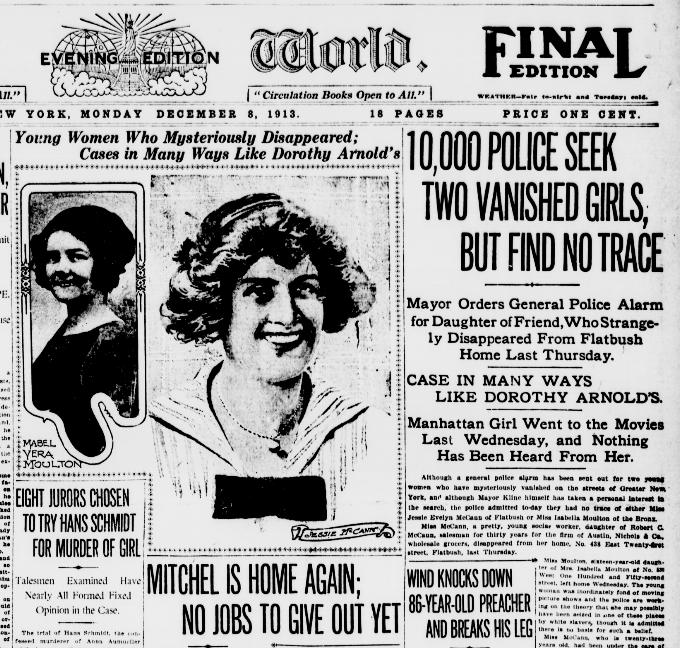 Over five year after her disappearance, her name is brought up again in a possible unfortunate event described by the Rhode Island convict Edward Glennoris.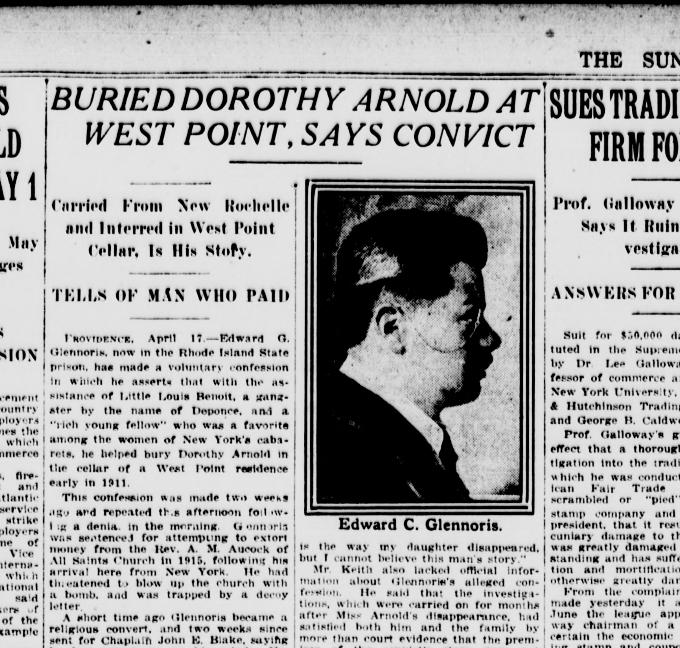 This podcast is inspired by an old paperback I found a long time ago called They Never Came Back by Allen Churchill which features the story of Dorothy Arnold: