This month America celebrates the 100th anniversary of the National Park Service, the organization which protects the great natural and historical treasures of the United States. There are a number of NPS locations in the five borough areas. Throughout the next few weeks, we will focus on a few of our favorites.   For more information, you can visit National Parks Centennial for a complete list of parks and monuments throughout the country.  For more blog posts in this series,

click here

.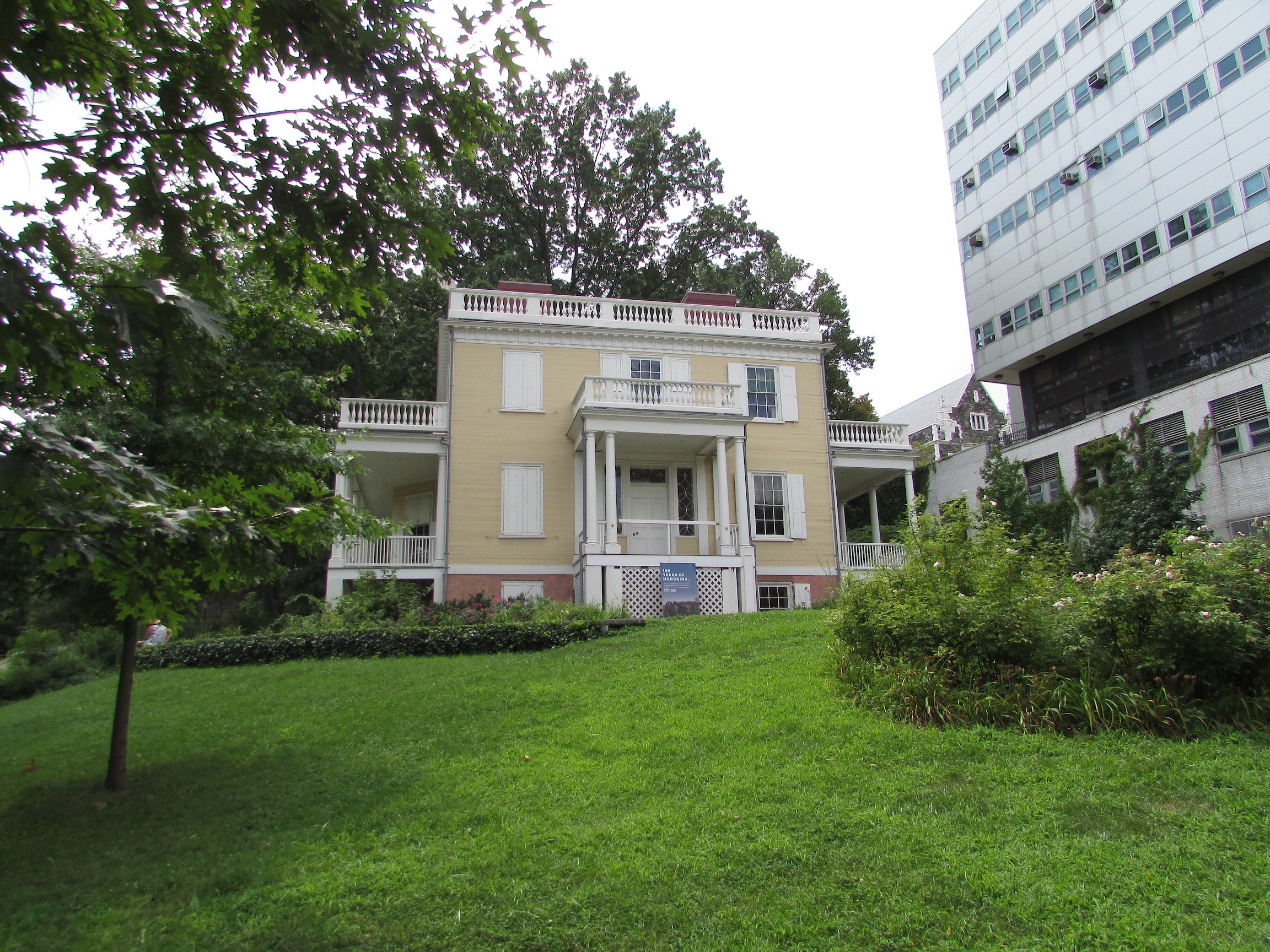 HAMILTON GRANGE
UPPER MANHATTAN. HAMILTON HEIGHTS. ST. NICHOLAS PARK.
I'm going to write a musical about Hamilton Grange.
This three-hour musical epic will be a complete survey of this historic home, which was built by Alexander Hamilton in an area of Manhattan a good hour and a half from town.
It will be a story of struggle, evolution, change, spirituality, love and melodrama.
And here's the catch — this imagined musical would begin with the death of Hamilton in his duel with Aaron Burr. (Far from giving this scoundrel a Tony-winning sized role, Burr would not even make an appearance!)  Because in most ways, that's when the story of Hamilton Grange really begins.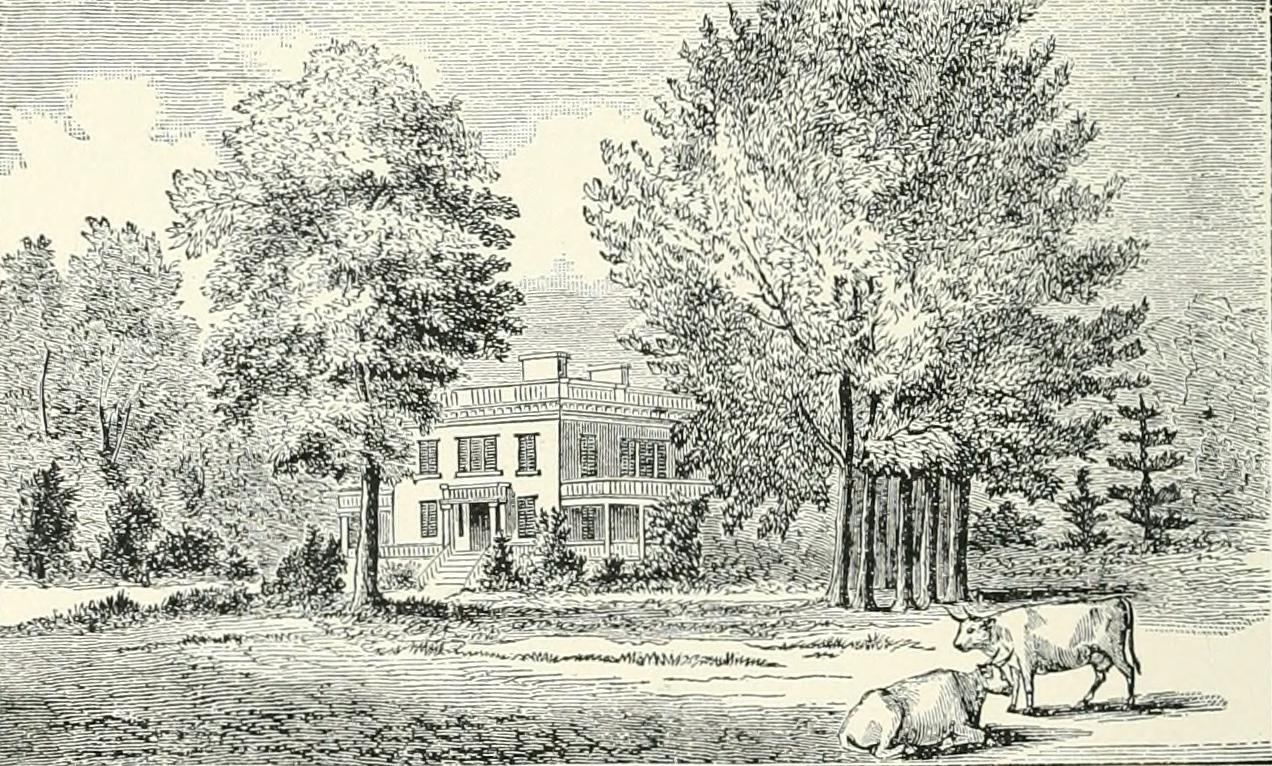 Last week I took a free tour of this charming  National Park Service location, newly energized by musical appreciations of Hamilton and his life. My tour of Hamilton's home was completely booked, and at least two people in the tour wore Hamilton: The Musical shirts. (Two other musical fans were turned away to join a later tour. My advice: Call ahead. Get on the list.)
You will ultimately visit only a small number of decorated rooms and in fact may have a richer educational experience in the Grange's excellent gallery about Hamilton's life.  But while several historic homes in the New York City area are larger and more spectacular, few have such an extraordinary tale of survival as Hamilton's pet project.
Hamilton purchased a set of upper Manhattan lots in 1800 in order construct a fine home for his family. Its name would be inspired by an ancestral Scottish mansion as well as his childhood home in St. Croix.  Designed by John Macomb Jr, (who was also commissioned for fellow NPS landmark Castle Clinton, as well as New York City Hall), the Hamilton Grange was completed in 1802, accompanied on the peaceful landscape by duck ponds, barns and an orchard.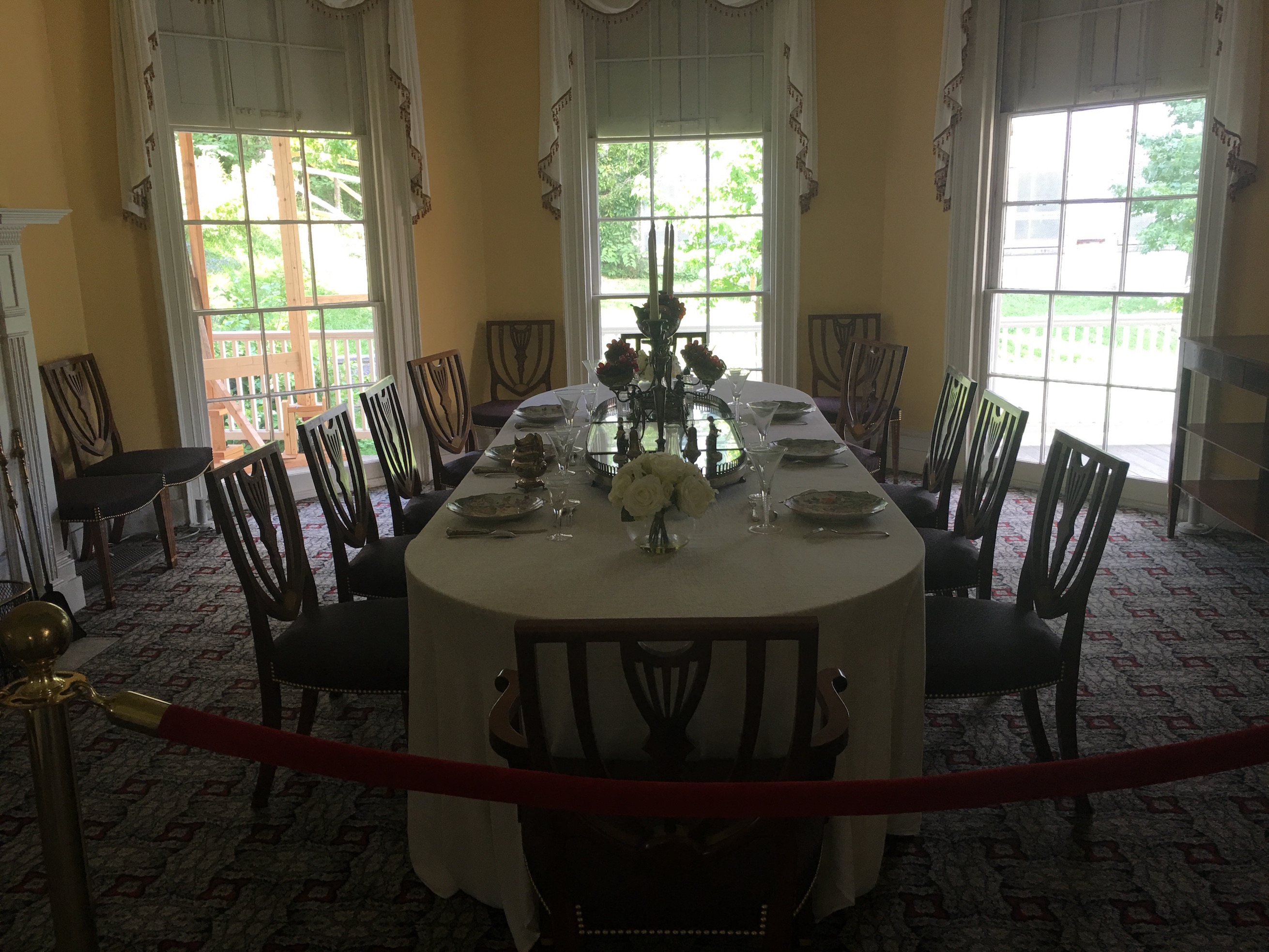 The house feted an extraordinary roster of politicians and dignitaries who ate and drank to their hearts' content in the Hamiltons' mirrored dining room (which you get to peek in on during the tour). Indeed, a week before the duel, the Hamiltons threw a lavish dinner party with the likes of John Trumbull and Nicholas Fish.
And like every good piece of New York City real estate, the Grange plunged the family into deep debt.
D'oh!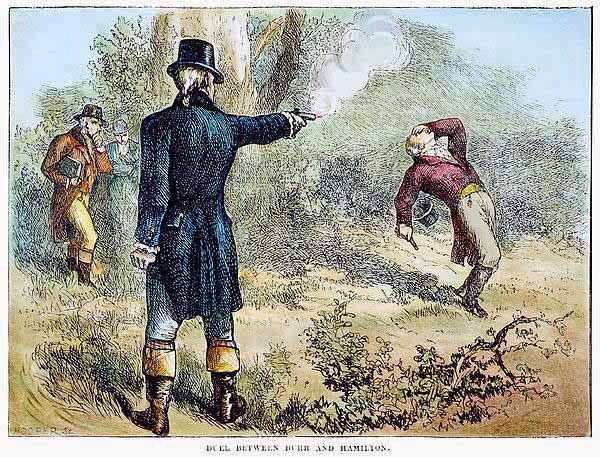 After Hamilton died in the summer of 1804, Hamilton's widow Eliza Schuyler Hamilton struggled to maintain the family finances. Â Eventually a group of supporters (led by good ole Gouverneur Morris) bought the home and sold it back to her for half price. She managed to stay there until 1833, at which point she moved into her son's new home on St. Mark's Place.
Below: The Grange, left adrift as the city moved up around it. Date of picture unknown, Â but most likely early 1880s.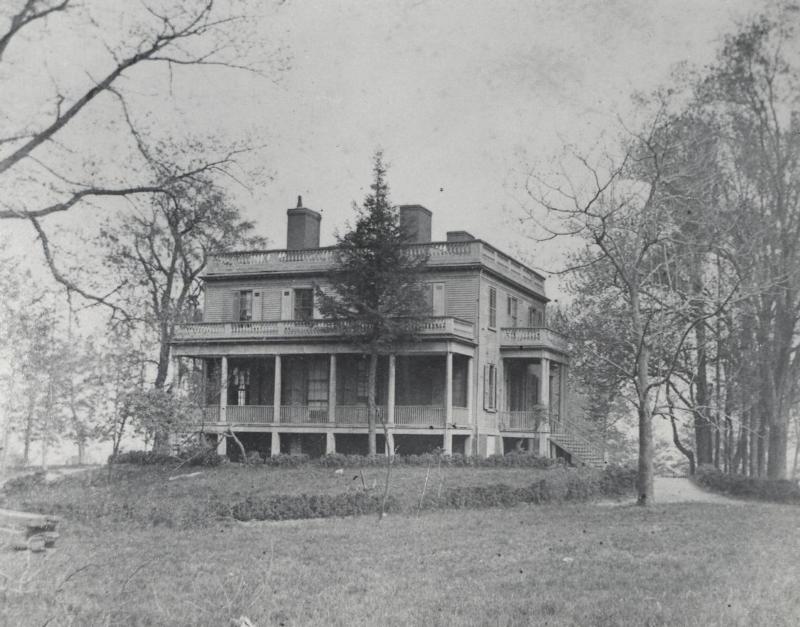 With the new grid plan eventually stretching up into upper Manhattan, farmhouses that were situated at all angles to maximize their glorious views now proved impossible to accommodate. Most were torn down with a few exceptions (such as the Dyckman Farmhouse, the oldest house in Manhattan).
The battered old Grange would certainly have been erased from history if not for the congregation of St. Luke's Episcopal Church who found use for the structure as an uptown chapel. The catch — it needed to move to their lot a block and a half away, conforming to Convent Avenue. By 1888 the house then became Hamilton Grange Reformed Church.
By the following year, the Grange was joined by a larger church structure which practically enfolded itself around the old house.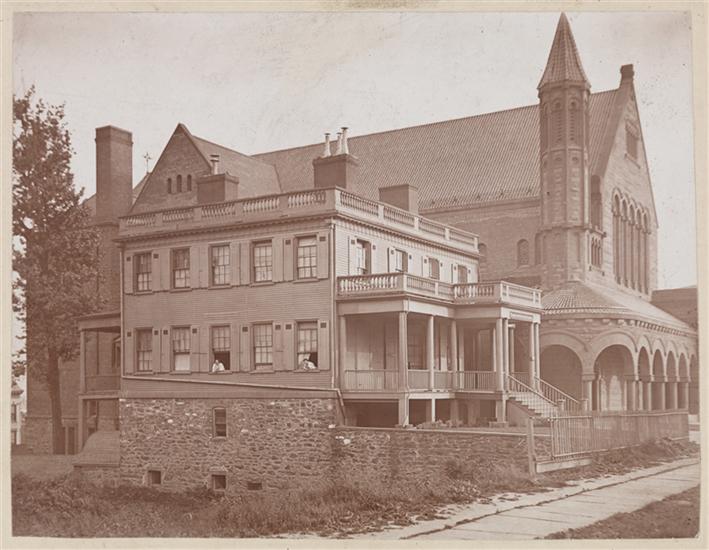 Sadly other nostalgic components of the property which still remained — Hamilton's thirteen famous elm trees, pictured below — were unceremoniously torn out in 1900.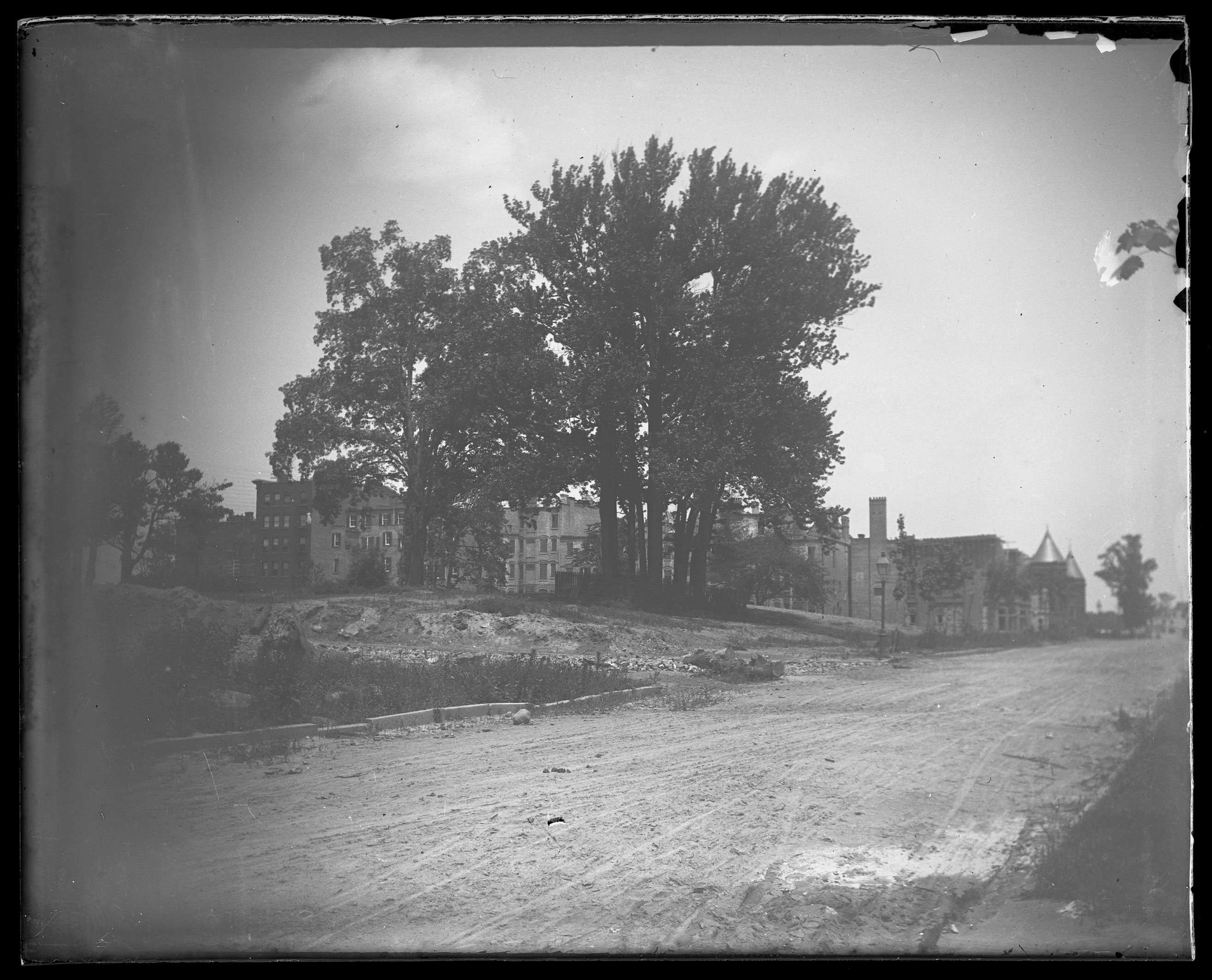 Further aesthetic travesties beset the house when an apartment complex was built onto the other side. Have you ever ridden a really, really packed subway? Now imagine riding that subway for almost a century. Thus was the fate of Hamilton Grange, a house-sized collectable artifact now shoved onto a tight shelf.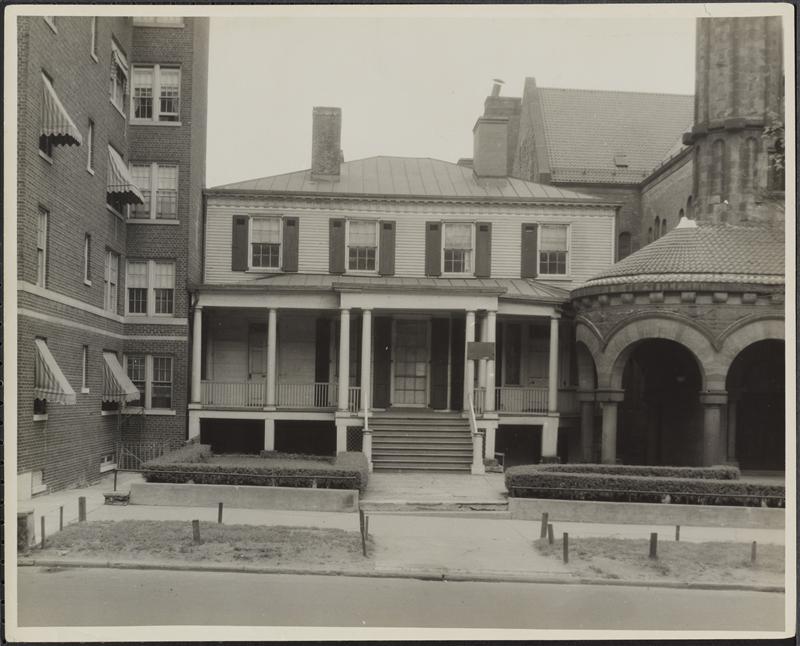 Almost immediately, concerned historians began discussing the rehabilitation of the house. "The Hamilton Grange is the oldest structure in this sector of the city, as it is assuredly the most historic," observed the New York Times in a full-page spread in 1912. "In its present setting, hemmed in by rows of modern dwellings and apartments, its beautiful lines appear exceedingly incongruous." Â Daughters of the American Revolution beseeched the city to purchase the property.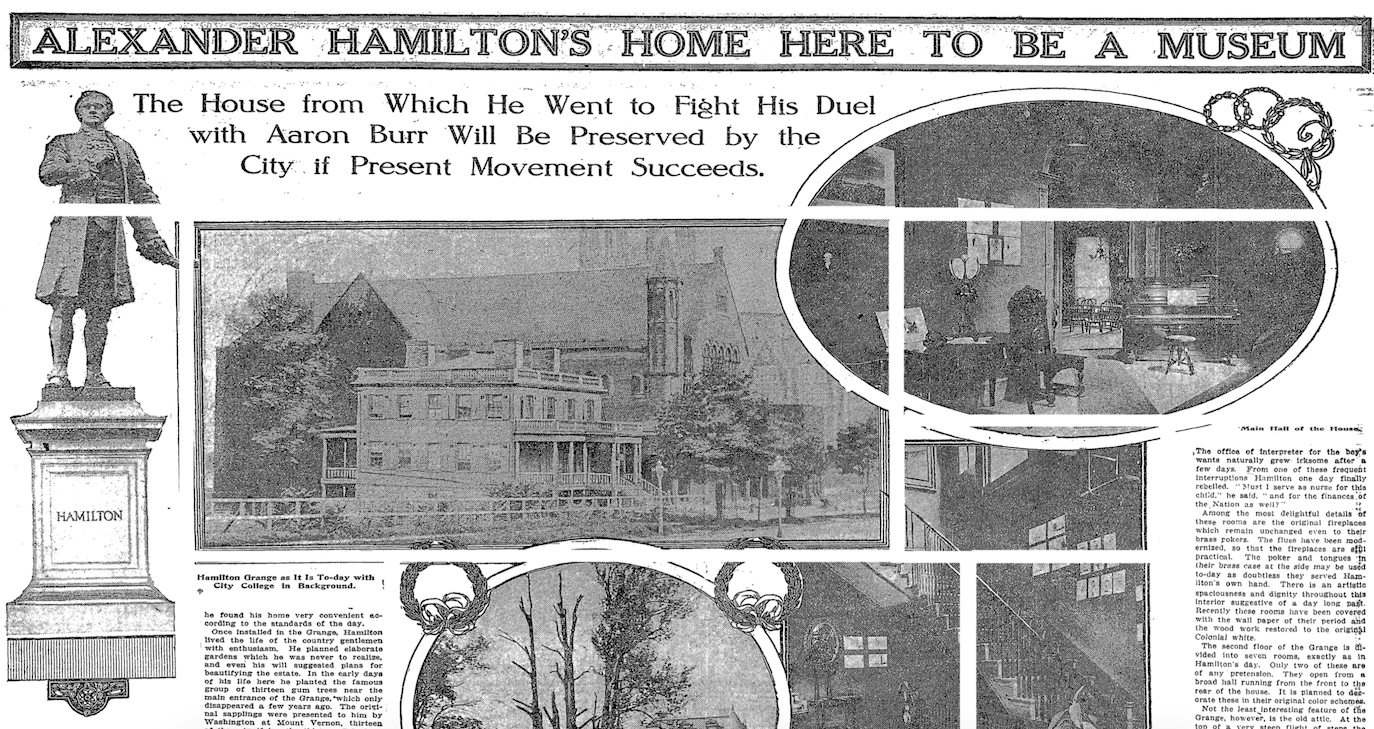 Curiously it was first proposed to move the Grange to St. Nicholas Park in 1915 as "it would not obstruct the landscape yet still stand on a portion of the Grange farm." This prophesy would indeed come to pass almost 100 years later.
In the 1920s, plans were again picked up to transform the squished little house into a museum. Apparently there was some interest in moving the entire thing to Chicago when, in 1924, this glorious announcement was made: Â "The rivalry of New York and Chicago to possess Alexander Hamilton's historic home has been ended by preserving the stately old mansion as a public museum near its original position on Manhattan Island. Hamilton Grange, as it is generally known, has become the property of the American Scenic and Historic Preservation Society, after some twenty-five years of unremitting effort." Â In 1933 it finally reopened as a museum.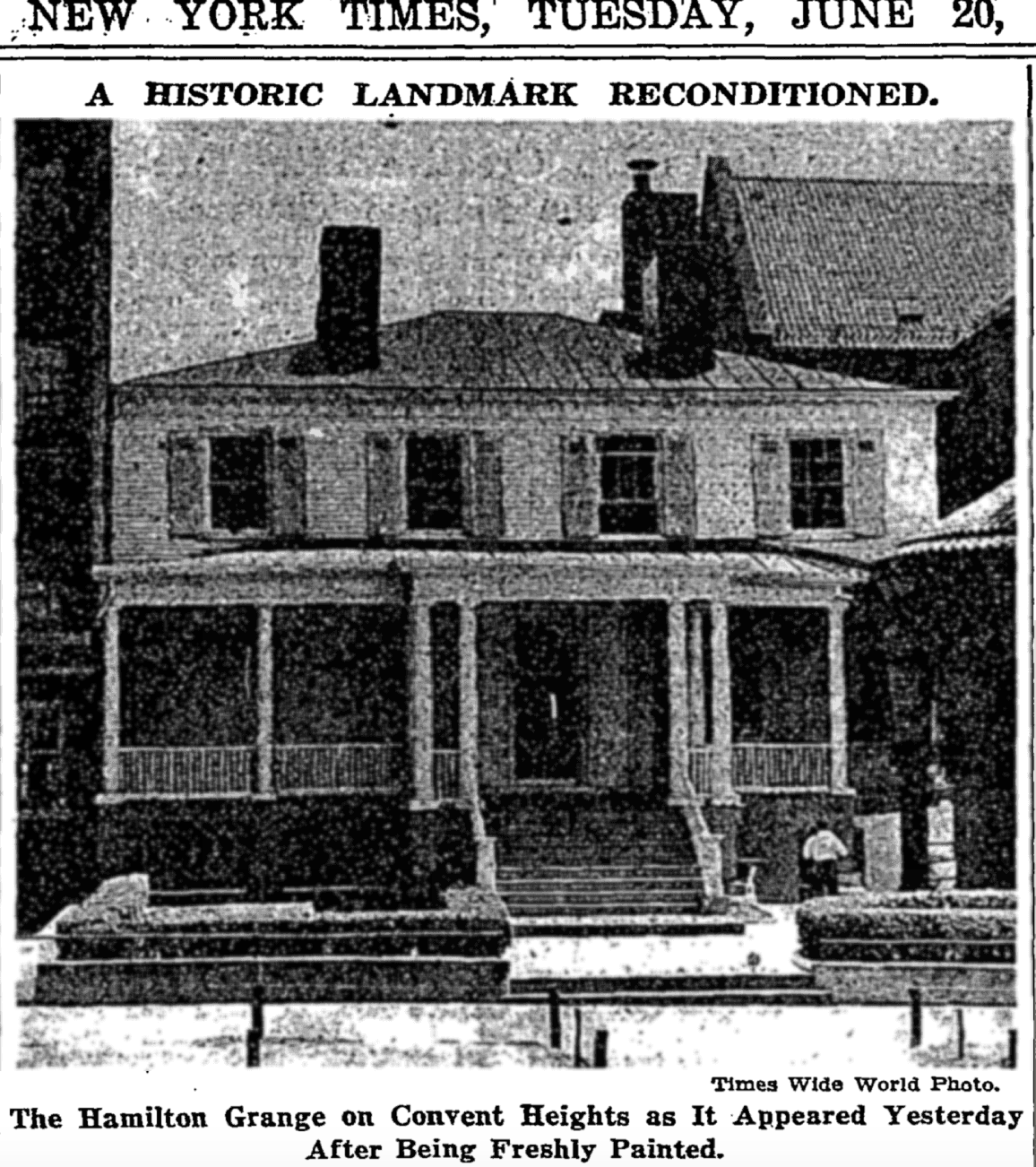 But even with the church congregation gone, even with the house filled with artifacts that were once owned by the Hamilton, the house's placement robbed it of any context.
In 1936 a statue of Alexander Hamilton was mounted in front of the building. It was officially dedicated on the very same day that a statue of General Philip Sheridan was dedicated in a ceremony in Christopher Park. Â Today — thanks to Stonewall National Monument — the Sheridan statue now too stands on property operated by the National Park Service.
The statue remains in front of the church even as the house is now gone.
The NPS would finally get its hands on Hamilton Grange after it was declared a National Historic Landmark in 1960 and Congress declared it a National Monument in 1962. Â The house was to be moved to another location and fully restored.
But unfortunately the city's financial upheaval of the 1960s and 70s threw off any serious work on the house. Or to quote a historic preservation graduate student from a New York Times 1988 article: Â "'If the Grange were anywhere else, this would be a fait accompli,' said Michael Adams, a Columbia University graduate student in historic preservation. 'The only reason it has fallen into this deplorable condition is because it is in Harlem.' "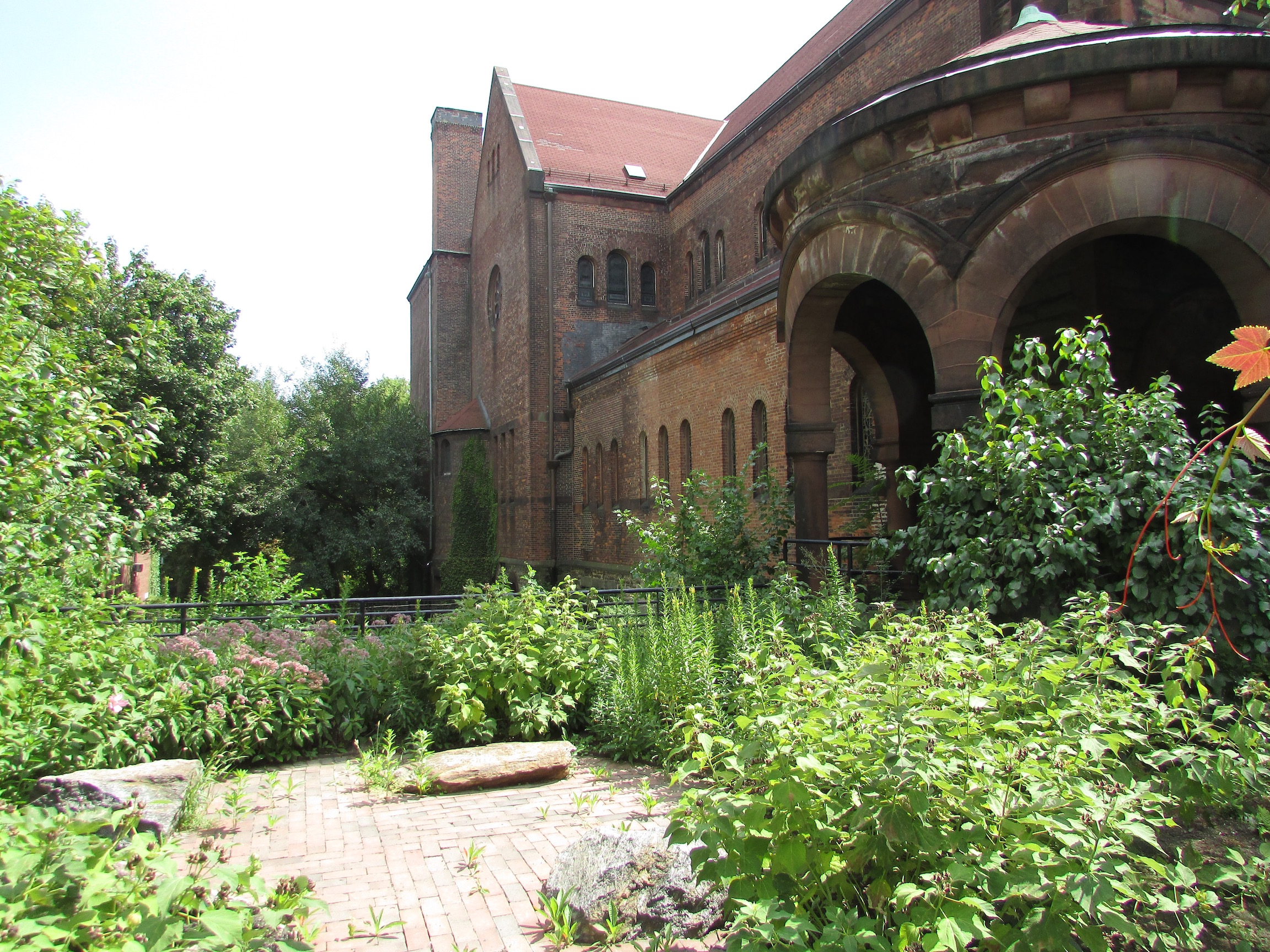 Finally in 2008, efforts were finally made to lift the house from its tucked-in spot near St. Luke's to its new home in St. Nicholas Park. The newly revitalized house was opened to the public in 2011.
Here's a dramatic video of its historic move:
Today the Hamilton Grange feels out of place — but in the right way. Another tall structure hovers over it to the east, but at least it doesn't smother the house's natural beauty, restored in a bright canary yellow. Â Surrounded by the rocky terrain of the park, visitors can get a sense of the calm that Alexander and his family might have felt as they gazed out from the porches.
And almost 175 years after his family moved from the house, the Hamilton Grange has finally become a show-stopper.
WANT MORE INFORMATION? Visit the NPS Hamilton Grange National Memorial site for more information.
LISTEN TO OUR PODCAST! We have a podcast on the famous duel between Alexander Hamilton and Aaron Burr. It's Episode #168. You can find it on iTunes at our show page.  Or download it from here.