The under appreciated South Street Seaport Museum has always had a daunting mission to fulfill — preserving a piece of New York City history on the edge of a volatile and ever-changing waterway. Established fifty years ago this year, the museum has been the guiding presence to this remaining vestige of New York's 19th century waterfront.
But while the mighty vessels maintained by the museum and the collection inside old Schermerhorn Row provide a true flavor of the past, the present has oftentimes disrupted their objective.
Construction on the waterfront — and the uncertainty of its use — has made the area rather unpleasant to visit in past years. And natural disasters like Hurricane Sandy have gravely endangered the neighborhood's repertoire of classic structures.
So consider this our official request to you — go down to the Seaport! The ships are now open for tours, the rustic Bowne Print Shops are still a treasure to visit, and a scaled-back version of the museum is open on Schermerhorn Row. And some decent shops and restaurants have returns to the area. (The Paris Cafe, one of our favorite places in all of New York City, has remained a reliable stalwart through all of it.)
And at the museum an interesting surprise awaits you. A small second-floor gallery presents the curious work of one of America's greatest tattoo artists — Gus Wagner.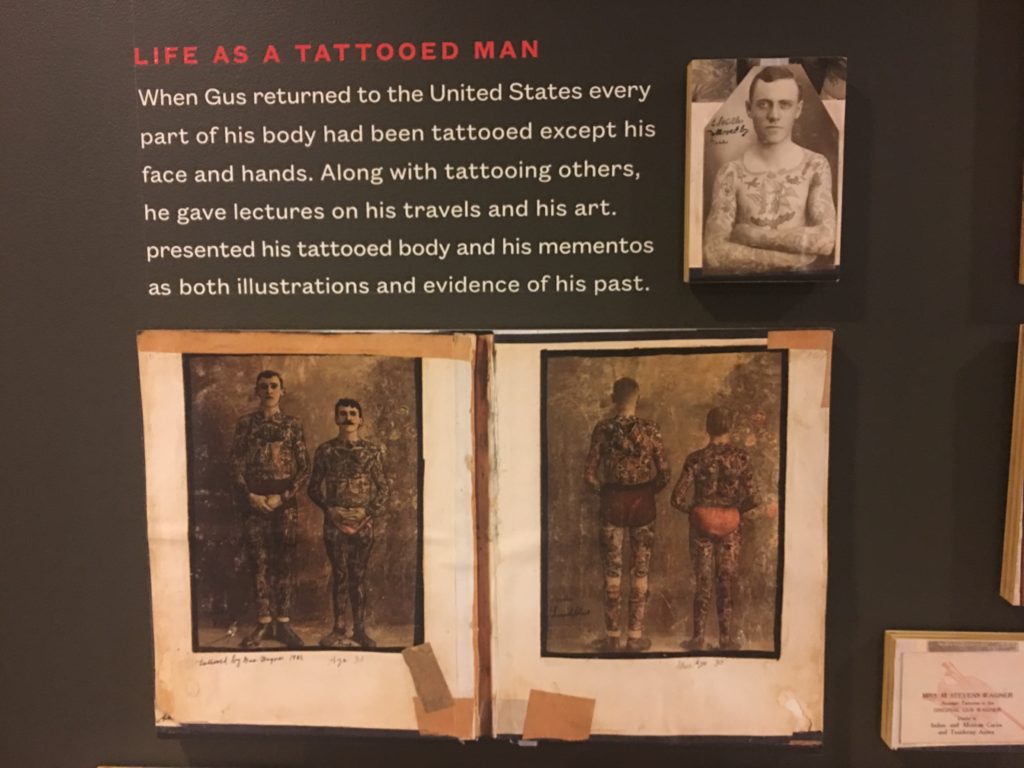 Tattooing has long been a part of seaport life — and a critical rite of passage for many 19th century seamen. Â The Original Gus Wagner: The Maritime Roots of Modern Tattoo presents the art of the tattoo in this larger context, following Wagner, a well-traveled sailor, around the world, his body like a passport, stamped with mementos of his various journeys.
Tattoo artists were often called professors, and indeed Wagner's own devotion to the art form, lecturing about his work and travels during his life time, helped develop its prominence among mainstream audiences. The exhibit also contains a look at some pages from his scrapbook of tattoo designs.
Take a trip down to the Seaport and visit this small but pleasurable exhibit. And my pre-emptive thanks to the South Street Seaport for inspiring the next episode of the Bowery Boys spin-off The First: Stories of Inventions and their Consequences. It comes out tomorrow and its all about the tattooing life in New York City in the late 19th century. Â (The show is available wherever you find podcasts. Just search for The First Stories. More information here.)
And if you're headed over to the Seaport, take our podcast on the history of South Street Seaport down with you! It's episode #163. Download it now or listen to it here: