In today's show, we'll continue to explore housing in New York, but move far from the mansions of Fifth Avenue to the tenements of the Lower East Side in the 20th Century. Specifically, we'll be visiting one building, 103 Orchard Street, which is today part of the Tenement Museum.
---
The Bowery Boys: New York City History podcast is brought to you — by you!
We are now producing a new Bowery Boys podcast every week. We're also looking to improve the show in other ways and expand in other ways as well — through publishing, social media, live events and other forms of media. But we can only do this with your help!
We are now a member of Patreon, a patronage platform where you can support your favorite content creators for as little as a $1 a month.
Please visit our page on Patreon and watch a short video of us recording the show and talking about our expansion plans. If you'd like to help out, there are five different pledge levels (and with clever names too — Mannahatta, New Amsterdam, Five Points, Gilded Age, Jazz Age and Empire State). Check them out and consider being a sponsor.
We greatly appreciate our listeners and readers and thank you for joining us on this journey so far.
---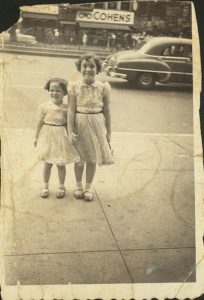 When we step inside 103 Orchard, we'll be meeting three families who lived there after World War II. We'll be getting to know them by walking through their apartments, faithfully reconstructed, often with their very own furniture, to tell their stories.
The three families are the Epsteins, the Saez-Velez family, and the Wong family. The Epsteins were Holocaust survivors who moved into the building in the 1950s, the Saez-Velez family moved in during the 60s and were led by a mother who left Puerto Rico and worked as a seamstress here, and the Wong family, whose mother raised the family while working in Chinatown garment shops, moved in during the 1970s.
They're included in an exciting new interactive exhibition at the Tenement Museum. This exhibit, which includes a tour of the apartments, is called "Under One Roof", and opens to the public this month. We're led through it on our show by Annie Polland, the museum's curator of this exhibit.
For more information on the exhibit, visit tenement.org. While there, be sure to take a virtual tour of the apartment.