For this holiday season, what single present can satisfy a native New Yorker, a history buff enchanted with the city's rich heritage, or a person who's dreamed of coming here to visit one day? A book of course!
Here are our picks for ideal gifts this year — from hard-hitting non-fiction to nostalgic memoir, from the Revolutionary War to the 1970s, from the real to the imagined.
And at the bottom of this list are our three favorite New York City history books of 2017. Most of these books are taken from past blog write-ups so click on the links below to get our full reviews.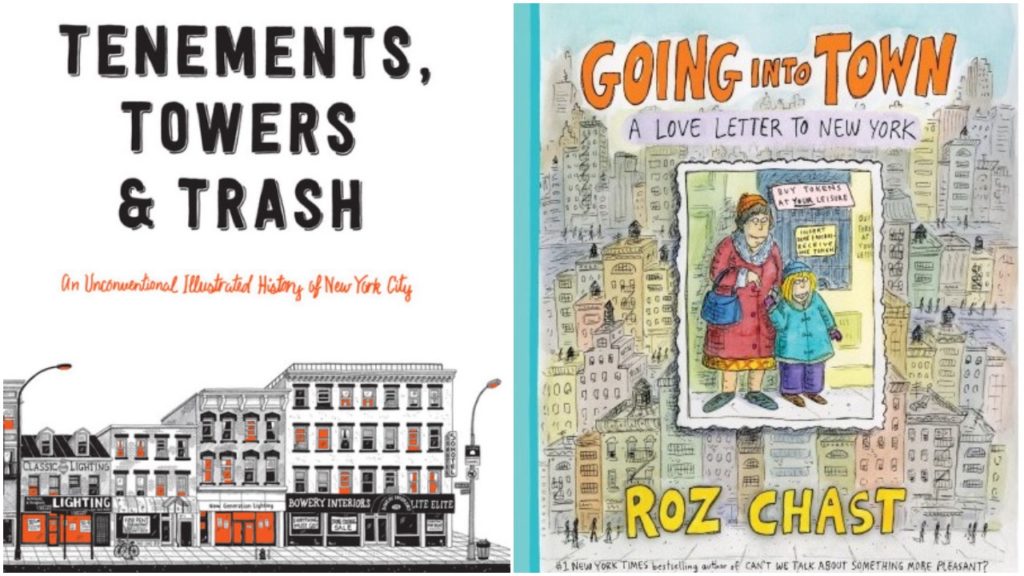 ILLUSTRATED WONDERS
Tenements, Towers & Trash
An Unconventional Illustrated History of New York City
by Julia Wertz
Going Into Town
A Love Letter to New York
by Roz Chast
Two New Yorker cartoonists hit the bookshelves with absolutely perfect tributes to the city, both in the spirit of E.B. White's Here Is New York (of which both books pay homage). Â Tenements, Towers & Trash is a wonderland of New York scenes from the past and present, Â wandering through time and space almost in a sentimental stream of consciousness, captured in beautiful and detailed black-and-white illustrations. Streetscapes are captured at rest, the awnings and ornaments of the past awaiting the reader to fill them with memories. Along the way are historical asides on Madame Restell and Typhoid Mary, as well as fabulous celebrations on the city's most beautiful trash dumps (Bottle Beach, Staten Island's Boat Graveyard.)
Going Into Town, Chast's book of urban observations, is a guide book full of charm and optimism, a polar opposite of most current-affairs tomes about New York on the shelves today. Even when she remarks disparagingly about tourists or rodents or trash, it's done with the lightest of touches, graced with vibrating illustrations of herself.  And it really is a guide book — albeit one you can safely read at home — describing the layout of New York's avenues and cross-streets, exploring its most enchanting institutions and proclaiming love for the most particular things (the Times Square/Grand Central shuttle, the armor gallery at the Met, the pigeon). It's curmudgeonly but not the least bit cynical.
(Read the full review of Chast's book here.)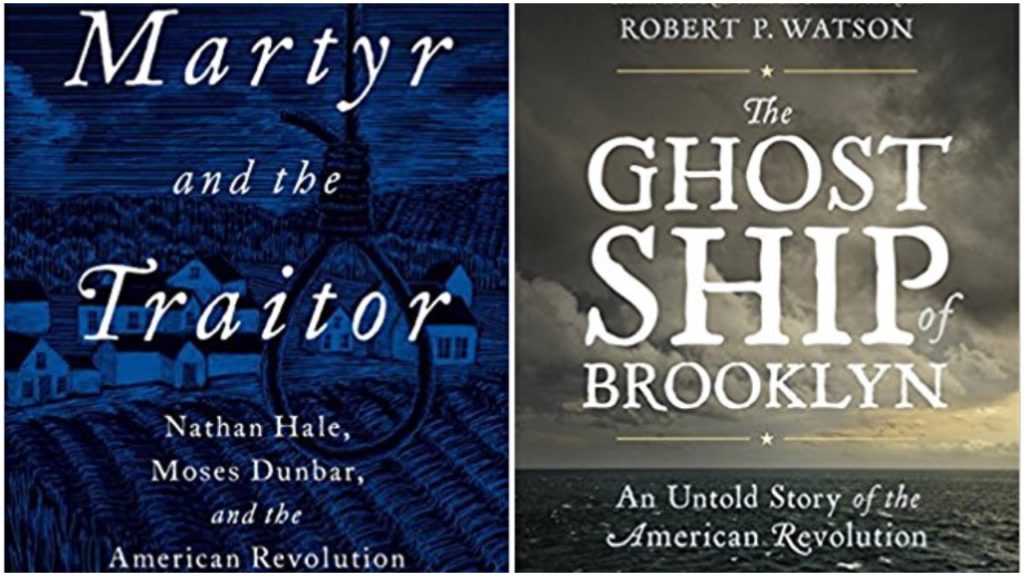 REVOLUTIONAIRIES, 18th CENTURY VERSIONÂ 
The Martyr and the Traitor
Nathan Hale, Moses Dunbar, and the American Revolution
by Virginia DeJohn Anderson
The Ghost Ship of Brooklyn
An Untold Story of the American Revolution
by Robert P. Watson
You may know Nathan Hale well from history books as a symbol of American patriotism, dying for his country long before anybody actually thought it would ever be a country.  But what if things had been a little different in the life of Mr. Hale as a young man? What if, Sliding Doors-style, decisions made by him and his loved ones had sent him down a different path? What if his ardent patriotism had, instead, been in support of the British cause?  In Anderson's captivating history, we are presented with an actual historical example — a contrasting figure, nearly forgotten, named Moses Dunbar — to use for this thought experiment.
But during the Revolutionary War, there was a fate worse than death, as graphically depicted in Watson's history of the prison ships of Brooklyn's cursed Wallabout Bay. The author isolates the grim tale of these prison ships, often deemed a footnote in most war histories, from the actions of the conflict at large. It's vividly narrow in scope, allowing the reader to experience the ship's macabre trials in a sort of narrative entrapment.
(Read the full review of these books here and here.)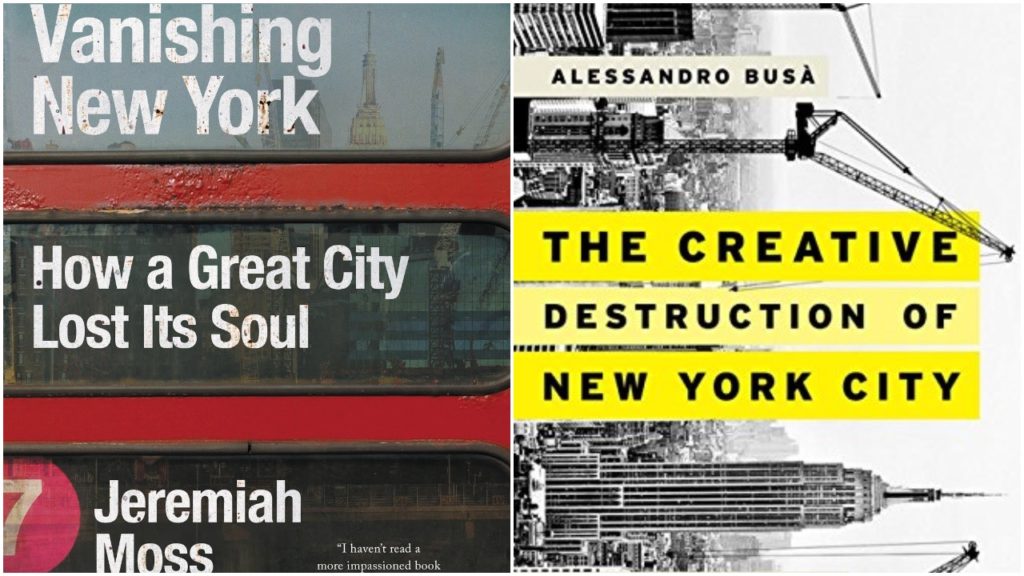 REVOLUTIONAIRIES, 21st CENTURY VERSIONÂ 
Vanishing New York
How A Great City Lost Its Soul
by Jeremiah Moss
The Creative Destruction of New York City
Engineering the City of the Elite
Alessandro Busà 
Loving New York, of course, doesn't mean you have to like what it's becoming. Most of you know the blog Jeremiah's Vanishing New York, observing the steady strangulation of New York City by hyper-gentrification, one fallen local landmark at a time. In what is essentially a book-length version of the blog, Moss has taken a step back, observing the alterations of the city's DNA from neighborhood perspectives. In The Creative Destruction of New York City, Busà goes for a different approach, breaking down the major players in city government who make those altering decisions and identifies the tools those parties may use in transforming New York, often for less-than-altruistic ends.
(Read the full reviews of these books here and here.)
PIECING TOGETHER THE PAST
 The Gargoyle Hunters
John Freeman Gill
At the Strangers' Gate
Arrivals In New York
by Adam Gopnik
In the 1970s lovers of New York's fading architectural landscape decided to protect its most treasured features — by liberating its details from the landscape entirely. They were called 'gargoyle hunters', so passionate for the city's magnificent beauty that they would rather steal aspects of it than see it destroyed. Gill is the son of a 'gargoyle hunter' who traipsed 1970s in search of aged, deteriorating treasures, and his adventure here, while certainly fictionalized, has the immediacy of a memoir, laced with specific references to corner shops, restaurants and cheap snack foods.
The '80s in New York City, meanwhile, were sometimes defined by glossy magazines and gallery shows, the earnest giving way to irony, the facile passed off as profound. Many chroniclers of this period fall victim to its excesses, treating guest lists like poems. Not Gopnik, the New Yorker writer who resides within his written settings retaining a voice of sincerity and restraint.  Gopnik's lovely recollection of New York during this heady, escapist decade recounts tales of tiny studio apartments and dinners with iconic photographers with equal measures of joy and admiration.
(Read the full Bowery Boys book reviews here and here.)
And our top three favorite books of 2017 are….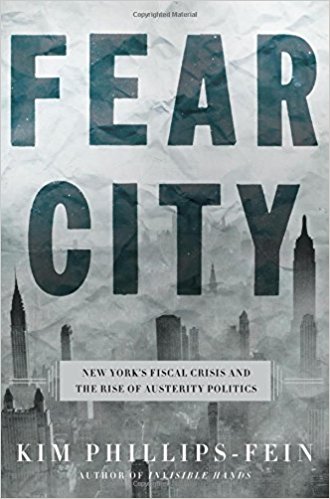 1) Fear City
New York's Fiscal Crisis and the Rise of Austerity Politics
Kim Phillips-Fein
Phillips-Fein has crafted one of the best history books of the year out of one of the ugliest periods in New York City history — the financial crisis of the 1970s. The author manages to sift through this complicated and seemingly indecipherable story and recount even the most gloomy late-night board meetings with a vital urgency. You may know portions of this story quite well — some of you lived through it — but you may not know the varying and even opposing ways that the city got out of this mess.
(Read the full Bowery Boys book review from May here.)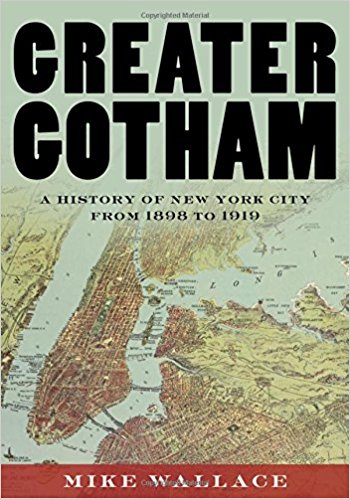 2) Greater Gotham
A History of New York City from 1898 to 1919
Mike Wallace
The decades between Consolidation and Prohibition saw the rise of New York City as an international symbol of American prosperity while being reshaped by an unprecedented collection of modern cultural forces. During the Gilded Age, New York became of city of wealth and a metropolis of stratified classes, forming immigrant enclaves and vital (if often corrupted) social institutions. In the new century, a pivot occurs. Tradition gives way to the modern and a crowded city finds room for its new personalities.
Confined by just these two decades, the book visits virtually every aspect of life by category. It thoroughly explores one element of that critical period — politics or finance, for instance — then refocuses and reboots, starting at the beginning again in the next chapter, observing different histories.
(Read the full Bowery Boys review from November here.)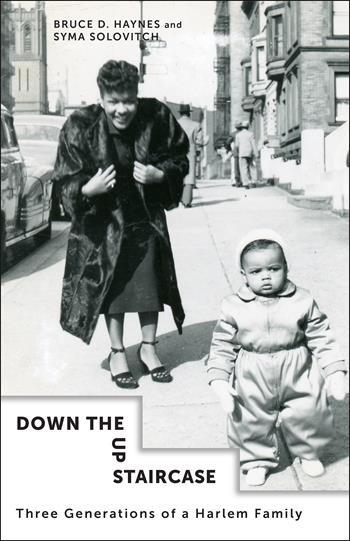 3) Down the Up Staircase
Three Generations of a Harlem Family
Bruce D. Haynes and Soma Solovitch
Haynes grew up in a townhouse at 411 Convent Avenue, observing the latter years of the building's steady, graceful decline. His grandparents had moved into the townhouse in 1944 and his parents had remained within it their entire lives, even through a contentious marriage. Bruce grew up there with his two brothers George and Alan. One of them would meet a tragic end during the fateful summer of 1976.
But the house has not simply been transformed by familial necessity; it has been changed by the history of Harlem itself. Down the Up Staircase documents the lives of three families who seem to have felt every tumultuous shift and been present, in some form, in every major milestone in black American life.
(Read the full Bowery Boys review from July here.)