PODCAST

The unbelievable story of the most infamous dance hall in New York City.
The old saloons and dance halls of the Bowery are familiar to anyone with a love of New York City history, their debauched and surly reputations appealing in a prurient way, a reminder of a time of great abandon. The Bowery bars and lounges of today often try to emulate the past in demeanor and decor. (Although nobody was drinking expensive cocktails back in the day.)
But the dance hall at 295 Bowery, the loathsome establishment owned by John McGurk, was not a place to admire. It was the worst of the worst, a dive where criminal activity thrived alongside bawdy can-can dancers and endless pours of putrid booze.
In early March of 1899, a woman named Bess Levery climbed to one of the top floors of McGurk's — floors given over to illegal behavior — and killed herself by drinking carbolic acid. Within a week, two more women had ventured to McGurk's, attempting the same dire deed.
By the end of 1899, the dance hall had received a truly grim reputation, and its proprietor, capitalizing on its reputation, began calling his joint McGurk's Suicide Hall.
What happened to the Bowery, once the location of fashionable homes and theaters, that such a despicable place could thrive — mere blocks from police headquarters? This is the history of a truly dark place and the forces of reform that managed to finally shut it down.
FEATURING: Theodore Roosevelt, Jacob Riis and some rowdy fellows by the names of Eat Em Up McManus and Short Change Charley.
LISTEN HERE:
________________________________________________________
The Bowery Boys: New York City History podcast is brought to you …. by you!
We are now producing a new Bowery Boys podcast every week. We're also looking to improve the show in other ways and expand in other ways as well — through publishing, social media, live events and other forms of media. But we can only do this with your help!
We are now a member of Patreon, a patronage platform where you can support your favorite content creators for as little as a $1 a month.
Please visit our page on Patreon and watch a short video of us recording the show and talking about our expansion plans. If you'd like to help out, there are five different pledge levels (and with clever names too — Mannahatta, New Amsterdam, Five Points, Gilded Age, Jazz Age and Empire State). Check them out and consider being a sponsor.
We greatly appreciate our listeners and readers and thank you for joining us on this journey so far.
_________________________________________________________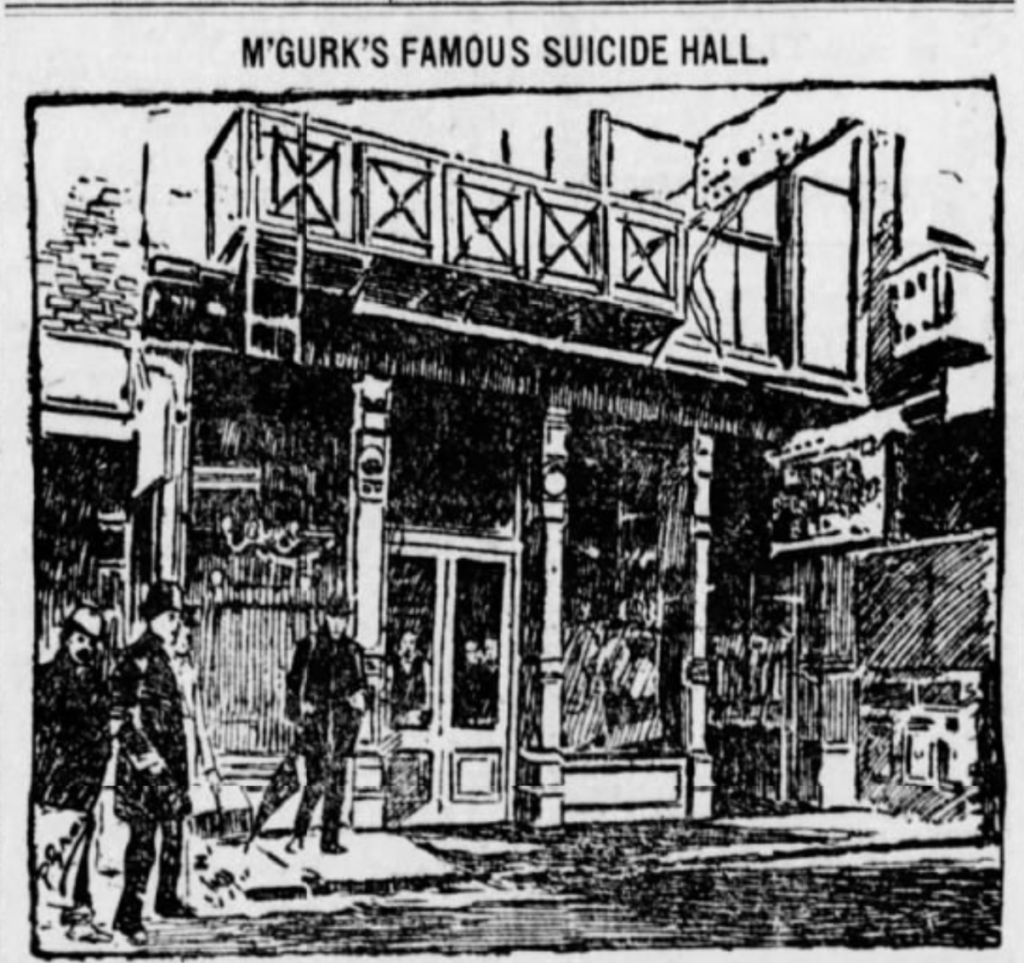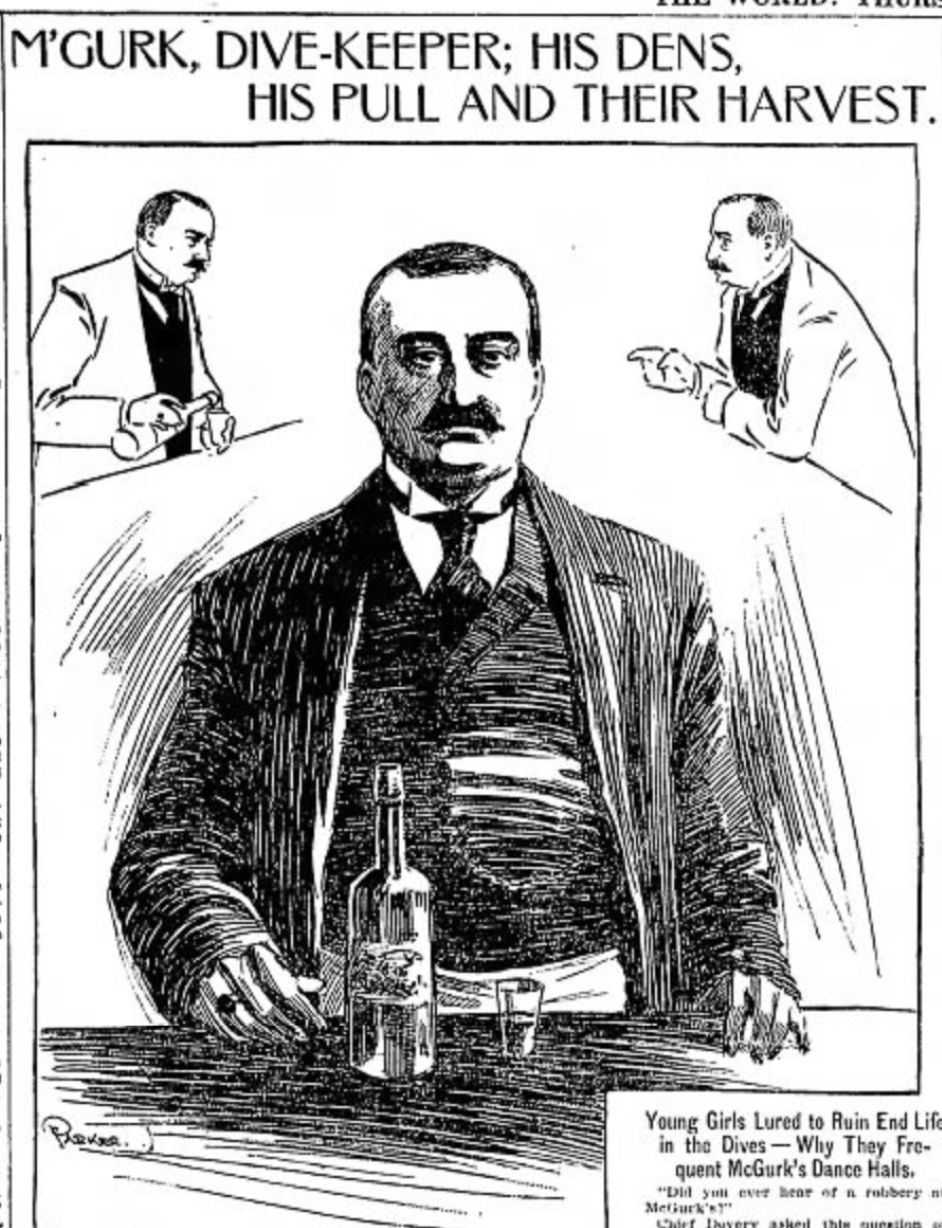 In March 1899, New York Herald ran a comprehensive timeline of McGurk's whereabouts.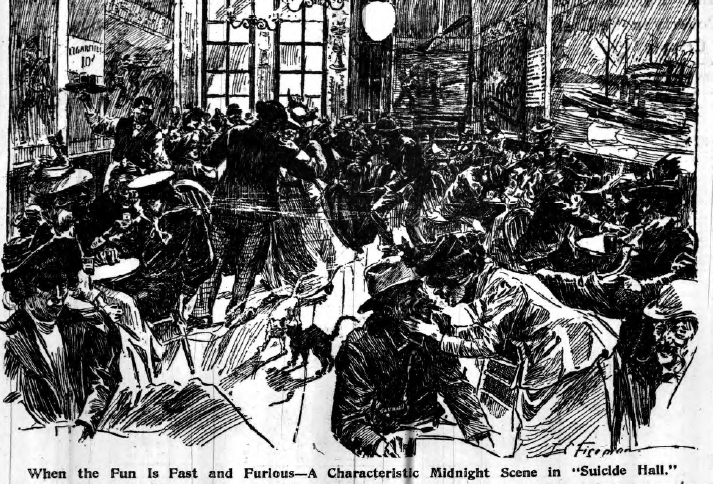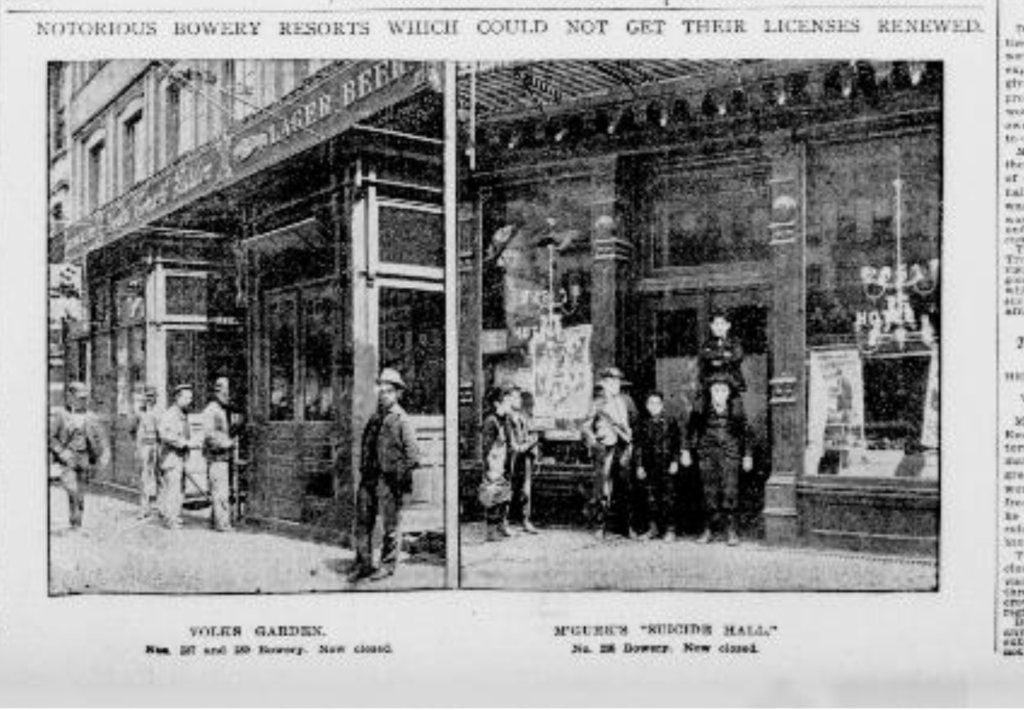 The location of McGurk's dance hall (295 Bowery), circa 1910 or so. By this point, its neighbor would be a church outreach spot — Hadley Rescue Hall. (Read this fascinating post from Greenwich Village History for more information.)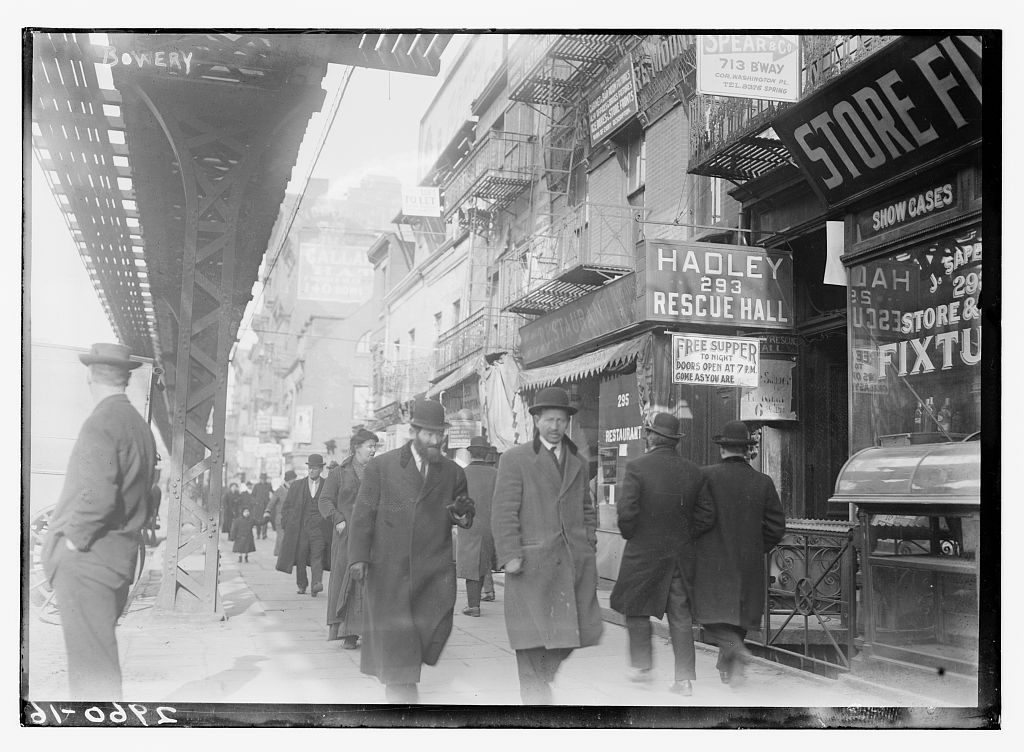 The building became a flophouse called the Liberty Hotel with a restaurant and bar on the ground floor.
Here's what 295 Bowery looked like before it was razed in 2005: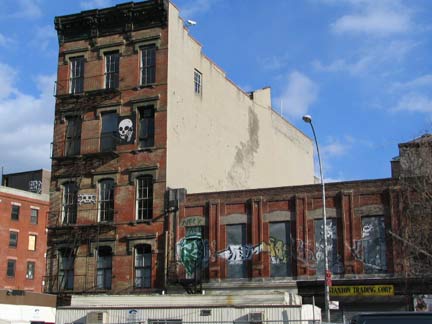 An ominous piece of graphic art on one of the floors above McGurk's.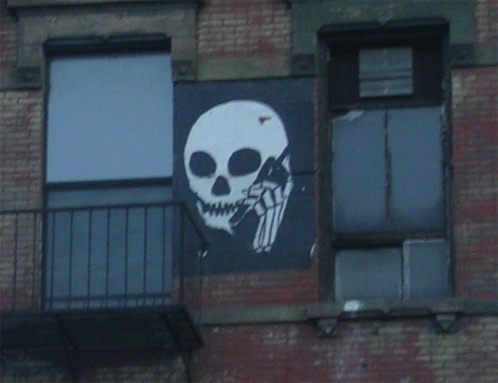 Pictured at top: The Bowery as it looked in 1900. The Bowery Savings Bank is still there (today it's the nightclub event space Capitale) as are some of the buildings to its right which are part of the Bowery's lighting district. McGurk's was located a few blocks uptown.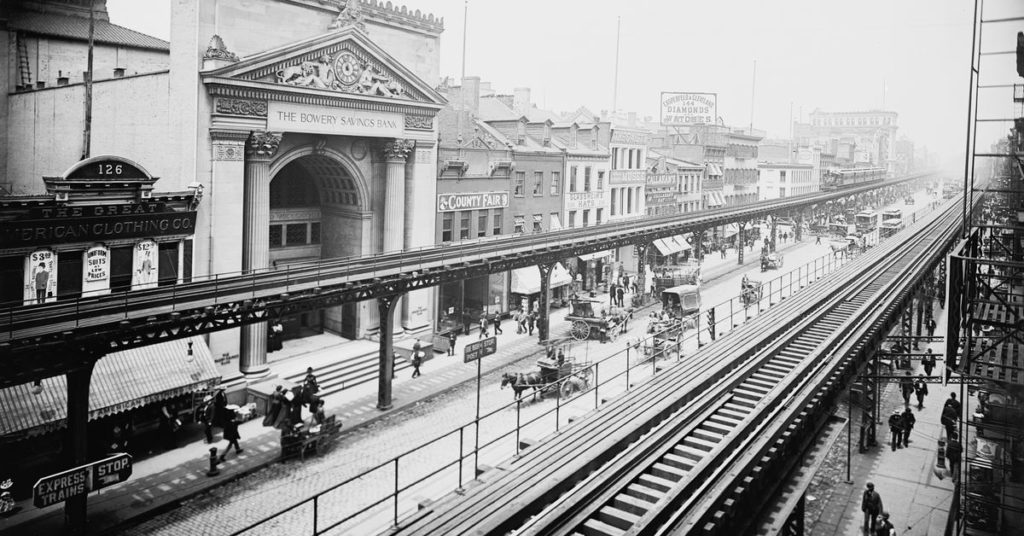 RECOMMENDED READING:
OLD BOWERY DAYS: The Chronicles of a Famous Street by Alvin F Harlow
LOW LIFE: Lures and Snares of Old New York by Luc Sante
THE BOWERY: The Strange History of New York's Oldest Street by Stephen Paul DeVillo
THE GANGS OF NEW YORK: An Informal History of the Underworld by Herbert Asbury
Listen to the other shows in The Alienist 'podcast takeover', other podcasts inspired by the TNT limited series including new episodes from Criminal, Casefile, Serial Killers, Thinking Sideways, Unsolved Murders: True Crime Stories, Generation Why and Last Podcast on the Left. Full listing here.
If you liked this episode of the Bowery Boys, check out these following shows in our catalog with subjects that featured into this show:
TIMES SQUARE IN THE 1970s
The dangers street prostitutes faced in the 1890s didn't fade away with reforms. Those who walked 42nd Street in the 1970s faced similar perils — including corrupt cops.

NEW YORK'S ELEVATED RAILROADS
The street life of Manhattan was inexorably altered with the arrival of railroads overhead.

A HISTORY OF THE SOUTH STREET SEAPORT
The rowdy nightlife of the Bowery was fueled by the sailors and seamen coming from New York's vast port waterfront. But by the 1880s, the area that would become the South Street Seaport district had devolved into something truly decrepit.