"Down In The Subway," published in 1904 by one of Tin Pan Alley's most successful music men Jerome Remick

___________________________________
PODCAST The modern music industry begins…. on 28th Street? A seemingly nondescript street in midtown Manhattan contains some of the most important buildings where early American pop music was created.
Tin Pan Alley was a bustling and frenzied area, the most creative area of the city, with songwriters — and song pluggers — churning out iconic music. Sing along as we talk about the greatest songwriters and the process they went through to create the most influential tunes of the century.
Download this show it for FREE on iTunes or other podcasting services. Click this link to download it directly from our satellite site. Or click below to listen here:
The Bowery Boys: Tin Pan Alley
___________________________________
This week's show features actual music snippets, featuring "A Pretty Girl Is Like A Melody" by John Steel, "Toot-Toot-Tootsie" by Al Jolson, and "Grand Ole Flag" by Billy Murray.
Music Row: Music publishers, once centered around Union Square, began collecting on 28th Street in the late 1880s and most of them stayed there until 1909. Leo Feist, seen in the first picture on the left, was probably the first to move onto the block.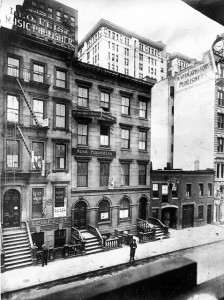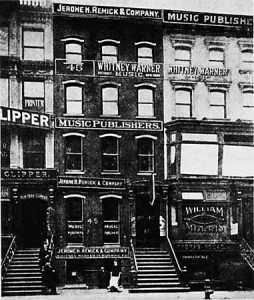 ___________________________________
Grand Slam: One of the greatest hits to come out of 28th Street was Albert Von Tilzer's Take Me Out To the Ballgame. The lyrics were written by vaudeville star Jack Norworth who popularized the song in his routines. Curiously, neither Von Tilzer nor Norworth had ever seen a baseball game at the time the song was written.

A song by Albert's brother that is, needless to say, less famous. (Pic courtesy here)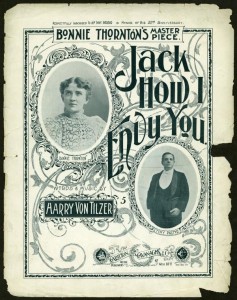 M. Witmark and Sons got their start selling their tunes straight from the vaudeville stage, later to become one of the most successful of the 28th Street firms.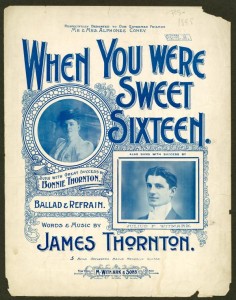 By 1909, most of the music houses had moved off the street into various locations throughout midtown, catering to the budding Broadway market. One of the most lucrative platforms of popularizing songs was the Ziegfeld Follies. (Pic)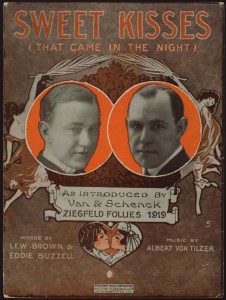 The only sign on 28th Street of its importance to the world of music is a small plaque on the sidewalk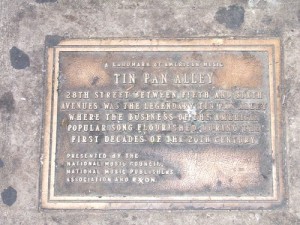 The buildings of Tin Pan Alley are not landmarked, but there are some grassroots efforts underway to make sure the area is protected. In particular, the Historic Districts Council has a lovely writeup and features the addresses of many of Tin Pan Alley's most successful music houses. No surprise that a website on collectable sheet music should also have a great writeup on the area.
Check out what Tin Pan Alley looks like today:

View Larger Map