Photo courtesy araceli.g, Flickr
PODCAST Modern American rock music would have been a whole lot different without the rundown dive mecca CBGB's, a beat-up former flophouse bar that made stars out of young musicians and helped shape the musical edge of downtown Manhattan. Owner Hilly Kristal may have initially envisioned a place for 'Country Blue Grass and Blues', but the music spawned by this little hole in the wall would define the contours of American punk and new wave.
The Ramones, Blondie, the Talking Heads and hundreds of others bands would never have been the same without this dank little club with the most notorious bathroom stalls in New York. Tune in to hear a tale of the club's rather inauspicious start and find out why, even as a venerated music icon, it was forced to close its doors.
Hilly Kristal, back in the day. CBGB's was originally Hilly's On The Bowery, a spin-off of a far more successful West Village venue that frequently hosted performers like Bette Midler and Jerry Stiller. Hoping to draw a more music oriented crowd, Kristal changed the name to reflect broad tastes: Country Bluegrass Blues and Other Music For Uplifting Gormandizers.

Initially unimpressive by any metric of musical quality, the scraggly group of guys from Forest Hills, Queens who formed The Ramones soon become a staple of the CBGB stage and the one of the most influential acts of the American punk style. If there's a voice to 315 Bowery, most likely it's that of Joey Ramone. (Photo by Allan Tannenbaum, from here)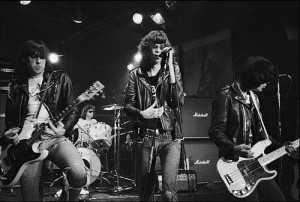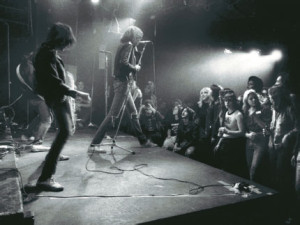 (Photo from here)
Deborah Harry and Chris Stein debuted on the CBGB stage as members of the Stilettos used the club to make their transformation into Blondie, the most successful group borne of Hilly's Bowery club. Chris and Debbie are seen below with Arturo Vega, 1978. (Photo by Lisa J Kristal, photo from here)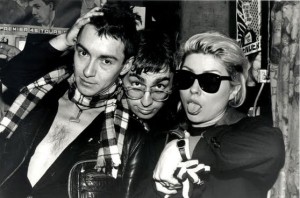 Hilly in later years. The club become a high-profile victim of Bowery gentrification and had to shut its doors in 2006. It lived on briefly as a St. Mark's clothing shop, even as its old location become home to a John Varvatos menswear boutique. Photo by Peter Sutherland (here)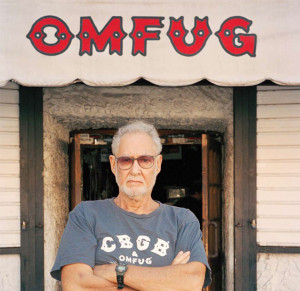 Check out the official CBGB blog for lots of great stuff associated with the club, including lots of old photos and that full color 'walk-through of the club. You might want to take a shower after viewing it.