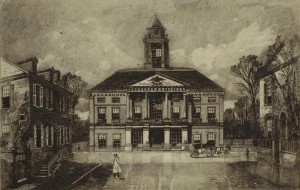 Federal Hall, home to the first House of Representatives 1789 [NYPL]
This week the United States got a new Speaker of the House of Representatives, John Boehner, and its first female ex-Speaker, Nancy Pelosi. This changing of the guard got me to wondering how many politicians representing New York had ever held this powerful job.
Surprise! No House representatives from the City of New York have ever been Speaker. The closest we've gotten is the otherwise unremarkable John W. Taylor, an upstate New Yorker from the Saratoga region, who briefly held the job in 1820-21. A central New York representative, Theodore Medad Pomeroy, held the post for exactly one day in 1869.
But never fear! America's very first Speaker of the House, Frederick Muhlenberg, has a New York connection wholely unique and never to be repeated — he is the only Speaker to have served within that role in New York proper, in the months of 1789-1790 when the city was also the nation's capital, and the center of government sat in Federal Hall on Wall Street.
And that was not Muhlenberg's only tie to the city. Although he served in the House as a representative from Pennsylvania, he had previously lived in New York for two years during a truly volatile moment — the years before the Revolutionary War.
His name will probably sound familiar if you're a Lutheran. His father Henry Melchior Muhlenberg is considered "the patriarch of the Lutheran Church in North America," coming to the British colonies from Germany in 1742 by request of several American ministers in need of spiritual direction. Henry spread Lutheranism throughout the colonies, principally to German and Dutch settlers, and for a time in 1751 even lived in New York, uniting the Lutheran congregations here.
He spawned a true religious dynasty as three of his sons entered the ministry. Frederick (pictured below), born in 1750 in Trappe, Pennsylvania, trained at several small churches in the state before moving with his family to New York in 1774. Lutherans were by no means plentiful in New York during this period, but they worshipped in various small congregations throughout the city, including some services at Trinity Church.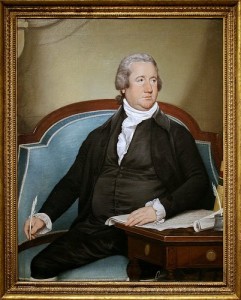 Young Muhlenberg, however, took up with a new church situated just east of the city commons, the newish stone Christs Church at the southeast corner of Frankfort and William streets, affectionately referred to as the Old Swamp Church.
When that house of worship was built in 1767, this area of the city, sparsely populated, was called the 'swamp', not so much for the topography perhaps as for the grim-smelling leather shops and tanneries that sat here. Collect Pond, which attracted these sorts of businesses, was but a stone's throw away, and the area retained its air of industry even as the tanneries moved out and the presses (that would soon comprise Park Row's newspaper district) moved in.
The congregation didn't seem to mind however, especially now that they had a venerable Muhlenberg as their leader. And they certainly needed him by this time. In fact, he might had come to New York during this period specifically to reassure a tense congregation amid the tensions that were stewing within the city.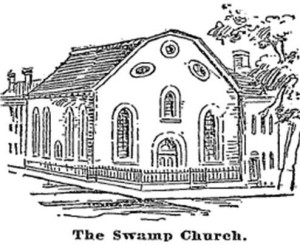 The city of over 22,000 inhabitants was being ripped apart with rebellion, as New Yorkers, caught in an increasing spirit of independence, fought back against British tyranny. From the steps of Old Swamp Church, members would have seen the 'liberty poles', hanging in the commons and festooned with banners, and heard (or participated in) regular rallies there. The clandestine Sons of Liberty would conduct secret meetings in nearby taverns, and services would have been interrupted with sounds of the Sons' many retaliations against British officials.
Congregants felt the inevitability of war; it would surely dominate their prayers by 1774. Having the guidance of Muhlenberg, son of the colonies' most prominent Lutheran, would certainly be of great relief.
It seems, though, that Muhlenberg himself was at odds with his role. He was not bold or rebellious himself and he initially believed the conflicts were none of his business. Even as his brother Peter Muhlenberg, a Virginian who embraced the rebel conflict, would join the fledgling Continental Army in 1775, Frederick himself was not yet convinced. He wrote his brother: "You have become too involved in matters with which, as a preacher, you have nothing whatsoever to do and which do not belong to your office." [source]
Revolution was invitable. But Frederick was a theologian, cautious and steady, and he worried not only for his congregation but for his own family. This passivity would soon fall away. When actual bombs began reigning down on the city, he sent his pregnant wife and children away to Philadelphia. He remained for a few months to officiate over a dwindling flock but soon fled himself in the first months of 1776, looking over his shoulder at a city soon to be paralyzed by war.
Below: An illustration from 'D.T. Valentine's Manual, 1859', looking up from William Street from Frankfort. The building immediately to the left was the old Swamp Church, no longer in service and heavily redone by the mid-19th century.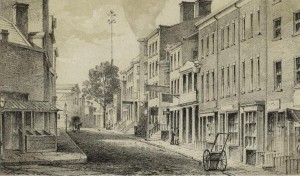 He returned to New York in 1789 as one of the most powerful men in the new government of the United States. Muhlenberg spent the war in Pennsylvania and soon found his footing there as a political leader, becoming a member of the Continental Congress and later elected as speaker to Pennsylvania's own state House of Representatives in 1780.
According to author Paul Wallace (in his excellent book 'Muhlenbergs of Pennsylvania'), Frederick wasn't merely heeding a patriotic call. He had grown a little exhausted of the pulpit and wanted to develop his new course, one of his very own.
Muhlenberg's austere character and unblemished reputation served him well in politics. He led Pennsylvania's ratification of the Constitution in 1787. When the first national Congress was formed, Muhlenberg represented his state at their first meeting in the new temporary capital and his old home — New York. His election as Speaker made perfect sense; he had a well-known last name that had helped define American spirituality, and he came from a state neatly between that of President George Washington (from Virginia) and Vice President John Adams (from Massachusetts).
The first House of Representatives met on April 1, 1789, at Federal Hall at the junction of Wall and Broad streets, just south of Old Swamp Church (which now thrived under new leadership). Muhlenberg would help shape the first traditions of the House and define the rules as dictated by the Constitution, its ink still dry and untested. Most notably, his was the first signature to grace the Bill of Rights.
He grew into a tolerant and jovial leader, best known for inviting fellow Congressmen over to his home for fairly elaborate 'oyster suppers'. Muhlenberg would remain Speaker of the House for the entirety of the first Congress, even as they moved out of New York at the end of 1790. He stayed in the House through 1797, become Speaker again for the Third Congress in 1793.
Muhlenberg's name has been attached to some rather scandalous events. He was one of three men brought into the confidence of Alexander Hamilton during a blackmail scandal involving his mistress Maria Reynolds. Muhlenberg was sympathetic to Hamilton's predicament; one of the other three men, political enemy and future president James Monroe, was less so.
In 1796, during congressional battles over funding for the Jay Treaty, Muhlenberg broke a tie vote authorizing the highly controversial treaty to go forward. As a thank-you, his anti-treaty brother-in-law stabbed him in retaliation. He recovered, but family dinners must have been very awkward after that.
Muhlenberg retired shortly thereafter and died in his home in Lancaster, Pennsylvania, in 1801.
As for the Swamp Church, its members slowly drifted away, and the property was purchased by tobacco mogul George Lorillard. The Lorillards also have very deep scars due to the Revolutionary War, but that is another story.
Below: the location of Old Swamp Church

View Larger Map
Illustration of the Swamp Church from an 1894 New York Times article.