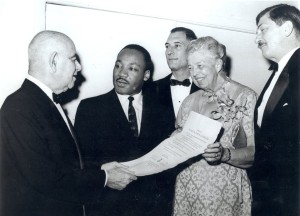 February 1961: Dr. Martin Luther King Jr. is presented with an award by the Americans for Democratic Action. On either side of him is former New York governor Herbert H. Lehman and former first lady Eleanor Roosevelt.
Fifty years ago today, Dr. Martin Luther King Jr. visited New York University and spoke to the campus about the philosophies of non-violent protest and the rising civil rights struggles of the day.
Putting this in context of other King visits to New York, this stop at NYU comes about two and a half years (Sept 20, 1958) after a "demented" woman stabs King at a book signing in Harlem, hospitalizing him for two weeks. Three months after visiting the campus, Mayor Robert Wagner declares May 16, 1961 as 'Desegregation Day' in honor of King. Later that very same day began the violence in Alabama against the Freedom Riders, black and white activists riding buses through the South.

NYU commemorates King's February 1961 appearance tonight with an event that features a humanitarian award presented to Dr. Fritz Francois for his Haitian relief efforts and an appearance by former governor David Paterson. [More details at NYU's website]

Coincidentally, it was almost 150 years ago (February 19-20, 1861) that another man with his own winter holiday visited New York City — Abraham Lincoln. Although it was a month before his inauguration, Lincoln would not have been in a very good mood; Southern states were peeling off in fast secession and military action was a growing certainly. Two months later, Confederates attacked Fort Sumter, igniting the American Civil War.

During Lincoln's brief stay, he spoke to crowds from his balcony at the Hotel Astor across from City Hall. The next day, Lincoln met slavery sympathizer and New York mayor Fernando Wood. I wasn't there, but I'm sure you could have cut the tension with a knife. Meanwhile, his wife Mary Todd Lincoln was across the street at Barnum's American Museum, whose displays of human disfigurement and tanks of inadequately kept aquatic animals could not have been good on her mental state.

The excellently detailed website Mr. Lincoln and New York gives a thorough recounting of events.

ALSO: I recommend you check out Eleanor Roosevelt's 'My Day' column from February 6, 1961, regarding her experience with King from the Americans for Democratic Action dinner that the picture at top is from.
The ADA dinner, incidentally, was at the other Hotel Astor in Times Square. Lincoln's speech was at the original Hotel Astor.