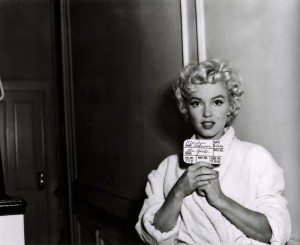 Monroe on the New York set of 'The Seven Year Itch', the film version of a Broadway box office success.
The heavily-hyped 'Smash' debuted last night on NBC, a glossy musical-drama unspooling the backstage tribulations of a new Broadway musical based on the life of Marilyn Monroe. Although Monroe was once married to one of Broadway's greatest playwrights (Arthur Miller) and personally coached by the stage's most renown drama coaches (Lee and Paula Strasberg), she never hit the legitimate stage herself.
I'm surprised this 'Marilyn Monroe musical' idea is taken as such a revelation in the show. Many of Marilyn's big cinema breakthroughs were plucked from Broadway shows, and her film resume has even inspired a couple Broadway musicals:
'All About Eve' (1950)
Inspired the musical 'Applause'
Opened: March 30, 1970 at the Palace Theatre (aka the 'haunted' theater)
The Role: You would hardly call the Oscar-winning 'Eve' a true Marilyn movie, although her brief scene as Miss Caswell is indeed a memorable one. For the Betty Compton/Adolph Green musical adaptation, her role was entirely deleted. People were too busy lavishing praise upon Lauren Bacall, stepping into the Bette Davis role, to notice.



'Gentlemen Prefer Blondes' (1953)
Original musical: 'Gentlemen Prefer Blondes' by Joseph Field and Anita Loos, Music by Jule Styne, Lyrics by Leo Rubin
Opened: December 8, 1949, at the Zeigfeld Theatre
The Role: Believe it or not, the role of Lorelei Lee on Broadway was originated by a young actress in her first starring role — Carol Channing. That role would define Marilyn's sophisticated sexpot image in the Howard Hawks film edition.
And then: A quarter century later, Channing returns to Broadway in a re-tinkered version of 'Blondes' called 'Lorelei'. It was actually a bigger hit, in part to the genius lyrical contributions of 'Applause's Compton and Green.



'The Seven Year Itch' (1955)
Original play: 'The Seven Year Itch' by George Axelrod
Opened: November 20, 1952 at the Fulton Theater
The Role: When it arrived on film, the role of 'The Girl' gave us this iconic Marilyn image. It unfortunately had less effect on the career of Austrian-born Vanessa Brown, who originated the role.
Also in the Broadway cast: Tom Ewell, habitue of Sardi's Restaurant, who played opposite Marilyn in the film. Anybody looking for him could find him parked at Sardi's 'little bar'.




'Bus Stop' (1956)
Original play: 'Bus Stop' by William Inge
Opened: March 2, 1955, at the Music Box Theatre
The Role: Kim Stanley played the role of 'Cherie', Marilyn played a variation the following year, in a film loosely based on the stage play
Also in the Broadway cast: An Elaine Stritch so scrappy she was nominated for a Tony



'Some Like It Hot' (1959)
Inspired the musical 'Sugar'
Opened: April 9, 1972 at the Majestic Theatre
The Role: The musical debut of Marilyn's greatest film role was played by Elaine Joyce, later a popular television personality and best known, in some circles, as being the obsession of writer J.D. Salinger.


I couldn't find any video of Joyce in 'Sugar', so enjoy this clip of her on 'Match Game' instead:


Another Marilyn Monroe musical film, 'There's No Business Like Show Business' (1954), isn't based a stage musical at all, but took its title straight from a song in the Broadway musical 'Annie Get Your Gun' (which debuted in 1946)