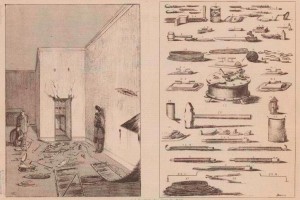 'Red' Leary was one of the famous bank robbers of the 1870s, assisting in heists all along the Northeast. Above is an illustration of a bank robbery in Montreal, Canada, displaying some of the tools found at the crime scene.
They don't talk about 'Red' Leary anymore down in the streets of the Lower East Side. In the hipster bars and boutiques, in the graphic design firms and the Chinese foot-massage parlors, his name goes virtually unspoken.
But over one hundred and thirty years ago, his unusual escape from the Ludlow Street Jail (pictured below) captivated New Yorkers, willing to overlook the rascal's criminal misdeeds to marvel at the ambitiously planned jail break, orchestrated by his wife Kate Leary. 'A Hero and a Burglar' proclaimed the New York Times, appalled that teenagers were "absolutely besides themselves and exultant over the daring deed, each individual boy wishing, for the moment, that we was a Red Leary."
John 'Red' Leary was one of the northeast's most notorious bank robbers of the 1870s, frequently pairing with other known criminals of the day to pull of spectacular heists. In particular, as a part of the gang of George Leonidas Leslie (nicknamed "king of bank robbers"), Leary helped make off with thousands of dollars in stolen sums, involved in tricky operations that sometimes took years to plan.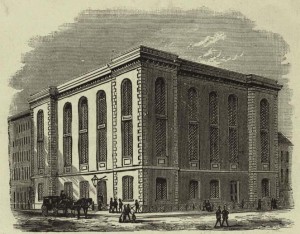 According to Herbert Asbury, Leslie's gang was responsible for 80% of the bank robberies between 1874-84. Not sure how that number was specifically settled on, but needless to say, as a critical member of Leslie's operation, 'Red' Leary was a master at his chosen profession.
However, in December 1878, after a robbery at the Northampton Bank in Massachusetts (making off with a staggering $1.6 million), Leary was promptly captured back in New York at Second Avenue and 92nd Street, in connection with another bank robbery. It was decided to extricate Leary to Massachusetts to answer for the robbery there, so he was thrown into Ludlow Street Jail to await transferal.
The Ludlow Street Jail, between Broome and Grand streets, opened at 1862 as a debtors prison and a sometimes repository for New York's more infamous criminals. In fact, just several months before Leary's arrival, William 'Boss' Tweed had died in one of the cells here.
Leary would be sure not to meet the same fate, thanks in part to his wife, the fiery Coney Island pickpocket Kate Leary, and some of Red's criminal cohorts. Included among them were Shang Draper, a crooked saloon owner famous for drugging customers and shanghaiing them onto ships.
Kate had already helped her husband escape capture once before, in August 1877, when the duo eluded several officers at a hotel near Fort Hamilton in Brooklyn. A lightly guarded prison in the middle of one of the most populated neighborhoods in the world was certainly no match for a woman as determined as Kate, known as much for her intelligence as for her venality.
In May of 1879, Mrs. Leary, in disguise, rented a tenement flat next door to the jail at 76 Ludlow Street. She and her accomplices then knocked out a wall, drilling through the thick prison defenses until they broke through into the prisoner's bathroom, perfectly timed with Red's arrival there.
As author B.A. Botkin's describes: "No alarm was raised, nor was the tunnel leading to the room with its neatly piled ton of excavated brick discovered until 10:30. By that time the fugitive was on his way to Coney Island in a light truck."
As a judge has explicitly stated that Leary would probably try to escape, the clean extraction of the high profile criminal elicited mocking scorn at the jailers and officers involved. Saving face, Ludlow officials declared Leary's assisted release was "one of the most daring and skillfully-planned affairs of the kind to ever occur in the city," "executed by shrewd and bold criminals." [source] The Ludlow jail would never really shake its, shall we say, porous reputation and was eventually demolished in the 1920s. Both the jail and the address 76 Ludlow Street would make way for Seward Park High School (pictured below, from 1930)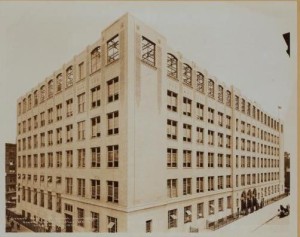 So dramatic was the 1879 Ludlow prison break that Leary and his crew were soon turned into folk heroes by the more rebellious residents of the Lower East Side. For this reason, the Leary escape is sometimes listed as a New York urban legend. But in fact, newspapers of the day spilled over with reports of the bold getaway.
Red Leary was eventually recaptured two years later and returned to Massachusetts to answer for his crimes there. He met a grim end in 1888 at the Knickerbocker Cottage (Sixth Avenue and 10th Street), smashed in the head with a brick by a card shark named William Train. His wife Kate literally drank herself to death in 1896 at a Coney Island hotel.
According to Botkin's 1956 book 'New York City Folklore', the legend of Red Leary even briefly entered sports vernacular. "So celebrated did the exploit become, that …. [a] coach who wanted to instruct a player to break loose and steal a base simply yelled, "Red Leary!"
Pictures courtesy New York Public Library